Wolves hold a significant place in many cultures around the world. People see wolves as symbols of strength, courage, and ferocity in battle. That being said, wolves are a favorite tattoo design now is unsurprising.
If you're looking for a cool tattoo design that would symbolize a strong warrior spirit, I suggest considering the wolf tattoo designs that we have listed here.
What's the bottom line?
These are just a handful of the best wolf tattoo designs that you should consider going for. There are plenty of wolf designs for sure, so don't be afraid to experiment! Comment your favorite design and share this article with your friends!
1. Howling Wolf Tattoo
The howling wolf is an iconic image that evokes the sound to anyone who can see it. It's a simple and yet easily recognizable design. It speaks to anyone who identifies with the wolf strongly.
2. Traditional Wolf Tattoo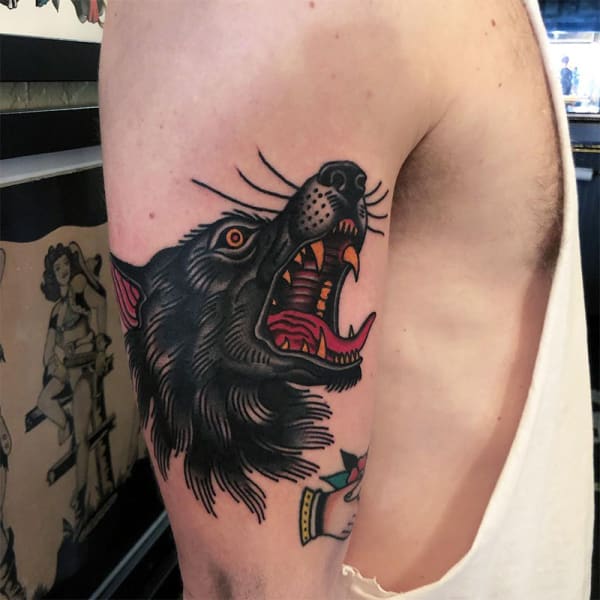 If you want to connect with a culture that has a strong affinity with the wolf, then you should go for a traditional wolf tattoo. This kind of design shows the wolf in the way that ancient people saw the animal.
3. Celtic Wolf Tattoo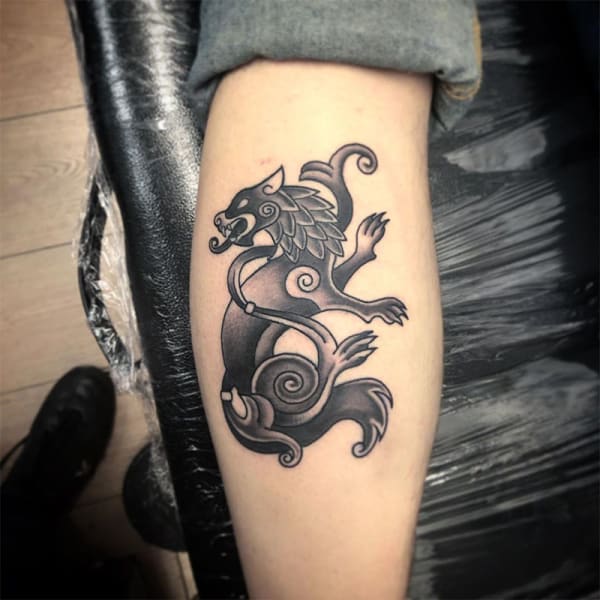 The Celts have a strong warrior culture, and they see the wolf as a kindred animal that is worthy of respect. The Celts also have a unique visual design, which makes the Celtic wolf design very striking.
4. Japanese Wolf Tattoo
It's interesting to note that wolves have a different reputation in Japanese folklore. The Japanese people perceive wolves to be protective, combine that with the distinctive Japanese style of tattooing, and you get a unique design.
5. Tribal Wolf Tattoo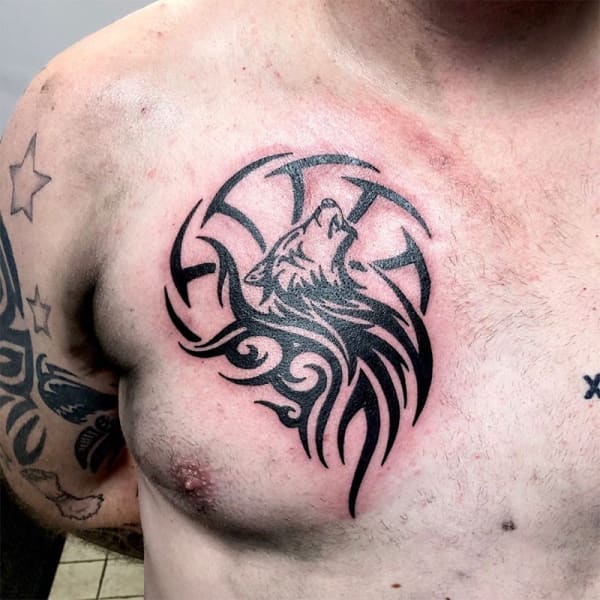 Tribal tattoo designs became very popular in the past few years, and it is easily recognizable now. Using the tribal template to depict an animal like the wolf results in popular design.
6. Lone Wolf Tattoo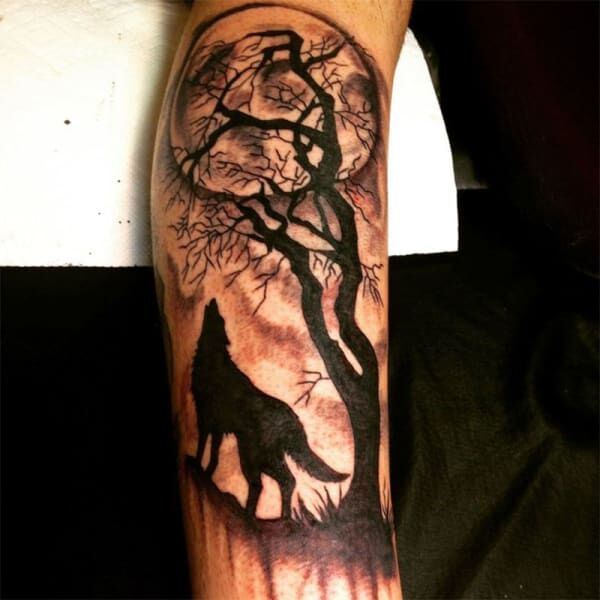 The lone wolf is the most popular image conveyed by this animal. Although wolves do move in packs, popular imagination sees them lurking in the shadows on their own. This design is perfect for those who identify themselves with the lonesome characteristics of wolves.
7. Geometric Wolf Tattoo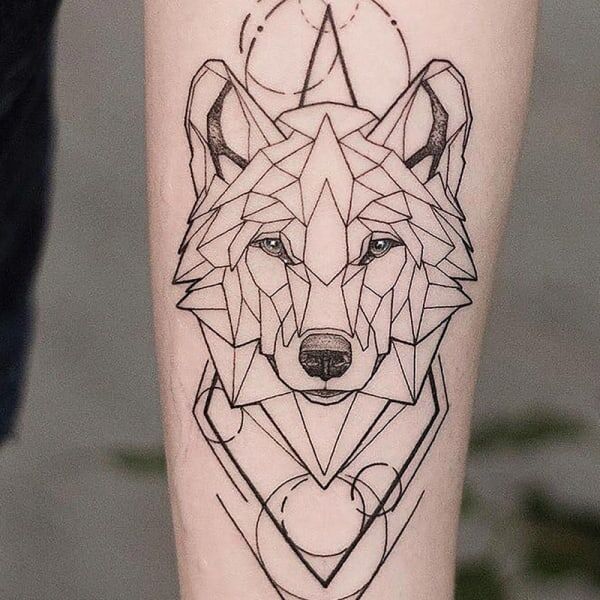 The Geometric Wolf Tattoo is more mdern than the other designs on this list. The geometric tattoo style uses straight lines to create the interconnected shapes that have a minimalistic look. Artists can also use the shapes to convey hidden symbols within the geometric shapes used in the design.
8. Finger Wolf Tattoo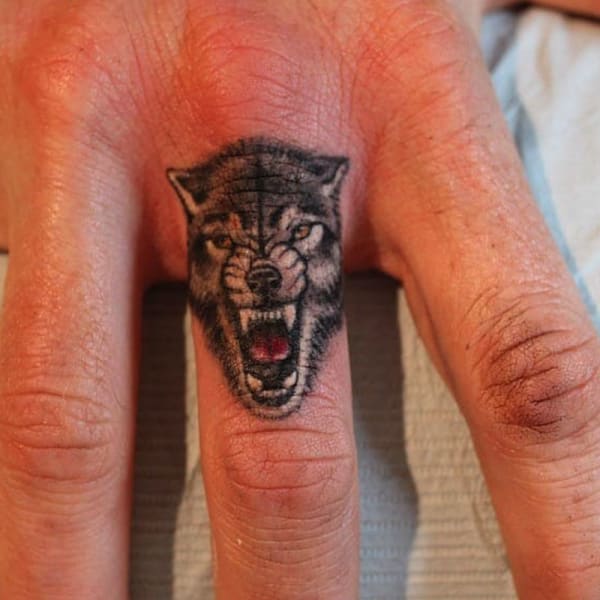 While others prefer large designs that are very visible, some people like smaller designs that are more discreet. You should consider going for a Finger Wolf Tattoo, which can still be noticeable but in a subtle way. A small tattoo is simple and adheres to a minimalist style.
9. Native American Wolf Tattoo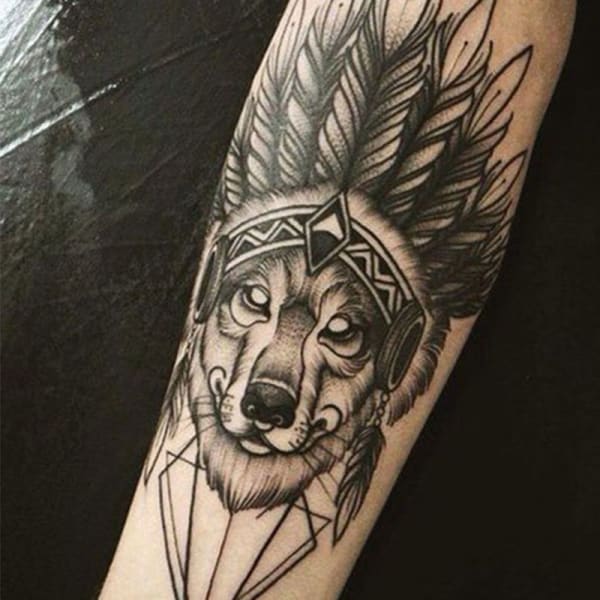 Native American culture sees the wolf as a very spiritual animal and holds it in a special place. Using a Native American Wolf Tattoo conveys a deep respect for the animal and the culture that holds it in such high esteem.
10. Wolf Pack Tattoo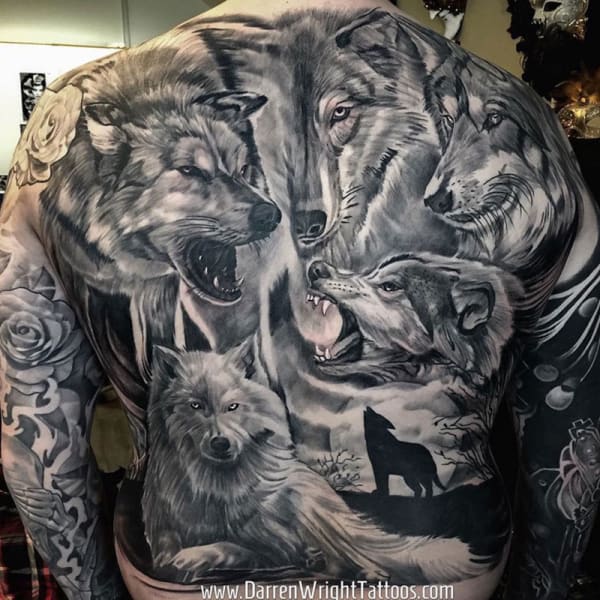 The wolf pack design is the ideal choice for those looking for a large tattoo design. You can use the pack as a symbol for your love of family and loyalty. Use the pack design on your back, where there is a lot of space.
11. Wolf and Moon Tattoo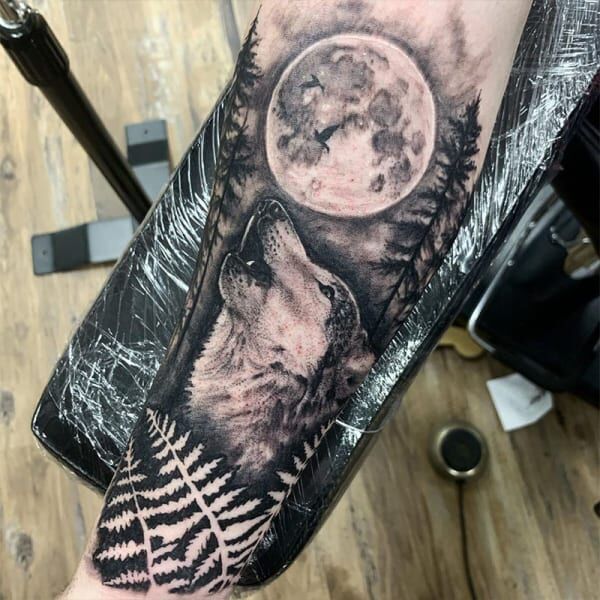 Humans have always associated the wolf with the moon, and it creates strong imagery in the mind of people. You can use that for a tattoo design to convey a robust nature and freedom of the spirit.
12. Watercolor Wolf Tattoo
Not all wolf tattoo designs need to be fierce or be about the animals' strength. A Watercolor Wolf Tattoo can be a very artistic design to express creativity. This tattoo design can also be eye-catching to serve as a conversation piece.
13. Wolf with Dreamcatcher Tattoo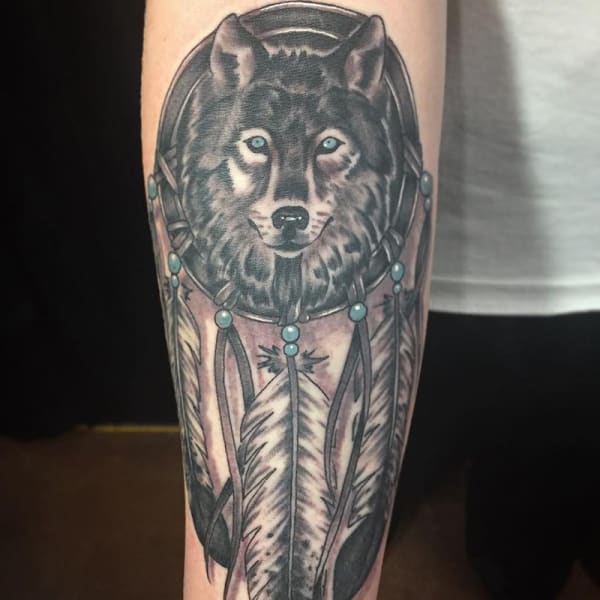 The Native American culture also inspires the Wolf with Dreamcatcher Tattoo design. The wolf and the dreamcatcher are both iconic symbols of a once-powerful civilization, and using them as tattoo designs can say so many things.
14. Wolf Paw Tattoo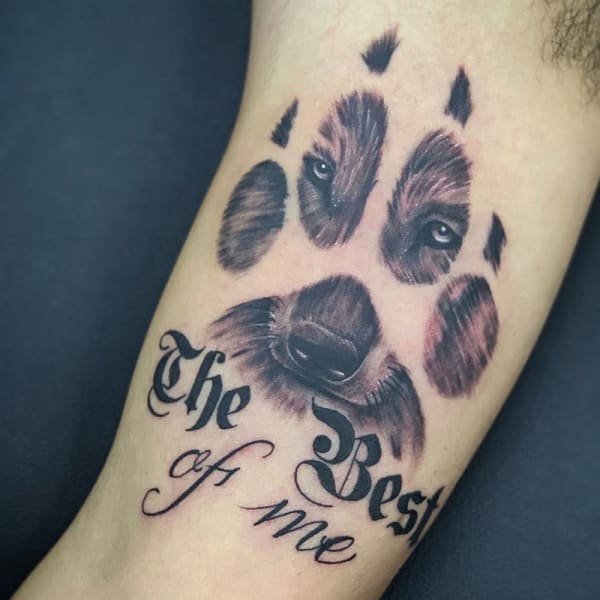 If you like something more along the minimalist line of designs, then consider using a wolf paw tattoo. The paw design that you cannot not readily connect with wolves makes the person looking at it wonder for a few seconds about it.
15. Wolf Eyes Tattoo
A lot of people have written about the distinctive look of the eyes of wolves. These animals have hypnotic and cold eyes. Use them for tattoo designs on the arm that would make you stand out immediately.
16. Skull and Wolf Tattoo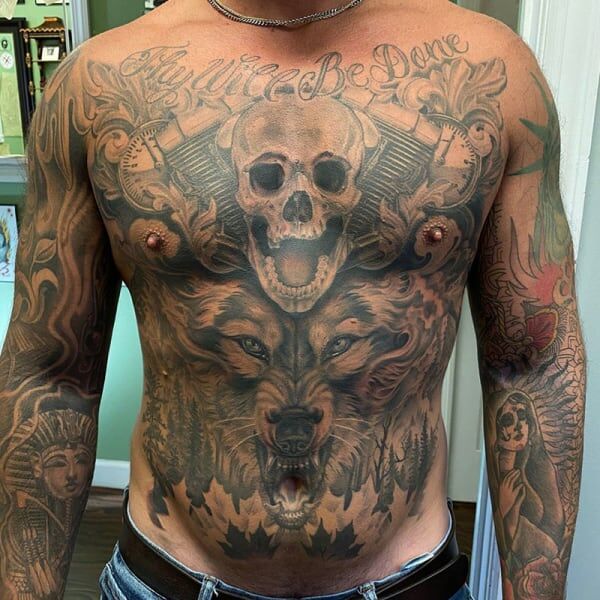 Warriors have used the skull and the wolf symbols to convey fearlessness and the understanding of death for hundreds of years. When you combine these two powerful symbols in a single tattoo design, you convey a deep meaning of how you perceive life.
17. Wolf's Head Tattoo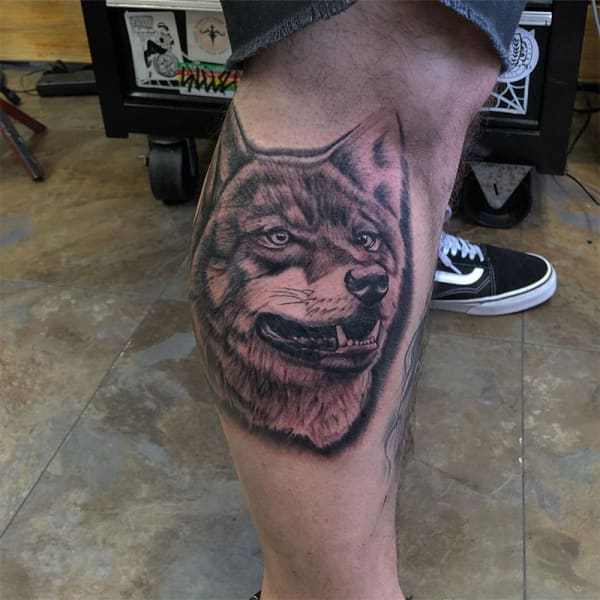 The wolf's head tattoo has been a consistently popular tattoo design even before inking became a part of popular culture. People identify with wolves because they are strong and aggressive.
18. Wolf Chest Tattoo
Are you looking for a tattoo design that would look good on your chest? You should consider using a wolf design there. Your chest offers plenty of space to create a stunningly detailed design.
19. Wolf Hand Tattoo
Hand tattoos are for individualists who do not conform to the social norms. Because hand tattoos are always visible, they convey a rebellious streak, and by using a wolf design, it can say a lot more.
20. Wolf Shoulder Tattoo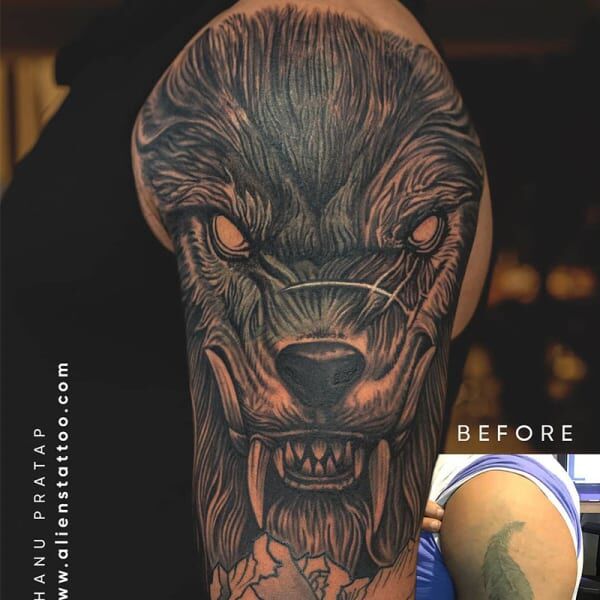 Shoulder tattoos are trendy because they allow for large designs that can be very detailed. The shoulder also has fewer ridges that limit the kind of design. If you want a detailed wolf design, consider placing it on your shoulder.
21. Wolf Forearm Tattoo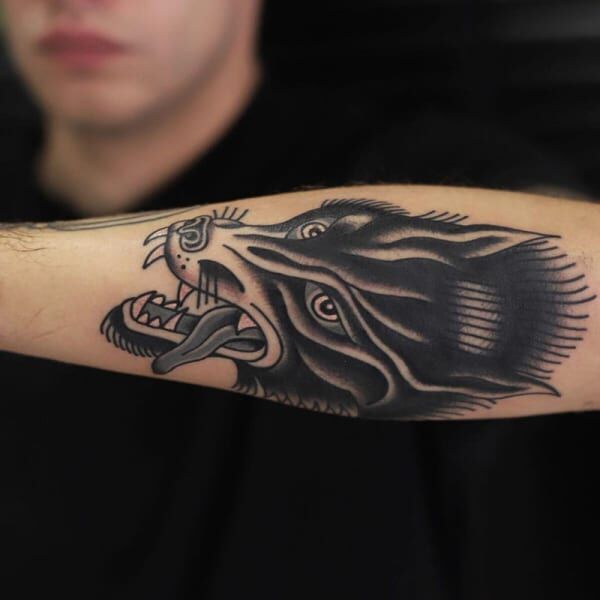 The forearm is another popular part of the body for a tattoo. A design placed on the forearm is readily visible. The only downside of the forearm is that it is narrow. Artists have limited options when creating forearm tattoo designs.
22. Wolf Back Tattoo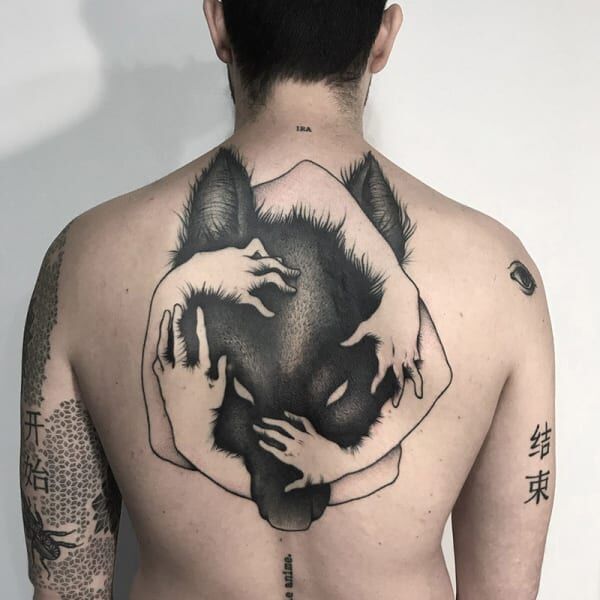 If you want to give free rein to your imagination when it comes to your wolf tattoo design, then have it placed on your back. This is the favorite spot of many artists since it allows them to create freely.
23. Wolf Sleeve Tattoo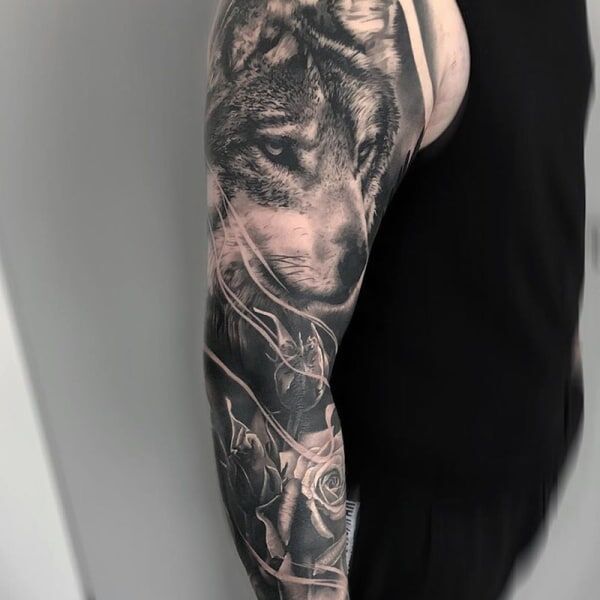 The full sleeve design is very popular today. This kind of design starts from the shoulder down to the wrists. Because it's such a long section, full sleeve designs are usually combinations of different themes merging into one another.
24. Wolf Thigh Tattoo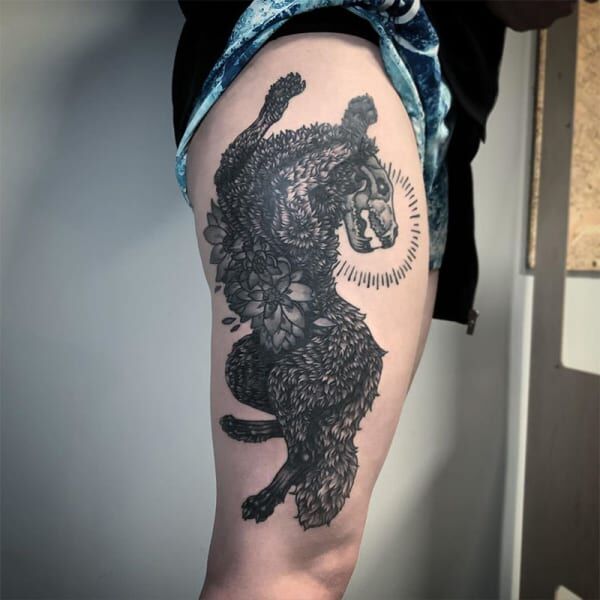 Though not as visible as the other types of tattoo listed here, a 'Wolf Thigh Tattoo', gives plenty of space for the artist to work on. More space means more detailed designs.
25. Cyborg Wolf Tattoo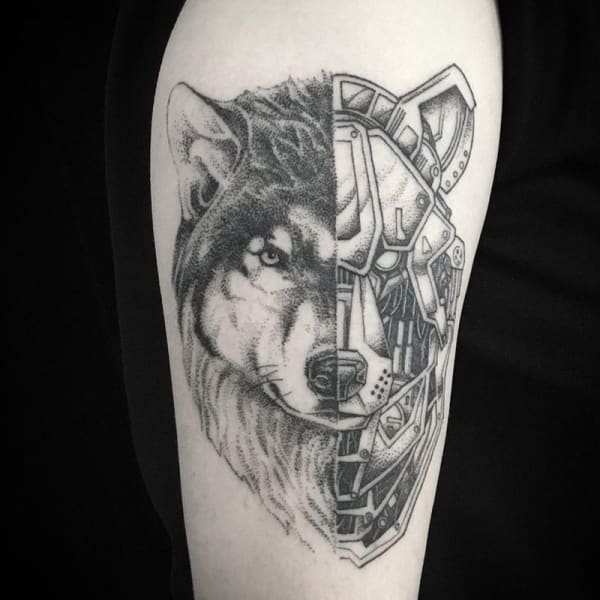 If you're aiming for something special and unique with your wolf tattoo design, then maybe you should go for something like a cyborg wolf tattoo. This kind of design will make you stand out since it is very unique.
26. Zombie Tattoo Design
Zombies have made a huge impact on popular culture, and you may want your tattoo design to reflect that. The zombie tattoo design is an ideal choice for you if you want to stand out with your ink. People will get curious about it for sure.