Often worn as a declaration of spirituality or cultural affinity, crosses are among the most popular tattoo designs today. There are many cross tattoo designs for women that you can go for: various styles, sizes, and placements.
Whether you simply want to enjoy the art or use your tattoo as an expression of your personality, make sure that you deeply connect with your choice of tattoo design. Here are some stunning cross tattoo designs if you're still thinking about which one would suit you best.
1. Minimalist Cross Tattoo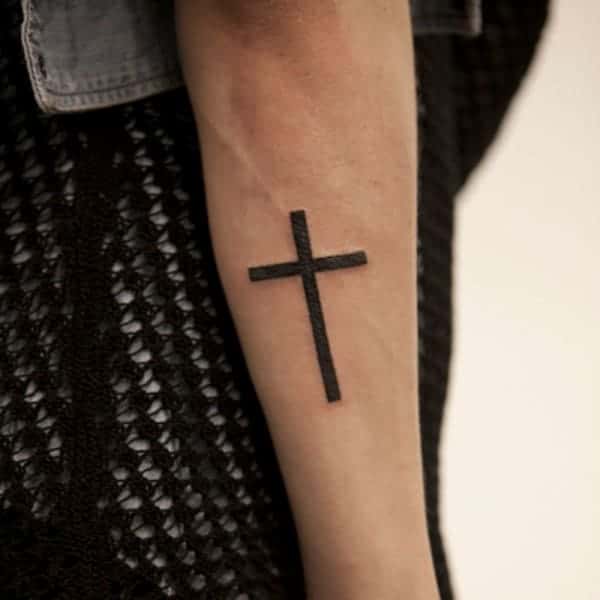 A minimalist cross tattoo is a no-brainer pick. A simple black cross with no frills, this cross tattoo design can be placed anywhere. Some common placements are in the arms, wrist, back of the ear, and between the fingers.
2. Delicate Cross Tattoo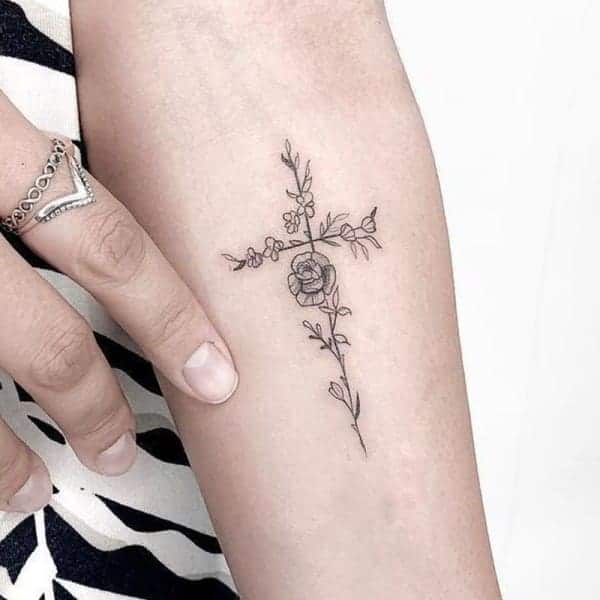 A delicate cross tattoo is one of the most popular cross tattoo designs for women. You can design your cross to be thinner and daintier, and combine it with intricate elements like flowers, leaves, hearts, or butterflies.
3. Cross with Text Tattoo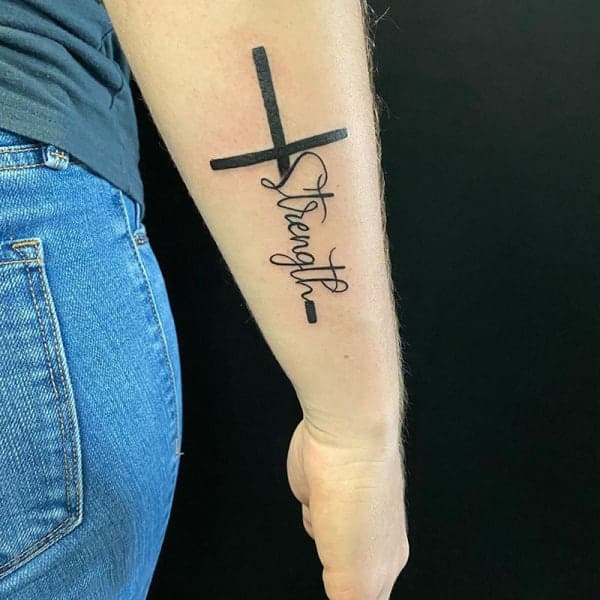 Adding some text to your cross tattoo design easily makes it unique and personal. You could add your own name, a bible scripture, or a word or phrase that reflects your aspirations or personality.
4. Rosary Tattoo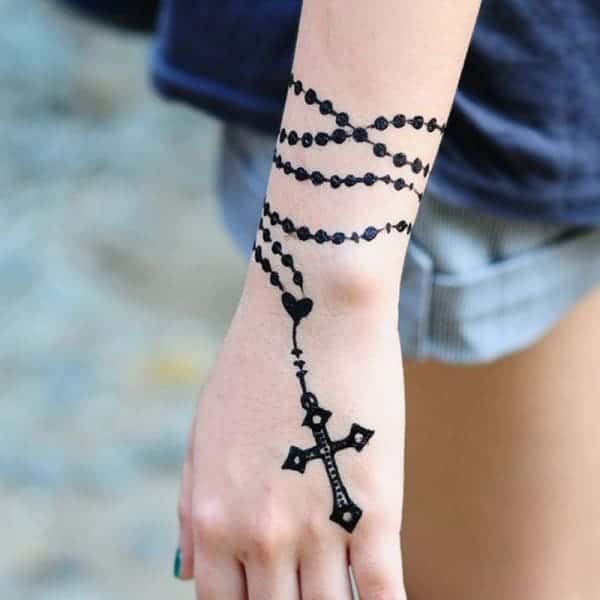 For devout Catholics, a rosary cross tattoo is a strong candidate for your next tattoo. Common placements include the wrists as well as the neck as if you're wearing an actual rosary.
5. Cross and Rose Tattoo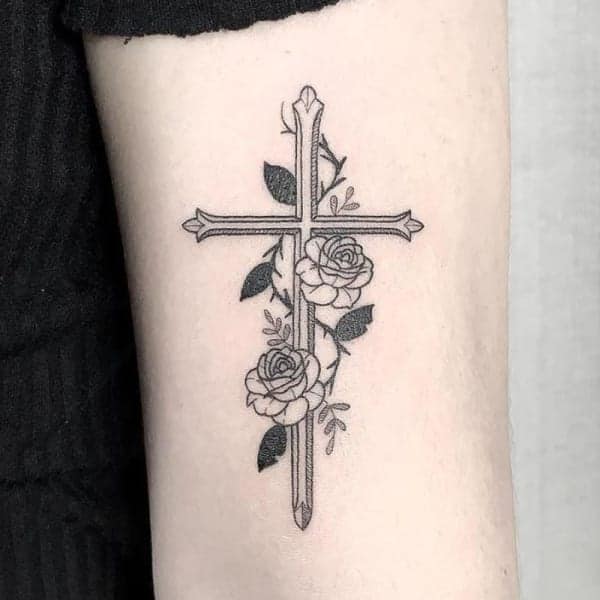 Religious or not, the cross and roses combination often appear in many pop culture symbols. Cross tattoo designs for women often include roses to add a dainty and feminine touch.
6. Roman Cross Tattoo
There's no mistaking the religious appeal of the Roman cross design. The Roman cross honors the love and sacrifice that Jesus Christ showed during the crucifixion. Choosing a Roman cross tattoo is meant to show spirituality and devotion.
7. Rosary Tattoo on Foot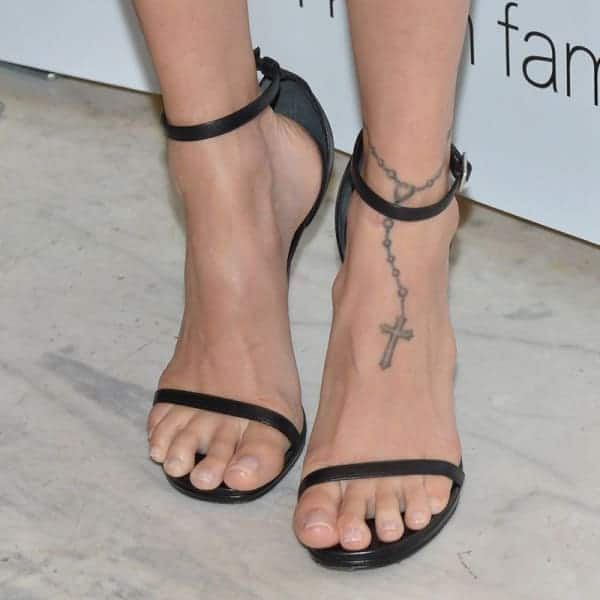 For a more subtle placement, a rosary tattoo on the foot can be one of your options. This is often made to look like an anklet and can be shown off when you wear your high heels or sandals.
8. Neck Cross Tattoo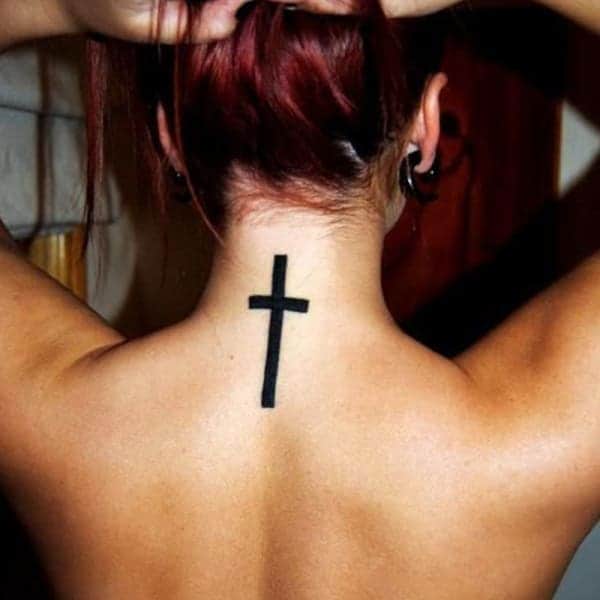 A common placement for a cross tattoo is around the neck area, particularly in the nape or slightly behind or below the ear. If you have longer hair, this can easily be hidden when you want to.
9. Cross and Heart Tattoo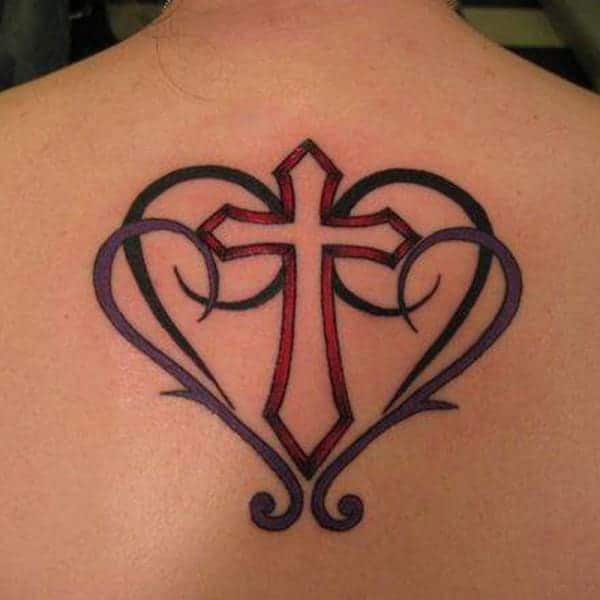 A cross and heart tattoo design often represents faith and love coming together. If you're a spiritual person who puts your faith close to your heart and first in your life, this tattoo design will suit you.
10. Jesus Christ on Cross Tattoo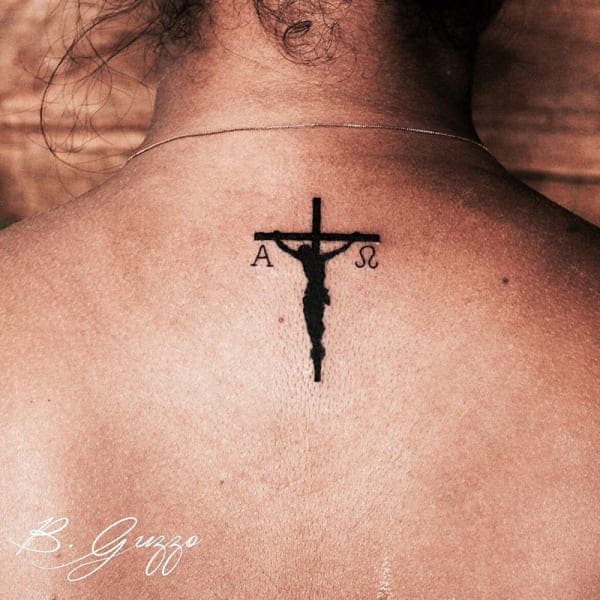 The significance of the cross in Catholicism and Christianism is rooted in the crucifixion of Jesus Christ. Rather than celebrating His death, a cross tattoo with Jesus Christ is meant to recognize His sacrifice to save humanity.
11. Winged Cross Tattoo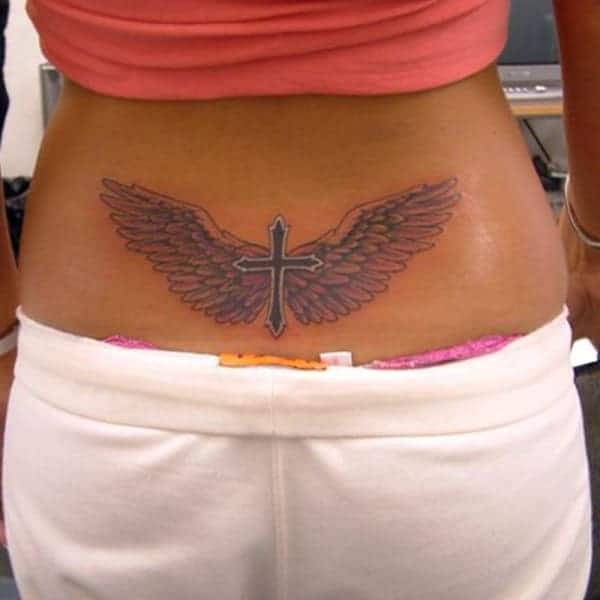 A cross tattoo design with wings can convey different meanings. This tattoo can be a tribute to a loved one who has already passed away. For some others, a winged cross tattoo represents religious freedom.
12. Celtic Cross Tattoo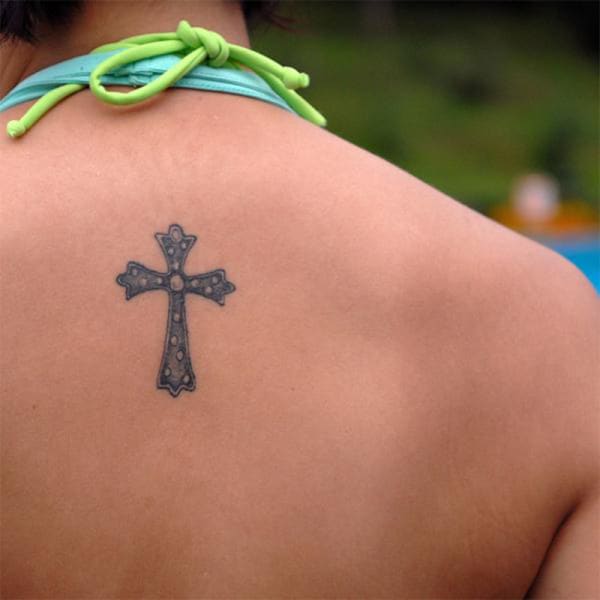 A Celtic cross features a cross that interlocks with a circular ring. This design represents Irish pride and originated from the middle ages. However, some versions of the Celtic cross can be regarded as a hate symbol supporting white supremacism.
13. Tribal Cross Tattoo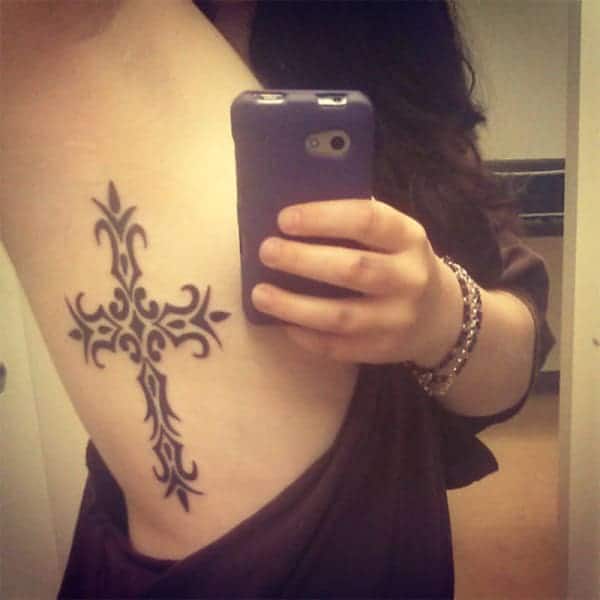 Tribal elements are incorporated in many different tattoo designs, crosses included. Tribal art features strong lines and curves that taper into thin points and corners, which is why it suits the shape of the cross well.
14. Colored Cross Tattoo
One way to make your cross tattoo unique is to get a colored one. However, a colored tattoo requires more maintenance than regular black ink. You need proper care to make sure that they don't fade out quickly.
15. Cross Tattoo on Face
Donned by celebrities, hip-hop artists, and rappers, cross face tattoos are no doubt becoming a huge trend. Getting a face tattoo is a big decision as it can affect your employment options so make sure you don't take it lightly.
16. Cross Tattoo on Ankle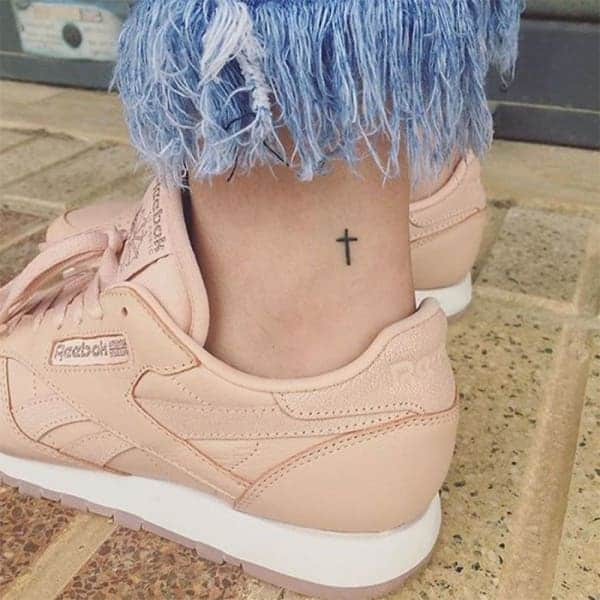 Another placement that you could consider if you want a hidden tattoo is on the ankle. You can pick any cross tattoo design, but remember that getting an ankle tattoo would hurt more as this is a bonier area.
17. Cross Tattoo on Finger
For delicate cross tattoo designs for an omen, the fingers are a popular spot. You can easily obscure them from onlookers, but you can also take a peek at them anytime unlike your nape or ankles.
18. Cross Tattoo on Neck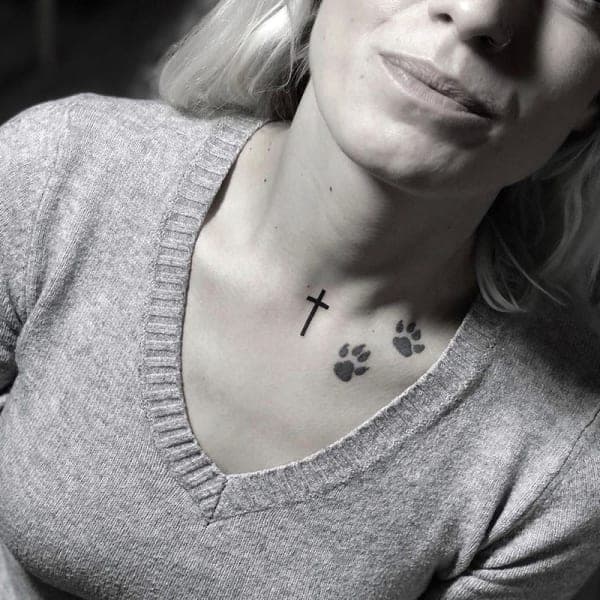 Not afraid to show off your tattoo? Depending on your pain tolerance, you can choose to place your cross tattoo in the middle of the neck for a more visible spot.
19. 3D Illusion Cross Tattoo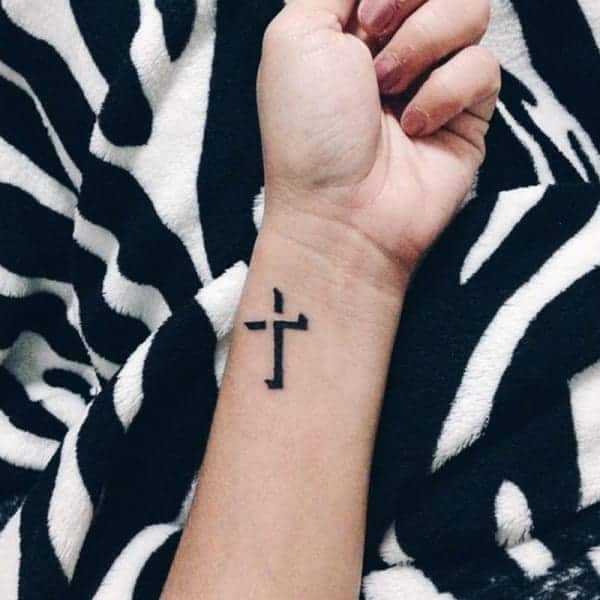 The 3d illusion tattoo is fairly simple for any tattoo artist to create but it does add a nice twist to a simple minimalist cross tattoo design. You can even change the color of the shadow if you wanted to.
20. Cross Tattoo on Forearm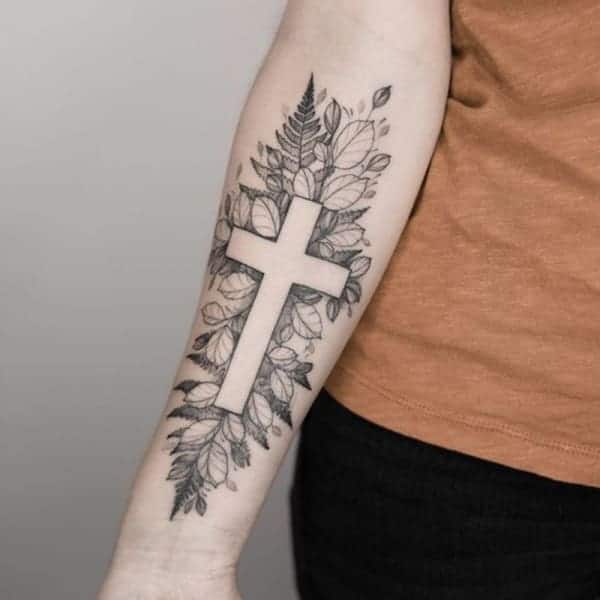 For larger, more intricate designs, the forearms are a good spot to have your tattoo. You can have the creative freedom to go bigger and add more details to your cross tattoo design.
21. Cross Tattoo on Hand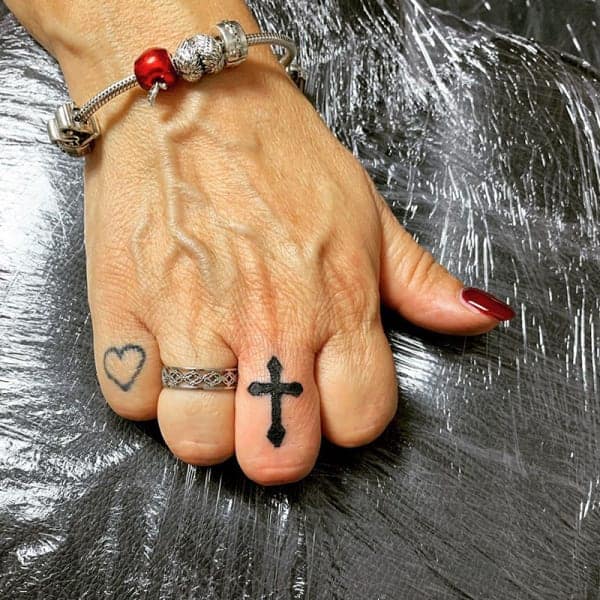 Hand tattoos are a fashionable choice, and you can make your cross tattoo fit on your fingers like jewelry. However, since you use and wash your hands more than other body parts, regular touch-ups are recommended for hand tattoos.
22. Infinity Cross Tattoo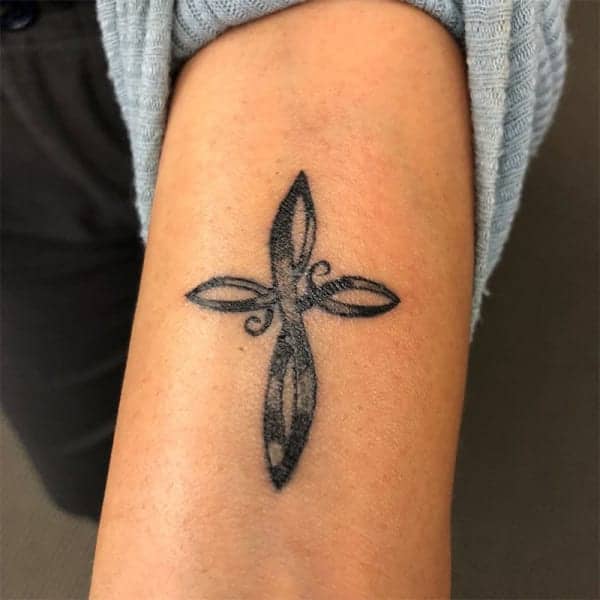 The infinity design symbolizes eternity or limitlessness. Combined with the cross shape, it could represent undying faith and devotion. This is a good choice for people who want a simple yet classy edit to the regular cross.
23. Upside-Down Cross Tattoo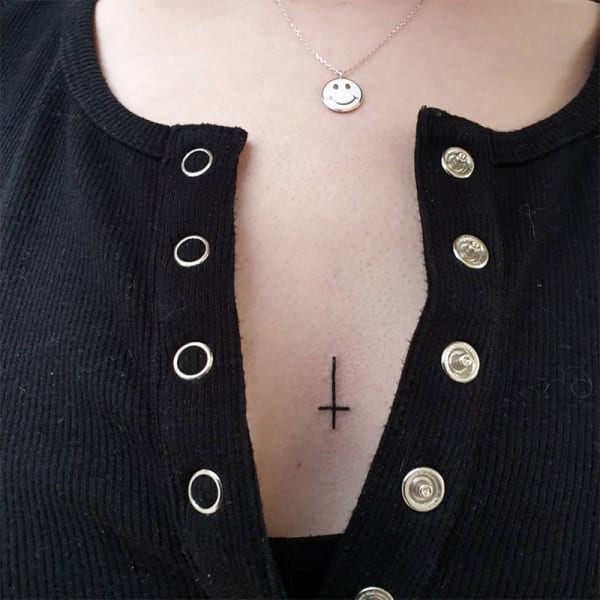 An upside-down cross has several meanings. For others, it represents the martyrdom of Peter the Apostle who requested that his cross be upside-down. However, in popular culture, it's also a symbol of the Anti-Christ.
24. Irish Cross Tattoo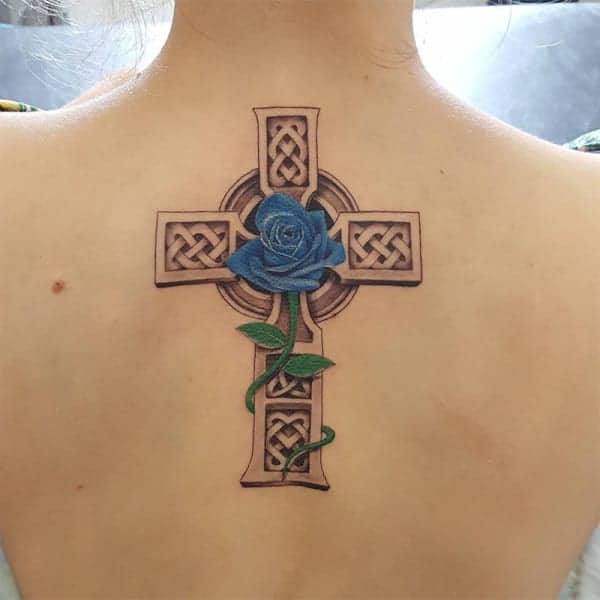 According to lore, the Irish Cross is a combination of the cross and sun, which symbolizes the mixing of Christianity and Paganism, two religions commonly practiced in Ireland. More than symbolizing faith, it's a design that speaks of Irish pride.
25. Three Cross Tattoo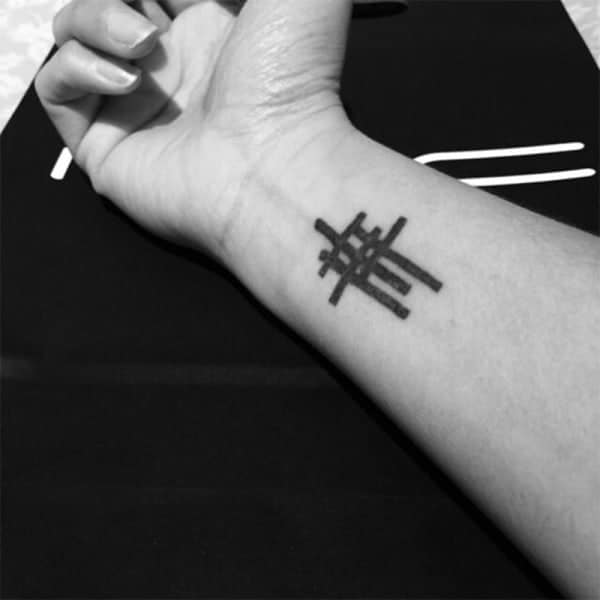 There are two meanings commonly associated with a three cross tattoo design. One is the crucifixion of Jesus Christ with two others at Golgotha. The other meaning is meant to honor the Father, the Son, and the Holy Spirit.
26. Gothic Cross Tattoo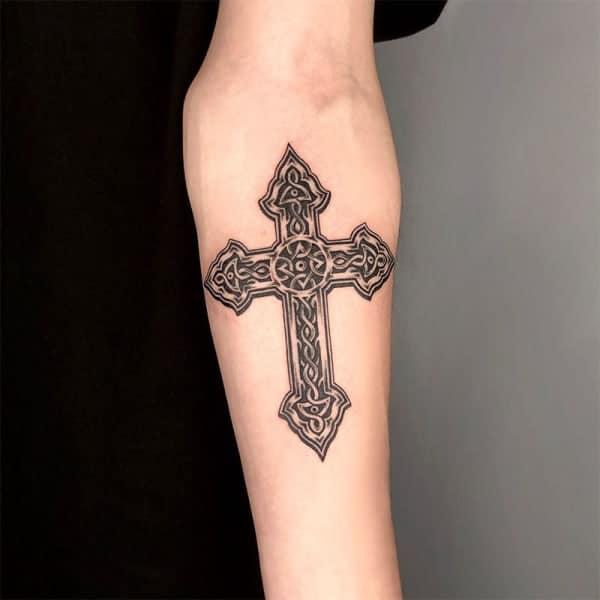 Stemming from the rock culture in the early 1980s, gothic cross tattoo designs represent the gothic lifestyle rather than being a symbol of the Catholic religion. The symbol alludes to the dark and mysterious side of goth music.
27. Stone Cross Tattoo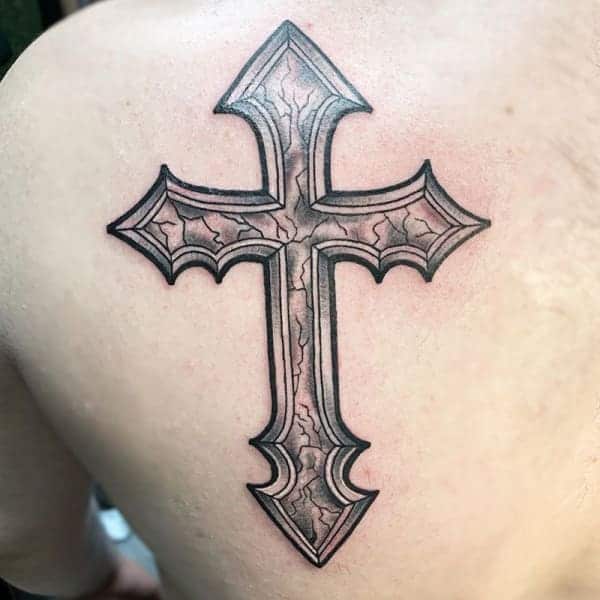 Since the symbol of the cross has transcended ages, many crosses that we see around us are carved out from stone. A stone cross tattoo design simply replicates what we often see in our environment.
28. Bracelet Cross Tattoo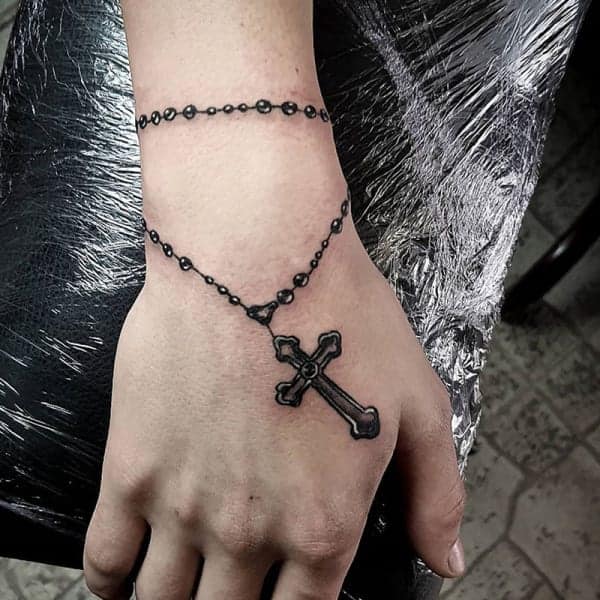 Cross tattoo designs for women can be made to look like wearable jewelry. For wrist and hand tattoos, you can turn your cross into the shape and style of a bracelet.
29. Personalized Cross Tattoo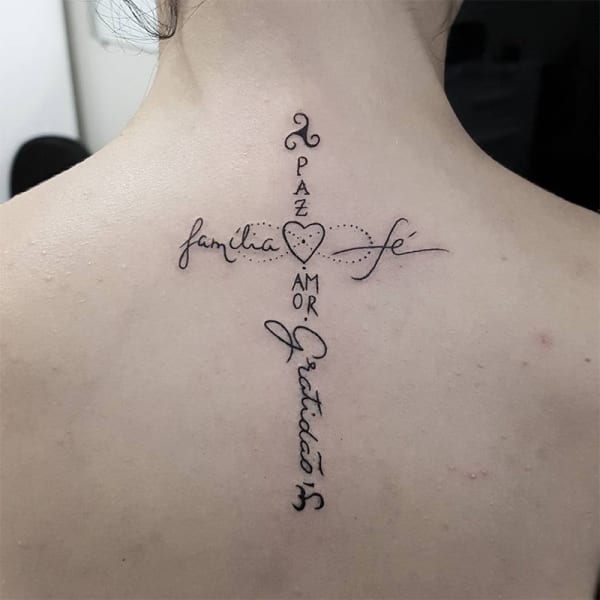 An easy way to personalize your cross tattoo design is to add your name to it. You can also add the name of your family members, partner, or even use a date that's significant to you.
30. Matching Cross Tattoos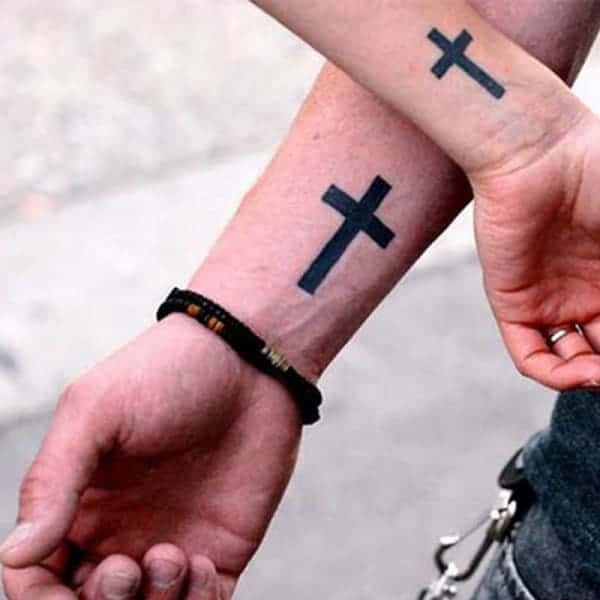 Getting matching tattoos is always a fun idea! You can do it with your siblings, parents, BFF, lover, or even with a group of friends. It's one way to celebrate and share your faith.
31. Cross and Skull Tattoo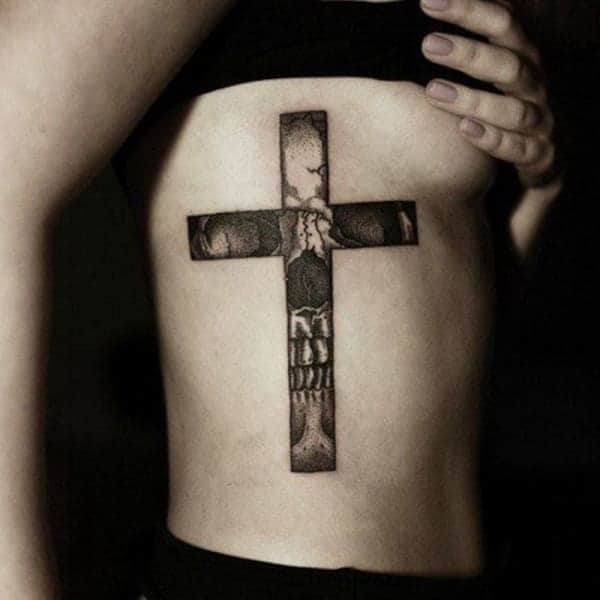 Rather than being religious, a cross and skull tattoo is often worn as a symbol of death and mortality. They look bold and edgy and are a popular choice for those with a gothic or punk way of life.
32. Outline Cross Tattoo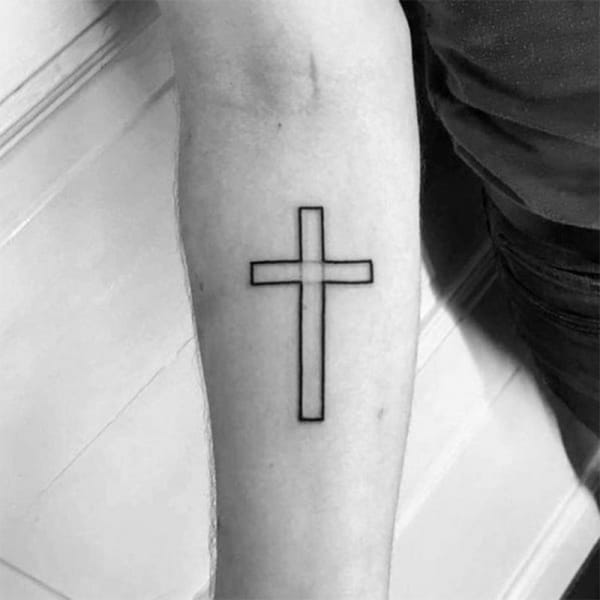 Plain and simple, an outline cross tattoo is a good choice for those looking for a minimalist tattoo. It takes just a few minutes to ink on and is a versatile design that you could place anywhere.
33. Cross and Dove Tattoo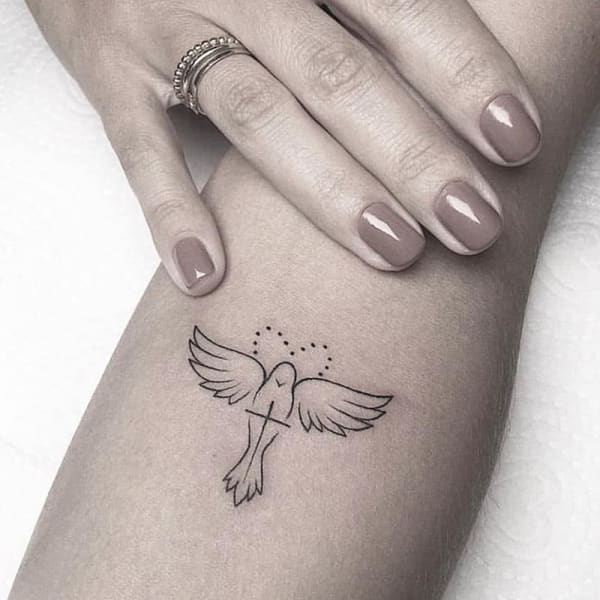 The dove is commonly seen as a symbol of God's will. From the story of Noah of Arc, it represents new beginnings, and that peace and love have finally emerged from a moment of darkness.
34. Ankh Tattoo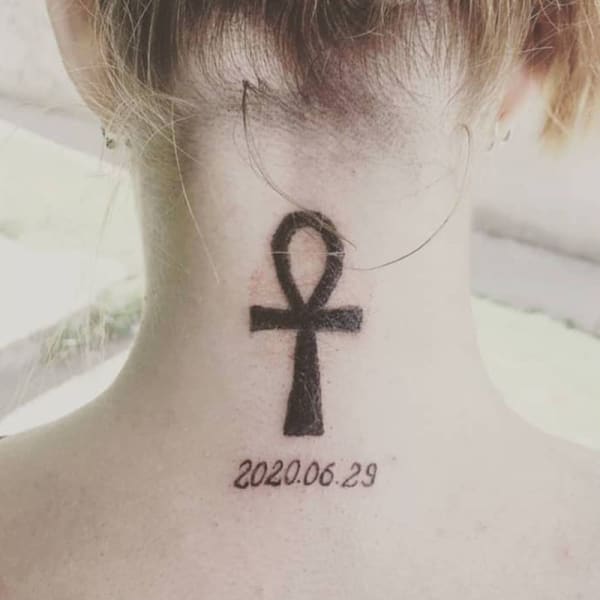 The Ankh is often referred to as an Egyptian cross. In Egyptian history, you would see the ankh in many ancient scriptures and artifacts. The symbol is said to translate to "life".
35. Cross and Anchor Tattoo
The anchor is a popular tattoo symbol as sailors used to get them as a rite of passage after crossing the Atlantic. Combined with a cross, this tattoo symbolizes hope and salvation.