Did you know there are tons of different men's haircuts? Whether you're looking for a low or high skin fade, an undercut, a pomp, a quiff, a comb-over, a faux hawk, a hard part, a buzz cut, or a messy textured fringe, you're sure to love one of these short haircuts for men.
Here's the thing:
Texture, texture, and more texture! When it comes to keeping men's haircuts looking fantastic and in shape for longer, TEXTURE is the way to go.
Ask your hairstylist to add texture to your next cut. Doing this will allow you more leverage to create even more cool hair shapes on top.
And:
The best part about short haircuts for men is they're easy to style, making many of these simple yet trendy! If you're looking for modern hairstyles for short hair, you'll love our list of the best short haircuts for men.
1. Short Crew Cut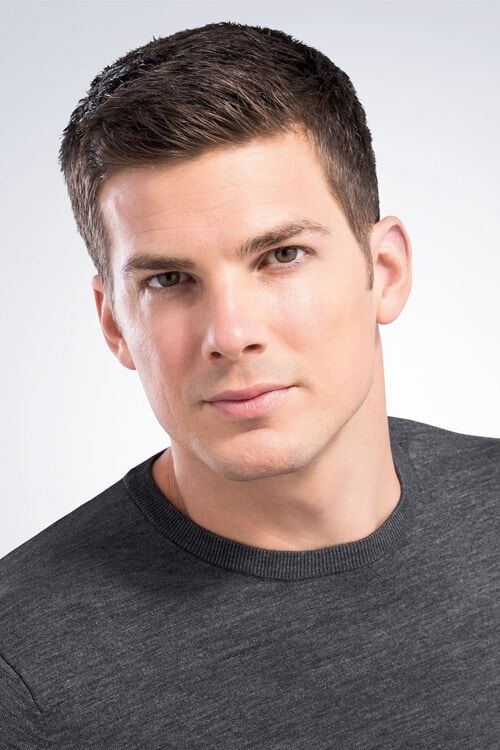 The crew cut is a simple and classic haircut that is easy to achieve and maintain. It's similar to a buzz cut hairstyle, except it's slightly longer, allowing for more styling on top. How you style will depend on how long or short you prefer your crew cut to be.
Most guys prefer a modern crew cut with a taper fade on the sides, while others like a side swept crew cut with the hair in front brushed to one side. You can also spike up the front, style it messy, or just leave it natural.
Men with thinning hair should use a wax or clay to keep the crew cut hairstyle textured, which can make your hair appear thicker.
2. Short French Crop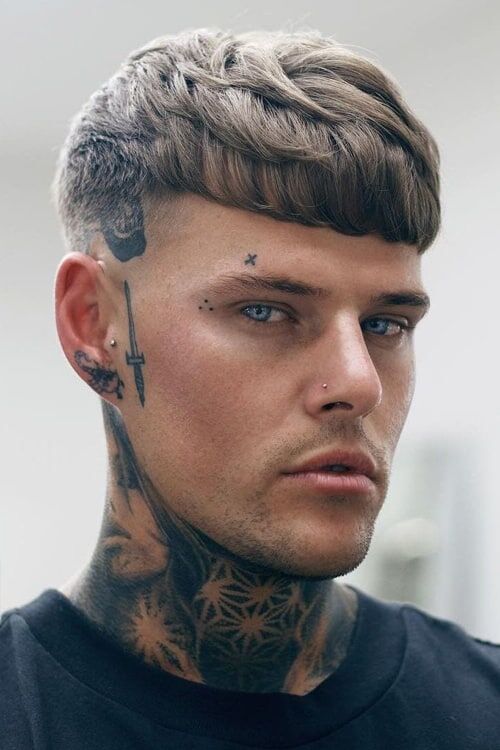 The French crop, or "crop top" is a popular and modern short haircut for men that prefer a textured look. Like the crew cut, cropped hairstyles are always trendy.
Barbers will achieve this look by cutting the sides with an undercut or fade while leaving the hair on top slightly longer and trimmed short in the front.
Crop top haircuts are often styled forward, and what makes this textured hairstyle unique is the natural look and style. The best products for textured styles are matte pomades, waxes, and clays.
These no shine hair styling products leave a natural, textured finish.
3. Short Fringe Cut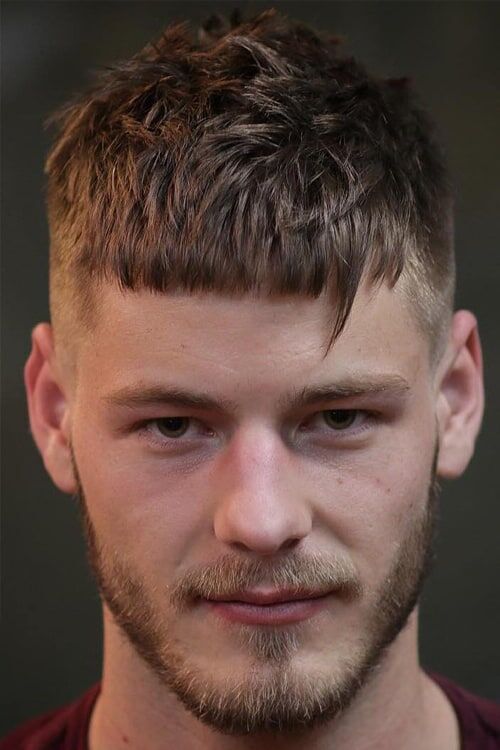 Fringe hairstyles are sexy and stylish but require a good amount of styling and maintenance. Sometimes referred to as "man bangs", fringe haircuts can be cropped or left longer, allowing them to be styled messy, to the side or angular, and textured.
This cut is perfect for men with wavy or curly hair. Combined with a short taper or fade on the sides and back, guys with bangs still have plenty of styling options for the short hair on top.
Try using a good pomade, wax or clay and experiment with different ways to achieve your favorite fringe look.
4. Short Side Part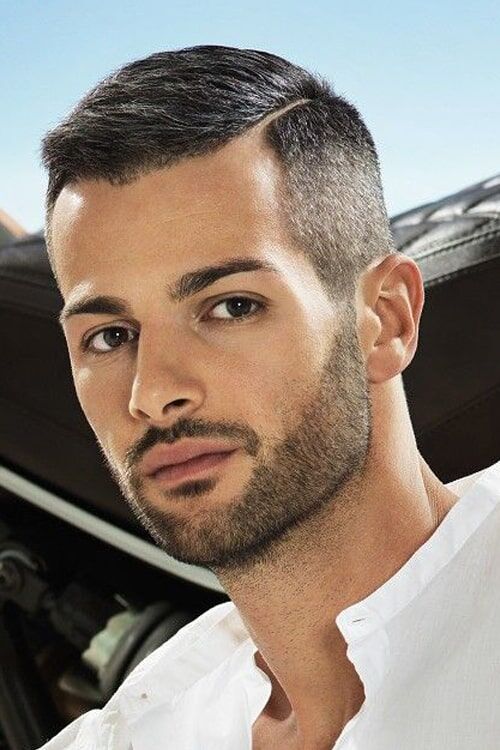 The side part haircut is the epitome of the gentleman's hairstyle. It's perfect for both casual and formal events, mostly because the side part exudes elegance in a neat and structured style.
Short side part cuts are often tapered on the sides. Remember, whether you want a classic taper or a fade, how you style your hair depends on how high you want the blending process to start.
Similar to a comb over, you can ask your barber to shave a thick line into your scalp where you part your hair. This hard part will accentuate the side part, making it even more modern and sleek.
5. High Undercut Fade w/ Textured Back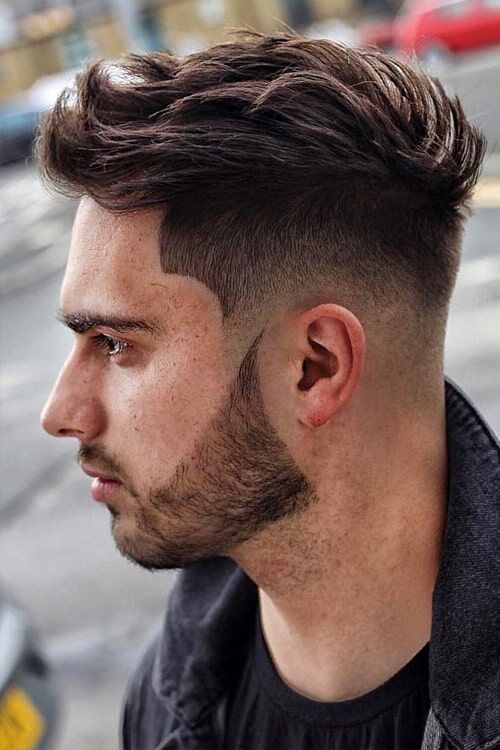 This trendy short haircut style with undercut sides can accommodate any guy's sense of style. The textured slicked back hair gives the haircut more uniqueness and versatility, while the length on top gives you plenty of styling options.
6. Short Low Bald Fade w/ Side Part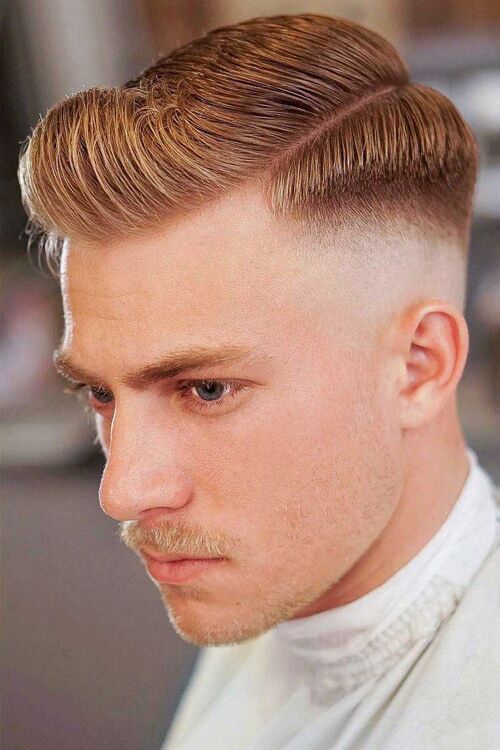 The low bald fade is another classic cut and style with a new twist. The side part gives this trendy hairstyle extra class and can make it a signature element of your style that works for both formal and casual occasions.
7. Buzz Cut w/ Shape Up + High Fade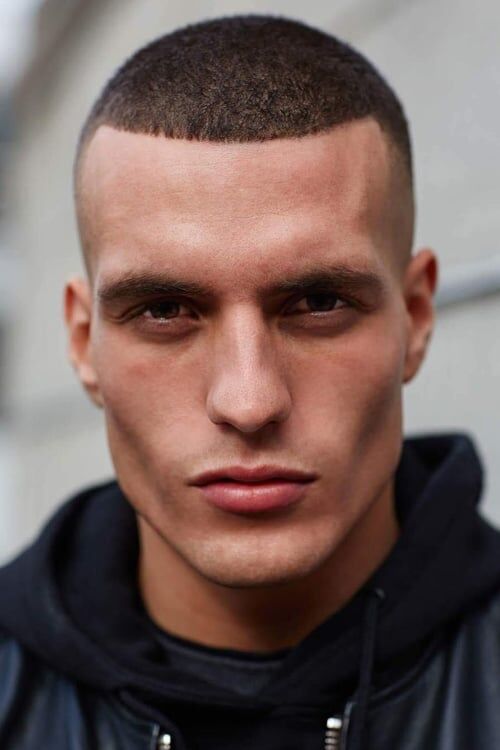 A classic buzz cut can show off your face shape, while the high skin fade is cut clean on the sides.
This type of short haircut is easy to maintain and style, making it perfect for busy guys on a tight schedule or who prefer a "get up and go" type of hairstyle.
8. Short Angular Fringe Cut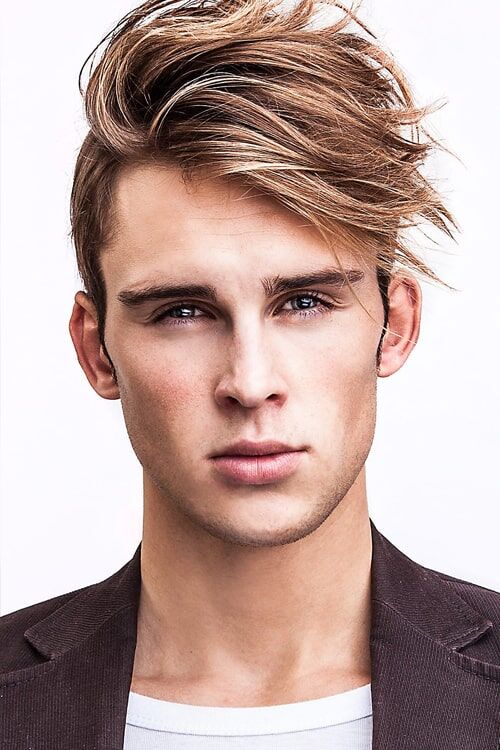 The angular fringe cut is a classic, clean look that has tapered, short and clean sides, but it maintains the thickness on the top of the hair. If you have a round face, this hairstyle will look perfect on you, but the style is so versatile that it will look great on anyone with any face shape.
9. Short Push Up Cut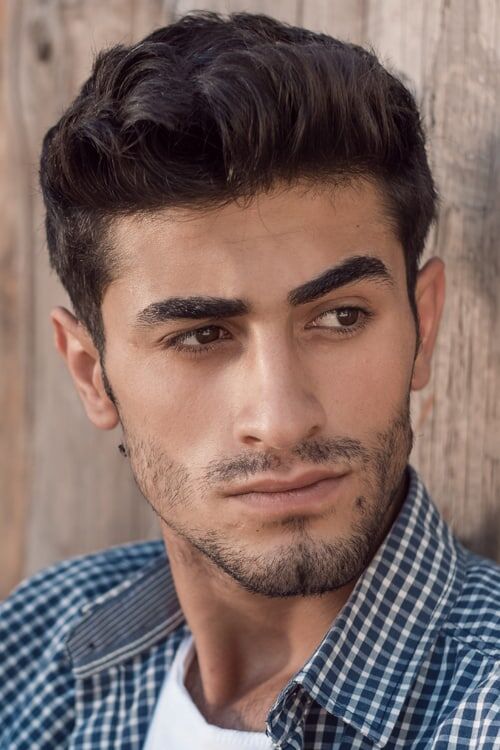 This classic cut is super flexible and easy to work with. It's thick on top while the sides are buzzed down almost completely. This look is similar to an angular fringe, except the top of the hair is much longer, allowing for more flexibility.
10. Clean Short Taper w/ Sponge Curls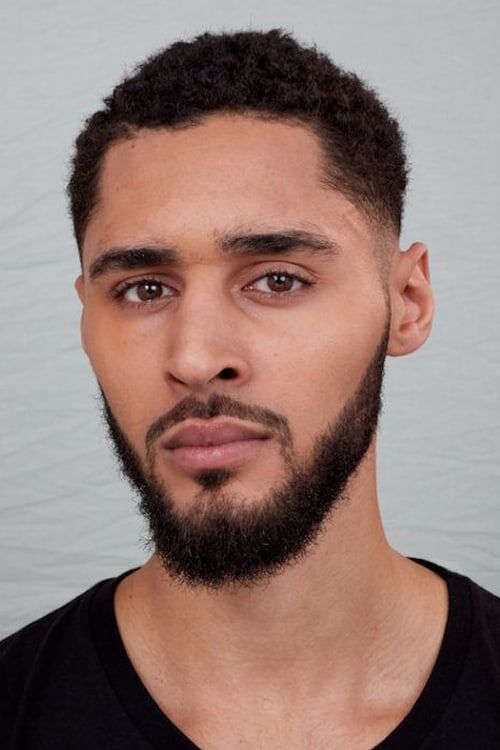 The clean taper and sponge hair curls cut has long, curled hair on top with the shorter hair on the sides and back gradually fading away, becoming progressively shorter as it ultimately blends with the skin.
11. Sleek Short Faded Pomp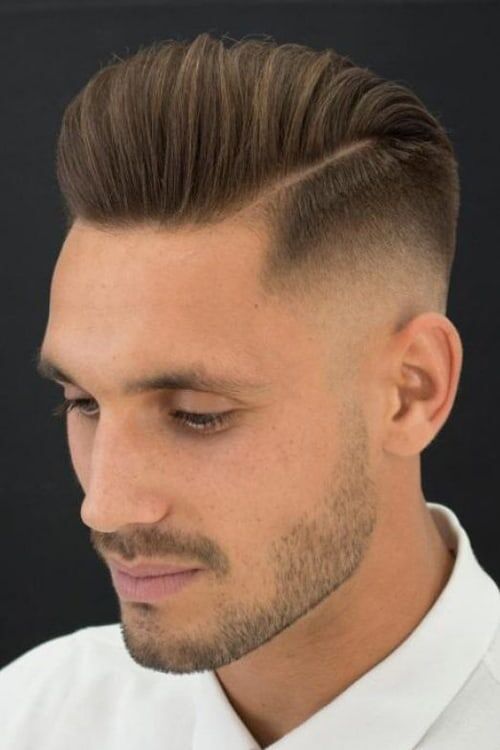 This sleek short faded pompadour is the perfect cut for men with a particularly round face shape. This style entails leaving some smooth strands on the crown and styling them into a sleek pompadour before finishing with a nice fade on the sides.
12. Fine Hard Part w/ Short High Fade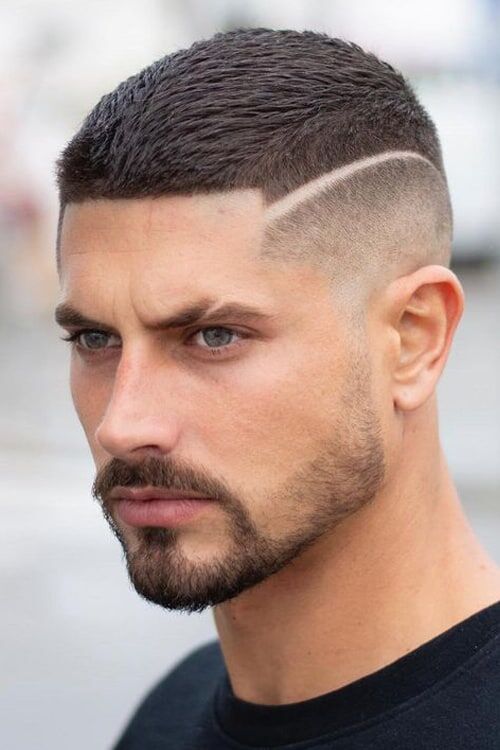 This fine hard part with a high fade cut is a game-changer. The clean-shaven sides of a high fade are paired with a defining hard part. It's a cut that will have you turning heads wherever you go.
13. Short Faded Mohawk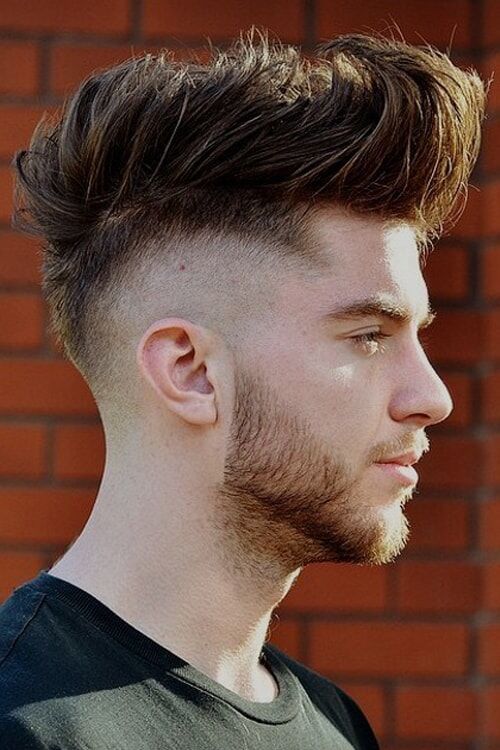 This cut is a great style for hair of any texture. The clean sides of a high fade blend into the loose natural textures of the mohawk.
14. Short Spiky Top w/ Mid Fade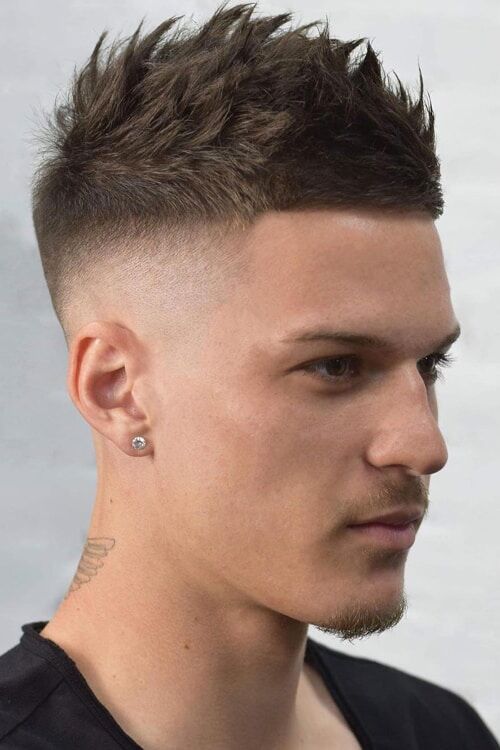 One of the best ways to ease into faded haircuts for men is to start with a spiky top cut with a mid fade. With this cut, you keep the top of your hair a little longer than you normally do for your regular cut by gradually decreasing the length as you go down.
Use your favorite styling product to spike up the ends for a younger, yet put-together style.
15. Short Temple Fade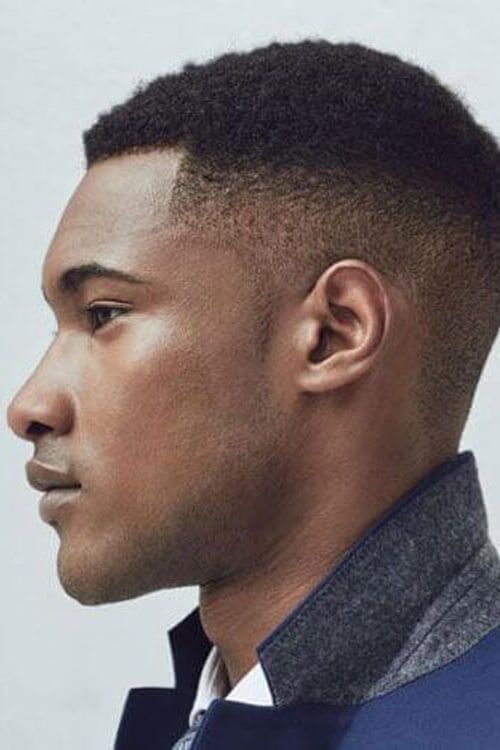 The temple fade is a nice modern style for natural hair. This men's cut is a great choice for men who want short and manageable hair with natural texture.
Complete the look with an equally perfect facial hairstyle.
16. Short Square Shape Cuts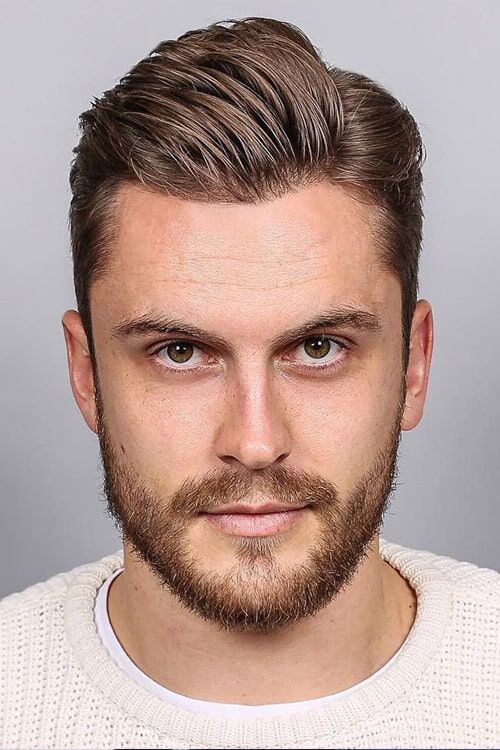 The best male haircuts are all about shape. A good barber will know how to work with the shape of your head and face to create a masculine style.
Squared haircuts create balance and accentuate the jawline. You'll notice expert barbers always consider these elements when crafting a new cut.
17. Short Asymmetrical Cut w/ Textured Bangs
Short haircuts for men don't have to be basic. If you've ever considered trying something a bit more stylish— this asymmetrical cut with sharp textured bangs is a great option.
Notice the hair in back of this cut is left a bit longer. You'll also notice all the lines have to be super accurate to achieve the look of this unique cut.
18. Short Taper w/ Neat Side Part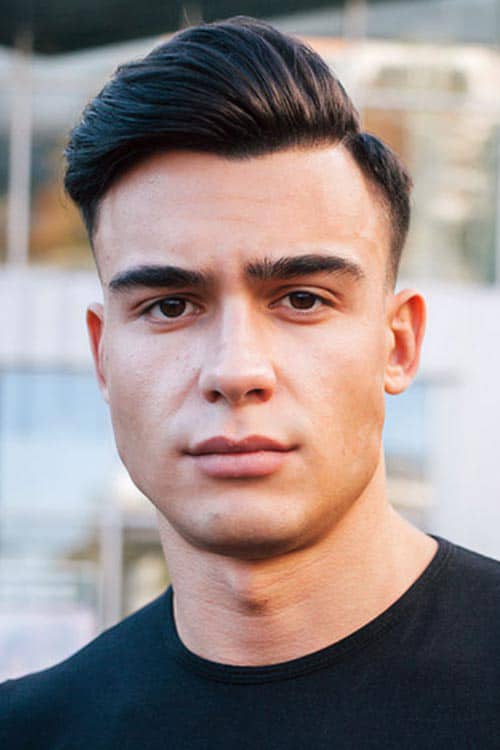 As much as we love seeing wild, untamed locks and man buns, we have to admit that a clean hairstyle will always be considered classier.
For a short, classy cut that still has some edge, try this spin on the traditional taper with the added neat, well-defined side parting.
19. Butch Cut
A butch cut is not the same as a short buzz cut but is still low maintenance. This cut is done with clippers and touched up with scissors, while the design part is detailed with clippers guards from 3 to 5.
20. Short Caesar Cut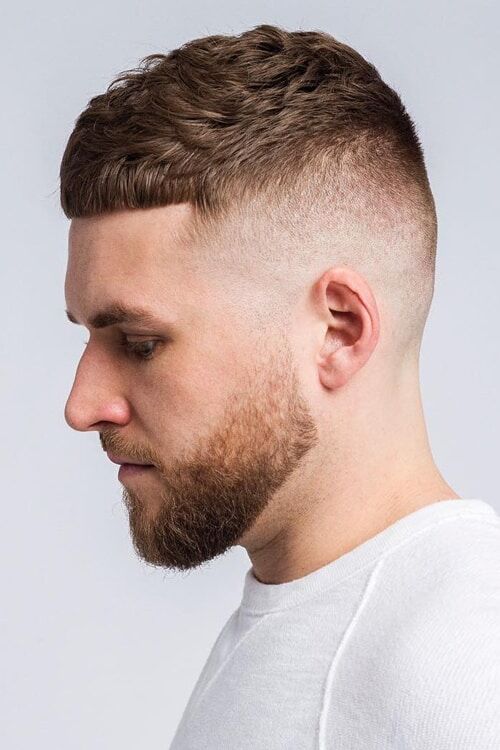 The Caesar cut was first inspired by a fashion popular among men in ancient Rome. To this day, it's still a daring hairstyle that is meant for those with a longer face shape.
This versatile and elegant cut combines textured cuts in the sides with a longer top hair, all carefully compact within the general look.
The Caesar cut works especially well for men with a receding hairline or thinning hair. It can perfectly hide both processes and maintain an outside appearance of power and confidence.
21. Military Comb Over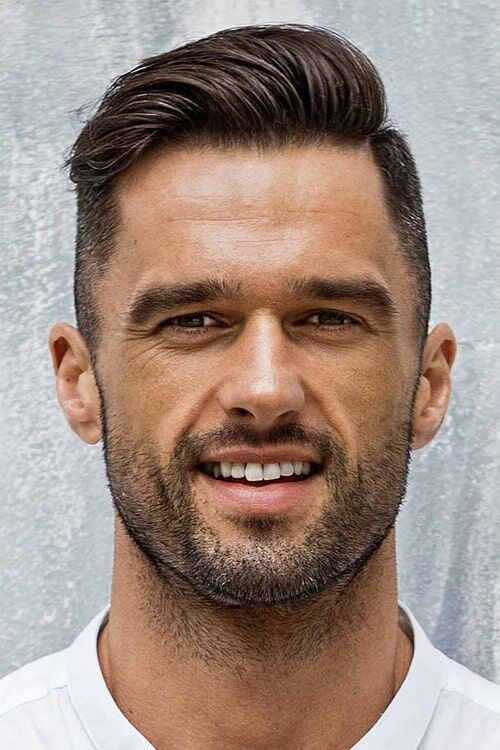 Brad Pitt has been a trendsetter for years when it comes to sexy hairstyles. He's rocked several military hairstyles during the course of his movie career.
One of these short cuts is the appealing military comb over pictured here, that is both edgy and modern and is a look that works well for all hair types.
22. Burr Cut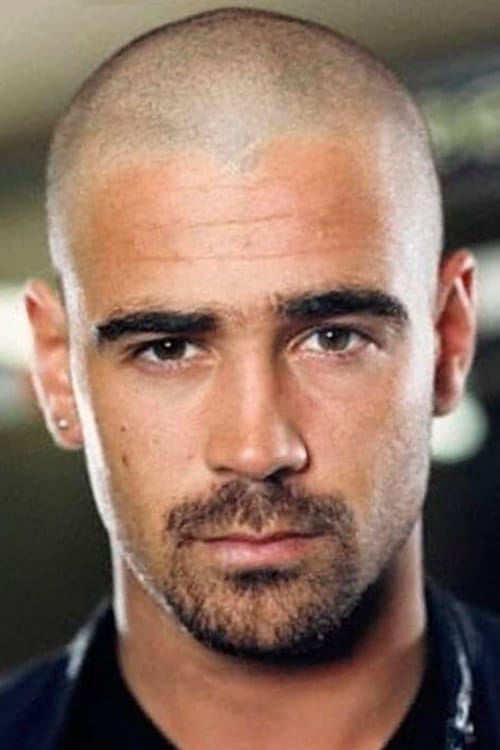 This cut might look similar to a buzz cut, however, they are quite different. With the burr cut, the hair over the entire head is to clipped one length, approximately one-eighth of an inch or shorter.
It is a popular style among athletes and resembles the type of haircut new recruits receive upon entering their military service.
The best part about this cut is no product is needed to style. In fact, it requires basically no styling. This cut is what you think of when you hear "I woke up like this" – literally.
Ask your barber to clip your hair to an even length of a number one or two all around your head. This cut is the most suitable variant for straight, wavy, coiled and kinky types of hair.
23. The "Convertible" Cut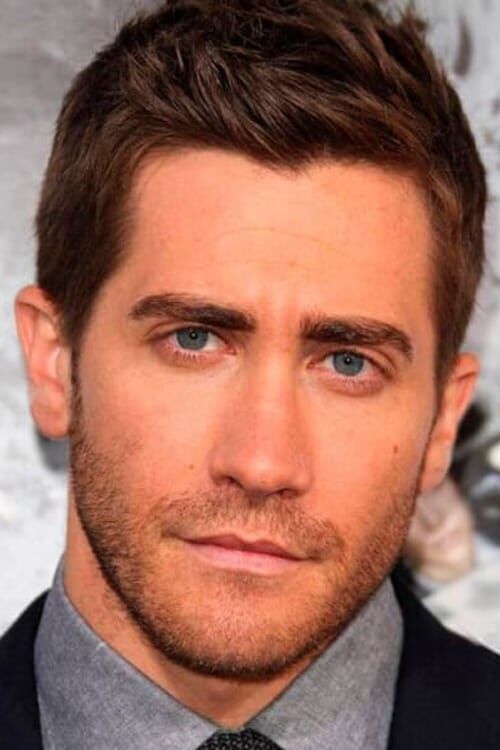 The term "convertible" refers to a haircut that can be worn in more than one way. Layered or taper haircuts can be styled with enough hair left on the top to style as desired.
Try it forward with bangs, parted or without a part, combed to the side or up and back. How you style depends on your hair length and type.
24. Short Ivy League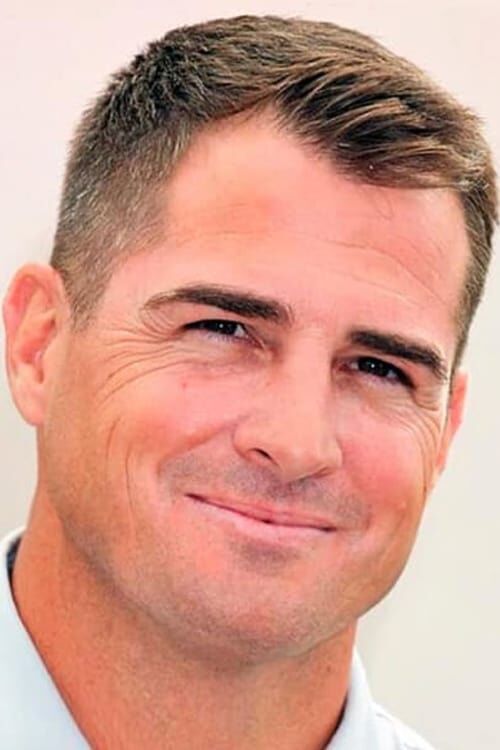 If you're looking for a more conservative or professional haircut, the Ivy League haircut is a clean, conservative and ideal option you can't go wrong with. This cut features a classy short style that yields a discreet and elegant look.
This cut is suitable for straight, wavy and coiled hair types and can be styled in a variety of ways. Traditionally, the Ivy League has the top of the head tapered in length and the front of the top longer.
The hair on the back and sides can be tapered to different lengths depending on your preferences, either to a clipped length or scissor trimmed.
Remember, there must be no sharp edges so ask your barber to use scissors to even out the line of junction between the sides and back together with the top.
25. Short Curly Top w/ Fade + Side Part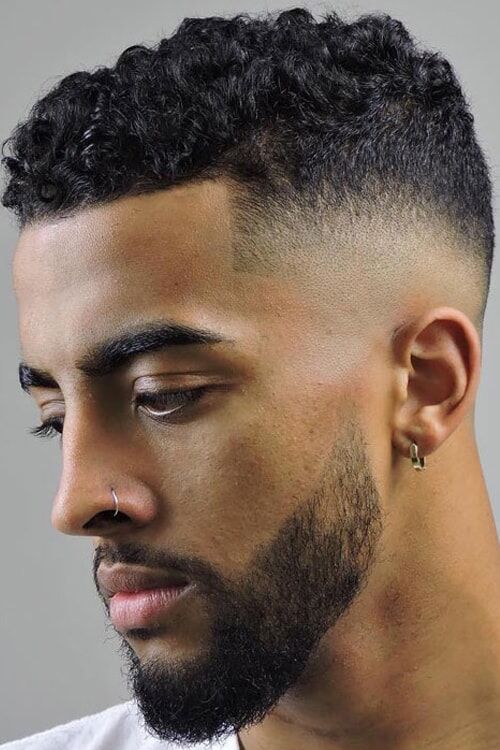 A fade and a hard part with a side-swept longer top is always a classy short hairstyle for men. If your hair on top is kept slightly longer and is naturally curly, it makes this cut even classier and more remarkable.
This style is among the trendiest men's short hairstyles and is flattering on almost any face type.
26. Short Angled Cut w/ Long Bangs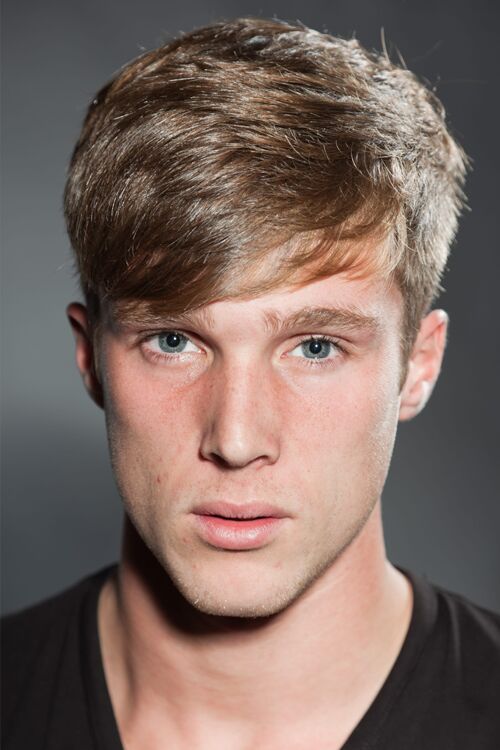 Men with straight hair will love this short angled cut with long bangs. To achieve this look, straighten the bangs in the front, using a flat iron set to medium heat.
Keep the bangs long and style them to one side, almost covering the eyes. Finish by spraying with a shiny serum for a highlighted glow.
27. Short Disconnected Undercut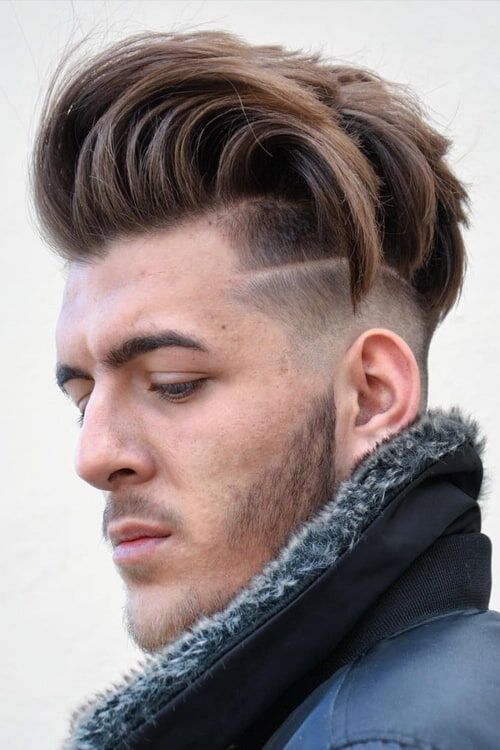 The disconnected undercut is a trendy option that can be styled in a variety of ways. It works well when mixed with a messy brush back, comb over or pompadour.
For some extra style, try spicing things up by adding a fun color to your look, like the lilac purple pictured here.
28. Short Messy Faux Hawk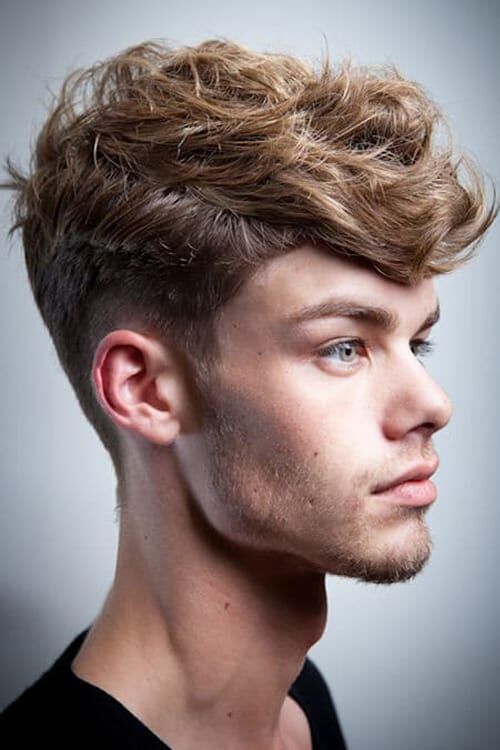 This modern twist on the traditional faux hawk is sure to get attention. The "messy" term refers to the edgy hair designs on the side, making this cut both fashionable and edgy.
It's a cut that works best for Asians with naturally thick hair.
29. Short Vertical Spikes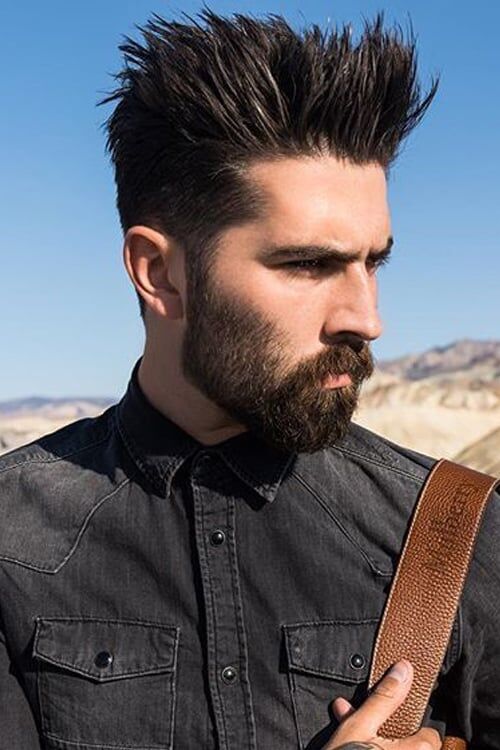 With this cut, the sides are trimmed and combed back, while the spikes in the front are styled straight up. The top section has longer hair that can be brushed straight up and held in position with a strong-hold gel.
If you love short Asian men's hairstyles, this is an easy one to try on for size.
30. Short Boyish Cut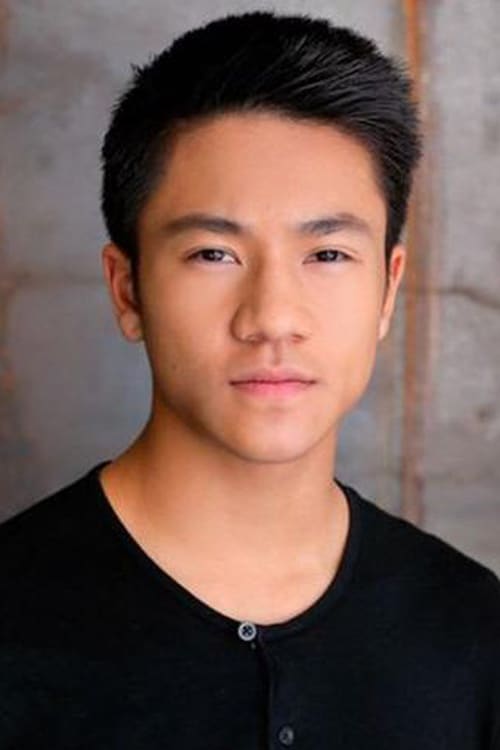 This haircut gets its name because it's main goal is to make you look like a schoolboy.
All it requires is a temple fade cut to start, then by combing out the hair on top and setting it with a styling product, you create a "boyish" look that will make you appear younger, or at the very least, give your look a fresh, "youthful" appearance.
31. Short Crop + Cowlick
Men with cowlicks – never fear! This is a look similar to the Ceasar or French crop, but is a look you can rock, YES- even with a cowlick!
For this cut, the hair is shaved on the sides while still maintaining a "messy" look on top. It's an ideal cut for men with medium hair and is relatively low-maintenance when it comes to styling.
32. Short Flat Top
This flat top cut, also known as the "horseshoe" flat top is a cut where the hair on the top is cut in a way so it's able to stand on its own. This cut maintains a flat hair appearance on the crown, while the hair itself is a bit longer.
Use a strong styling product like a wax or pomade to help it stand and maintain its shape.
33. Short Layered Cut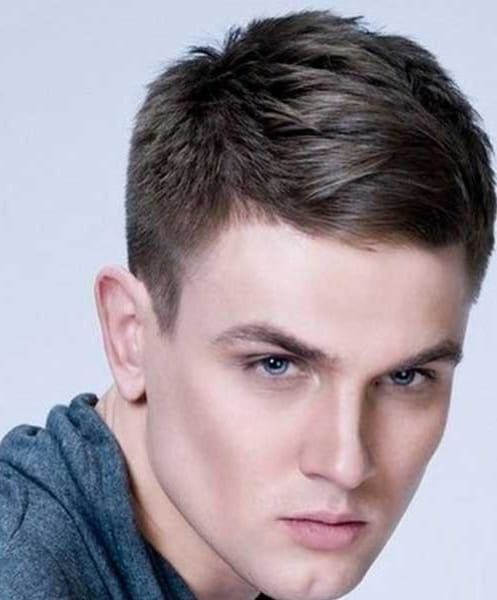 This short layered haircut gives a messy look, but it can be styled in multiple ways to give you some variety. Your barber should know it involves trimming the hair on all parts of the head in order to maintain a balance in length all the way round.