Rose tattoo designs are so versatile. They can signify the strength of a woman while also highlighting our femininity. Rose tattoos are also timeless so you never have to worry about your design being out of style. Take a look at our top picks!
What's the bottom line?
Choosing a beautiful rose tattoo design has never been this difficult. Why? Because everything looks good! Why don't you let your friends help you? Share this article with them to choose the best design for you!
1. Minimalist Rose Tattoo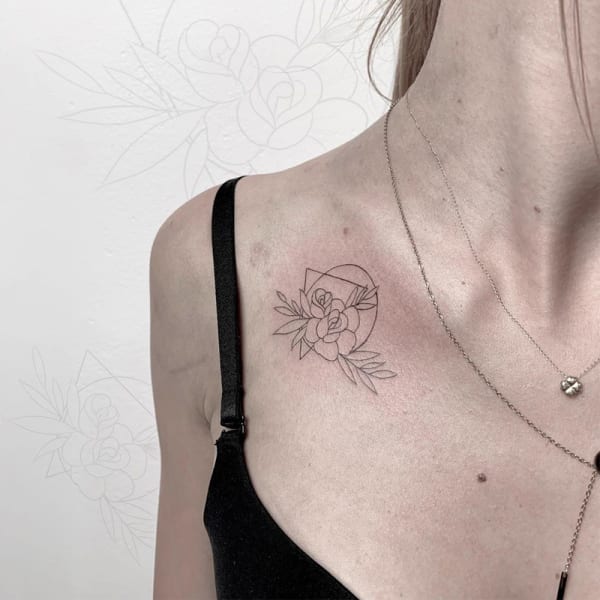 A minimalist rose tattoo design is a good choice if you want to get the contrast between the strong look of the flower and the finished design. Besides the rose, you can also add minimalistic line work.
2. Delicate Rose Tattoo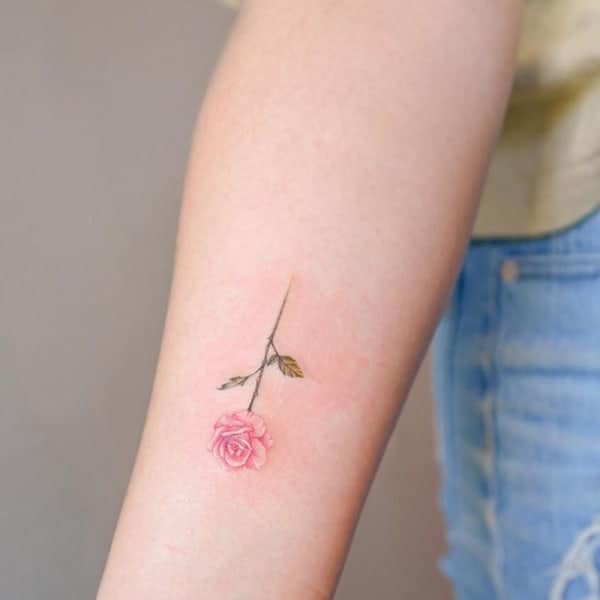 If you are a fan of all things subtle then this design will be perfect! In this way, you can put all the focus on the rose and everyone can clearly see the delicate design.
3. Outline Rose Tattoo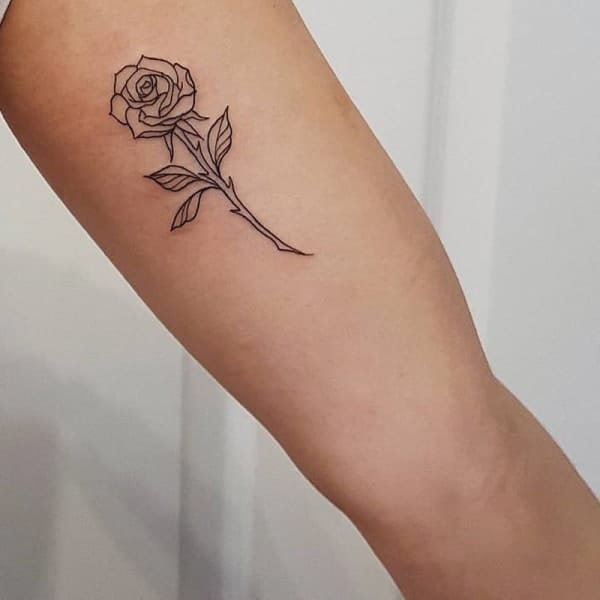 An outline rose tattoo will really highlight the details of the rose. What is so special about a rose design is that even if you are only doing an outline, it already looks amazing from any angle.
4. Rose Tattoo with Text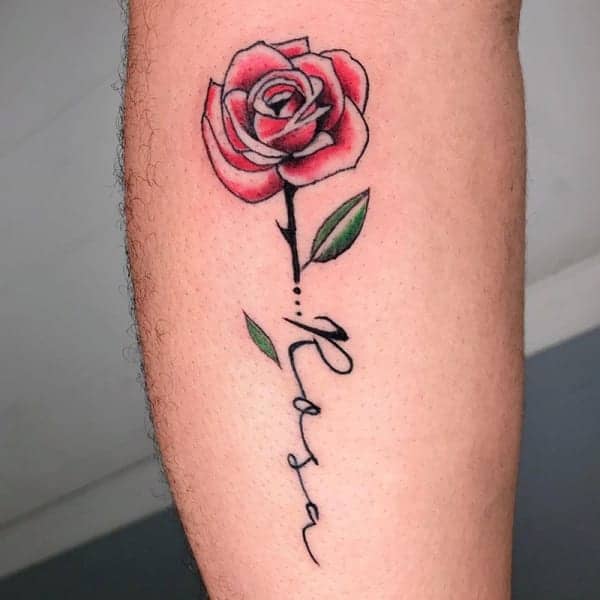 Adding text to your rose tattoo will make your design truly yours. As roses are associated with love and charm, you can add a single word along those lines. Using a cursive font works well with the rose.
5. Colored Rose Tattoo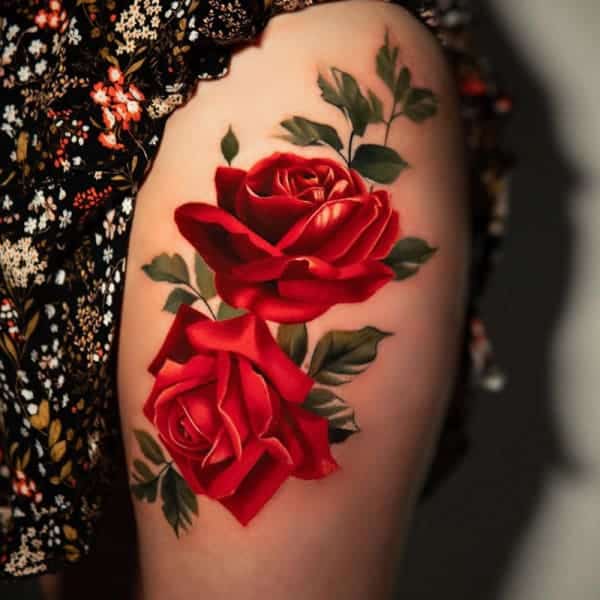 Bring life to your tattoo by adding color—not that a rose design needs one. You can stick with the classic red or you can try other colors that look equally stunning like blue or yellow.
6. Watercolor Rose Tattoo
Simply stunning! This rose tattoo design will add to the effect of the delicateness of every rose petal. A splash of watercolor on a rose tattoo makes it look more dreamy. Be careful not to overdo the watercolor effect to still make the rose pop.
7. Rose Henna Tattoo
If you want a rose tattoo that is temporary but will still last a good amount of time, then you can opt for henna. You can also achieve such exquisite designs with henna. Usually, henna fades after three weeks.
8. Tribal Rose Tattoo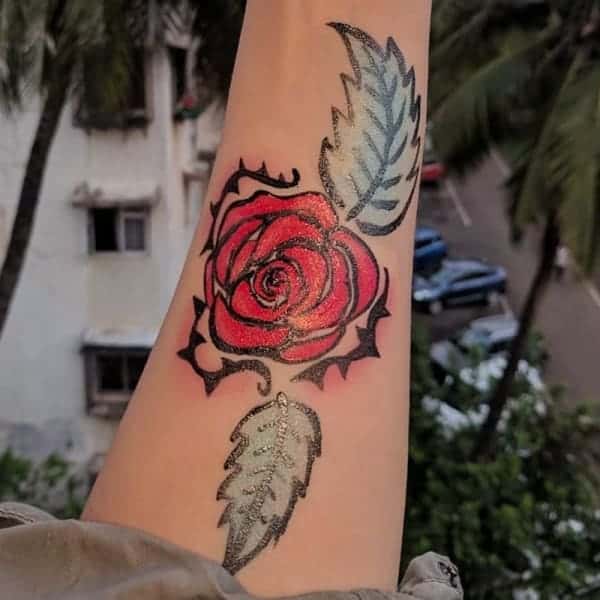 Sometimes, a rose design does not only signify delicateness or femininity. It can also symbolize being organic, unfiltered, and raw. Adding a tribal aspect to the rose will give that effect.
9. Rose and Skull Glow in the Dark Tattoo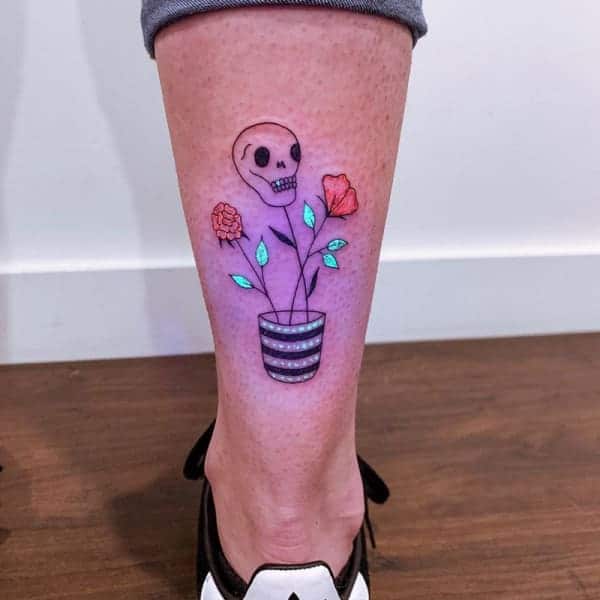 A rose design mixed with a skull is perfect for a mysterious vibe. Add to that the fact that your tattoo glows in the dark, everyone around you might think that you are this charming temptress.
10. Rose and Skeleton Hand Tattoo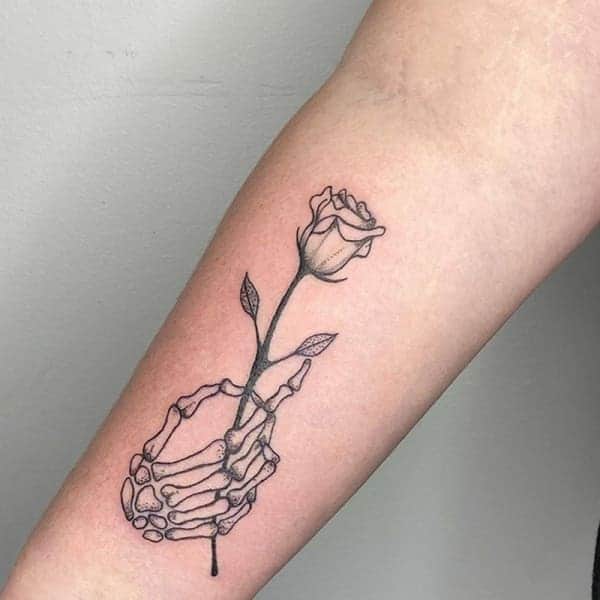 Keeping up with the melodramatic theme, a skeleton hand grasping a single rose just takes the cake. Some may interpret it as having a gothic vibe, while others may think that it is overflowing with drama.
11. Rose with Thorns Tattoo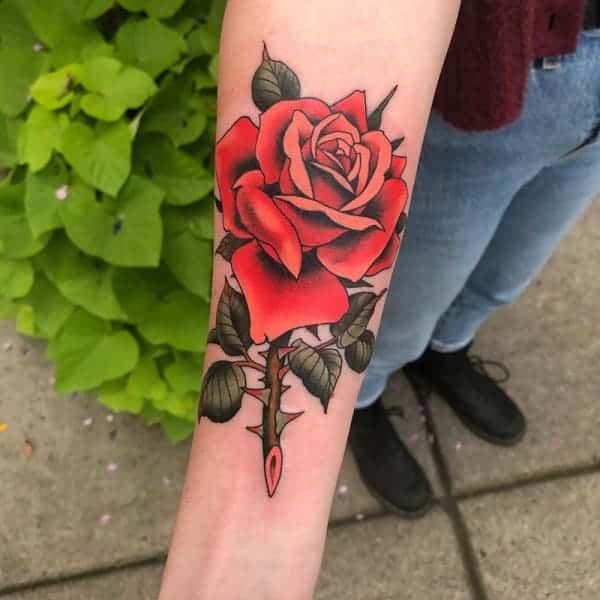 This is another take to the classic rose tattoo. This time, the emphasis is on the fact that roses have thorns. You are a woman who is sweet yet spicy, the epitome of a femme fatale.
12. Rose Bush Tattoo on the Upper Arm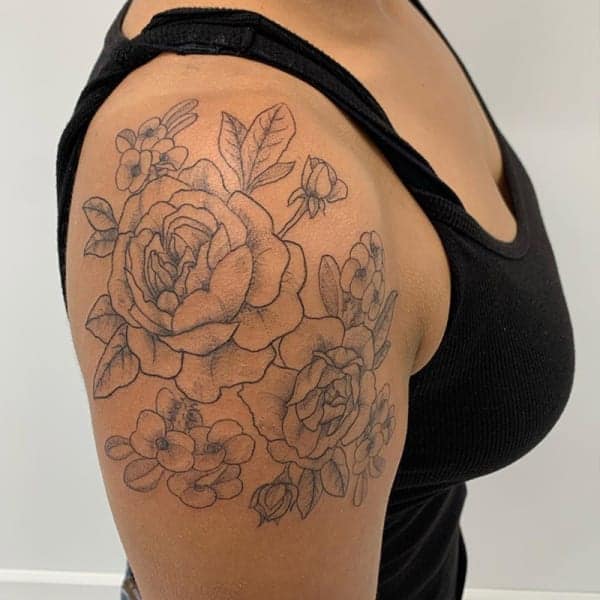 If you want to depict real-life on your body art then you should go all in! Make sure that the sizes of each aspect of the design are proportional so that it will not look too busy on the eyes.
13. Rose Tattoo on the Chest
A lot of women used to place a rose tattoo at the center of their chests. The trend now is to ink the natural curve of the breast and fade the design out to the chest. Needless to say, the effect is mesmerizing.
14. Side Boob Rose Tattoo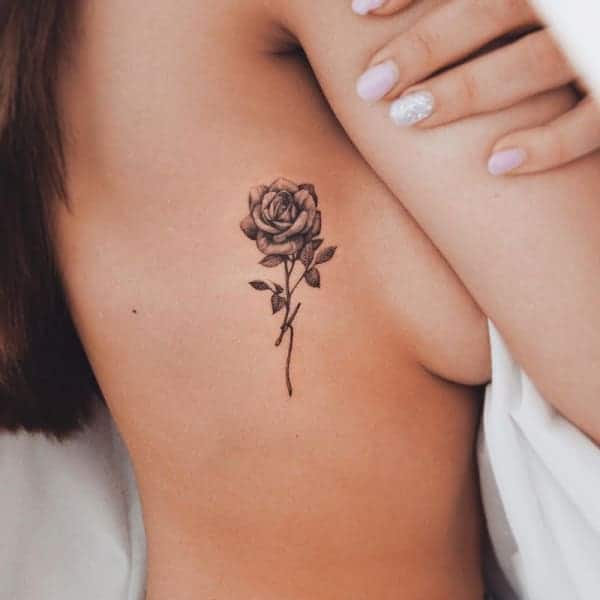 May it be a small tattoo or a large tattoo, we can all agree here that a rose side boob tattoo will look sexy on anybody.
15. Matching Rose Tattoo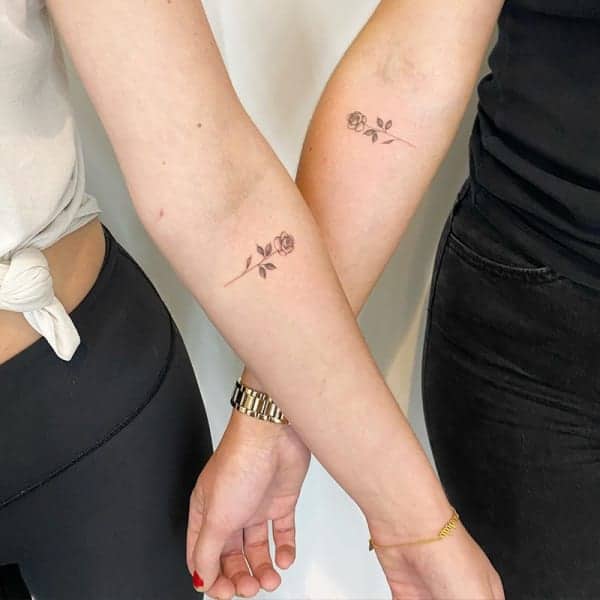 A no-brainer tattoo design that you can get with your best friend is, of course, a rose. It symbolizes friendly love, one that grew into a beautiful thing and will still keep on blooming. Awww.
16. Rose Tattoo on the Shoulder
If you choose to have a rose bush design that is on the shoulder and extends to some parts of your chest, the tattoo emphasizes your neck and face. It goes well with a tank or crop top.
17. Rose Tattoo with Human Face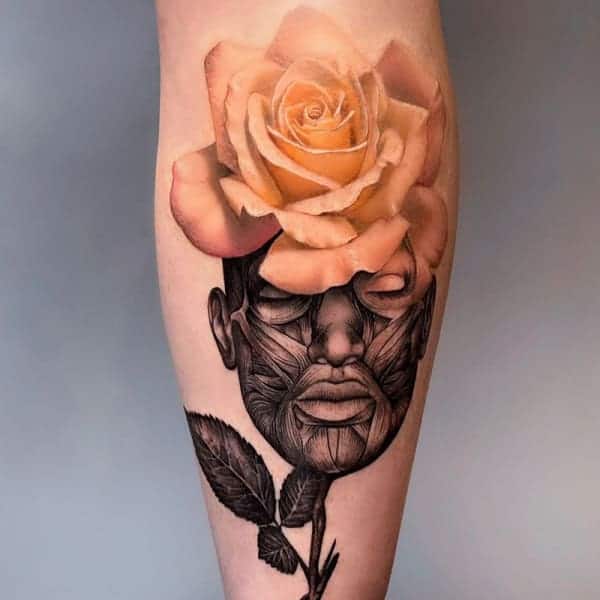 If you want people to take a double-take on your rose tattoo design, why not add a human face? This will add a twist to a classic and will push the design even bordering on getting that Victorian or hyperrealism vibe.
18. Rose and Sword Tattoo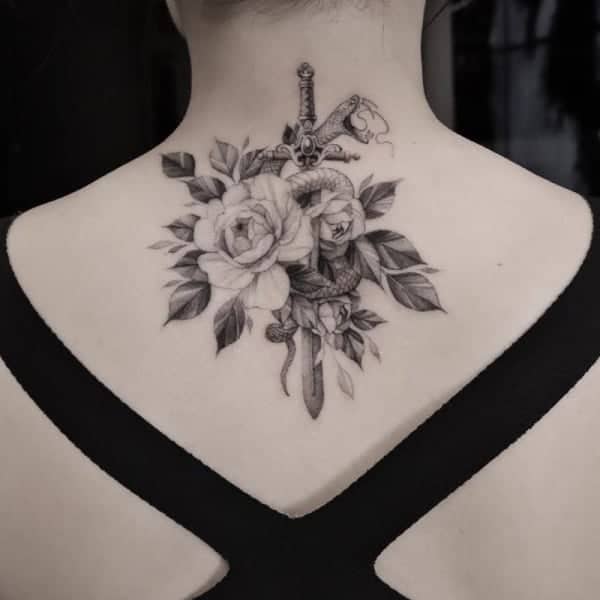 What is unique about a rose design is that you can add anything to it and it will still work—even something that directly contrasts it, like a sword. It is usually interpreted as "grace under duress."
19. Rose Tattoo on the Wrist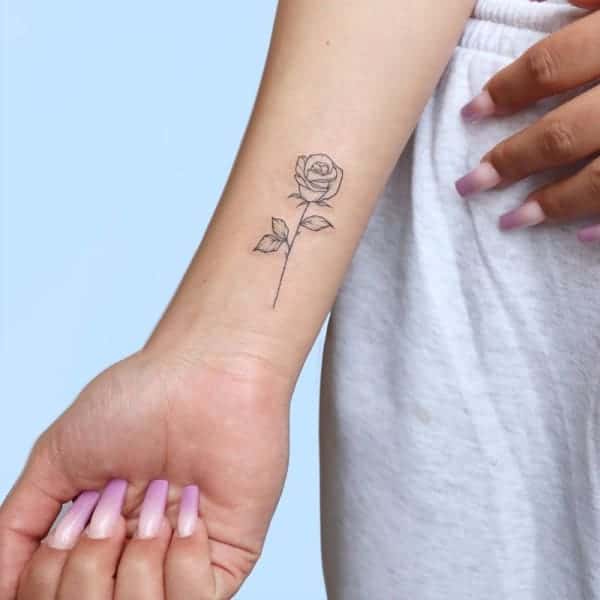 A modern minimalist tattoo on the wrist is ideal for women who want a tattoo at a subtle yet noticeable area. It is like your own little "peek-a-boo tattoo." The single rose design will also work well with the natural lines of your wrist.
20. Rose Tattoo on the Lower Leg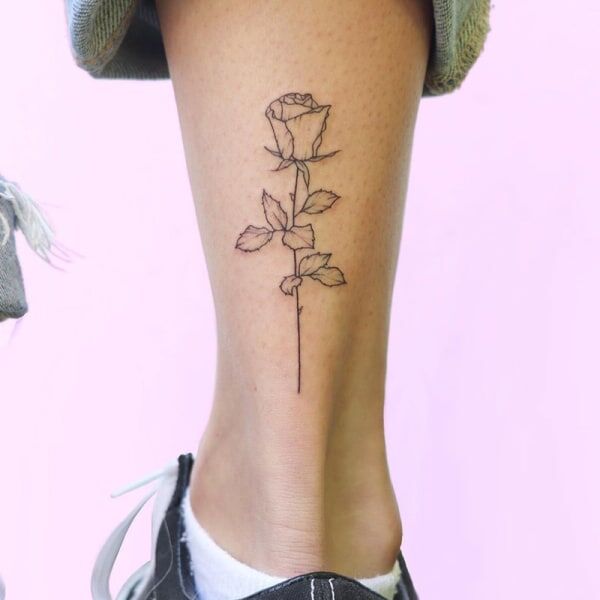 Just like with the rose tattoo on the wrist, a single rose tattoo design looks natural on your lower leg. This time, it looks better if it is a bigger and more detailed design. It still looks elegant albeit big.
21. Colored Outline Rose Tattoo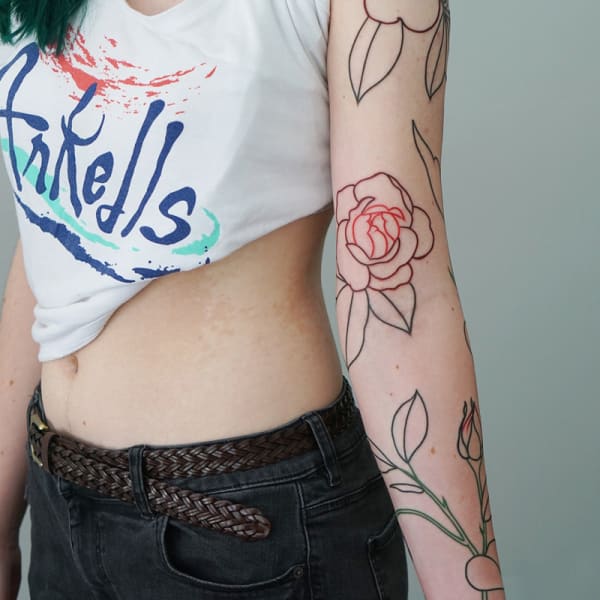 The rose tattoo design is so forgiving that it will still make sense if you go for a colored outline. The color story is still complete even without being filled in. Pick a bold color to make it stand out.
22. Gothic Rose Tattoo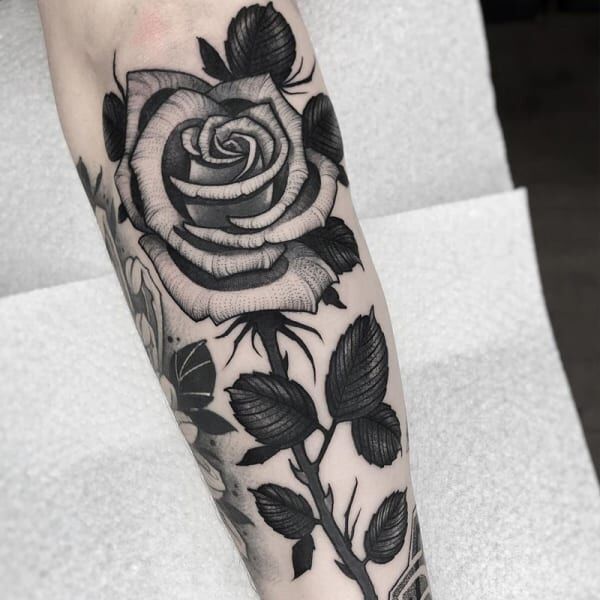 Rose tattoo designs can also be a symbol of mystery, gloom, and all things occult. When drawn in bold and strong ink, the lines within the rose design still manage to look so refined.
23. Yellow Rose Tattoo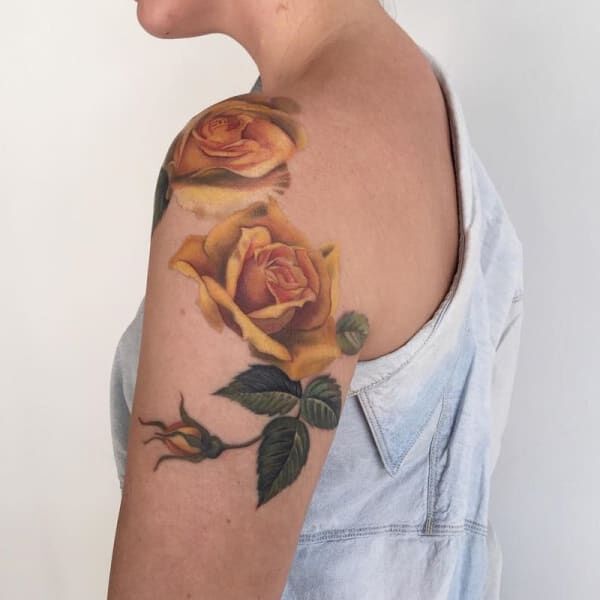 A yellow rose symbolizes friendship and care. If you have yellow undertones, add a tinge of orange or red to create an illusion of depth, making the tattoo pop.
24. Delicate Red Rose Tattoo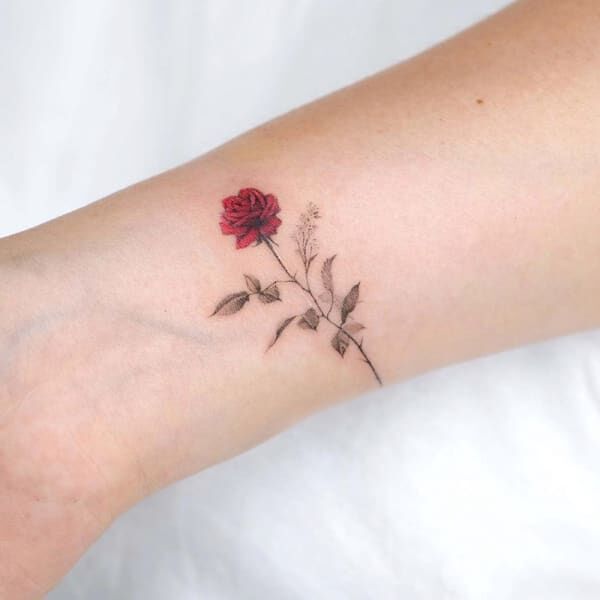 To get the full effect of a rose tattoo, you can choose to enhance the drama by leaving one part with color. If you also opt for delicate lines, your tattoo looks as if it was drawn with a pencil.
25. Rose Vine Tattoo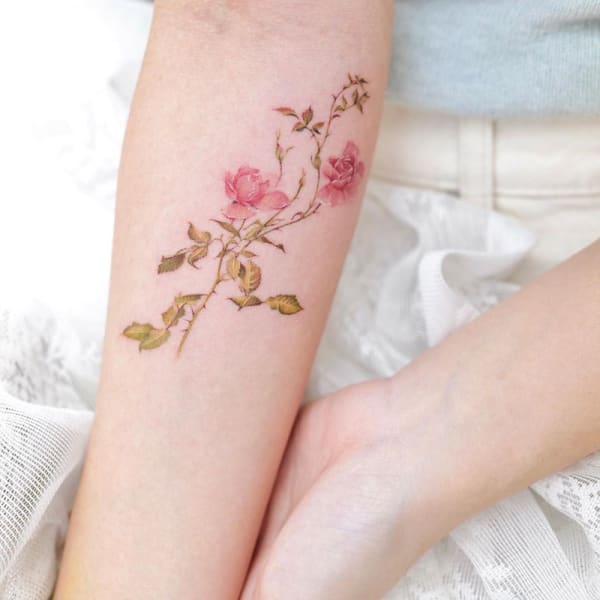 Rose vines do not need to be an in your face tattoo. Instead, you can make it look subtle. This design makes your tattoo look like those roses on priceless bone china teacups. Beautiful!
26. Red and Purple Rose Tattoo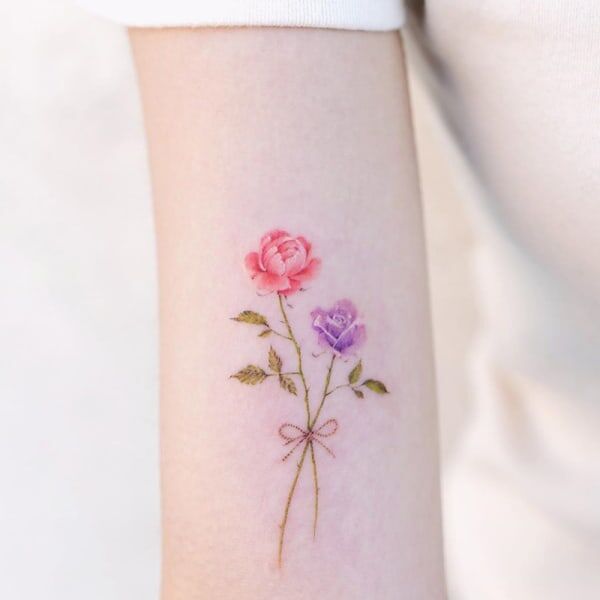 Red and purple go so well together. The fiery tones of red balance with the cool tones of purple. Consider this color matching when you are planning to get two rose tattoos.
27. Rose Tattoo on Finger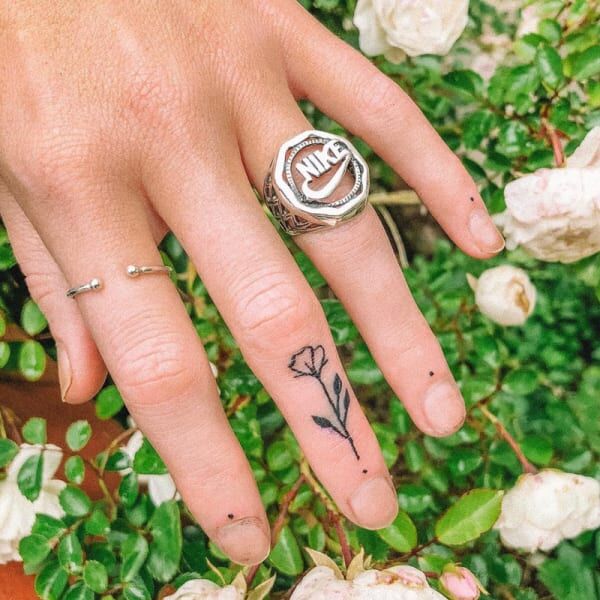 Whether you choose to put the tattoo on the top, bottom, or sides, the shape of a single rose looks so natural and effortless on any finger. You can add color to the petals and leave the rest black.
28. Glow in the Dark Rose Tattoo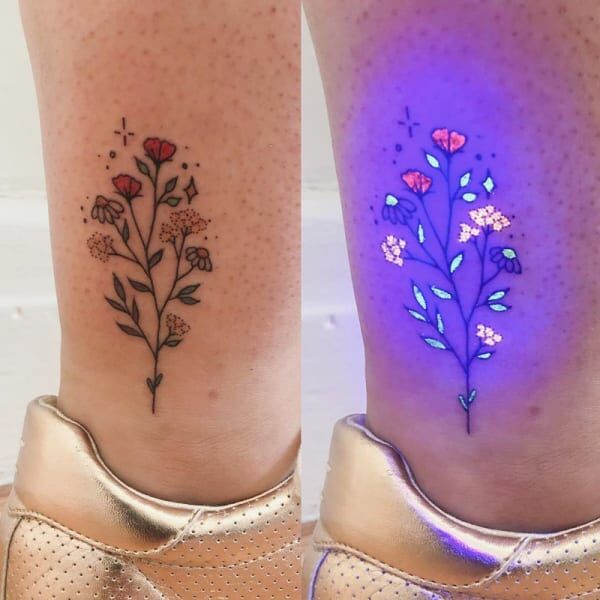 Glow from within, anyone? Well, this rose tattoo design is a different type of glow. Go for a color that looks good when illuminated like red, blue, orange, or purple.
29. Rose Growing on a Cup of Coffee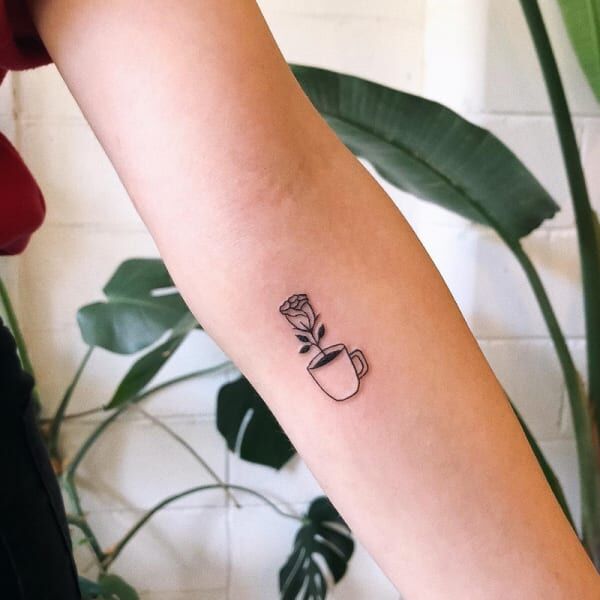 This usually means "comfortable and cozy with your own beauty." The cozy and comfy part coming from the coffee? We are still not sure, but one cannot deny that this design looks cute.
30. Red, Blue, and Yellow Rose Tattoos
We were taught in kindergarten that the primary colors; red, yellow, and blue are the holy trinity of colors. This is why using this color palette is smart because you also capture other tones even though the color is not present on the design.
31. Rose Tattoo on the Ear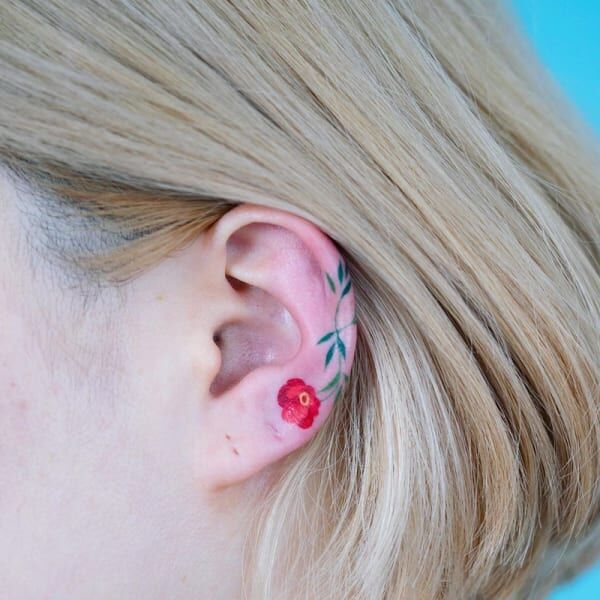 Tattoos that are hiding behind the ear are so last year. The trendy version of this tattoo placement is having a colorful tattoo frame the front of the ear, kind of like an ear cuff.
32. Rose and Snake Tattoo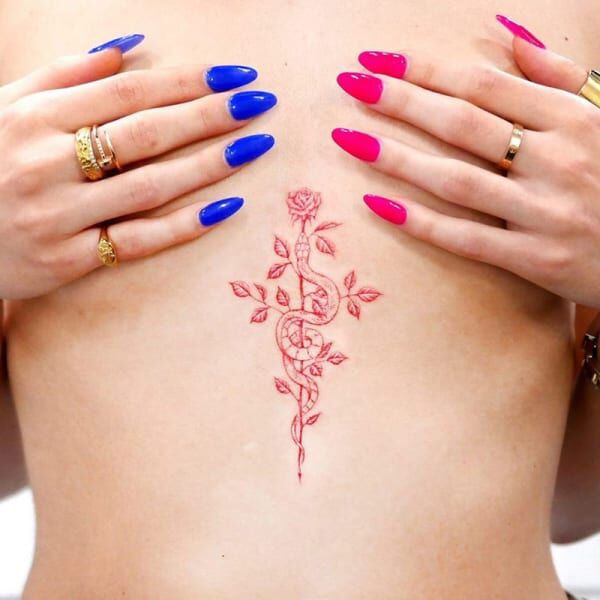 This rose tattoo design is like the rose and sword tattoo where you are playing up the contrast between the two objects. You can have the snake crawling up the rose.
33. Rose and Clock Tattoo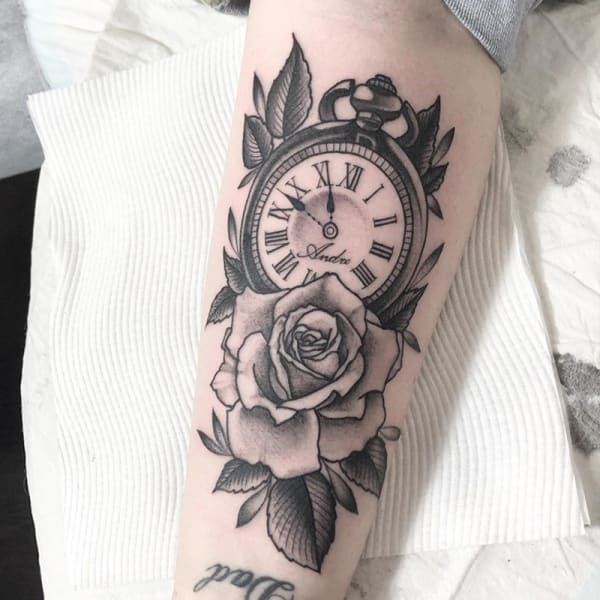 This design works as both the rose and the clock have faces. When you choose a vintage-looking clock design, it looks good beside a rose.
34. Rose Tattoo Behind the Ear
Even if this tattoo placement is no longer that trendy as it was before, we can't deny that it still looks chic. Perfect for women who love to put their hair up.
35. Single Rose Tattoo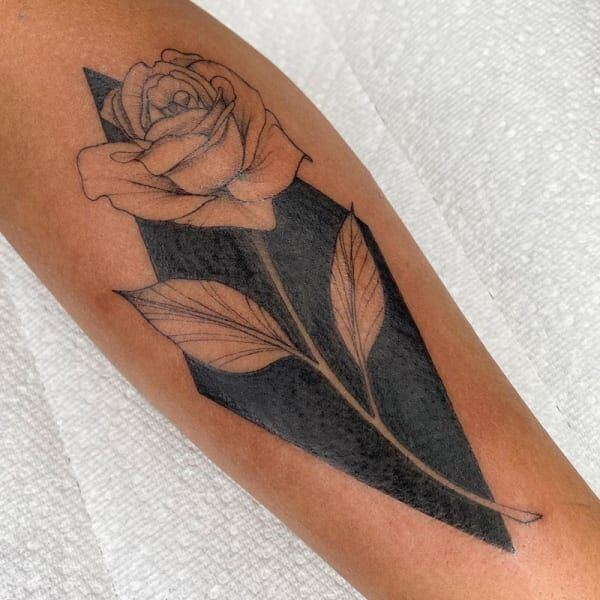 If you want to add a twist to a single rose tattoo, you can also put a solid background behind it. Doing so focuses the eye on the rose.
36. Realistic Red Rose Tattoo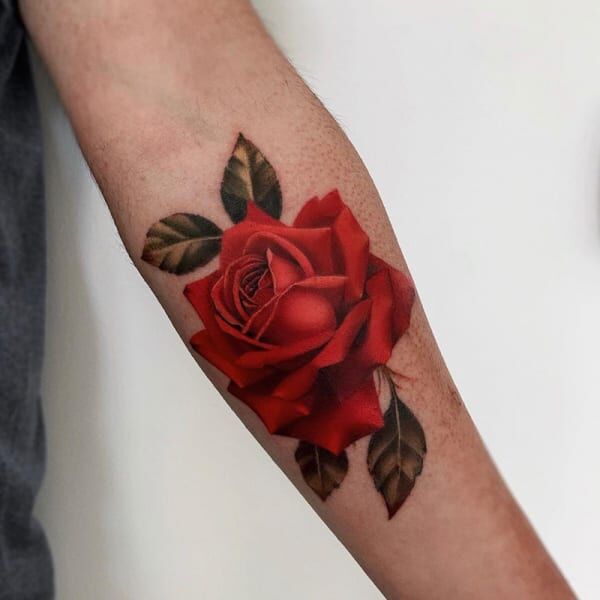 If you want to capture the essence of a rose, then go for a realistic approach to your tattoo. The colors should be vibrant to make it stand out.
37. Pink Rose Tattoo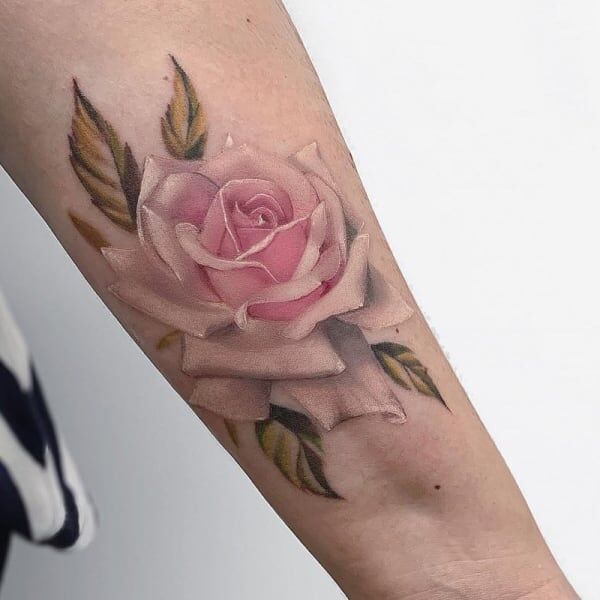 This is the dainty version of a rose tattoo. This will look so cool on women with lighter skin tones as it will look like the tattoo is one with your skin.
38. Cute Cartoon Rose Tattoo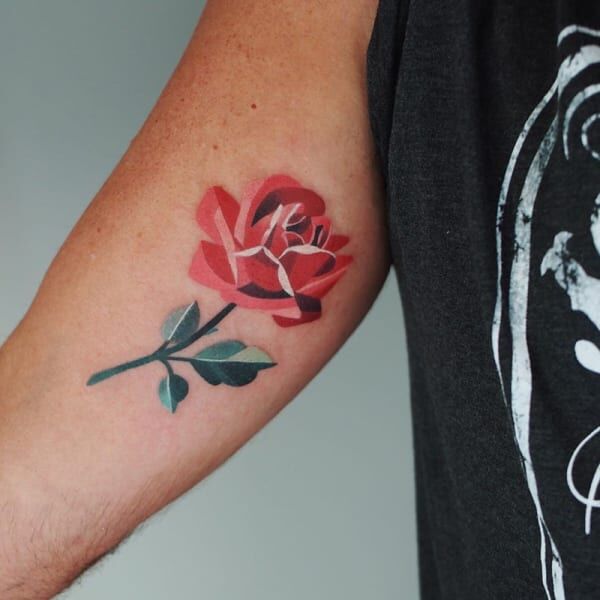 This is definitely a modern and artistic take on a rose tattoo. Your rose tattoo has its very own cartoon IG filter.
39. Rose with Butterflies Tattoo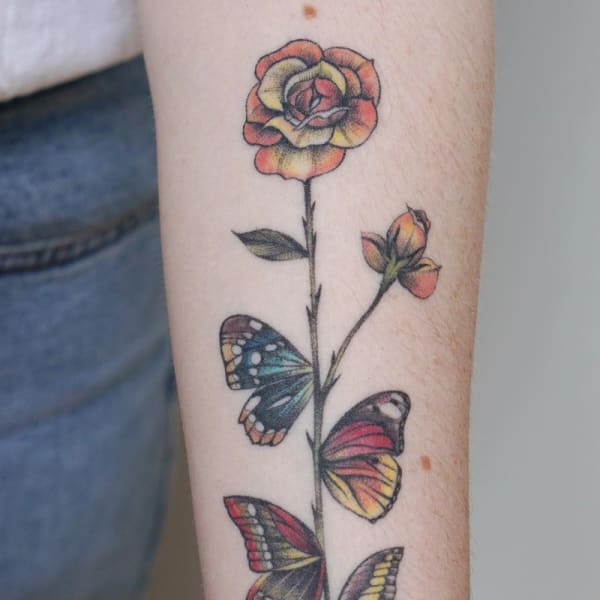 Why not combine two classic designs in one tattoo? A subdued version of this is having one rose stem and a butterfly hovering near it.
40. Rose Tattoo Under the Chin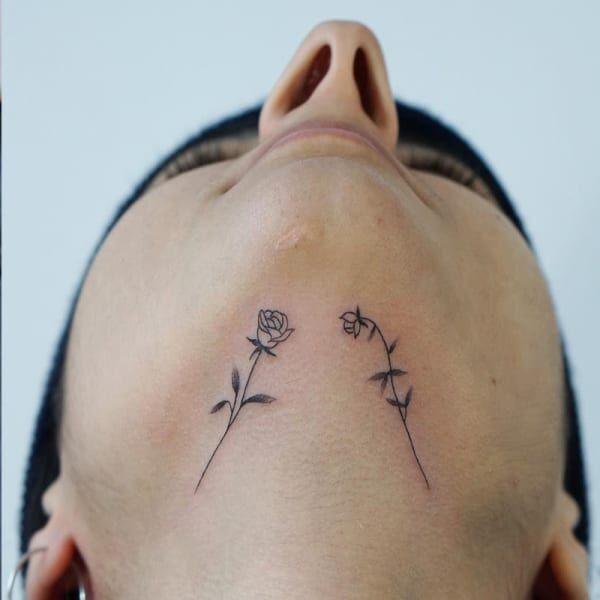 This is a very unexpected area to put a tattoo, but a rose design can work well especially if it outlines your chin. This will look beautiful in black compared to having colors.