The Quiff Haircut follows the "short on the sides and long on top" trend and is typically styled with some height and volume, then finished with a messy brushed back or combed over texture.
Like other thick, voluminous hairstyles such as the pompadour and disconnected undercut, the quiff is memorable due to its high contrast style. What makes the quiff particularly unique is its somewhat messy, wavy, and slanted appearance.
To style a classic quiff, you will need at least 3 to 5 inches of hair on the top of your head. If you have short hair, you may need to experiment to see if you can pull it off, but longer hair is ideal for this trendy hairstyle.
1. Rockabilly Quiff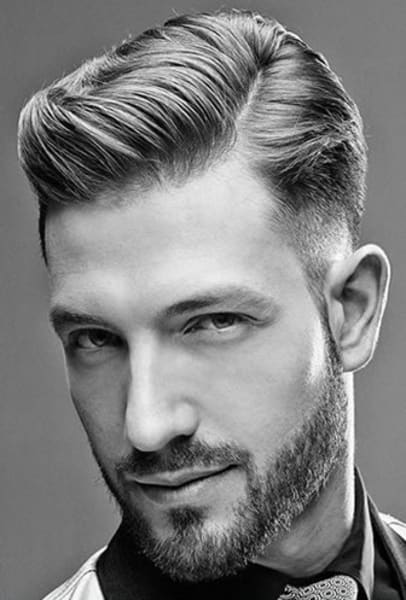 The quiff has been consistently popular for decades; partly because of its relaxed style with different variations that can be worn by anyone. The Rockabilly Quiff, worn famously in the 1940s and 1950s in the Greaser subculture as well as by James Dean and even Elvis Presley.
A traditional rockabilly quiff often has a side part, which can be shaved in, or combed.
2. Undercut Quiff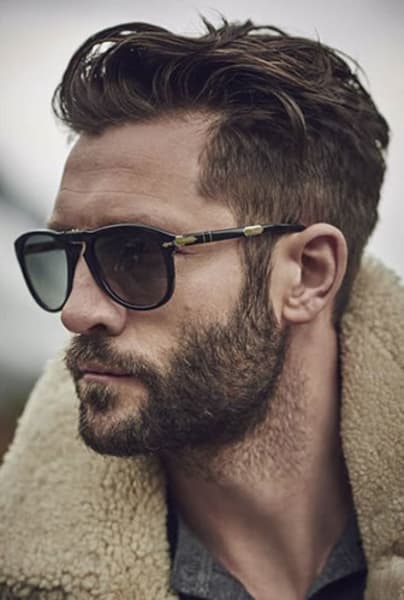 A sharper, sleeker take on the old-school classic, the Undercut Quiff retains an authentic vintage feel, but also looks modern and edgy.
This style works best when there is plenty of hair on top which can be slicked back. Generally, the longer the hair is, the more time it will take to style.
The undercutting itself can be can either soft, with gentle graduation, or severe, with the sides kept at one length. In either case, it's the disconnection and contrast between long and short that gives this look its impact.
3. Textured Quiff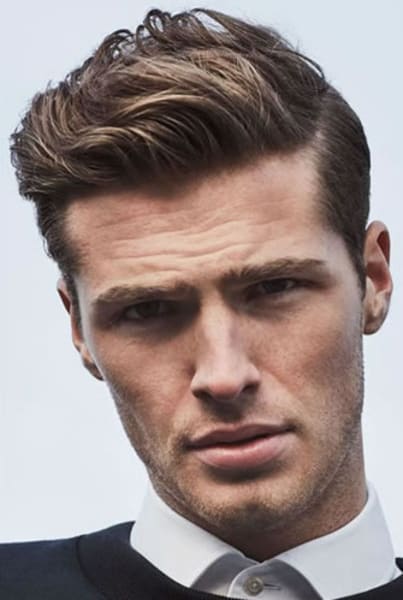 The Textured Quiff is a less formal, more relaxed take on the traditional quiff and less about sleekness and shine and more about matte texture.
It's easy to maintain and, depending on the length of the quiff, you can change up your style at any time.
To achieve this look, have a barber clip your hair short on the sides and back, fading into the longer hair on the top that's point-cut with scissors for an uneven, textured look.
4. Psychobilly Quiff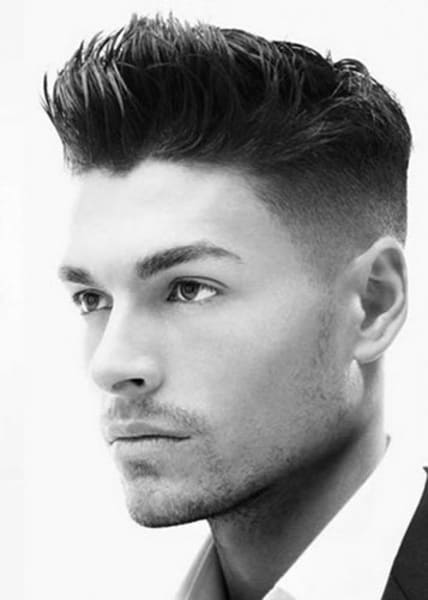 An exaggerated, almost cartoonish version of the traditional quiff with elements of a mohawk, the Psychobilly Quiff (also known as the wedge quiff) has its origins in the fusion of rockabilly and punk.
A psychobilly quiff is achieved by completely shaving the back and sides down to a zero, allowing a sculpted, reverse shark fin-style quiff left to take all of the glory.
A psychobilly quiff, like its rockabilly cousin, is best styled using a strong-hold pomade. This will help achieve the rigidity and height needed, but you'll also need a little help from a coating of hairspray, which will add an extra shield against the forces of gravity.
5. Side-Part Quiff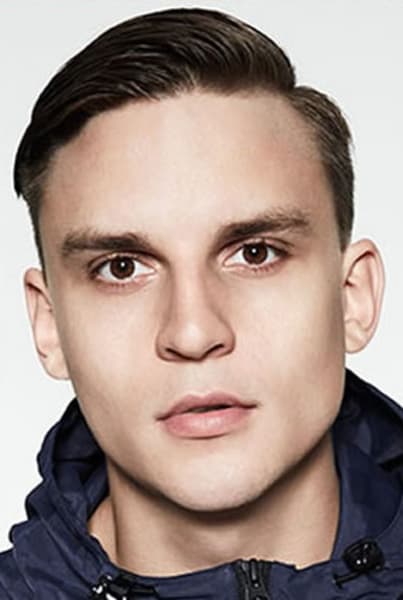 One way to spice things up with a traditional quiff is by adding a side part.
To create a side part, celebrity hairstylist Asgar Saboo suggests using your palms and smooth the product into the sides. Comb the top section away from the part, so there is a clean divide, then lift and shape the fringe into your desired style.
6. Modern Quiff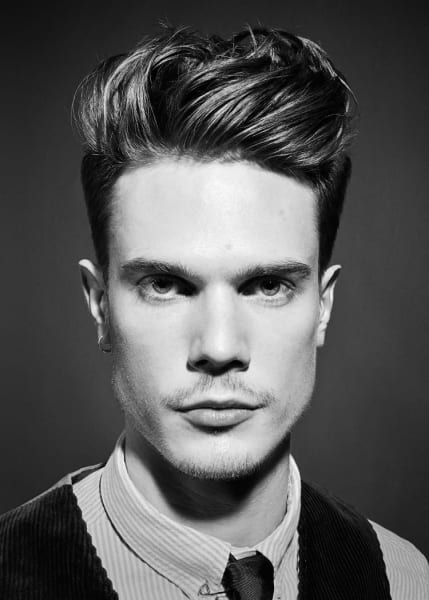 The modern quiff is today's answer for a classic, clean hairstyle with a little dash of personality. A sharper fade on the sides and back will give you a sharp, modern look, while a less pronounced fade will have a more relaxed feel.
To style, towel-dry hair, leaving it slightly damp. Rub some pomade or wax onto your fingertips and run it through your hair, teasing the front up and combing the rest back. If you want a little more volume, add a little mousse. Finish by blow drying the quiff into place. We recommend ShapeShifter by Mack for Men.
7. Short Quiff
The short quiff is similar to the modern quiff, but it offers a younger, more casual feel.
The top is cut much shorter at about 2-4 inches and typically is accompanied by a sharp fade or undercut on the sides. This cut is perfect for guys who want a clean-cut look with minimal hassle. If you're looking for a low-maintenance hairstyle, this quiff is a solid choice.
8. Messy Quiff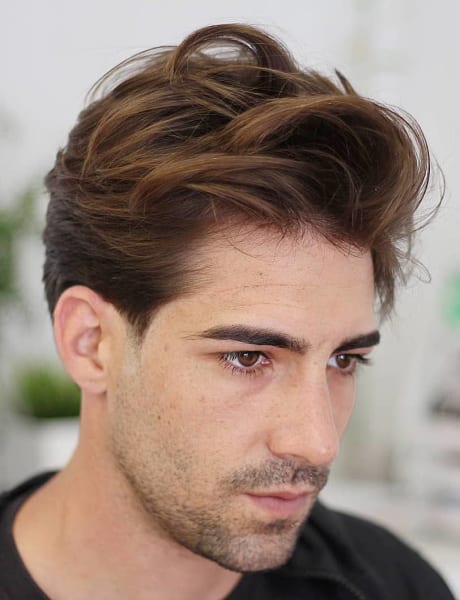 This quiff is the perfect mix of classy and casual. The same principals for any quiff still apply, but instead of primping, the goal is to get your hair roughly into shape without focusing on everything being super sleek. This is the best way to look stylish without much effort.
To style, do your basic quiff preparation, but instead of meticulously combing your hair into place, use your fingers to comb some mousse through your hair and blow-dry. You can also add a little hairspray in the front to keep hair from falling in your eyes.
9. Curly Quiff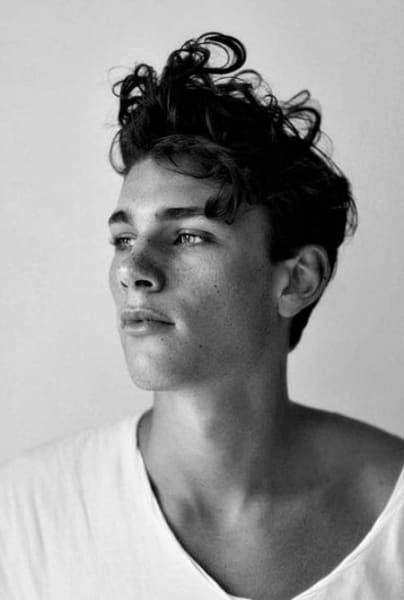 The curly quiff is basically a long quiff for guys with naturally curly hair. The effect you get with this hairstyle is less sleek and polished, but more artistic and relaxed.
To style, proceed as you would a regular quiff. However, you may need to use a wide-toothed comb to manipulate the hair more easily. If you want curls on top of your quiff, make sure you don't flatten them with too much product or excessive blow drying.
10. "Baby Quiff" w/ Side Design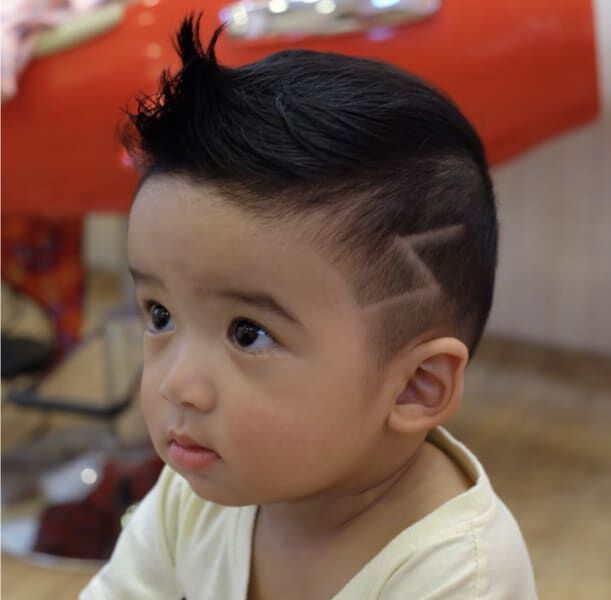 How adorable is this look? The edgy design and flip bangs add a statement to this young toddler's haircut. The classic quiff, specially styled for baby boys can make your son stand out in the crowd. The design is of course, customizable allowing you to be creative with your little tot's style.
11. Breezy Quiff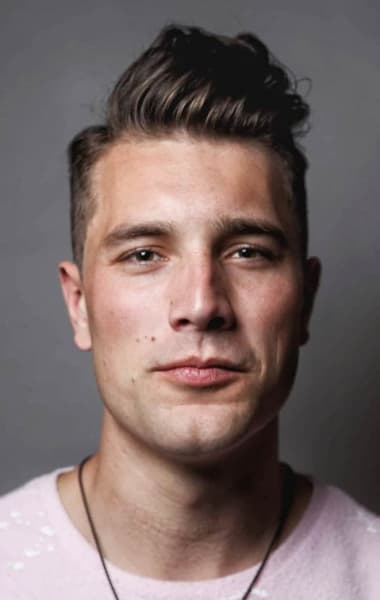 The clever proportioning of the unique breezy quiff adds volume to the sides and accentuates your natural face shape. You'd likely find this type of hairstyle on young men in the "hipster" crowd or guys in a rock band.
For this hairstyle, we recommend a high-quality hair clay like HydroClay by Mack for Men.
12. Hand-Brushed Quiff
This hand-brushed quiff is yet another hairstyle that shines when paired with a taper or faded sides. The contrast in the length also plays a big role in the uniqueness of this hairstyle and can help accentuate your particular face shape.
This hairstyle works best for guys with thick hair and can also add a bit of texture to the standard quiff.
13. Cropped Quiff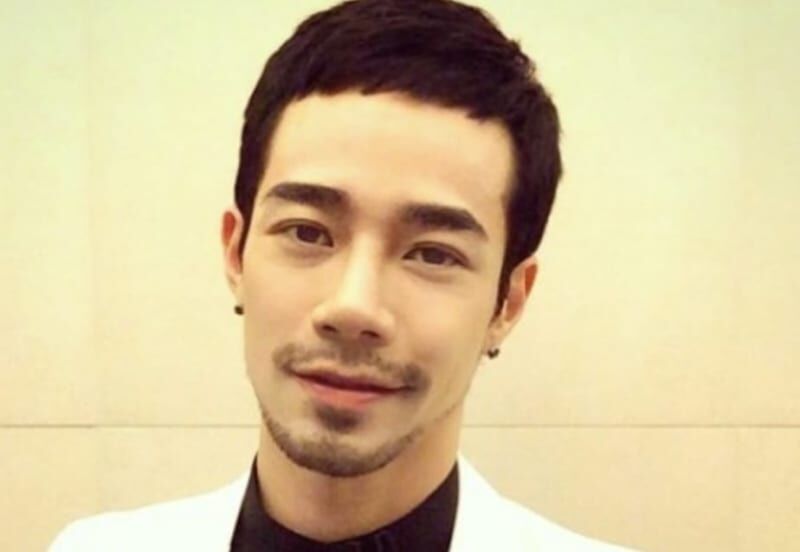 No, this isn't the most exciting haircut you've ever seen on Asian men, but it's a low-maintenance haircut that is right on trend with today's most popular hairstyles.
It's also one that exudes a sense of maturity and is popular in K-pop culture. When you ask your barber for this look, encourage them to add plenty of texture for some extra volume.
14. Messy Long Quiff
Longer Quiffs may not suit your standard work look requirements, but they are a lot more eye-catching. Natural texture nicely combines with this messy Quiff and careless strands making it a hairstyle every girl will pay attention to.
Make sure your hair at the crown is rather long then form it into the shattered texture you see in this pic. The cool thing about this hairstyle is the chaos on your top can be controlled when styled using a high-quality product.
15. Disconnected Undercut Quiff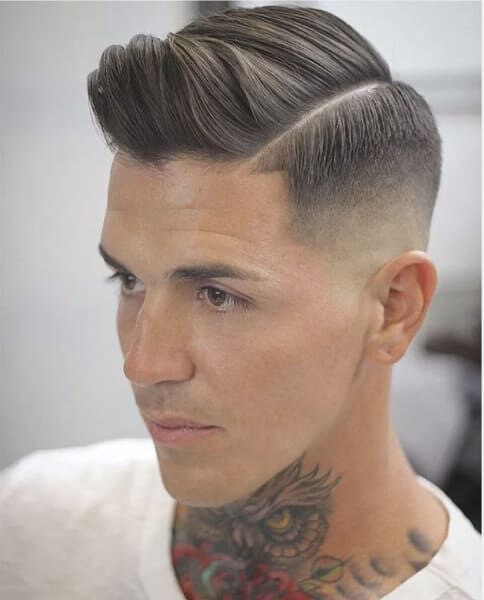 With a disconnected quiff, the hair is faded on the sides with the added element of a narrow shaved line that helps accentuate the longer hair on top.
As you can see in the example, the line creates a border between the neatness of the shorter part of the hairstyle while the "party on top" is where you can really get creative with this quiff hairstyle.
16. Classic Quiff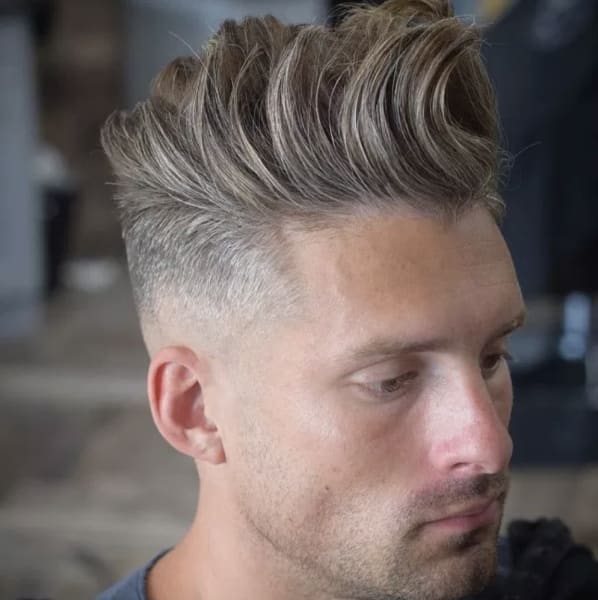 Classic haircuts are a win-win option in most of the cases, because they are indeed… CLASSIC. Quiffs often go hand-in-hand with a "ducktail" style, especially when it comes to classic 50's men's hairstyles. You might also sometimes hear it called a "fire haircut".
As you can see, it combines the classic Quiff and the Pompadour which adds magnificent texture and a clean fade on the sides and back.
This hairstyle is probably most famously worn by James Dean. A true classic in his own right and this hairstyle is no exception.
17. Taper Fade w/ Quiff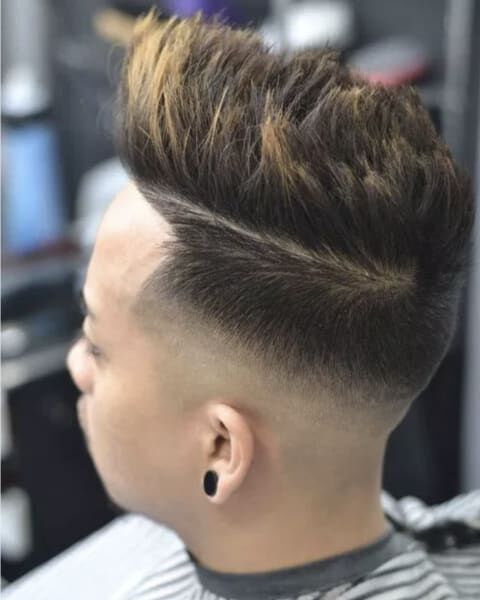 An upswept Quiff with a low skin fade can add a nice choppy texture throughout the top of the hair.
This quiff hairstyle is also suitable for any type of hair, thick or thin, as long as you opt for a clean fade on the sides, you'll be good to go when it comes to rocking this unique quiff hairstyle.
18. Edgy + Messy Quiff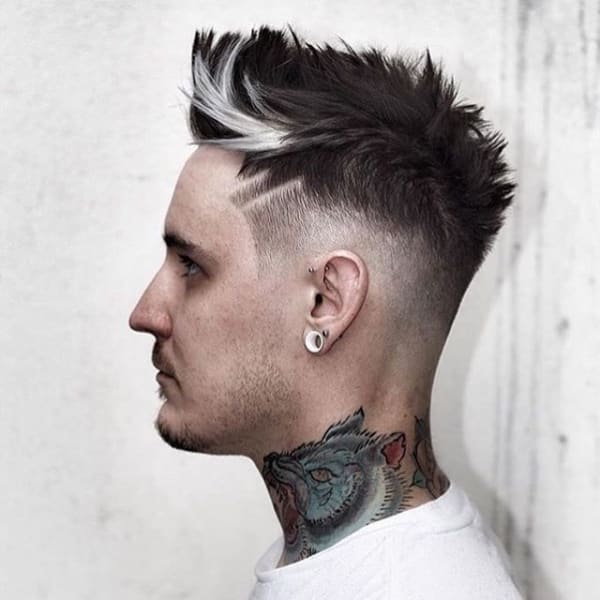 This quiff hairstyle has some excellent razor cut lines on the sides that help to give it some extra edge. You'll notice the main attraction to this cut is the short messy and upswept hair on the crown.
The messy hair on top in this example also has some silver gray strands at the front that further add more appeal to this already edgy style.
19. Subtle Spikes w/ Fade + Hard Part Quiff
As you're aware if you're reading this article, quiffs are extremely versatile which is partly what makes them so attractive on men.
With this example, the addition of some subtle spikes and an inventive fade make this quiff even more unique. If you choose to enhance it with a side part, you might also want to consider adding highlights to the tips for some extra definition.
20. Long Quiff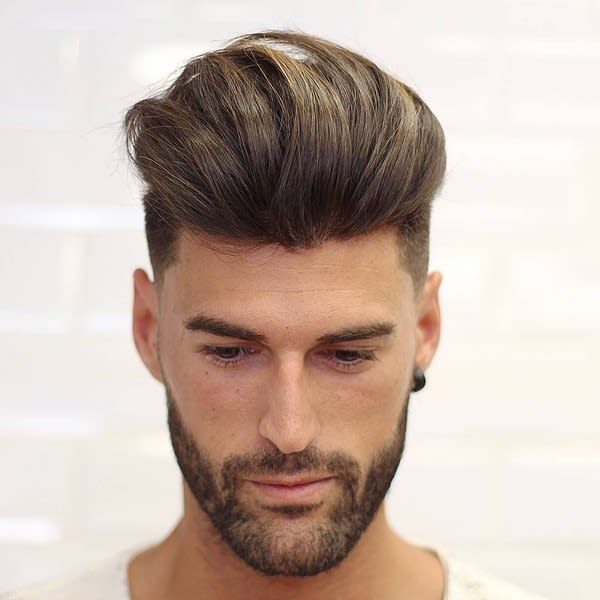 Quiffs look great on long hair by default, taking advantage of the length and slicking it back for a fresh, clean look.
Long hair helps adds volume to the top of your head, and keeping the quiff tight with a good quality hairwax or strong hold hairspray can enhance its sleekness even further.
21. Boys Side Quiff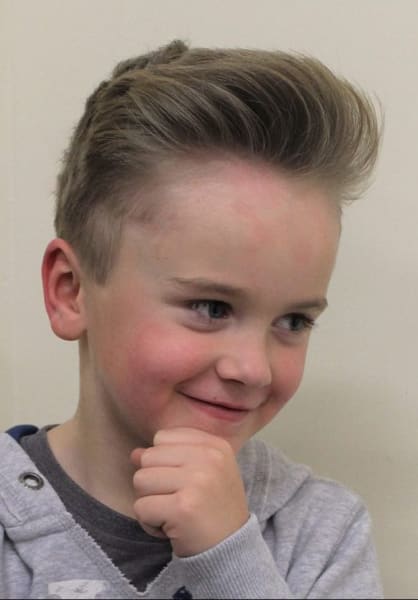 This side quiff is a good option for all hair types, ideal for boys who want to be a little stylish but don't want anything too extreme. If your child wants style but also wants to play it safe, this is the hairstyle to go with!
22. Bald Fade w/ Quiff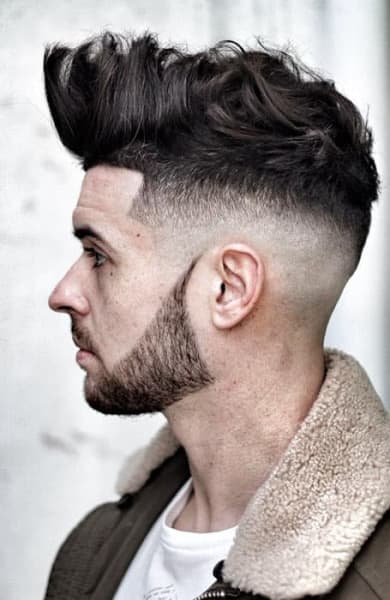 One of the great things about a bald fade is that it allows you to maintain a neat and polished appearance while providing the freedom to experiment with different styles on top.
For example, pairing a skin fade with a quiff can create a fashion-forward look that's still acceptable for the office.
23. Harsh Fade w/ Quiff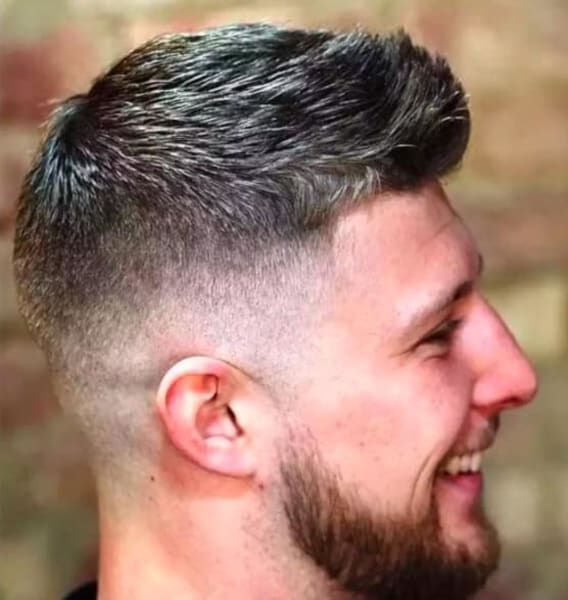 This hairstyle works best for short to medium length hair.
To achieve this style, ask your barber to style a quiff on top, then expertly fade the sides that surround the short, stiff textured hair on top of the head for a harsh, edgy look.
24. High Top Skin Fade w/ Quiff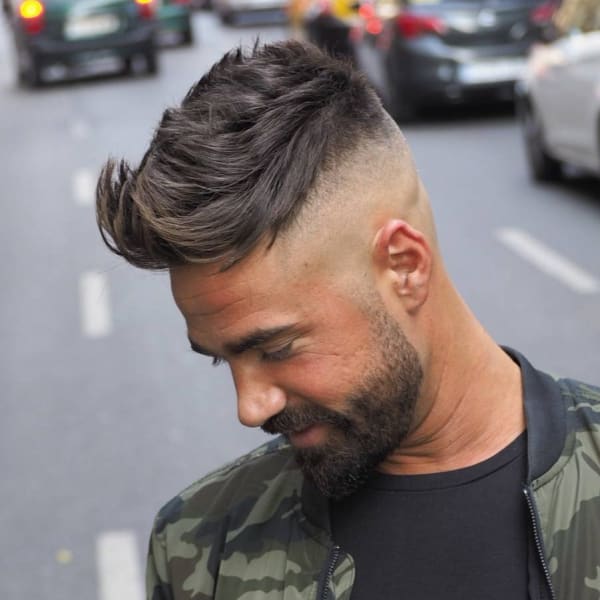 This trendy high top cut features thick hair on top, styled into textured spikes and a quiff at the forehead with a high bald fade.
25. Low Fade Quiff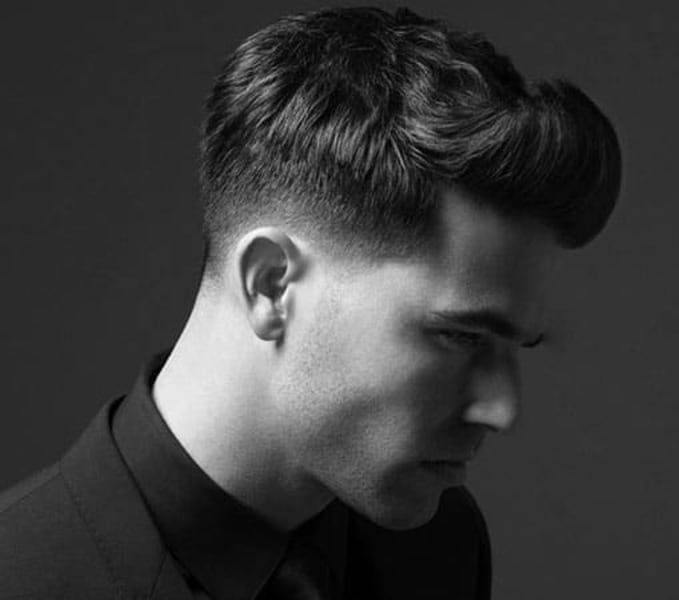 A low fade quiff strikes a balance between the short sides and high top. If you're opting for a low fade over a regular or high fade, this is an excellent choice, especially if you're a man with a long or oval-shaped face.
26. High-Fade Quiff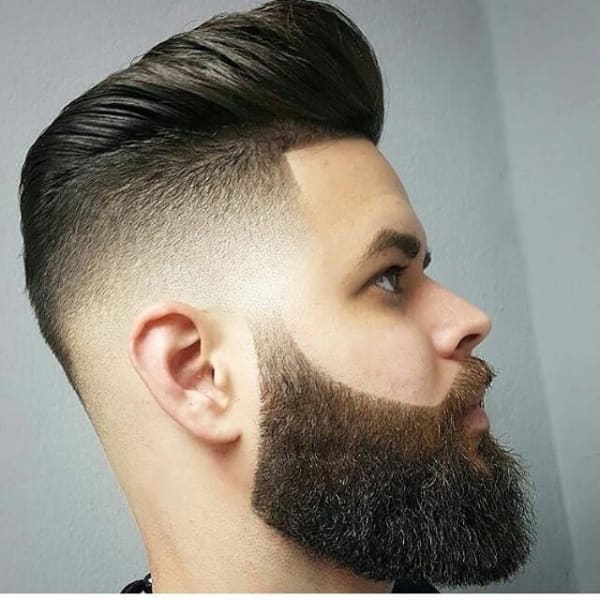 Despite its somewhat menacing appearance, the detailed style of this quiff is actually quite elegant.
The top is your typical pompadour-inspired design. It combines class and neatness of the traditional pomp with the stylish appearance of a high-fade to add some edge to this gentlemanly look.
27. The "Hipster" Quiff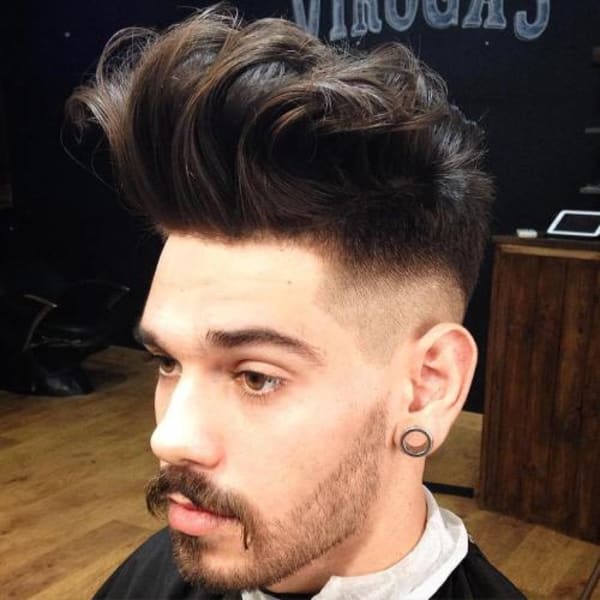 If you are bold enough to try this hipster quiff look, then pay attention to the sides. You'll notice they're fully faded to a lower length while the top hairs are kept longer.
In this particular quiff style, the top is styled differently as compared to other quiffs. Basically, the top hairstyle is a combination of a pompadour and traditional spikes that look comes together for a pretty flawless look. The "hipster" look is typically paired with the addition of a mustache or light beard to complete the look.
28. Casually Textured Quiff w/ Mid-Fade
This quiff is one of the most trending variations for the younger generation. This quiff hairstyle shows off the length on top while it is trimmed really short on the sides.
The length on top also allows you to get a perfect combed back look with naturally casual texture and can be styled by simply running your fingers through the hair on top.
The undercut on the sides gets faded mid-way through and it is completely separated from the length on top. Overall, it's a perfectly balanced look and it makes for a cool style for both formal and informal occasions.
29. Boys Angled Quiff w/ High Fade + Hard Part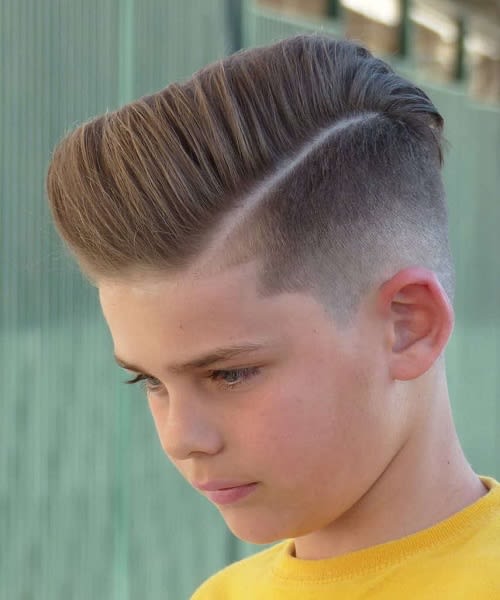 This unique quiff hairstyle for boys slants backwards at the top as you move further towards the crown. You'll notice you'll get the least possible height around the crown area but the top is full to show off your long locks.
The sides are given a perfect high fade as it blends into the overall hairstyle, and in fact, rather elegantly. As you can see, the addition of the high fade makes this look even stand out even better.
30. Simple Refined Quiff
As the name suggests, this quiff is both refined and simple to achieve. If you are looking for something clean, stylish and professional, then this refined quiff haircut will make a very nice choice.
In this hairstyle, the sides are fully faded up to the temples, while a small pompadour is formed on the front to keep it stylish and sexy.
31. High Fade Undercut w Quiff
You might recognize some similarities between the quiff and the pompadour. Both hairstyles involve brushing the hair up and back away from the forehead.
Unlike the pompadour, however, a quiff gets its volume from brushing the hair back like a wave. With the addition of a sharp high, undercut fade, this style will stand out from the rest and draw attention.