Are you still using gel because it's the first product you picked up? Not sure what the difference between a gel and a pomade really is? Wondering what's the best pomade or best gel for your hair?
We've got you covered, and we're ready to talk you through it step by step. You don't even need to leave the comfort of your couch to get the tips you need to choose the best gel or pomade for you.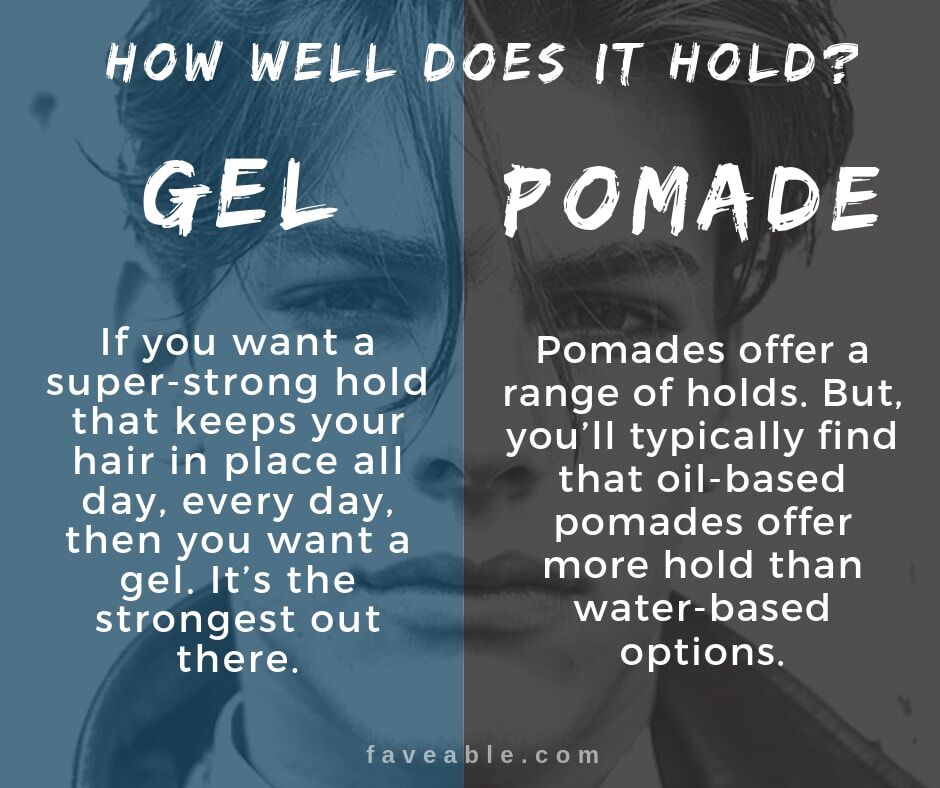 Which one should you choose?
Keep in mind that the hold you need has a lot more to do with the style you wear than the condition, length or state of your hair. If you're after something that requires a lot of volume, you need serious hold – which you can definitely get from most gels and can be found in many pomades.
If your style is flatter, a pomade is often the better choice because it's less likely to look plastered in place.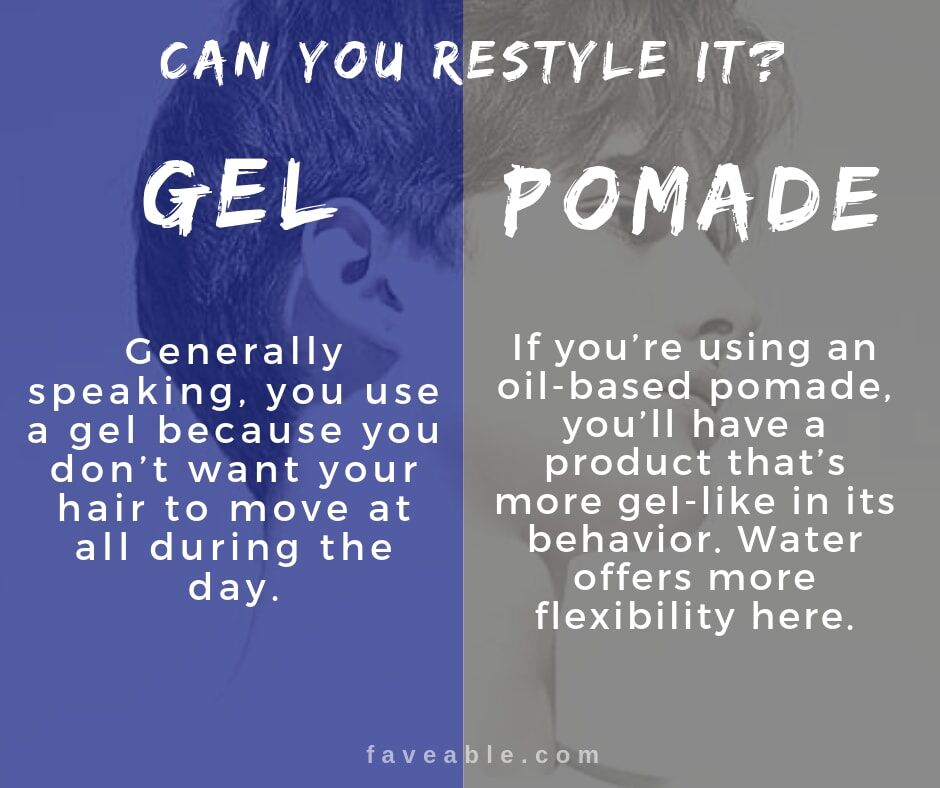 Which one should you choose?
The choice you make isn't so much about your hairstyle as it is about your lifestyle. If you're the kind of guy who goes from the office to home (or straight out after work), a gel could be the right choice.
But, when you need to throw on a hat occasionally, or your ultra-corporate workplace style and your after-work-activities style don't align with one another, it's time for a pomade. You may also want to keep your gym sessions in mind (pomade is much easier to fix in place after a workout).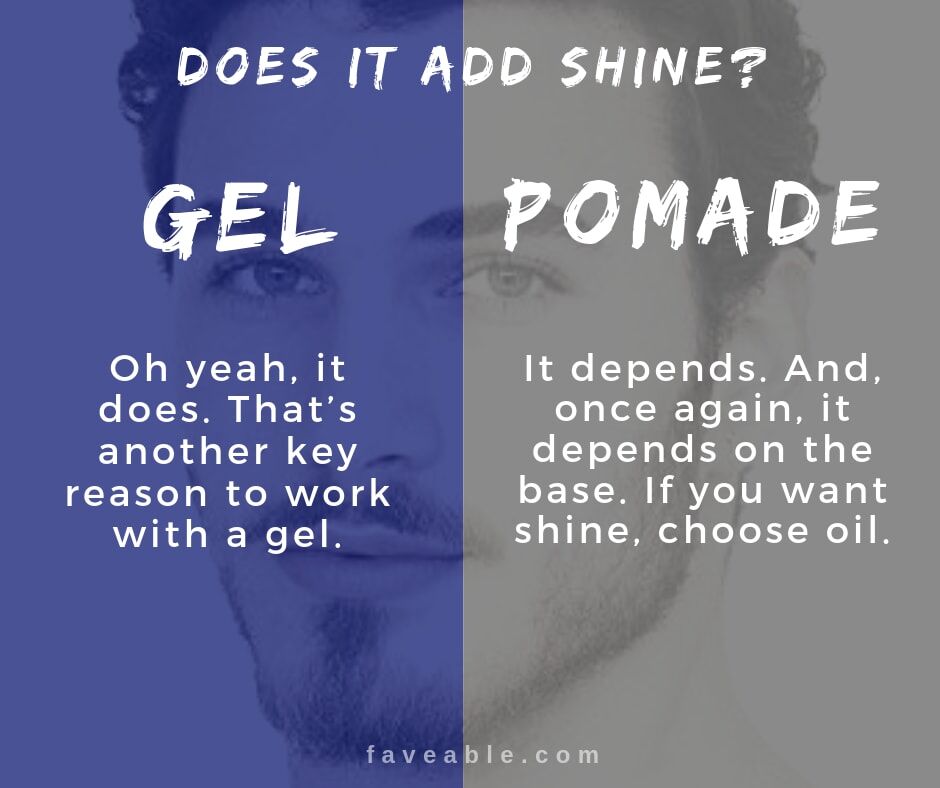 Which one should you choose?
There are plenty of guys who make the mistake of believing that they've got to work with gel if they want a look that's really suave and shiny. Yes, gel offers a high gloss shine, but you can get a shine with pomade. In fact, if you want a slicked-back shine, you're much better off with pomade.
And, when it comes to pomades, most (especially water-based options) give you some control over that depending on the moisture in your hair when you apply it.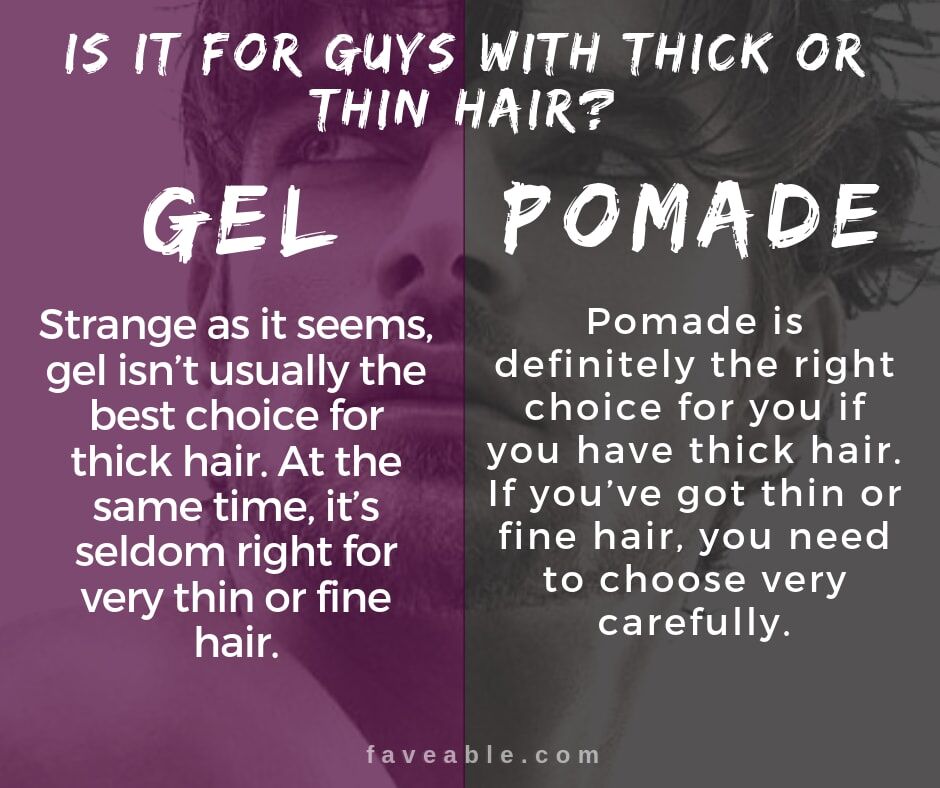 Which one should you choose?
If your hair is neither thick nor thin – in other words, you've got average hair – then the world is your oyster. Not really (or at least, this isn't the tipping point), but you can usually work with either a gel or a pomade.
How do you know your hair is average on the thick-to-thin scale? Neither you nor your hairdresser or barber as made comments about it. Really. If you don't know, it's average.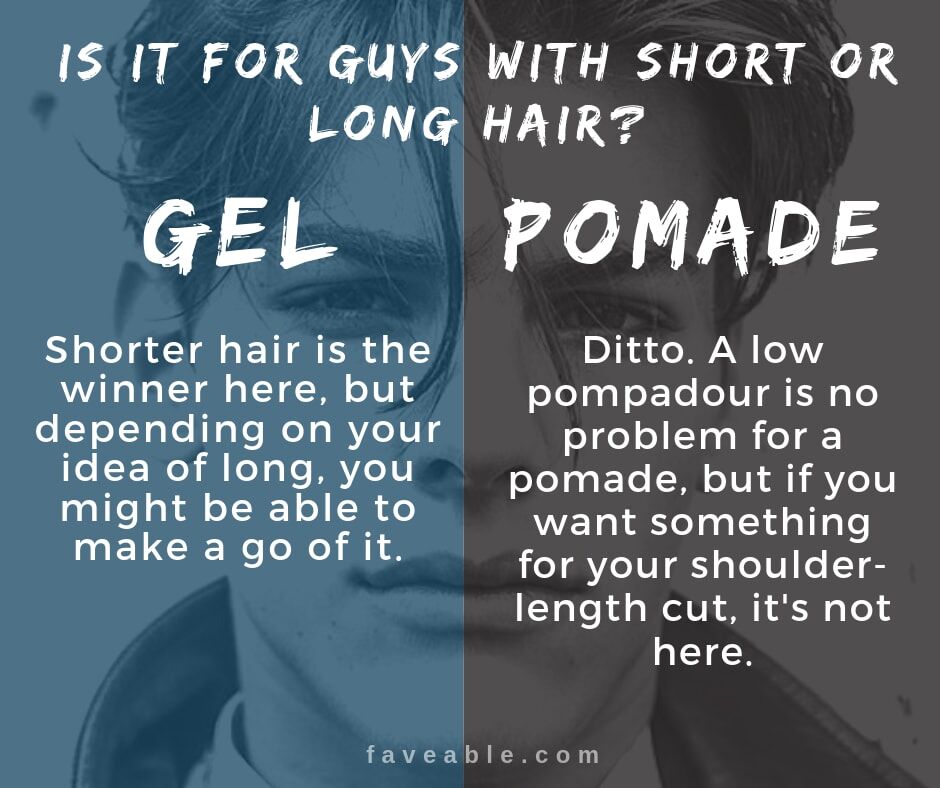 Which one should you choose?
Either gel or pomade can be your friend with short to medium-length hair. If that's you, consider the other aspects of each product to make a choice. There are really that many products open to you.
The reverse applies to very long hair. You're in the wrong place if you want to tame your man bun.
That said, the only way to get a serious 1970s punk mohawk is with a super strong gel. Consider starting with TIGI Bed Head Men Power Play Gel. But, we have to warn you that the amount of gel you need to use will definitely damage your hair over time. If you're good with that, it's on you.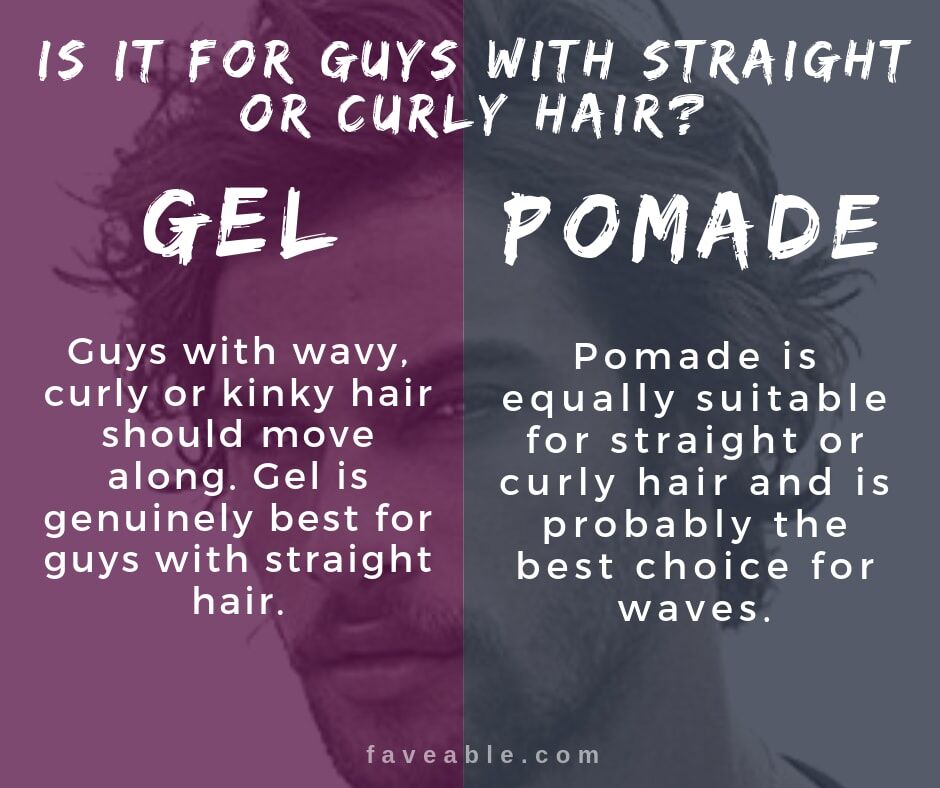 Which one should you choose?
When your hair is super straight, you've got a choice. If you've got any more curl than a light wave to your hair, it's a pomade for you.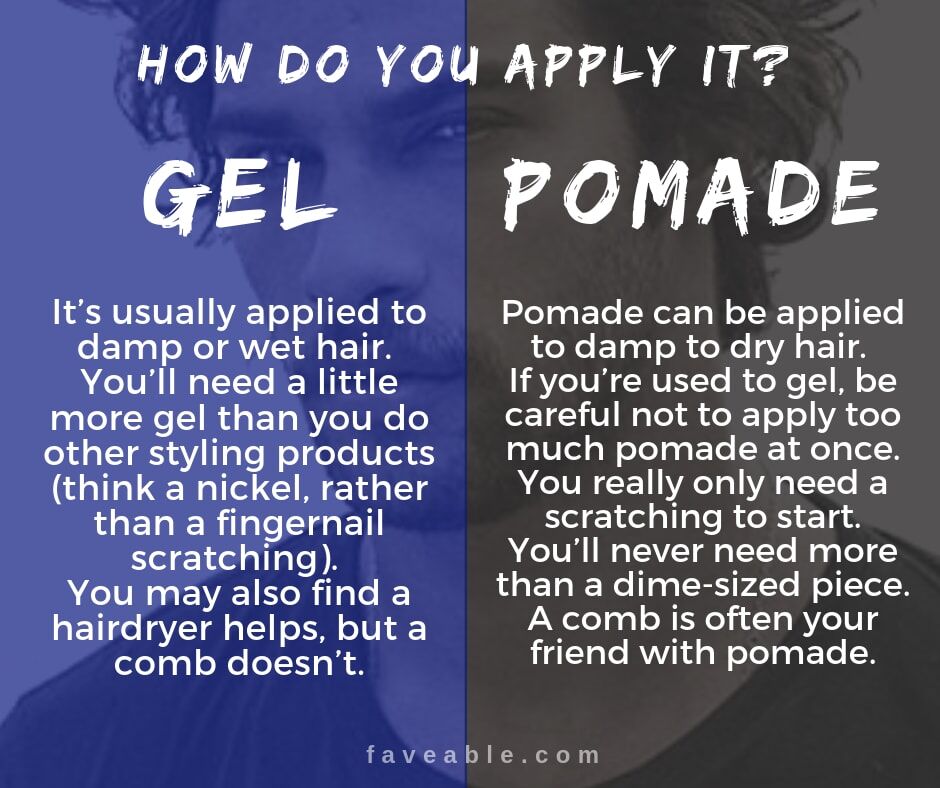 Which one should you choose?
Unless you're very concerned about application, you probably shouldn't make a decision based on the differences here. That said, there are a few things you should know.
When applying a pomade, the final shine that you'll get is directly linked to the moisture in your hair when you use it. The wetter your hair is, the shinier the finish will be – and vice versa. If you end up with a little more shine than expected, you can always comb through it. Likewise, you can add a dab of water to give it a little boost.
Usually, you'll sacrifice a little hold in exchange for a bit more shine, but with some products, like Mack for Men ShapeShifter Pomade, you'll get a perfect balance no matter how you style it.
When working with gel, you should expect your hands to do a lot of the styling and texturing work. Combs are unlikely to give you the effect you want. But, you can use the heat of the hairdryer at any point to set in volume – which eases many comb-free styling woes.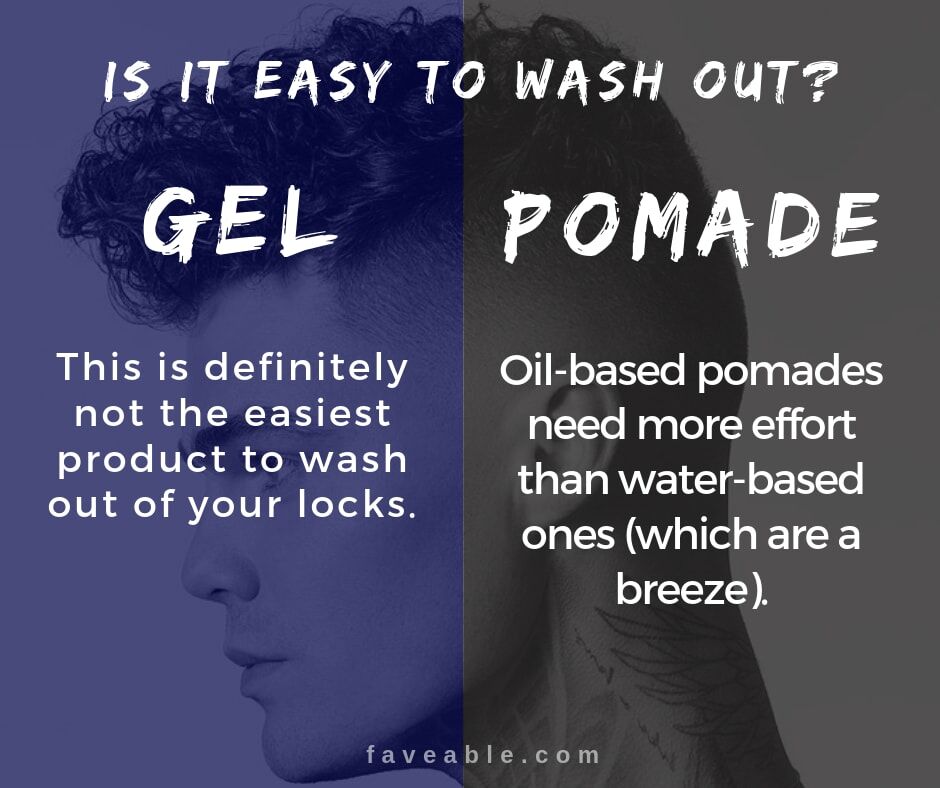 Which one should you choose?
Again, this probably isn't the biggest concern when choosing between a gel or pomade product. But, you should certainly know about the differences if you're considering swapping one for the other.
Which one should you choose?
There are increasing numbers of alcohol-free gels on the market – and that's a good thing.
Applying alcohol to your hair and scalp strips it of its natural moisture, and you'll need to use a conditioning product as regularly as you use gel. But, with many of our top faves in the alcohol-free category, you shouldn't have to sacrifice much.
When considering oil pomades, remember that oil can clog pores and you have those on your scalp too. You'll also need a conditioner when working with oil-based pomades as they simultaneously strip your hair of its natural oils.
And, while you ponder key ingredients in gels and pomades, remember that a lot is going into each formula. There are things you may not want in your home, let alone on your scalp and hair. Think about parabens and DMDM (a formaldehyde producer) before purchasing. There are outstanding men's hair styling products without these, like Mack for Men ShapeShifter Pomade and you might want to make it your first port of call.
Finally, if you're struggling with your style or the best way to apply gel or pomade, your stylist will gladly point you in the right direction. But trying out a few products might just solve that problem before you have to concede the need for help.