We believe that all women should try a pixie haircut at least once in their lifetime. Pixie cuts aren't just reserved for the summer, they're great for all seasons! You can keep it edgy and cool or light and sweet with your choice of variations of the classic.
If you're ready to chop and you're looking to shake it up, these 50 pixie cuts should give you some major hair inspiration! Comment down below which style calls out to you and share this link if you enjoyed it!
1. Uneven Pixie with Bangs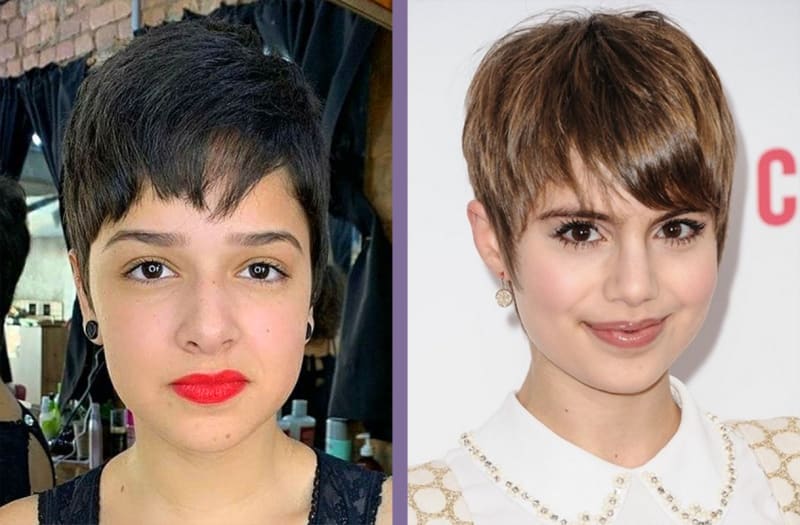 Hip, cool, and edgy – an uneven pixie cut styled with bangs says that you're too cool to be bothered.
2. Classic Pixie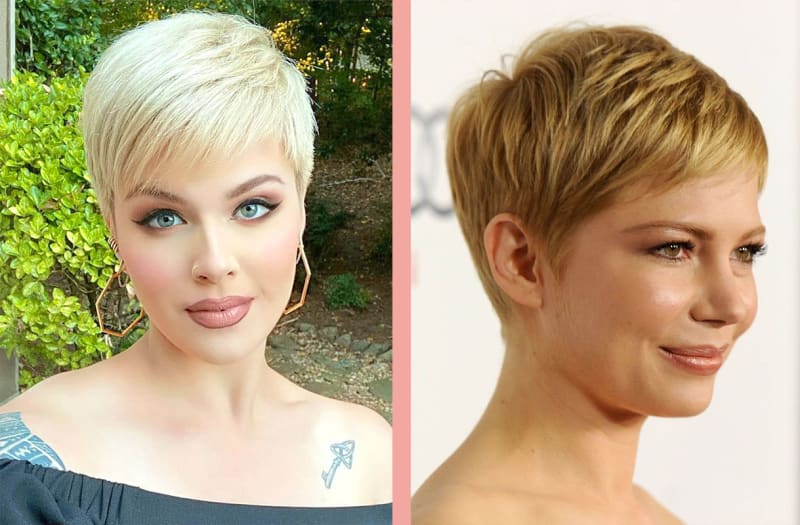 Classic and timeless, this smooth pixie cut keeps it longer around the top and shorter around the edges.
3. Voluminous Pixie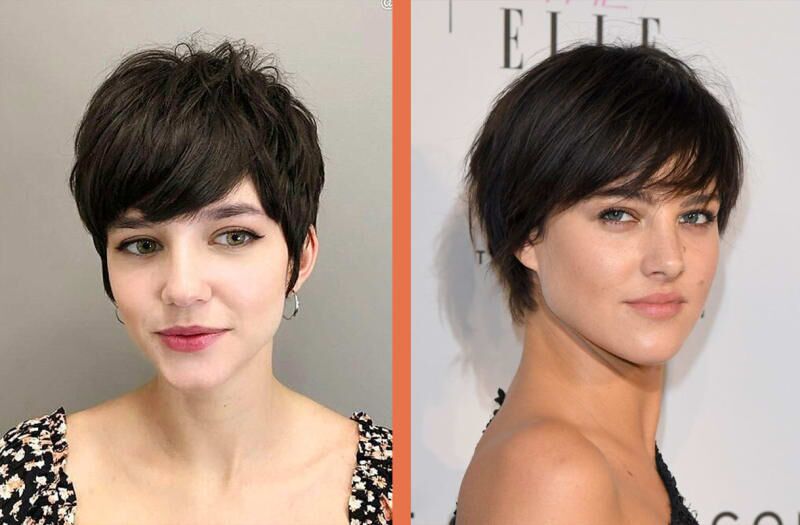 Who says you can't achieve volume with short hair? A voluminous pixie cut is totally possible with a more shaggy cut.
4. Flipped Up and Out Pixie
Many people stress out over flipped out hair, but this style is actually gorgeous! Add some flow and dimension to your pixie cut by flipping the ends up and out.
5. Shaggy with Volume Pixie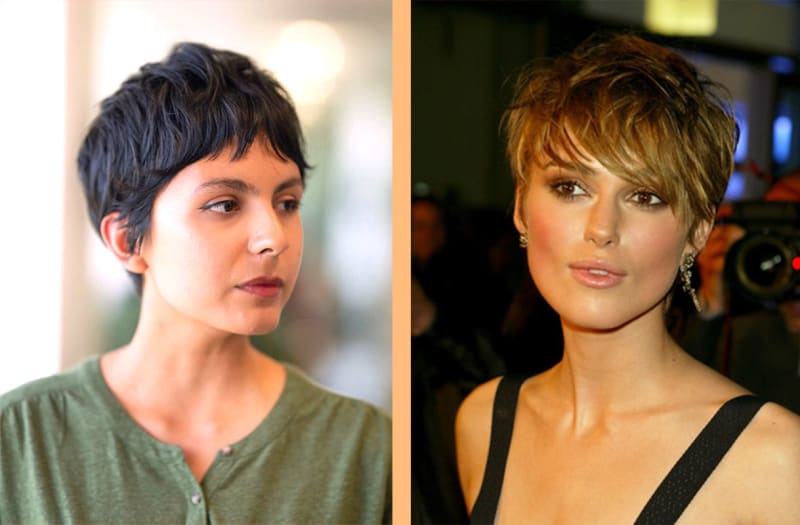 The key to a volumized pixie cut is shaggy ends and more length at the top. This look keeps the feminine vibe despite the shorter length.
6. Long and Layered Pixie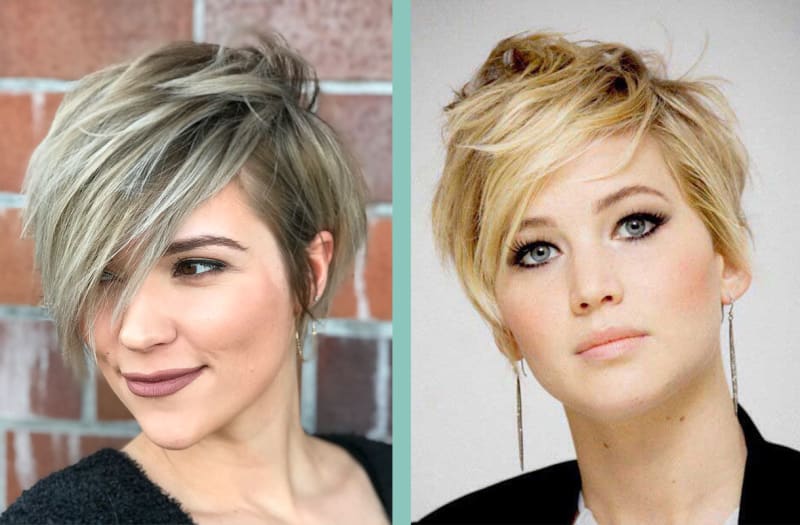 With long side-swept bangs and a layered pixie cut, it's easier to transition to a short bob when the time comes.
7. Curly and Tousled Pixie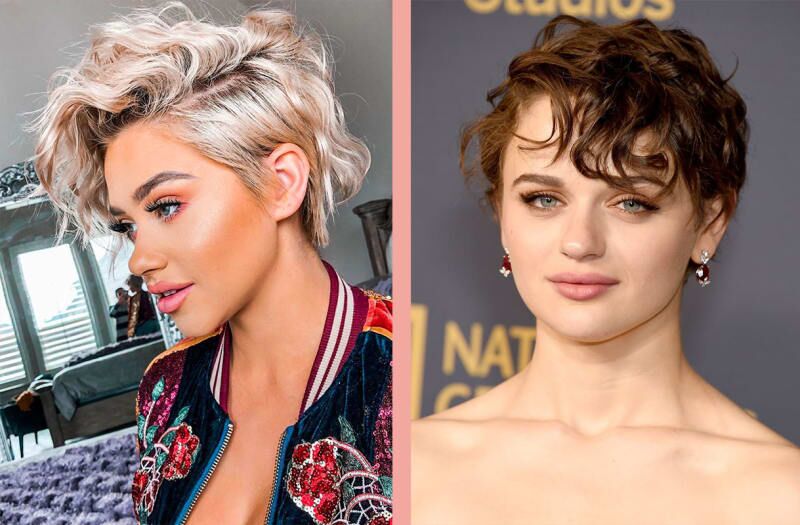 There's no other way to describe a curly tousled pixie but stunning. This hairstyle is the elevated version of the bedhead.
8. Short and Spiky Pixie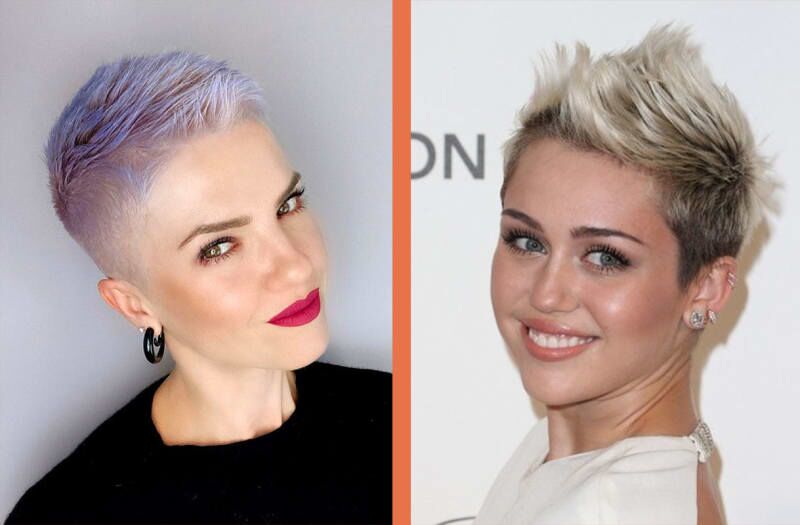 With some hair mousse, this look is easy to do. With slick sides and a short and spiky center, this style exudes big rocker-chic energy.
9. Asymmetrical Pixie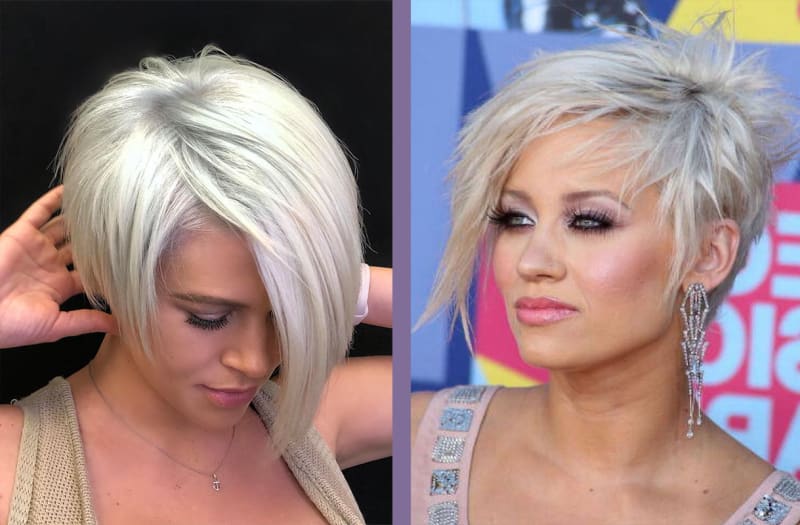 Want to go for a more tomboyish look? The asymmetrical pixie is low maintenance but high impact!
10. Side-swept Pixie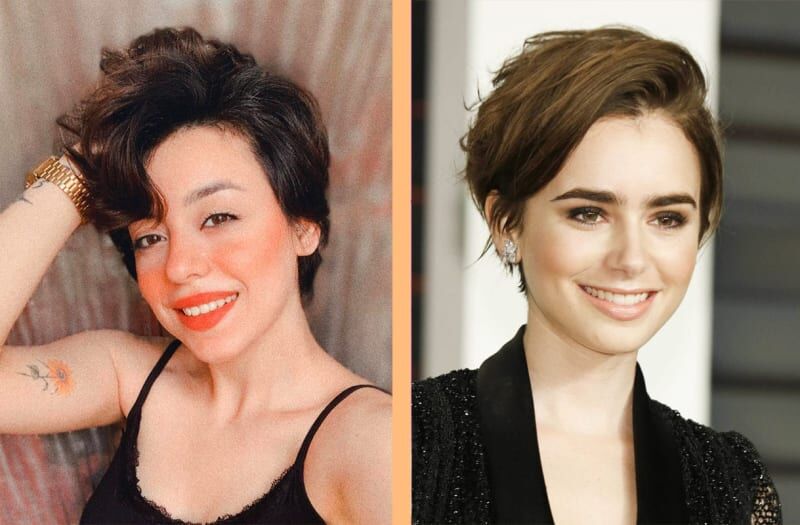 Be the image of elegance and grace with a side-swept pixie cut. This cut oozes off a feminine and charming glam.
11. Short & Angular Pixie
With super short sides and angular cuts, this pixie cut will sharpen your features for a more fierce look.
12. Slick & Smooth Pixie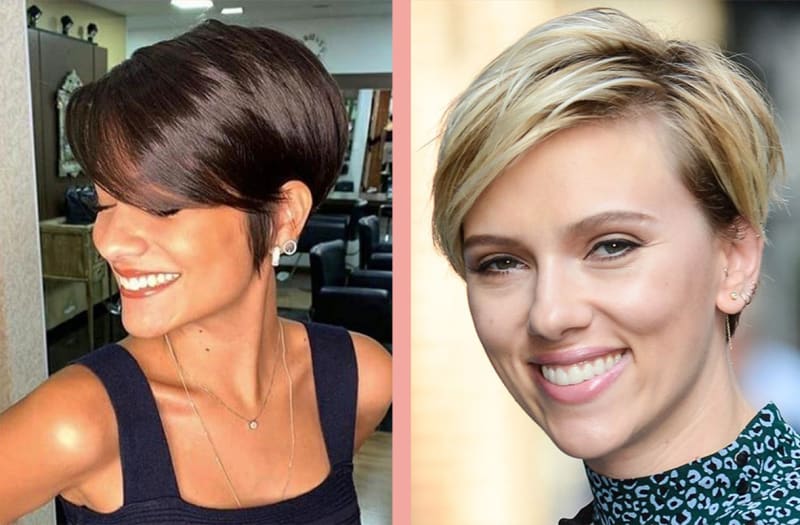 A pixie cut is likely to give you healthier-looking hair since you're cutting off old damaged hair away. Emphasize its new slickness and smoothness with a leave-in conditioner.
13. Smooth and Side-Parted Pixie
A smooth side-parted pixie emphasizes your cheekbones and face structure. Those with longer, more oval face shapes will rock this style.
14. Pompadour Pixie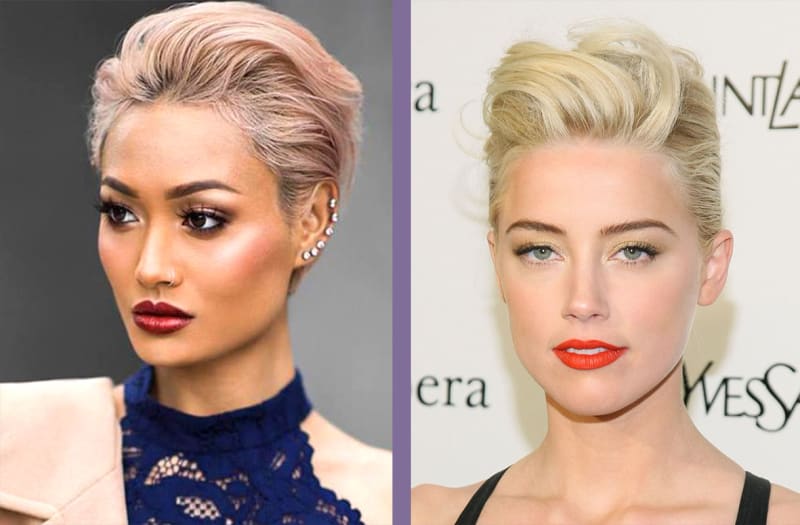 The pompadour is a classic iconic hairstyle. Paired with the sleekness of a pixie cut, this style just screams vintage glam.
15. Short & Silver Pixie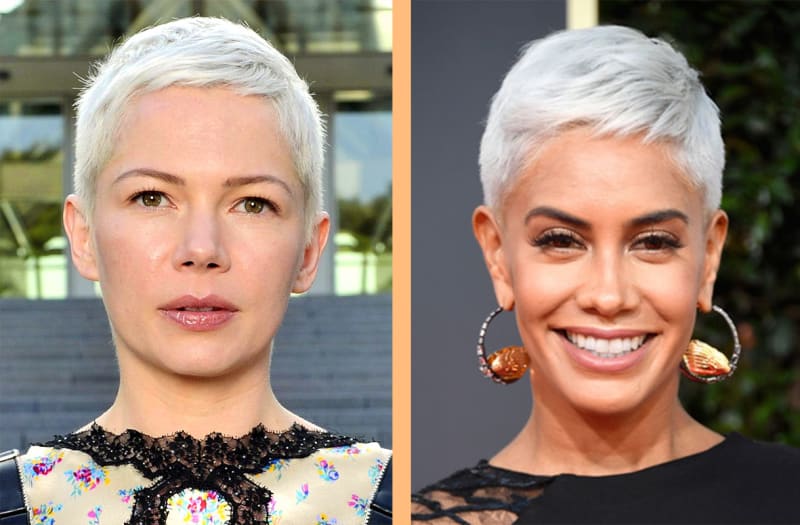 Want to give your pixie cut a futuristic twist? Short and shiny silver hair is the way to do it!
16. Retro Curls Pixie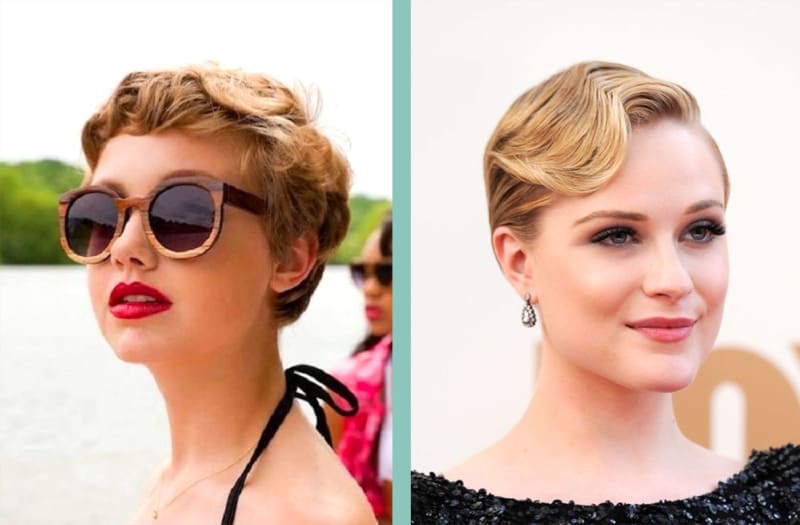 Bring back some old school glamour with a retro curly pixie. This slicked back glossy hair looks even more gorgeous on a pixie cut.
17. Platinum White Short Pixie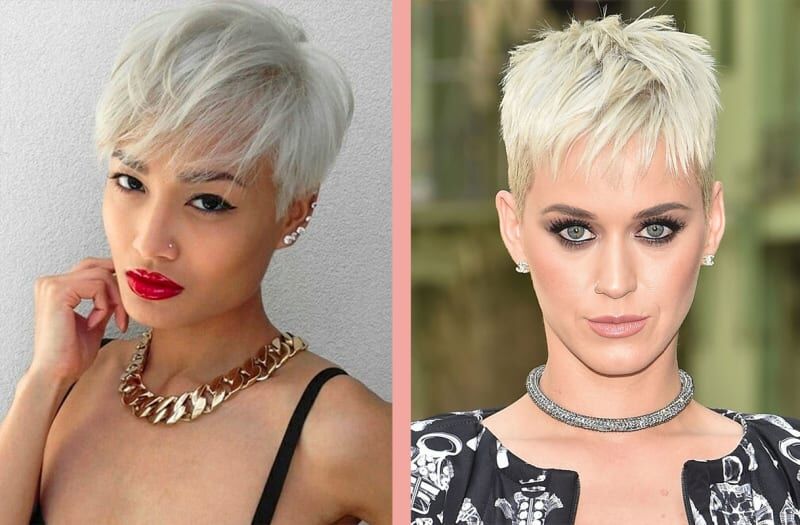 A platinum blonde shade brings out every detail of your hair. Maximize this color by going for a short and structured cut.
18. Neat & Wavy Pixie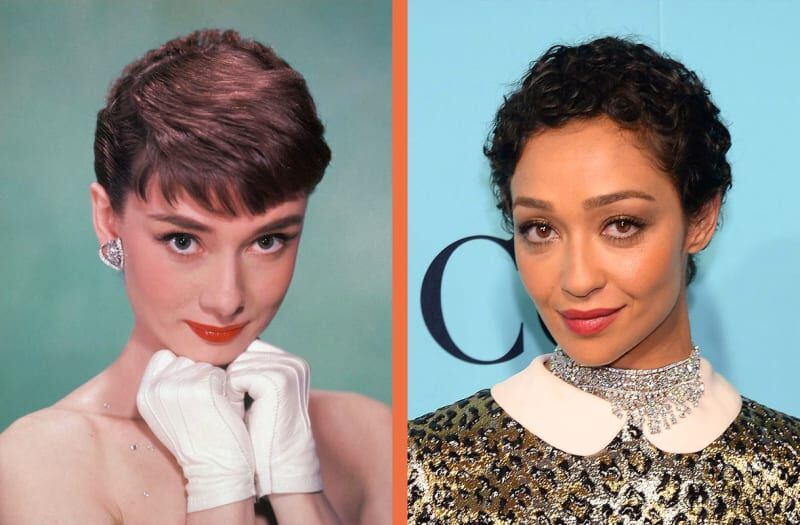 Audrey Hepburn did it best. If you want a more classic look, the neat and wavy pixie cut gives off a feminine playful charm.
19. Longer Pixie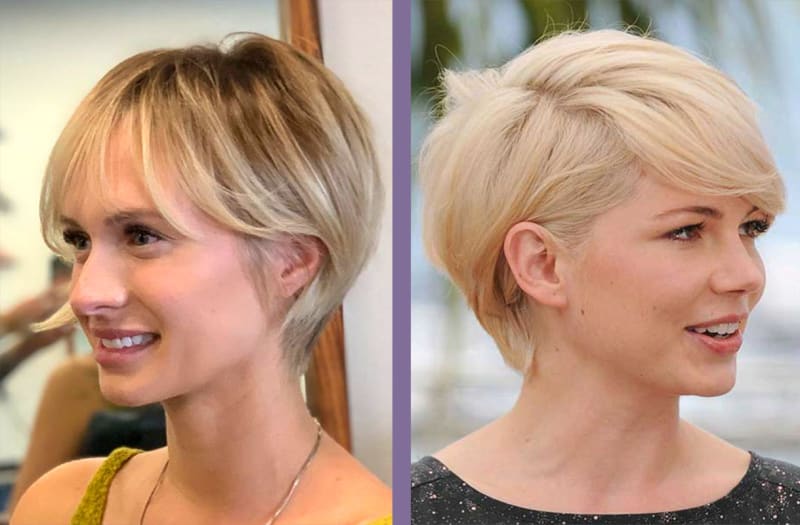 Still hesitant to chop your hair short? You can test the waters with a longer pixie cut that looks sleek and graceful.
20. Shaggy and Blonde Pixie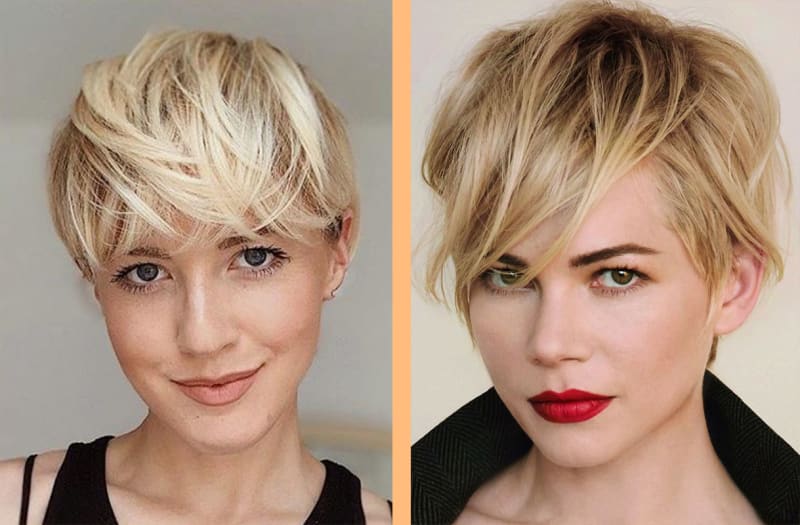 Get cool-girl status instantly with a shaggy and blonde pixie cut. This style will elevate your appeal and sharpen your features.
21. Structured Pixie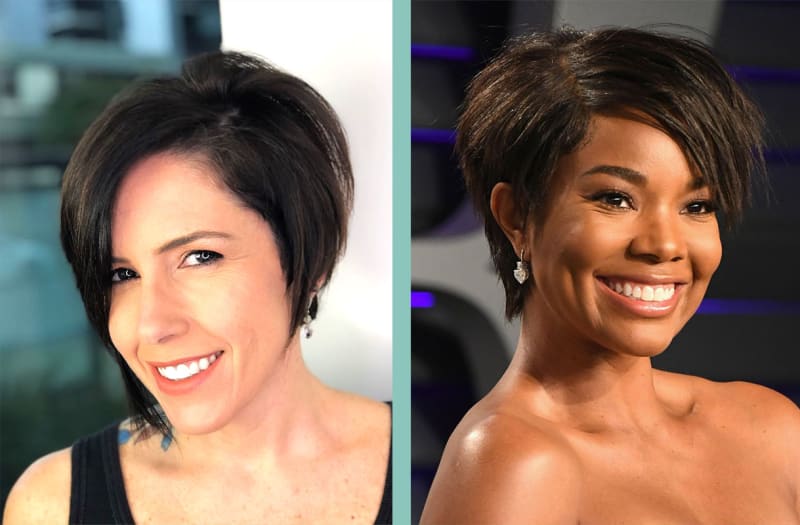 Edgy and owning it is the mantra of a structured pixie. Keep it fresh and playful with a more layered cut.
22. Curly Pixie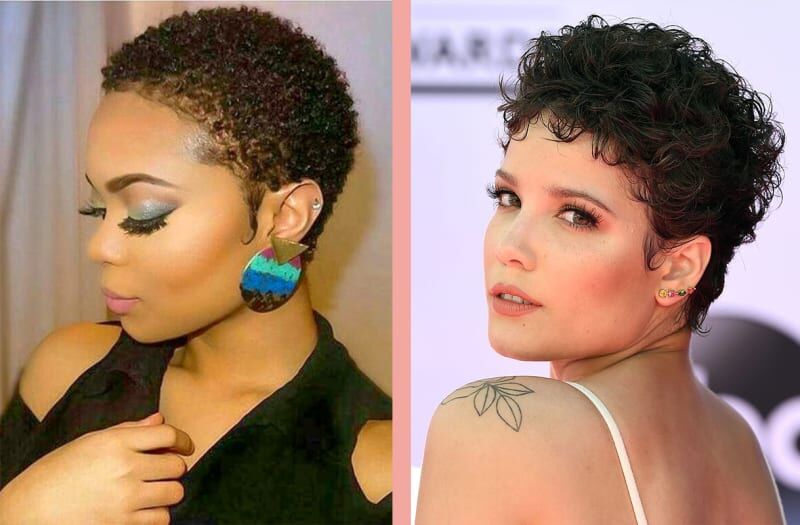 Who says curly-haired girls can't rock a pixie? Tight curls and a short haircut make a glamorous statement hairstyle.
23. Boyish and Glam Pixie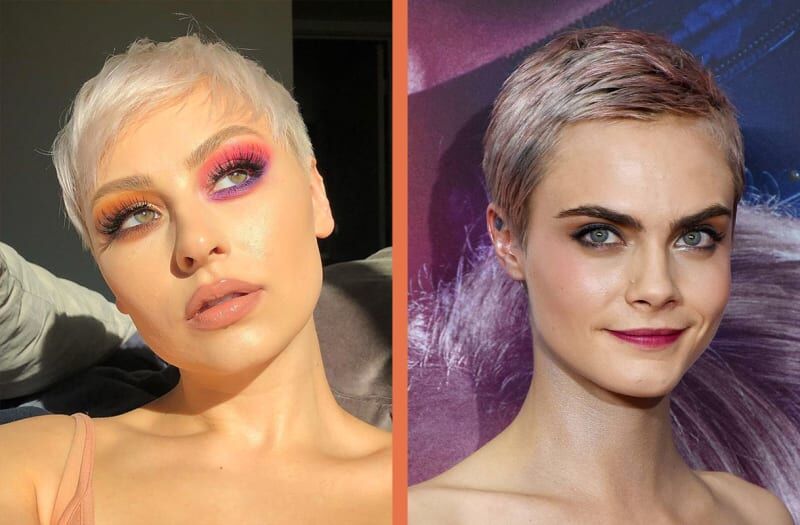 Embrace your masculine side by going for a short and boyish pixie. Work it either in your natural color or a more playful hue.
24. Highlighted Blonde Pixie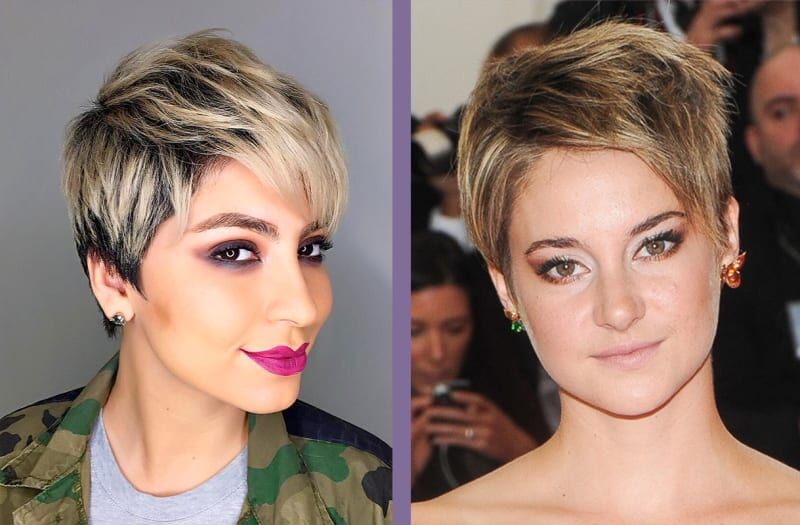 No matter the length, highlights keep a haircut fun and fresh. Liven up your pixie cut by adding varying soft and hard contrasts with highlights.
25. Short and Flipped Up Pixie
A short and flipped up pixie will emphasize your hairline. This style is best suited for girls with heart-shaped faces.
26. Polished Pixie
The keywords to achieving a polished pixie cut are sleek and glossy. Use a hair serum or a hair gel to cop this smooth look.
27. Tucked to the Side Pixie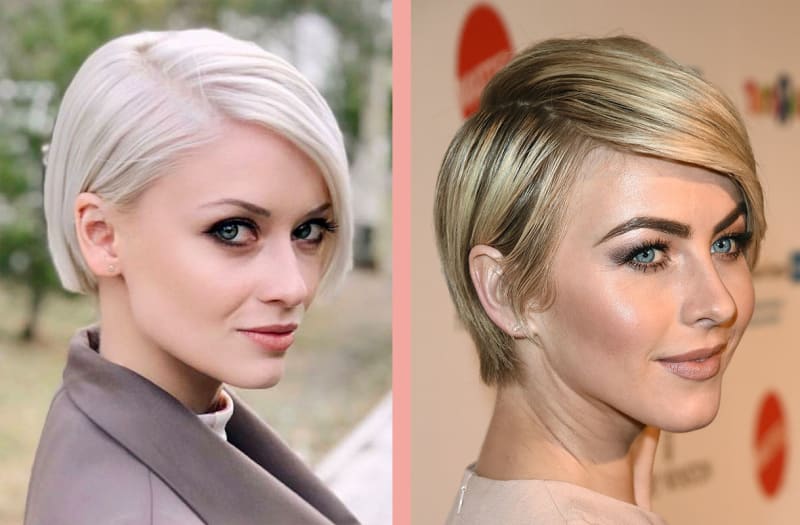 You can achieve a subtle yet fresh variation to the classic pixie just by tucking to the side. This look is sweet, simple, and easy to do.
28. Blonde and Voluminous Pixie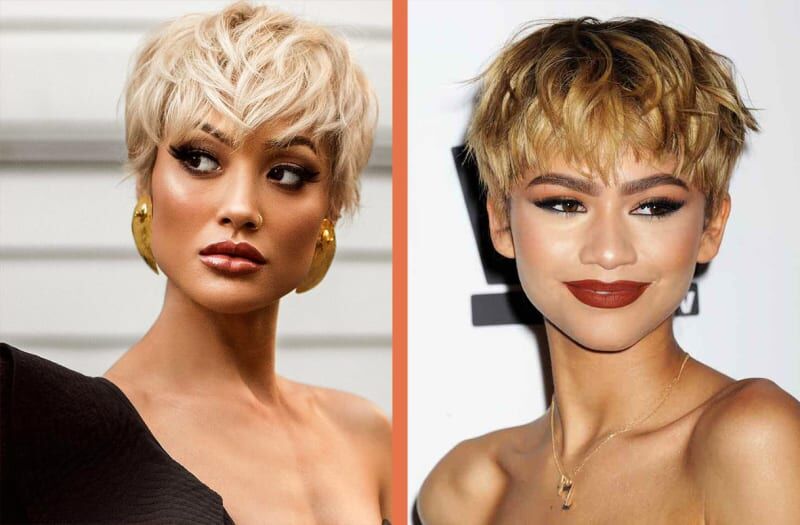 Achieve a voluminous looking pixie cut with a shaggy bowl cut style. This haircut works great across different shades of blonde – from dark and dirty to light platinum tones.
29. Messy Curls Pixie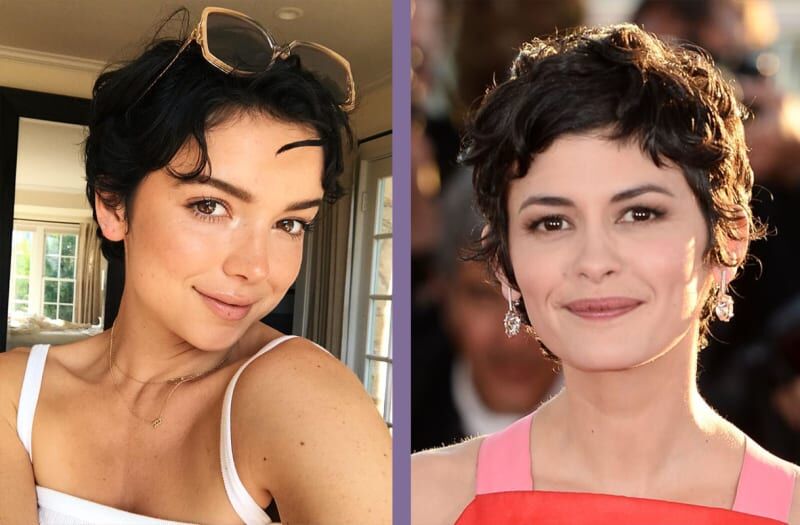 Rocking a pixie cut is easy breezy with naturally curly hair. Go for shorter cut sides and slightly longer strands in the middle for a messier, effortlessly laidback look.
30. Feathery Fringe Pixie
A feathered pixie cut with layers and a fringe balances the usual boldness of a pixie with softer wispy elements.
31. Angled Bangs Pixie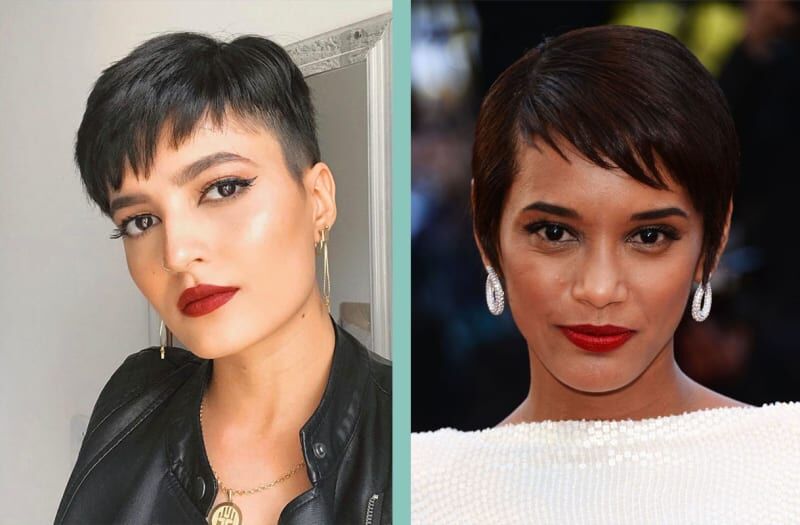 A more piece-y, edgy side angled bangs make an elegant power statement. This pixie cut is best for the boss babes.
32. Full on Top Pixie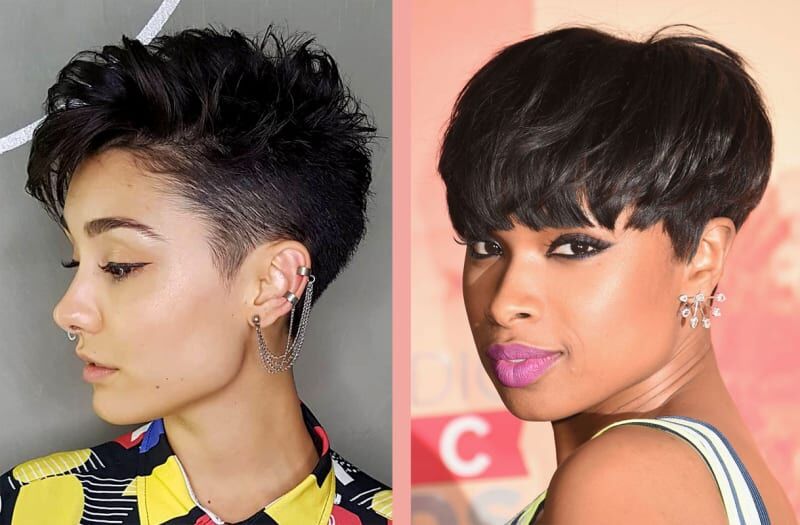 If you've got a jawline to show off, a full-on top pixie will allow your face structure to steal the show.
33. Super-short Shag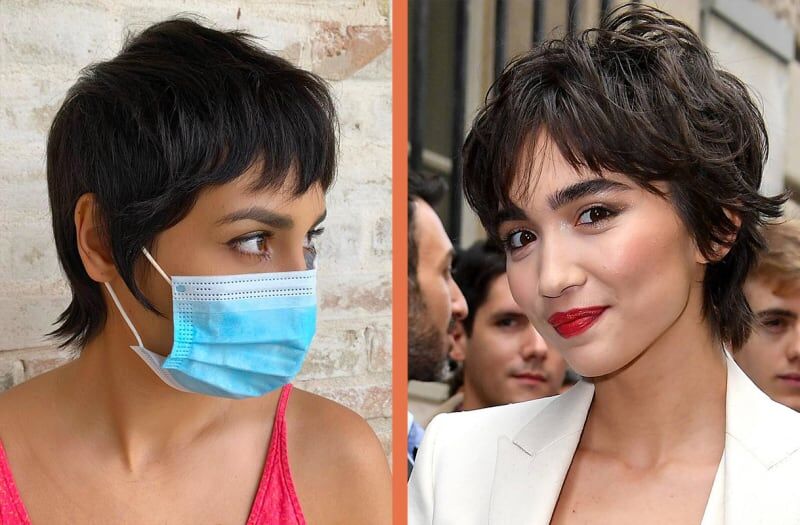 The key to rocking shaggy hair is layering away. This shaggy and short pixie cut gives a nice casual and modern vibe.
34. Wispy Flips Pixie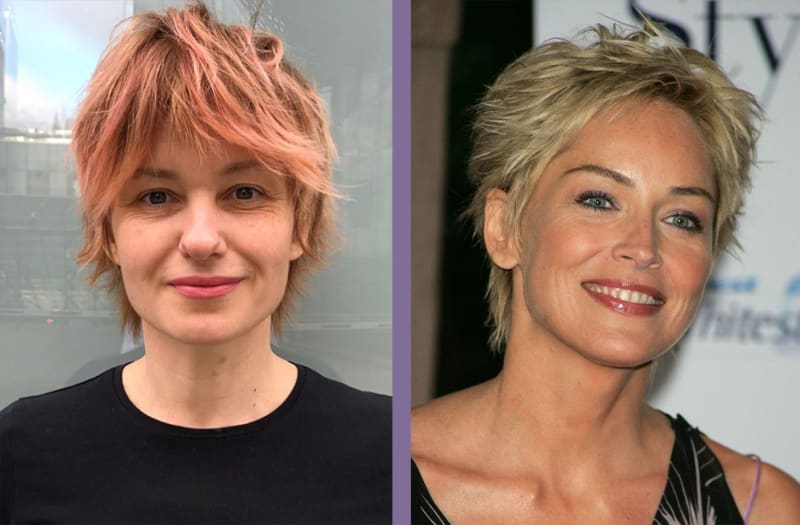 A short hairdo has the tendency to look flat when hair is slicked back. Add some fun volume to your look by running mousse through your hair and doing wispy flips.
35. Girly Curls Pixie
Short hair shouldn't always translate to boyish cuts. Tight curls on a pixie can look sweet, soft, and playful.
36. Side Swoops Pixie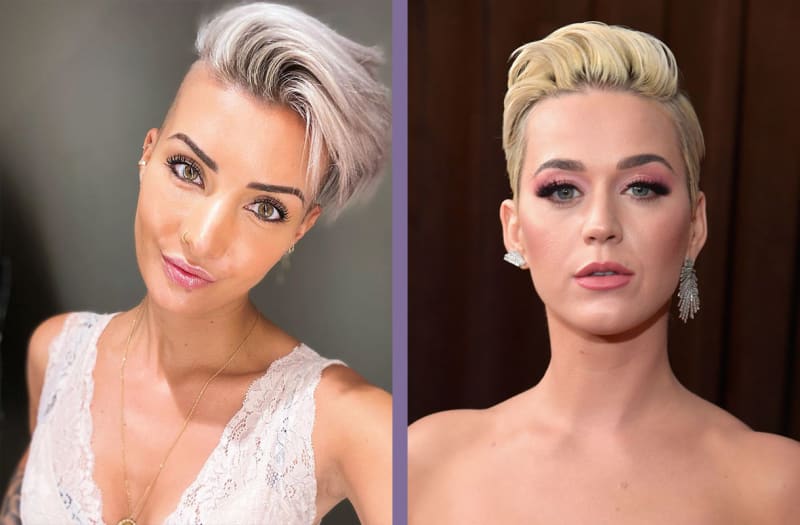 Want an elegant cut that's easy to style yet sexy? Side angle swoops held in place with some hairspray is the way to do it.
37. Sweeping Bangs Pixie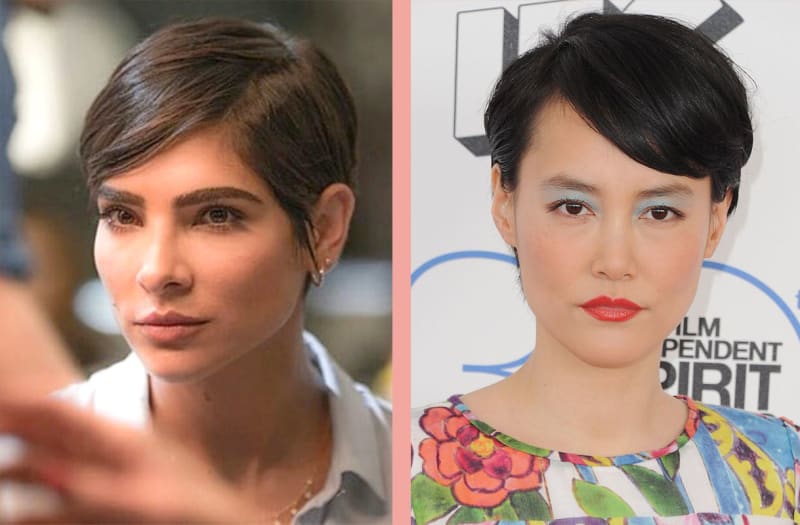 Sweeping bangs add a soft, feminine element to an otherwise edgy pixie cut. This hairstyle works well for gals with round faces.
38. Pixie with Long Crisp Layers and Nape Undercut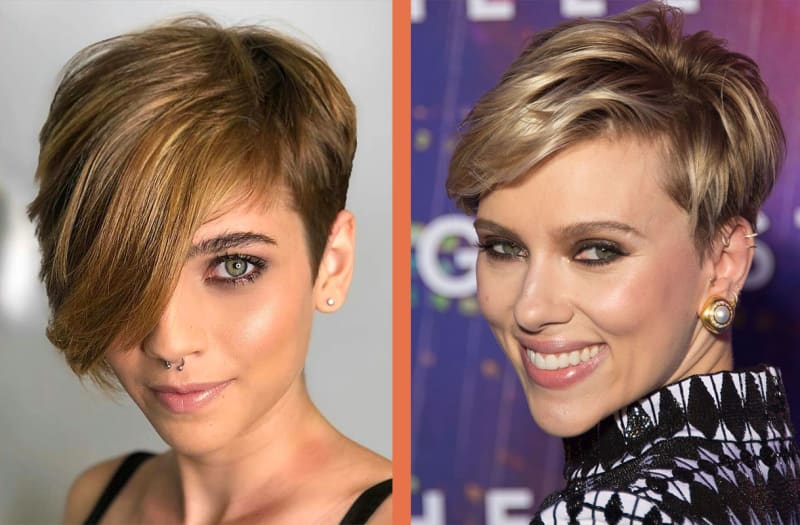 A nape undercut just screams light and free. Pair this clean undercut with long and crisp layers on the front.
39. Long Choppy Uneven Pixie Cut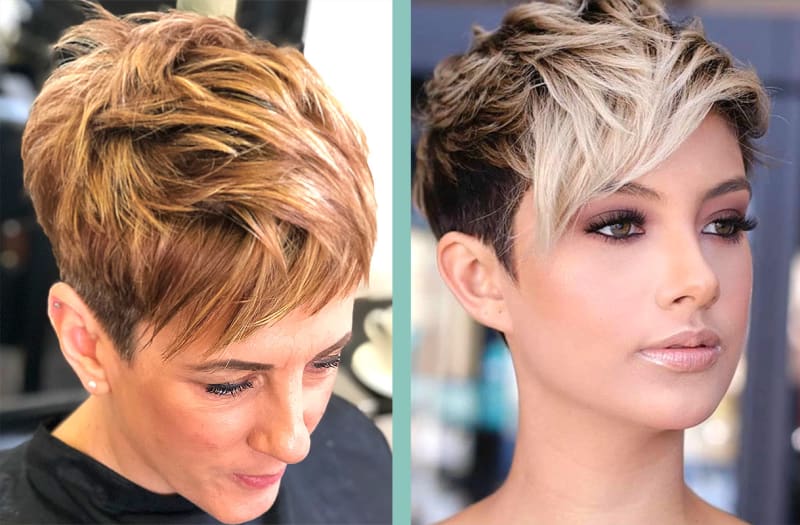 Asymmetrical is the way to go for the edgiest look. A long and choppy uneven pixie cut is unique and stylish
40. Mussed Up Layered Pixie with Highlighted Bangs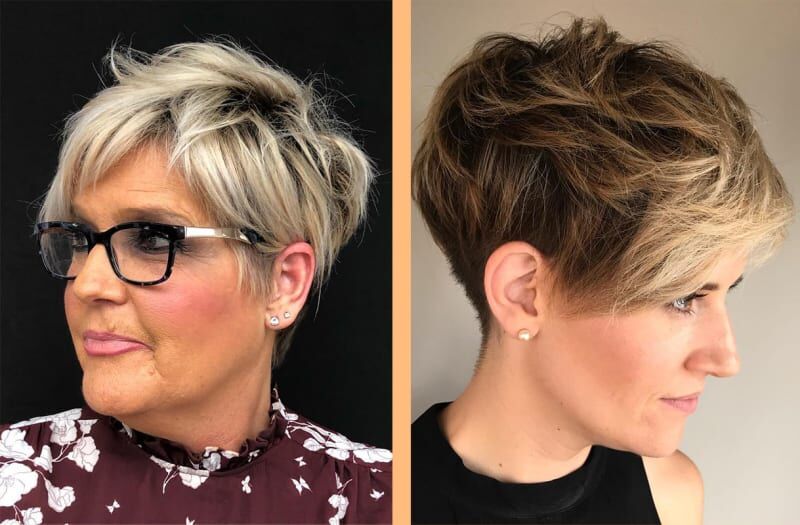 This messy, layered texture is for low maintenance ladies. Go dark to light from back to front by highlighting your bangs to achieve a pixie cut that's anything but basic.
41. Adorable Long Tousled Brunette Pixie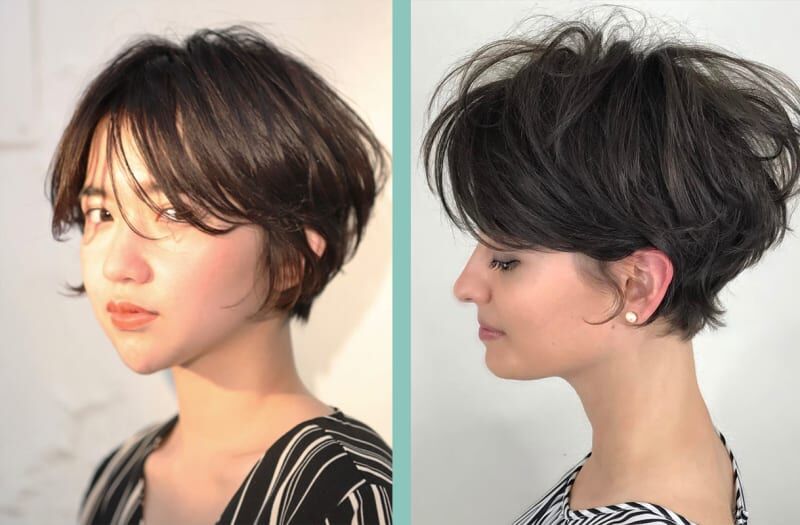 There's a nice rustic charm that you can only get from a tousled brunette pixie. The longer strands add a softness to your cut that lets your facial features shine.
42. Extra Long Blonde Pixie with Tapered Nape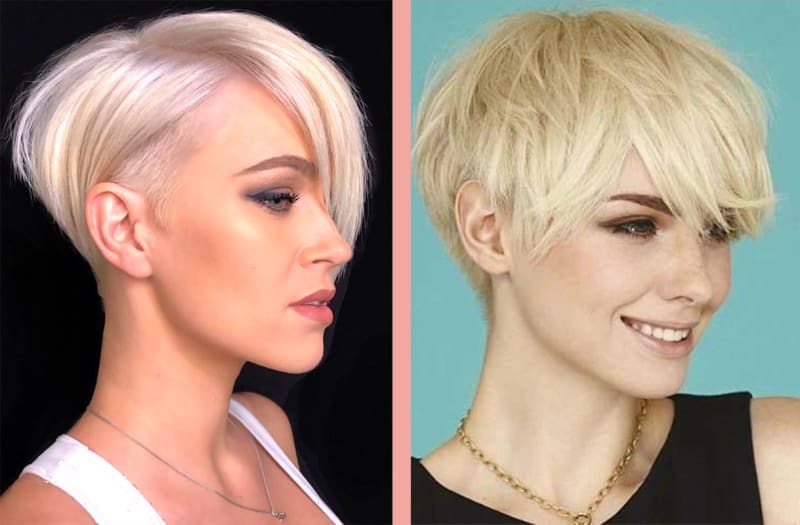 Have thicker hair? Keep the volume by going extra long on top but tapering the nape area. That should keep your pixie feeling fresh and cool on the neck area.
43. Feathered Pixie with Nape Undercut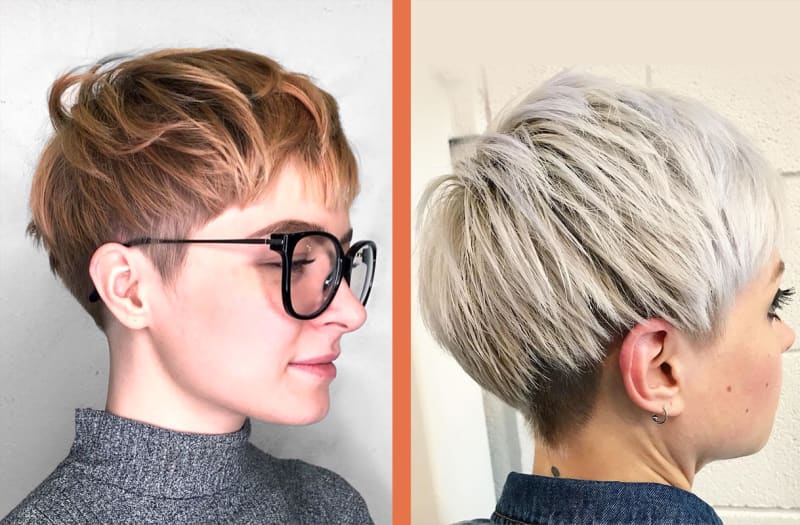 Embrace the edgy, bold look with a feathered pixie and a nape undercut. This style is guaranteed to turn heads.
44. Elongated Pixie with Long Layers
For girls with naturally thin hair, adding soft wispy layers to your look with an elongated pixie is a great choice.
45. Long Messy Blonde Balayage Pixie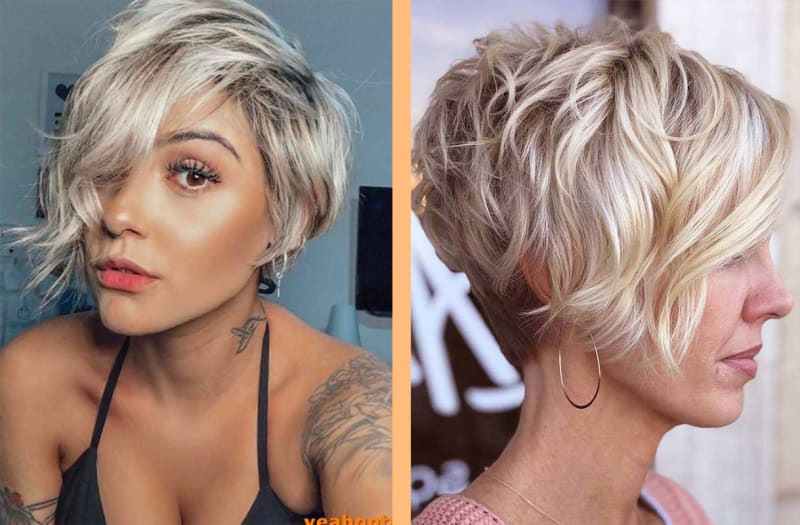 Ready to embrace the bed head look? A long messy pixie colored with a luscious blonde balayage is great for more casual dressers.
46. Feminine Undercut Pixie for Curly Hair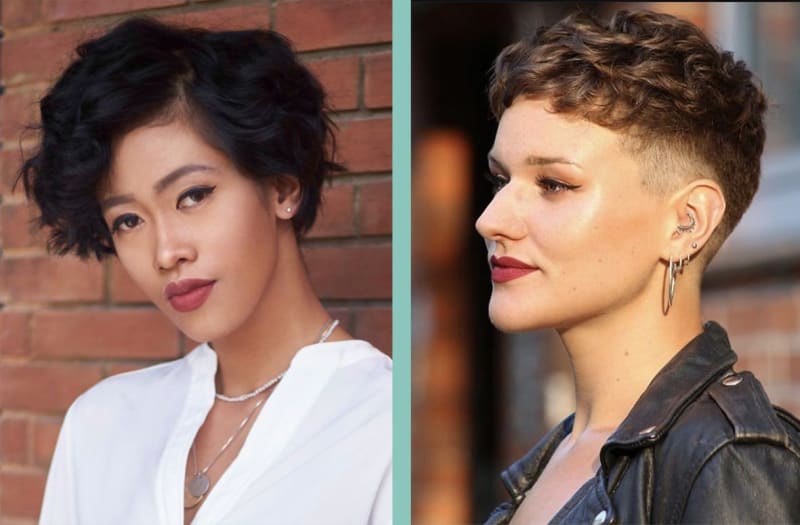 An undercut is undoubtedly a bold choice. Balance it with feminine elements like longer curls to make it wearable for everyday.
47. Long Disheveled Pixie with Blonde Balayage
Want a cut that is low maintenance but doesn't look like it? A blonde balayage will make it seem like you put more effort into your hair even when you didn't!
48. Shaggy Tapered Pixie with Side Bangs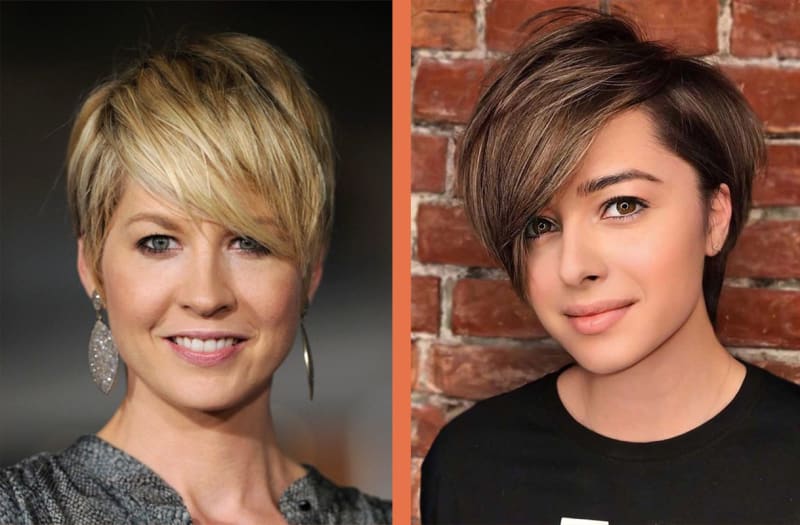 Tapering your pixie cut gives the eye a nice line of flow to follow. Keep it voluminous and fresh with a shaggier cut and some side bangs.
49. Voluminous Pixie with Angled Sides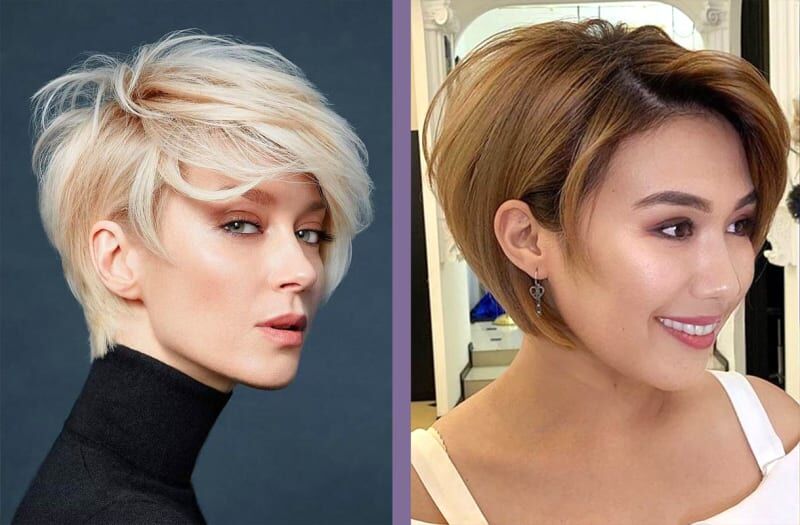 Keep your pixie cut full and voluminous yet still edgy and structured by going for angled sides. This cut works well for women with a jawline to show off.
50. Choppy Silver Pixie
The awesome thing about getting pixie cuts is you need less product to experiment and change up your style. Achieve your silver hair goals easily with a choppy cut.