Medium bob haircuts are making a comeback this year and we're here for it! Whether you have straight, wavy, curly, blonde, brunette, or whichever colored hair, there's a bob cut style that's suited for you and we're here to give you a healthy dose of hair inspiration!
What's the bottom line?
Choosing your next hairdo is more fun when shared with friends. Let us know which among these hairstyles you are showing to your hairstylist on your next salon trip! Share this article to help your friends look for new shoulder-length hair ideas.
1. Black Curly Bob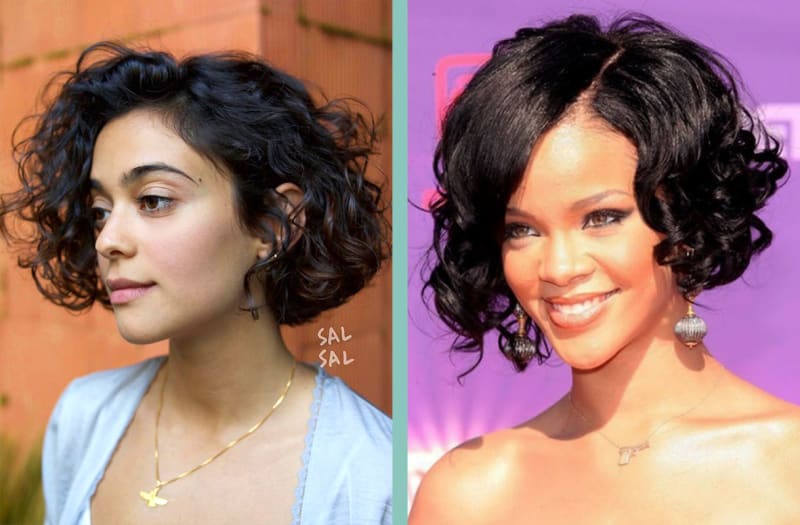 Got naturally curly hair? Play it up with a fresh, medium bob cut. Curls will lend this style a playful variation in length and texture for a fun, modern look.
2. Straight Bob w/ Fringe
A medium straight bob is classy on its own but a fringe takes it to the next level. Add bangs to your bob to make it sleek and red-carpet ready.
3. Textured Bob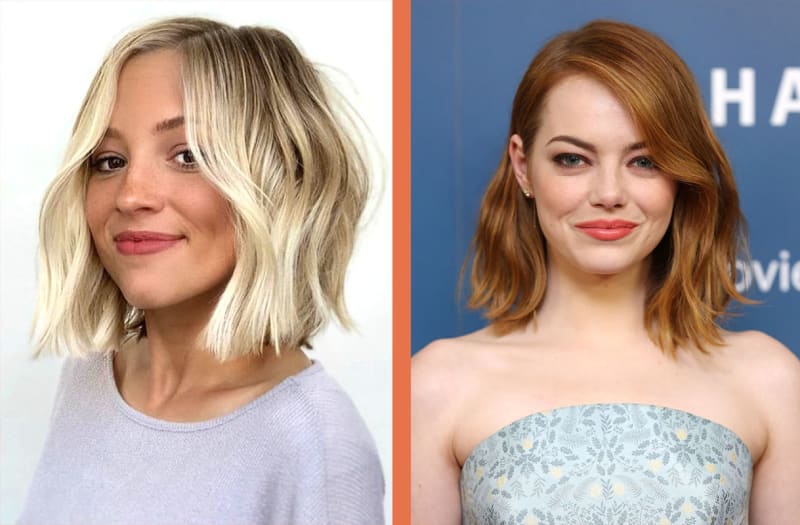 Want a low maintenance style that still has a lot of lift and volume? A textured bob cut is the way to go.
4. Classic Bob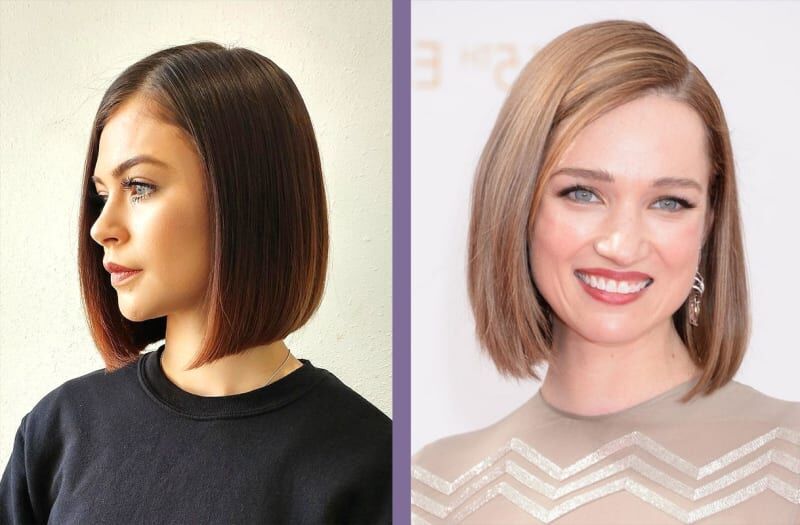 It's true what they say that you can't go wrong with the classics. A simple shoulder-length hair cut is great for any season.
5. Classic Bob on Grey Hair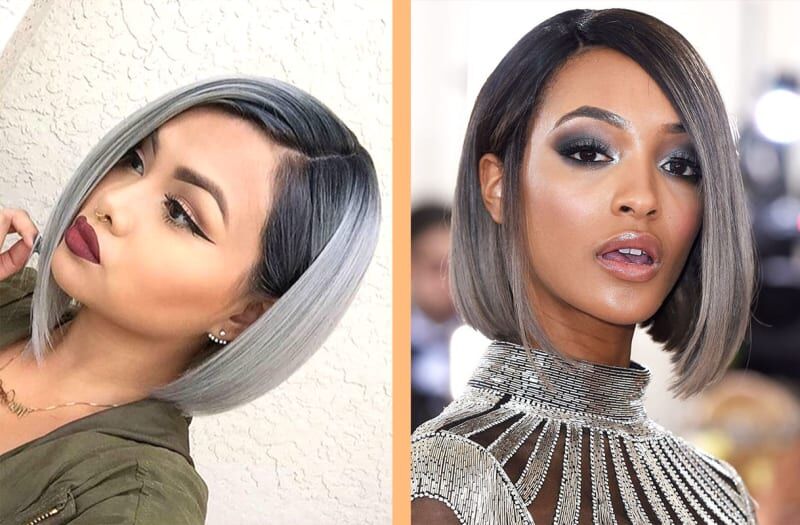 Grey hair is anything but drab. Dyeing your hair a modern silver will transform a classic bob into a hip and cool hairstyle.
6. Classic Bob with Swoop Bangs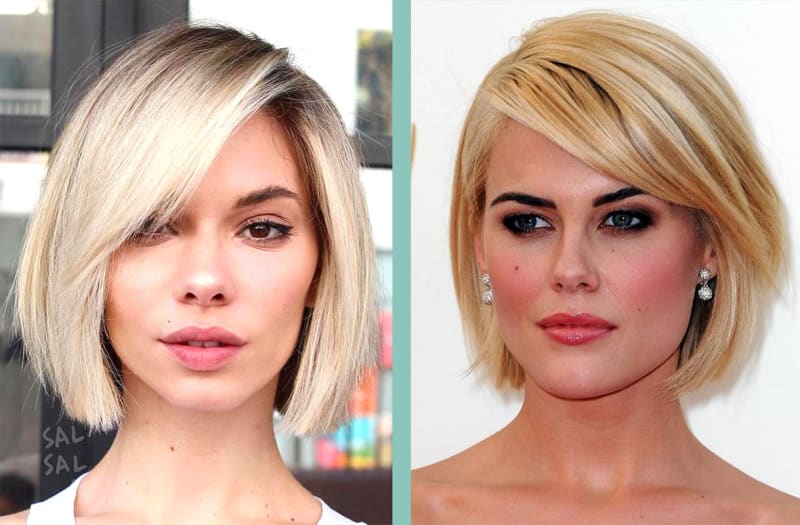 If you want to go for a hair update but don't want to commit to a full fringe, side swoop bangs are a great option.
7. Tousled Bronde Bob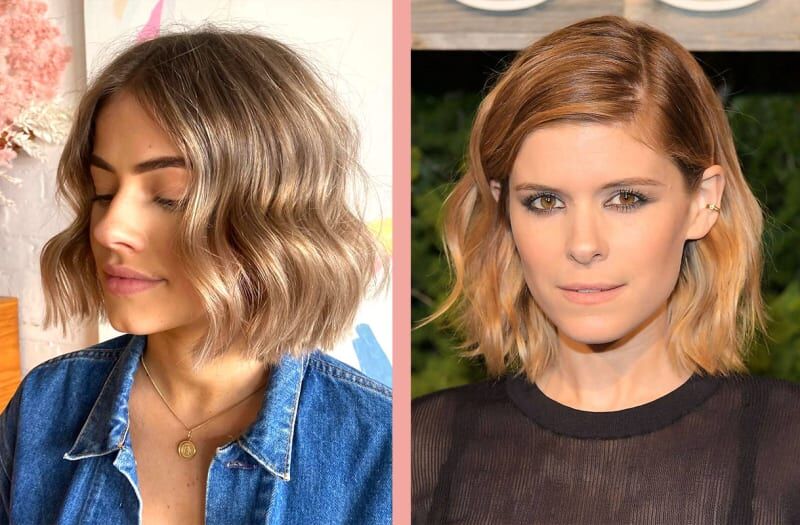 A bronde fuses both brown and blonde so you don't have to choose between being a blonde or brunette anymore. Try a tousled bronde for a cut that's très chic.
8. Shaved Back Asymmetrical Bob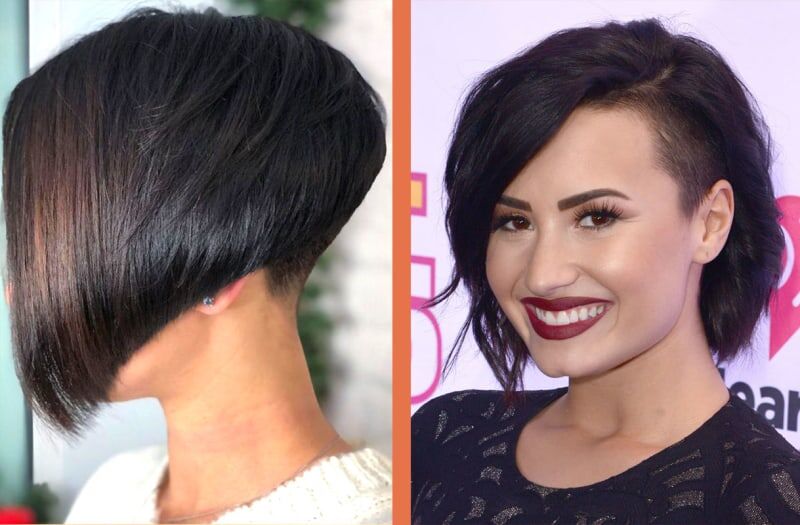 Push your style to the edgiest limits with a shaved back asymmetrical bob. This haircut is guaranteed to make you stand out in a crowd.
9. Straight Brunette Bob with Straight Fringe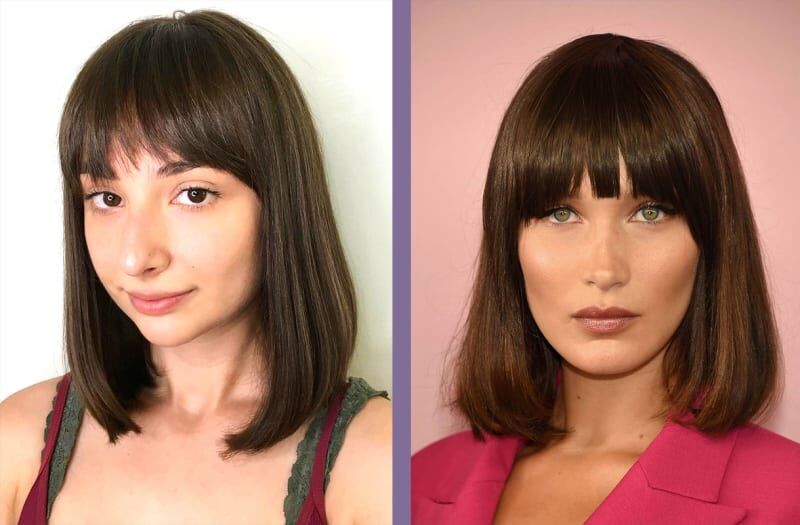 This cut exudes style and power. If you want a cut that represents your girl boss energy, try a straight brunette bob with a fringe.
10. Wavy Bob & Curtain Bangs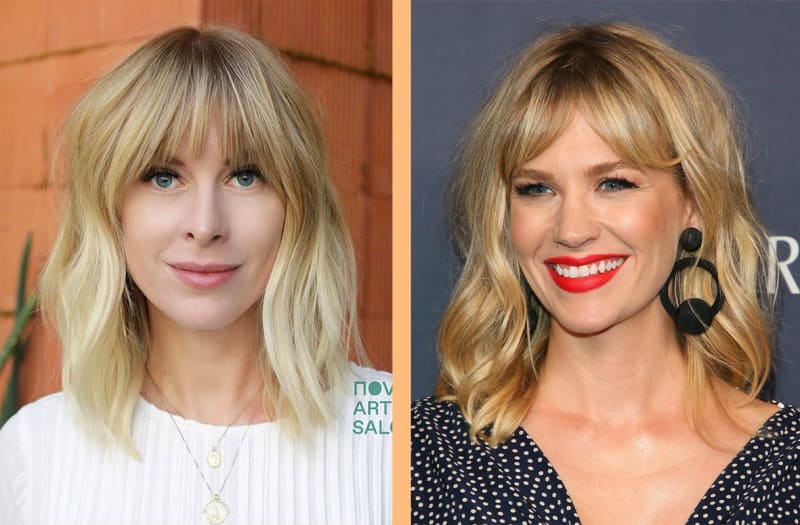 Curtain bangs are a great way to frame the face and have a nice laid back vibe to it. Pair it with a wavy bob for an effortlessly cool look.
11. Disheveled Bob Style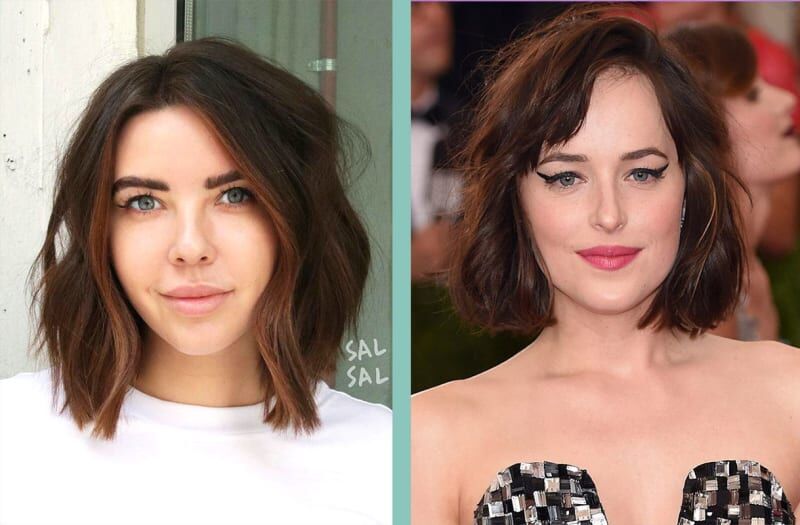 Want to wear out your bed head but still keep it classy? A disheveled bob style is our top pick for the model-off-duty look.
12. Medium Length Straight Layered Bob
Layering your bob cut creates movement to your hair and adds a look of volume compared to the classic bob.
13. Collarbone A-Line Bob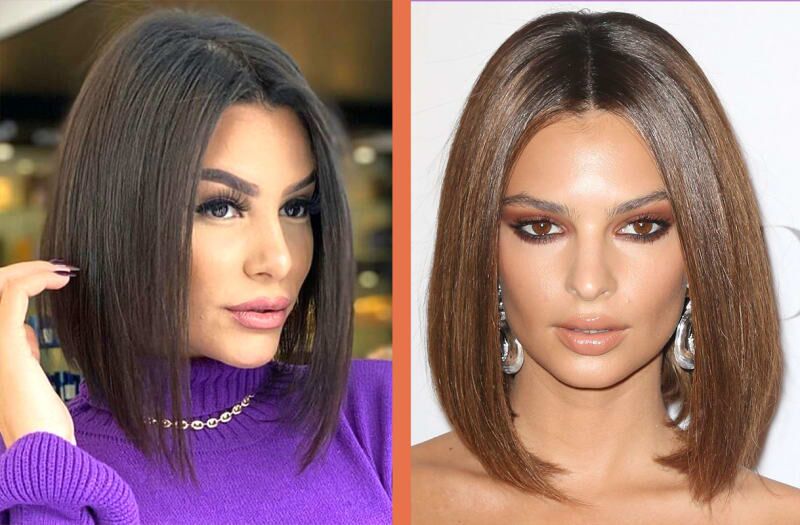 Want to show off your beautiful neck and décolletage? A collarbone A-Line bob is a stylish way to do it.
14. Messy Bronde Bob with Jagged Ends
Messy jagged ends make for a nice low-maintenance hairstyle that looks more lived in. Pair it with a bronde color for an effortless laid back style.
15. Gray Bob with Layers
Layering a bob always brings an element of freshness to your cut. This style works well whether you have dyed or naturally gray hair.
16. Straight Ash Blonde Balayage Bob with Layers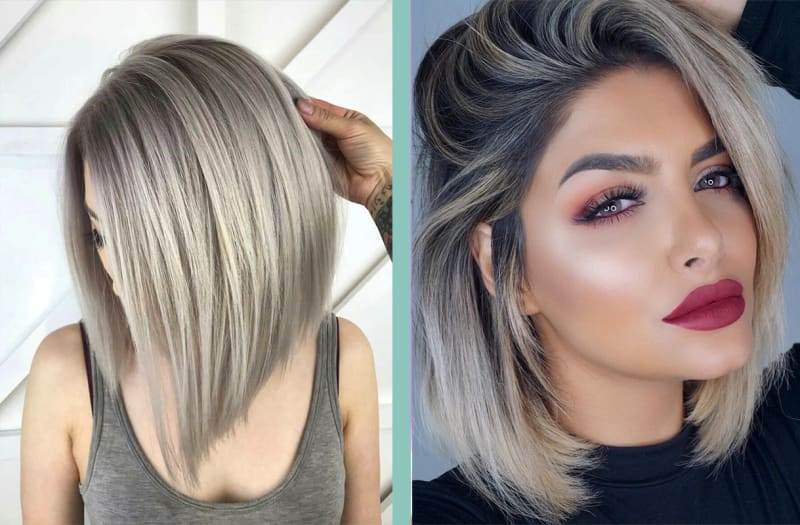 A balayage involves painting hair in sweeping motions for smooth transitions of color. An ash blonde balayage will give you a soft and modern look.
17. Medium Length Wispy Rounded Bob
If you want a cut that looks light and airy, wispy razored layers can give off that effect. A rounded bob will make it easy for daily styling.
18. Frizzy Shaggy Bob with Babylights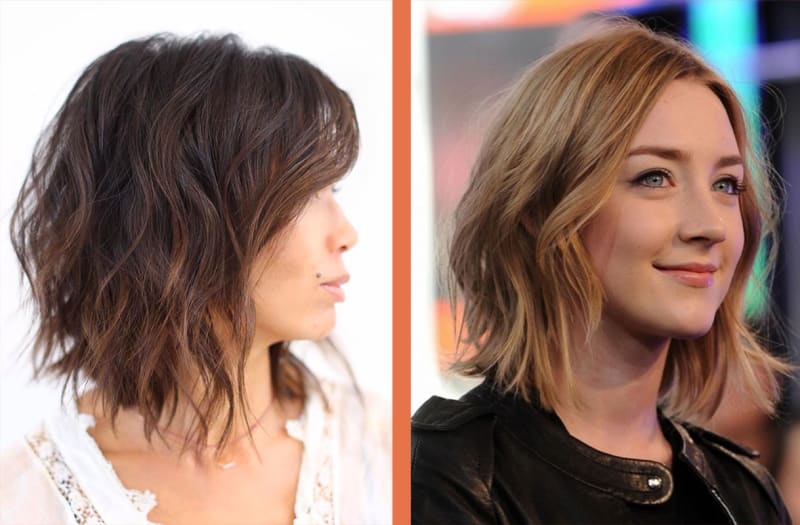 For more angular jawlines, a frizzy shaggy bob works great to soften your features. Babylights or subtle highlights add more dimension to the look.
19. Disconnected Bob with Messy Waves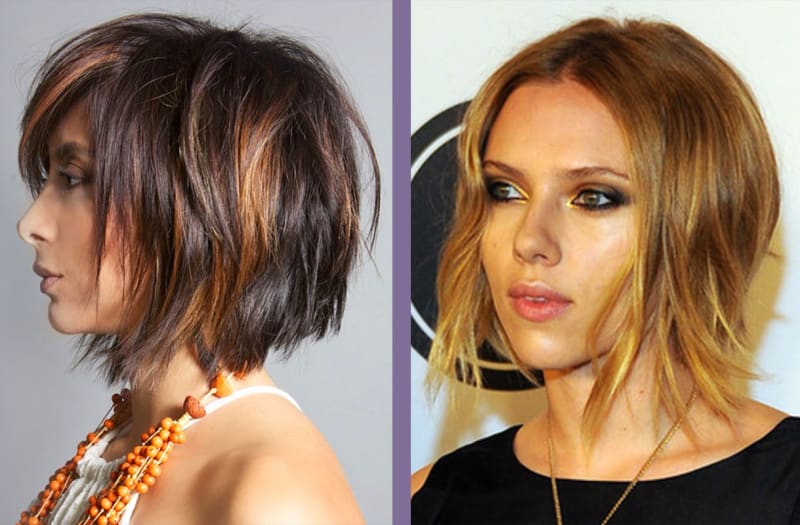 Choppy bobs are having a moment, and what's neat is that they're a low maintenance style. Disconnected bobs are best for that edgy-chic look.
20. Sleek Blunt Brunette Bob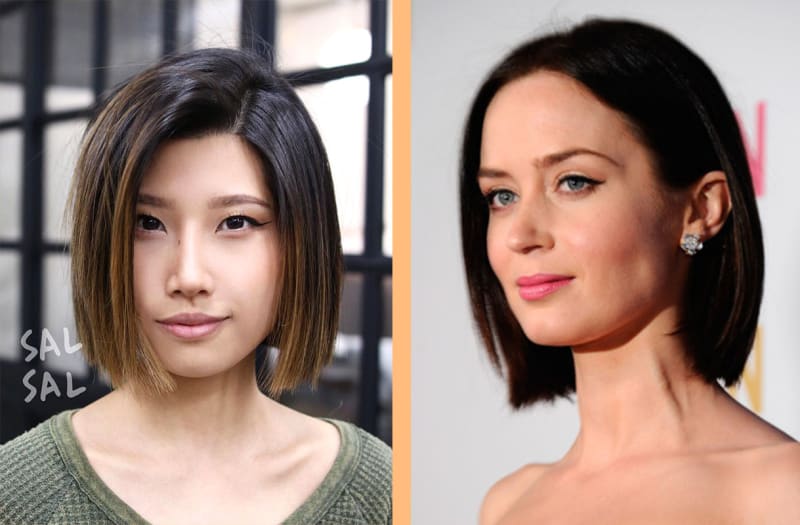 This minimalist, sleek blunt bob screams perfection and precision. If you can deal with the upkeep, this hairstyle is a winner.
21. Straight Choppy Blonde Bob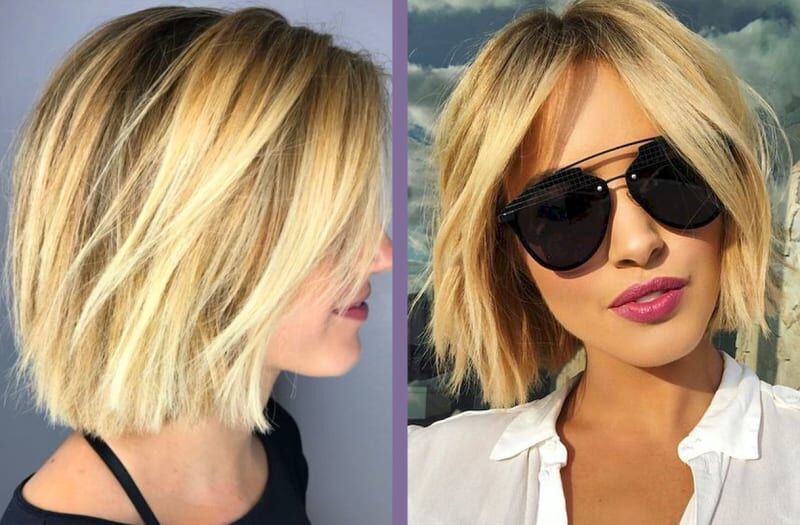 Choppy ends can make your straight hair look less stiff and more voluminous, especially if you have naturally thinner hair.
22. Dimensional Blonde Balayage Lob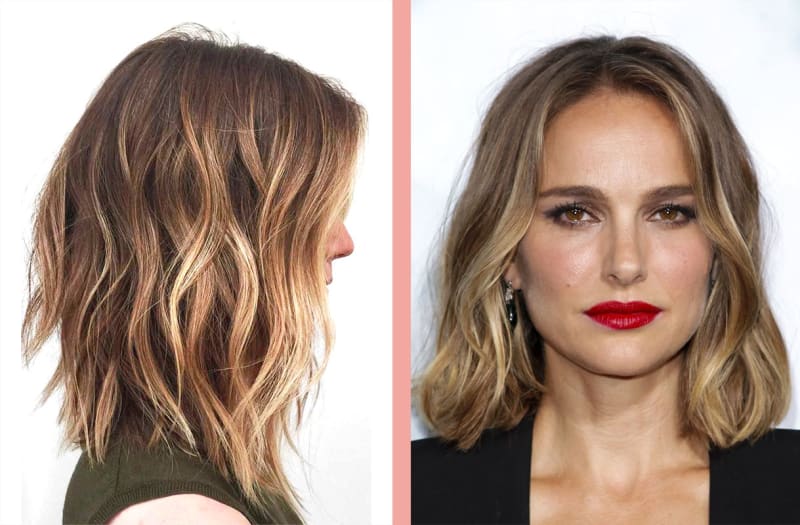 Looking for soft waves that will refresh your aura? A dimensional blonde balayage is in style these days.
23. Classy Rounded Bob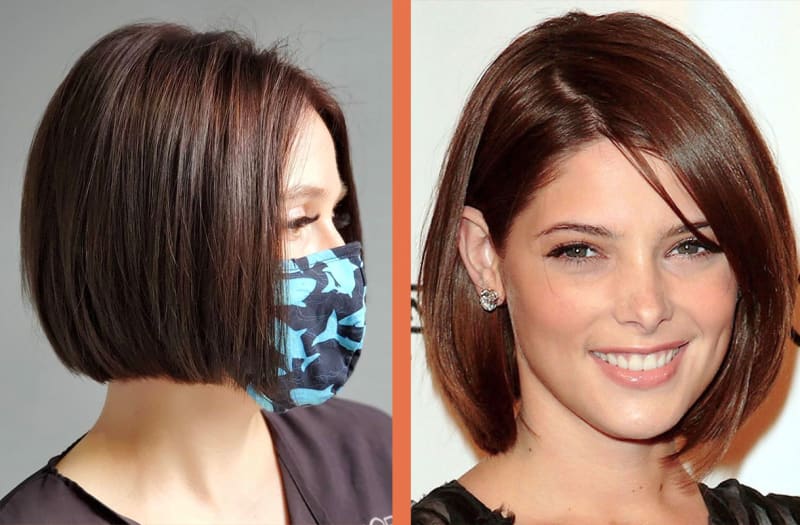 A rounded bob gives you a sweet and innocent vibe. It's warm and charming without looking too child-like.
24. Ash Blonde Razored Bob with Bangs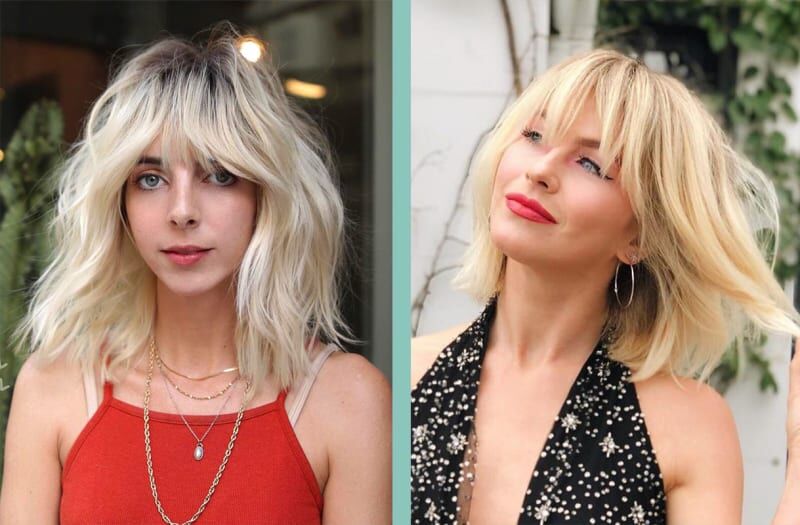 For a more contemporary bob cut, razored medium bob haircuts give you nice layers especially with an added fringe.
25. Gorgeous Bob with Enhanced Crown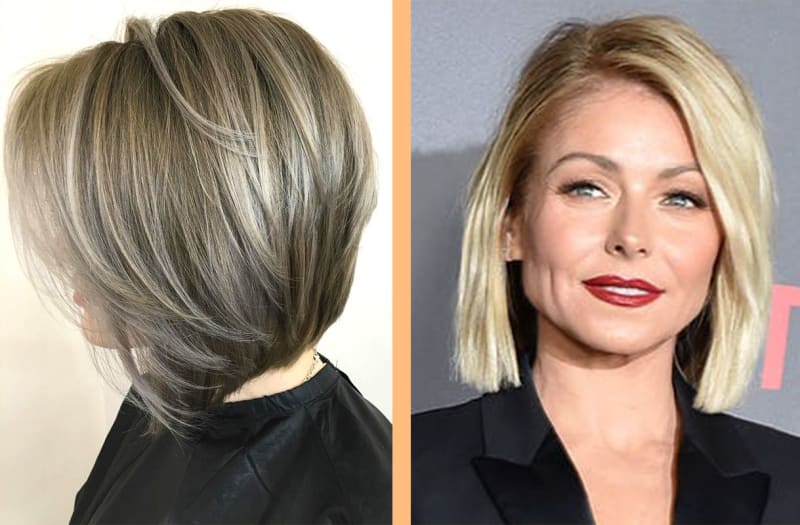 Giving yourself an enhanced crown haircut is an easy way to lend hair volume without the style appearing too heavy.
26. A-Line Bob Haircut
An A-line bob is one that's shortest at the nape and longest in the front. It's a fresh, eye-catching haircut that's perfect for the summer.
27. Curly Mid-Length Hairdo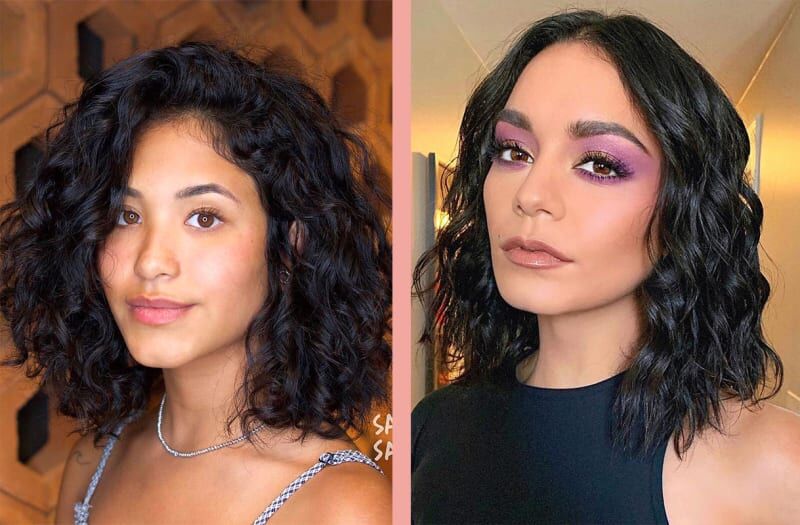 A curly mid-length cut is all about vintage sexiness. Embrace the density of your hair for a style that's full and bold.
28. Sun-Kissed Shoulder-Length Bob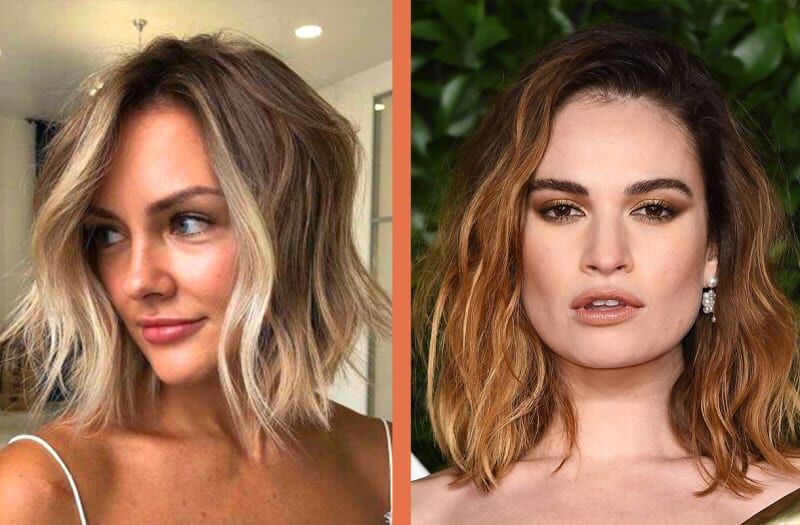 Whether you spend time under the sun or go to the salon to get some highlights, a shoulder-length bob makes sun-kissed hair look extra fancy.
29. Angled Textured Silver Bob Hairstyle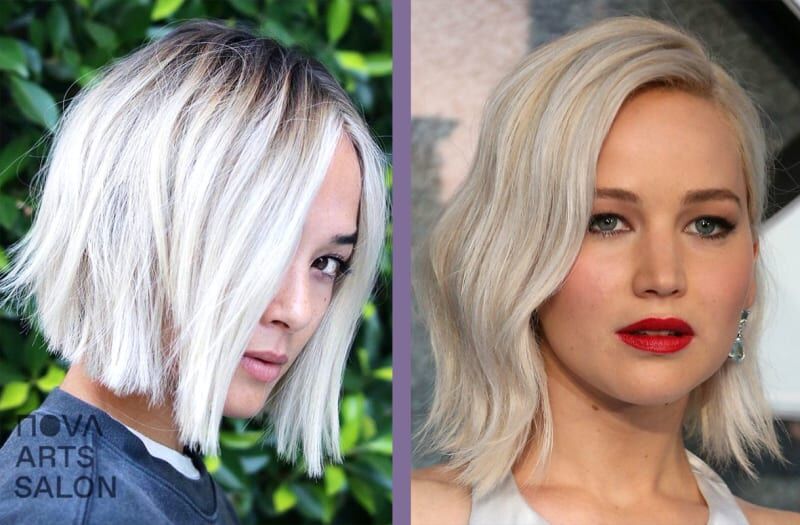 For fine hair types, an angled and textured haircut plays up the natural quality of your hair. Dye it a fresh modern silver for a fun twist.
30. Chamomile Blonde Bob with Razored layers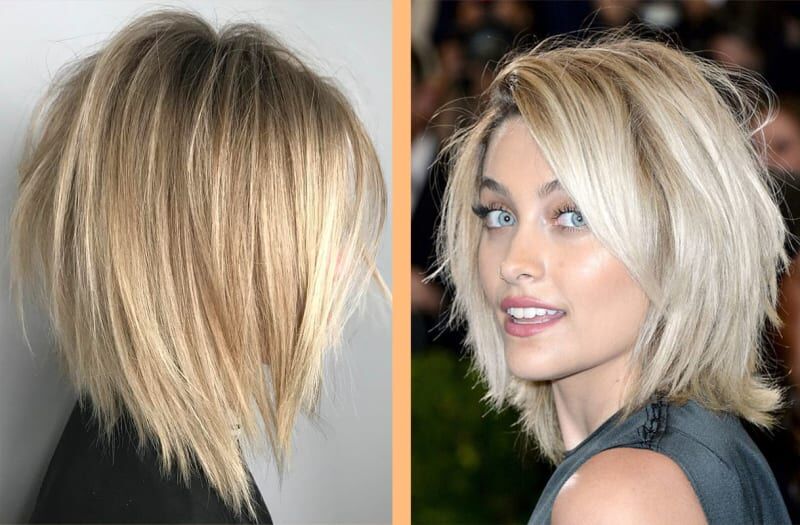 A chamomile blonde refers to golden shiny hair without a hint of brassiness. Add some texture to this cut by going for razored chic layers.
31. Long Blonde Bob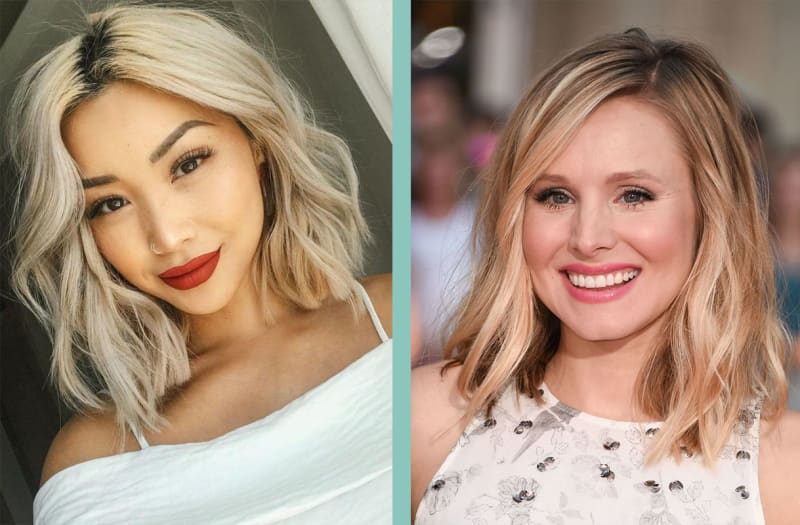 If you don't want to commit to a shorter cut right away, a long blonde bob is a safe bet that works for many face shapes.
32. Finely Chopped Honey Blonde Bob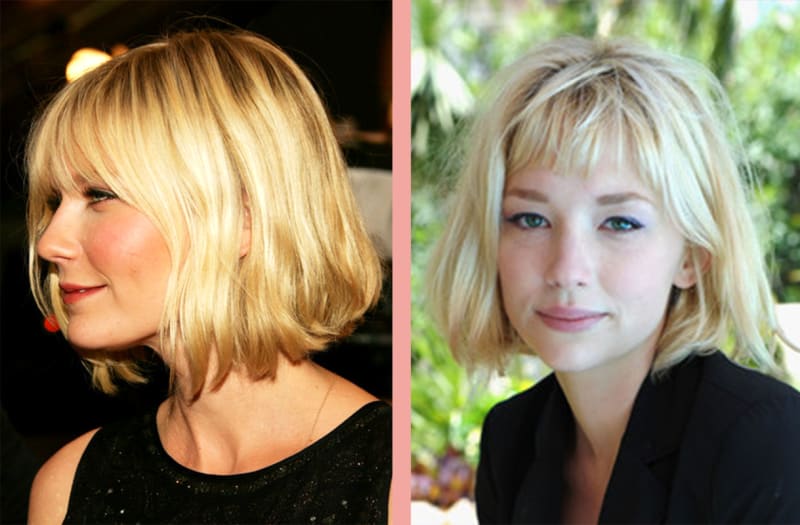 If you have honey blonde hair, show off your glowy tresses with a finely chopped bob. It's a perfectly effortless just-got-out-of-bed hairstyle.
33. Concave Haircut for Curly Hair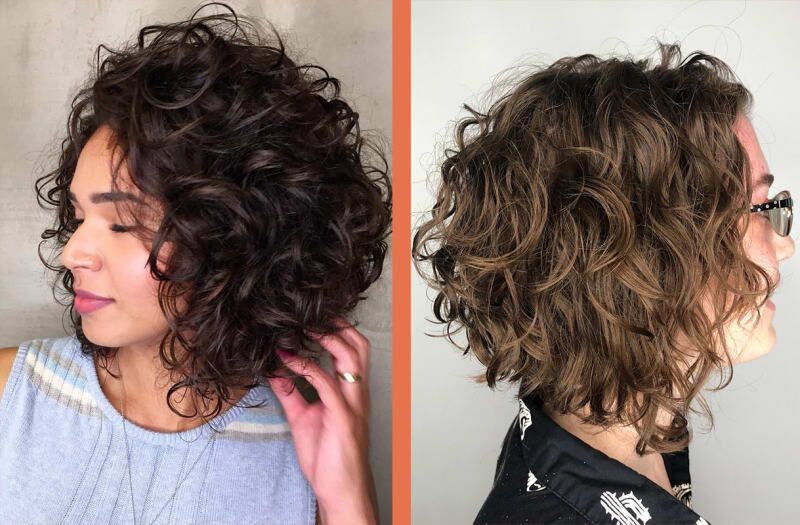 Like an A-line bob, a concave haircut features a shorter cut at the nape and a longer, rounded cut near the face. A great choice for naturally curly hair.
34. Textured Medium Hairstyle
Perfect for those with thicker hair who don't want to deal with the maintenance, a textured bob cut is messy but still chic.
35. Brown Bob with Bangs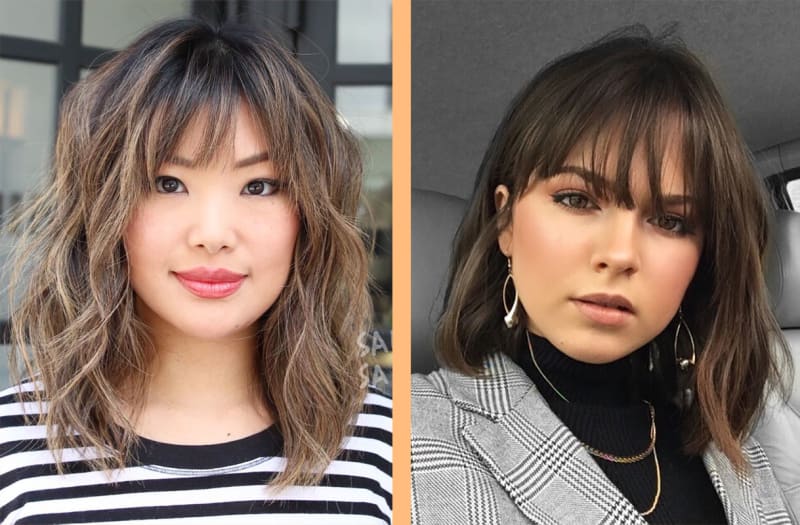 Show off your gorgeous brunette locks with a medium bob haircut that's framed with bangs. There's a lot of versatility to this style.
36. Wavy Shoulder Length Bob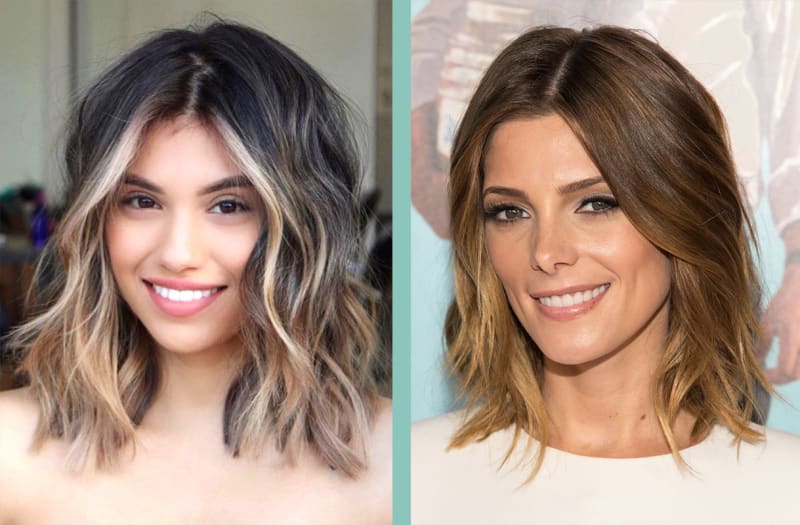 A wavy shoulder-length bob looks soft and lush. While it does take effort to style, it's a cut that can keep up with you from brunch to night outs.
37. Choppy Angled Bob with Caramel Balayage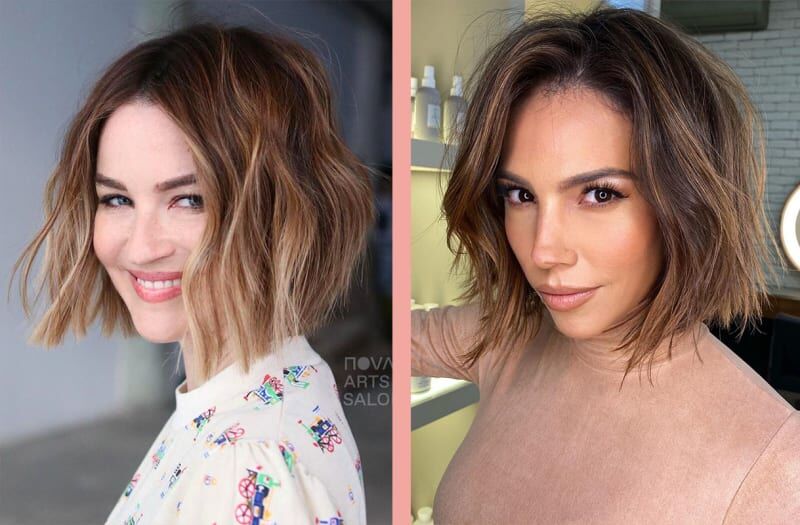 A luscious caramel balayage will spruce up your look. Matched with a choppy angled bob cut, this style is hip and sophisticated.
38. Inverted Blonde Bob with Messy Finish
Featuring stacked layers with some tapering around the nape, the inverted blonde bob with a messy finish is glamorous yet easy to pull off.
39. Messy Brunette Bob with Caramel Balayage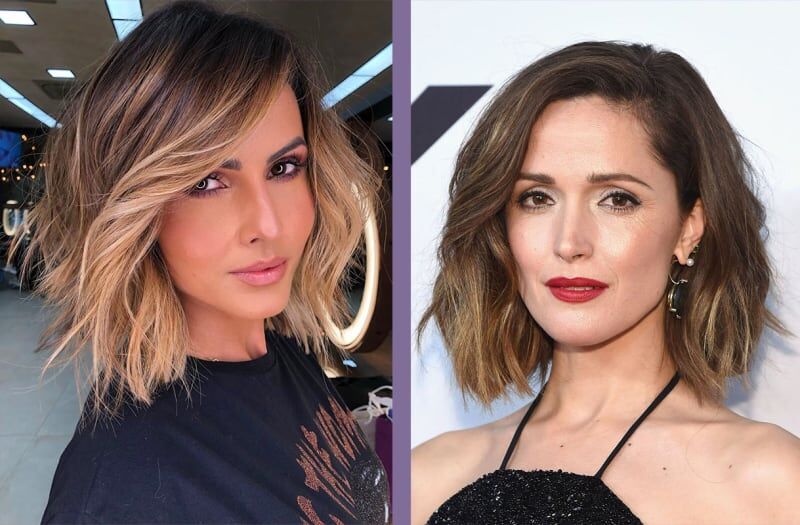 We know by now that messy hair looks anything but scruffy. This bob cut is laid back yet stylish, and the caramel balayage lends it a sweet look.
40. Pretty Brown Bob with Sun-Kissed Highlights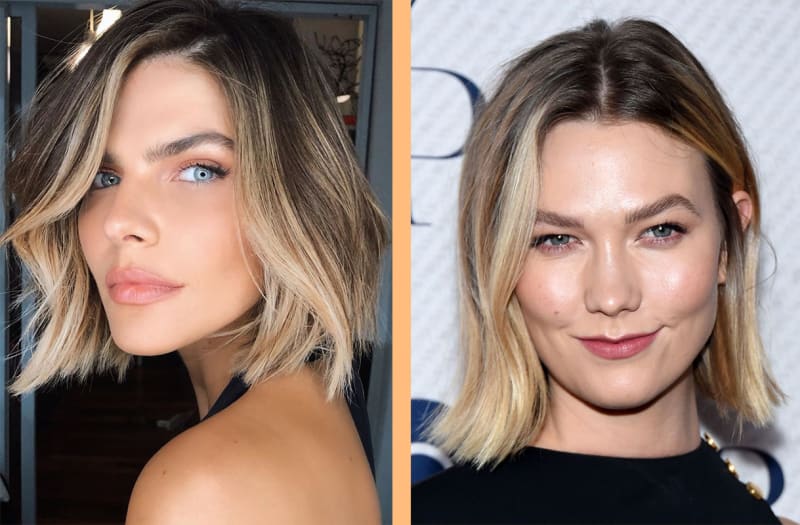 Sun-kissed highlights add sexiness to your vibe as if you've been sunbathing on the beach for days. Try it with a pretty brown bob.
41. Crisply Cut Blonde Bob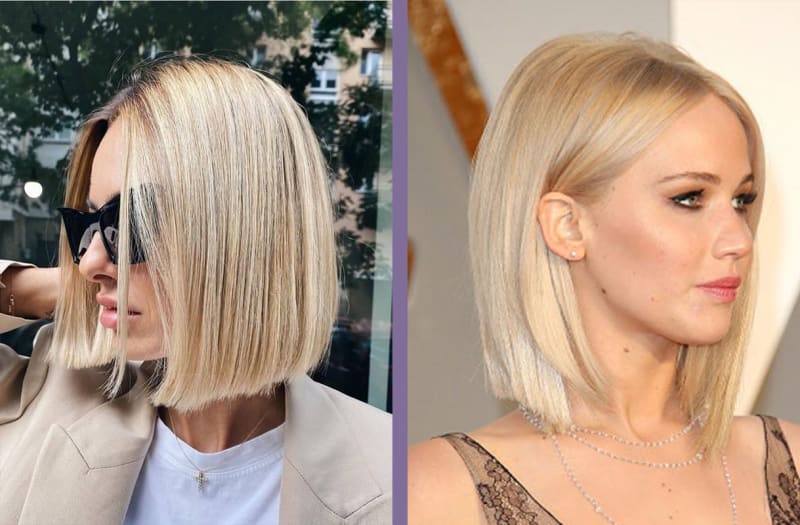 The key to this hairstyle is a sharp and crisp cut. This bob cut really accentuates the jawline if you're looking to highlight that feature.
42. Chic Bronde Bob for Straight Hair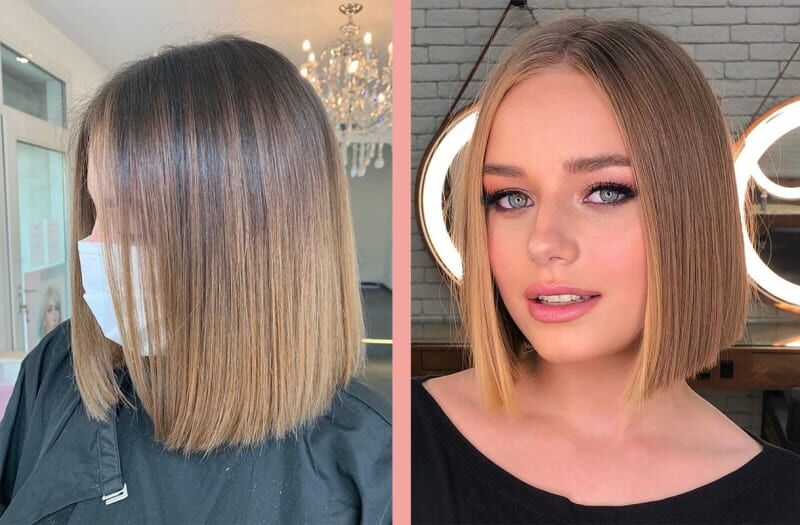 There's a tendency for fine hair to look limp and lifeless. A bob cut dyed with a chic bronde color will add some vibrance and texture play to straight hair.
43. Tousled Sandy Blonde Bob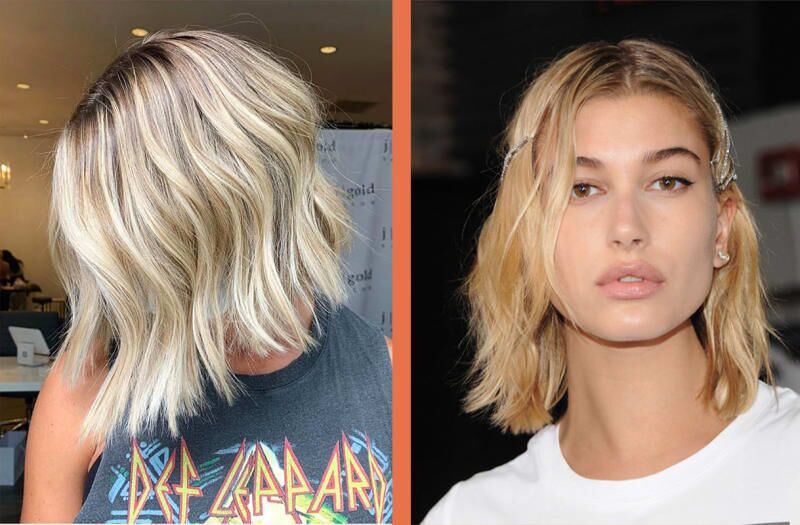 This tousled sandy blonde bob screams beach babe in bold capital letters. Look edgy, sexy, and beautiful with this bob cut.
44. Long Choppy Platinum Bob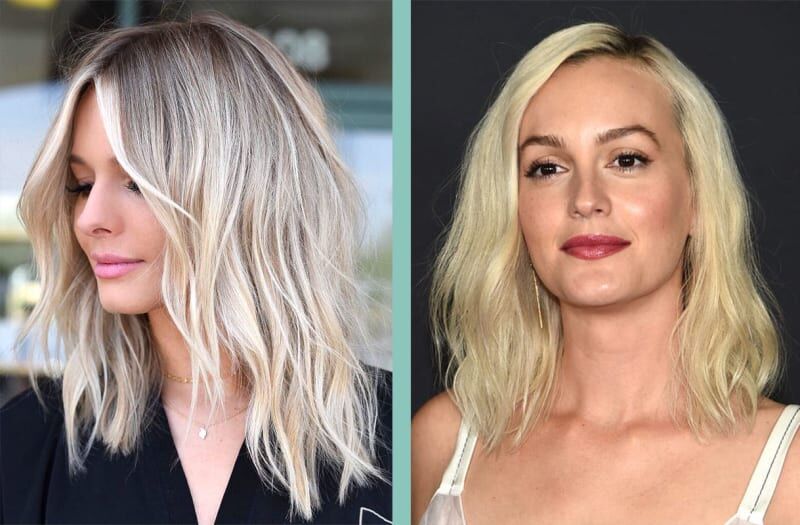 A platinum blonde can be hard to pull off for more casual looks but doing a long choppy cut can provide a nice balance.
45. Angled Sunny Blonde Bob for Straight Hair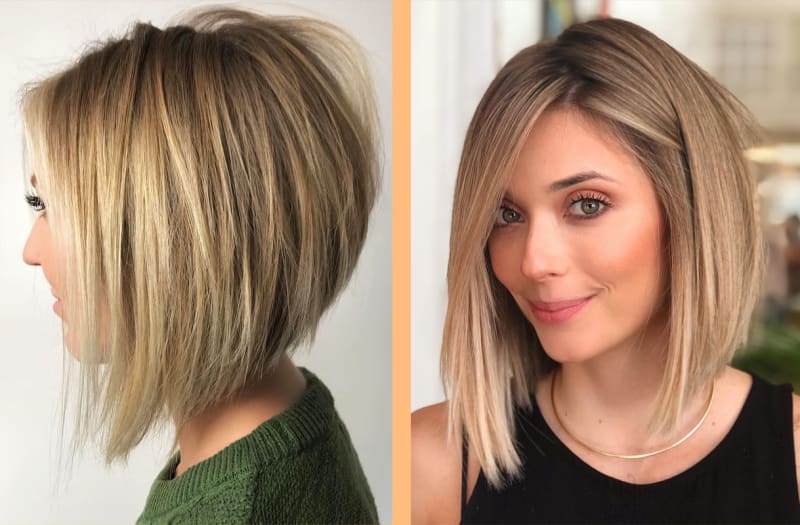 If you have hair that stays straight no matter what, cutting it an angle and dyeing it a fresh sunny blonde will help you avoid limp looking hair.
46. Straight Layered Lob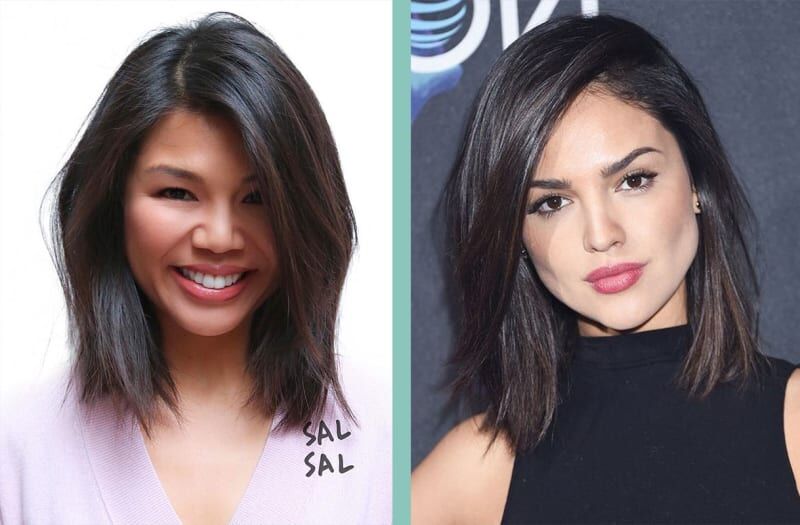 A straight layered lob is a versatile hairstyle that works for all occasions. This more textured look will ensure your straight hair never looks flat.
47. Choppy and Tapered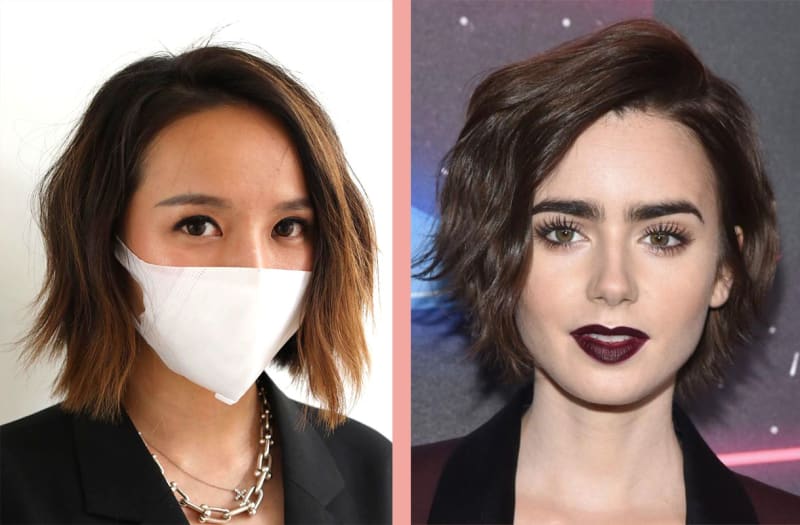 A choppy, tapered bob cut will make you look hot, hot, hot! Give yourself a carefree and casual appearance with this low maintenance style.
48. Ombre and Wavy
Wanna be brunette and blonde at the same time? A cool ombre color styled with beach waves is fun and uber chic.
49. Glossy and Full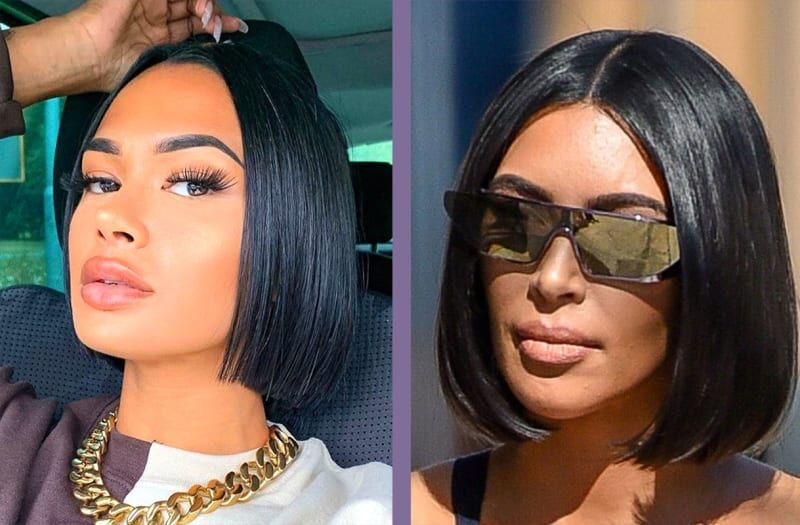 High maintenance hair, high impact look. A glossy and full bob features a sharp cut and straight, silky, smooth textured hair.
50. Curled with Highlights
Want a more rustic hairstyle choice? A curled medium bob with strategic highlights will give your hair life and character.
51. Smooth Side Part
A smooth side part is the ultimate look of sophistication. If you don't mind a little maintenance, it's a nice style that looks sleek and classy.
52. Tucked Behind the Ears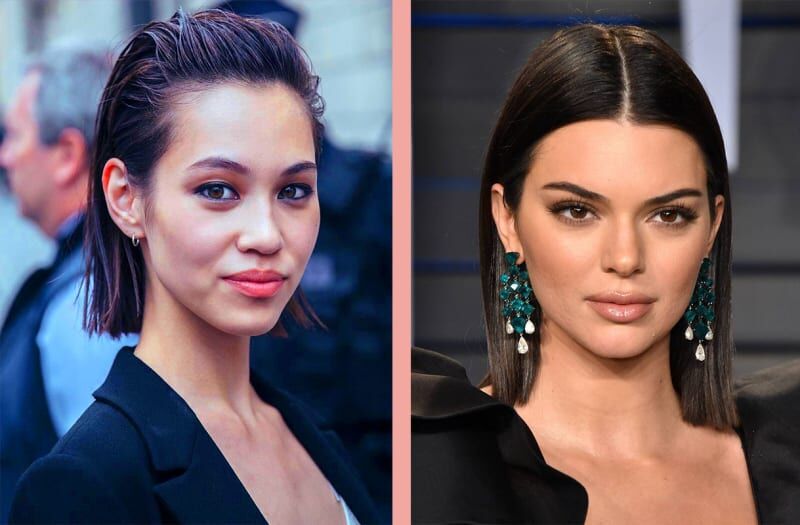 Tucking your hair behind the ears doesn't look good on everyone, so if you can rock it – consider us jealous!
53. Feathered Layers With Bangs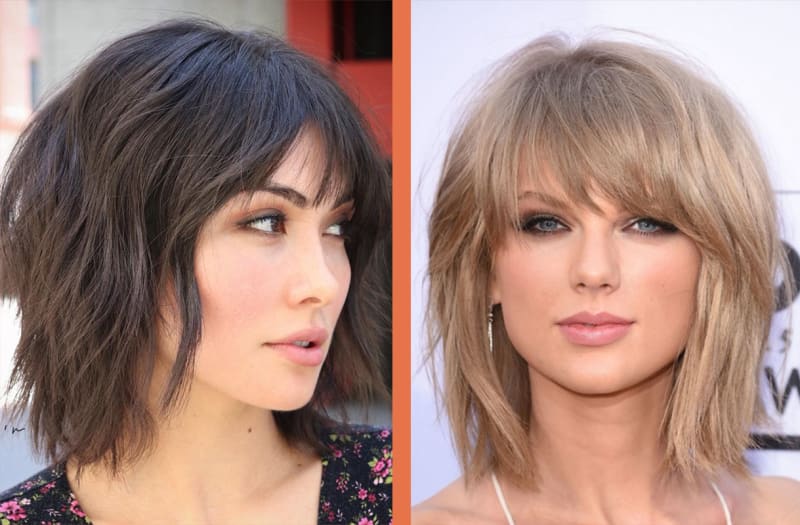 Edgy and bold, medium bob hairstyles with feathered layers and bangs are guaranteed to make you look like a rock star.
54. Honey Blonde Waves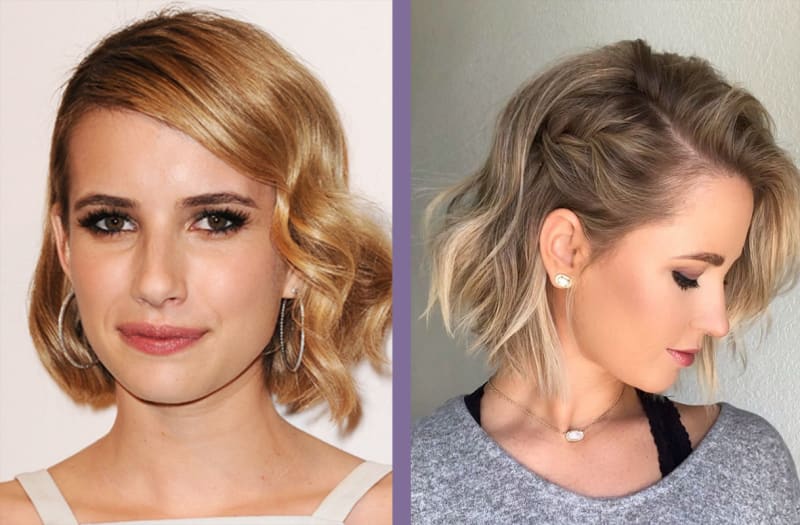 A blend of light brown with warm gold, this beautiful hair color is inspired by actual honey. Go for a wavy cut with this color as the wavy flow adds an extra dimension to the shine.
55. Side-Parted and Tucked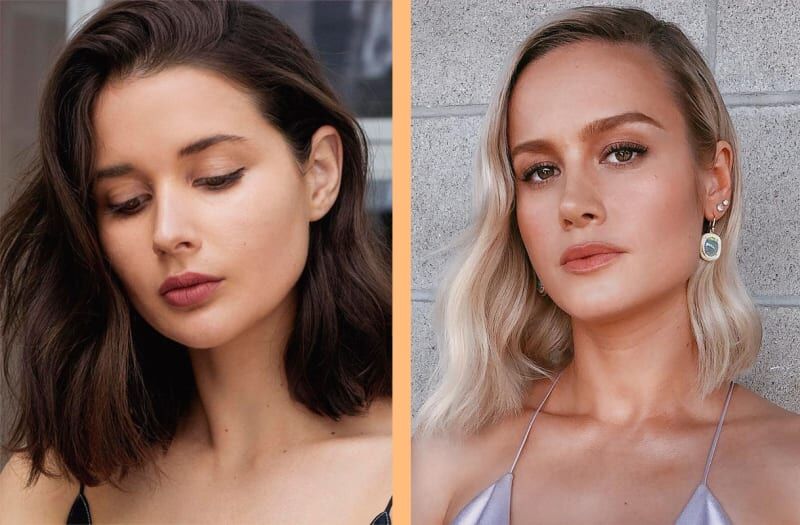 Sometimes all your hair needs for a refresh is some change in styling. Do a side-part and tuck one side behind your ear to restyle your chop.
56. Blonde with Roots
Roots are not the enemy! With a deep side part and a textured medium bob, blonde hair with roots can look glam, too.
57. Flipped Out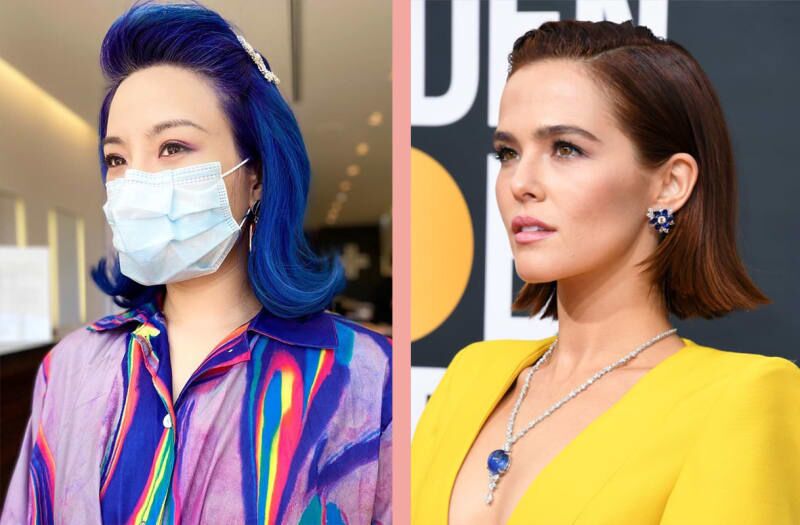 Stop fighting your flipped ends and embrace them! A flipped out bob cut can be stylish and trendy.
58. Wispy Curls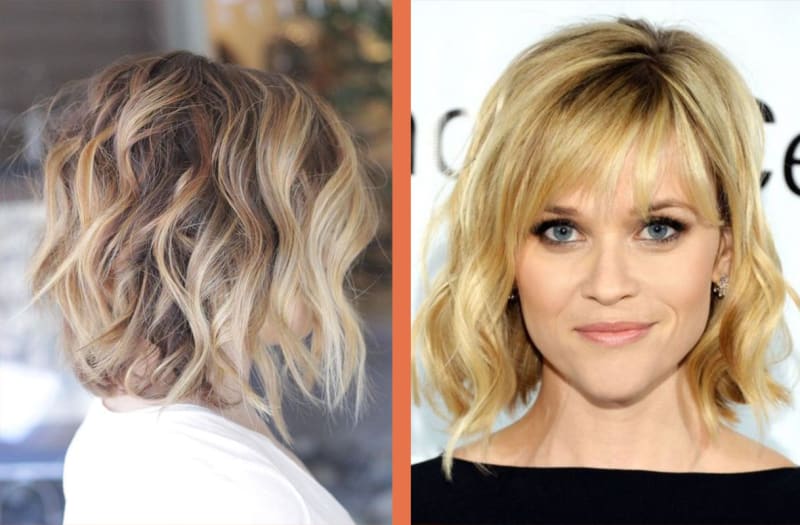 Curled shoulder-length hair oozes an energy that's equal parts classy and fun. You can add more lightness to the look with wispy ends.
59. Rounded with Bangs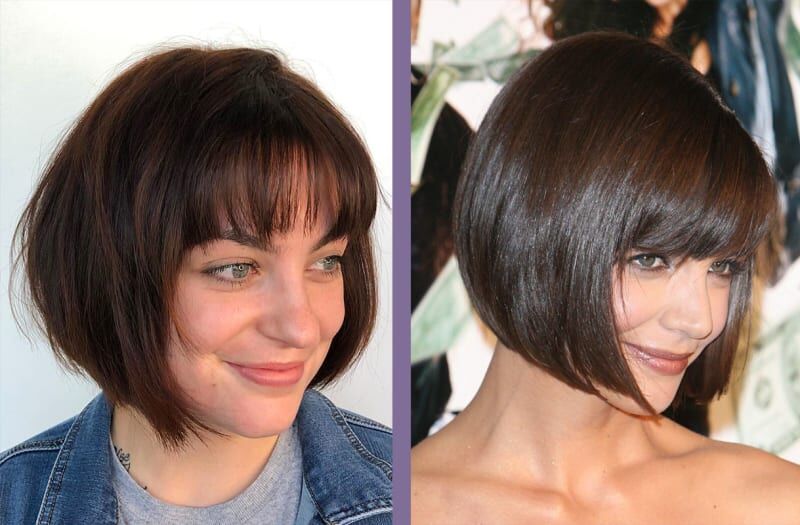 For slimmer or more heart-shaped faces, a rounded bob cut with bangs gives you a sweet look that's lovely and fashionable.
60. Boldly Highlighted
For those who aren't afraid to stand out, adding a bold highlight to your shoulder-length hair will attract the attention you want.
61. Flipped In with Fringe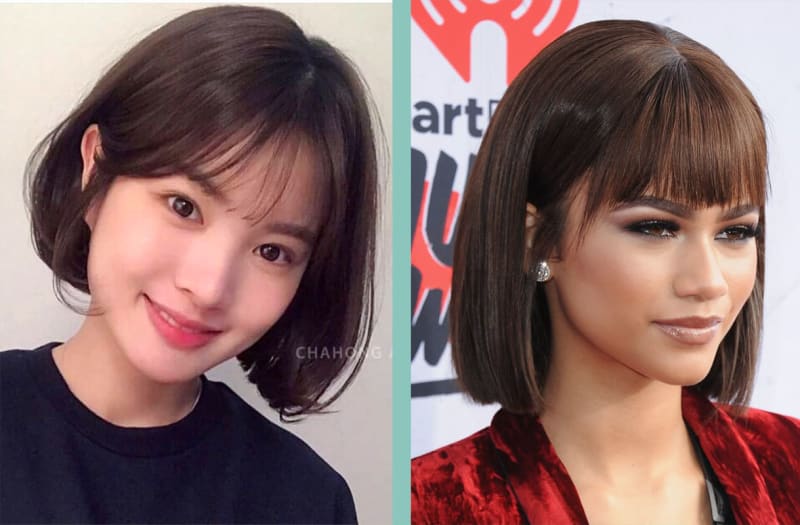 Flipping in the ends of your bob cut and adding a textured fringe will give your face an added softness.
62. A-Line With Bangs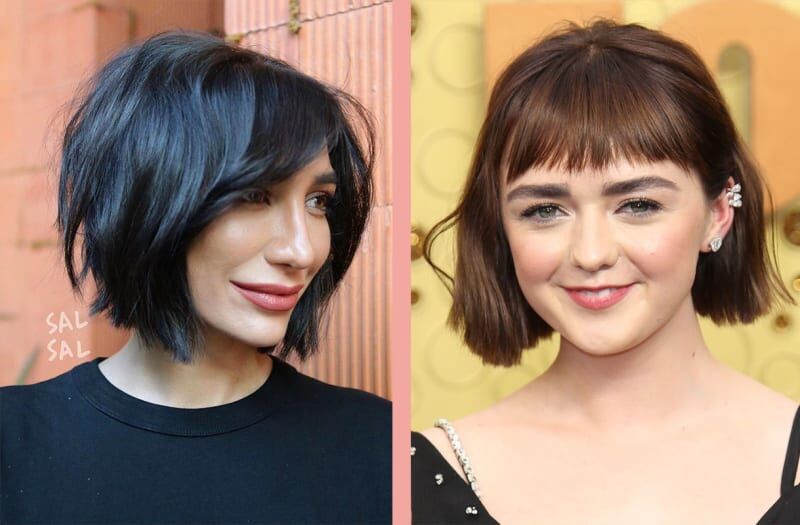 If you want to give an A-line cut a try without it looking too sleek, adding a fringe will give you the softness you need.
63. Messy Chin-Length Bob
A tousled chin-length bob screams youthful sophistication. This look is all about carefree flow and texture.
64. Super-Straight Lob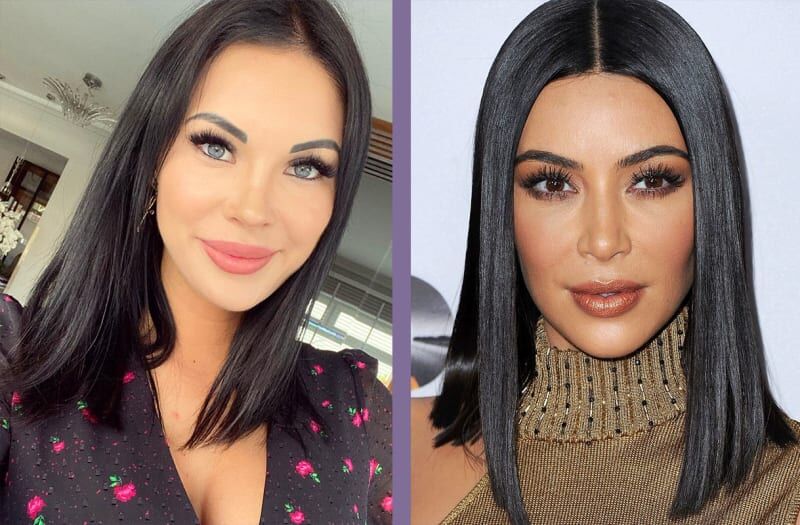 Felt like you cut too short? Straightening your hair can give your shoulder length hair an illusion of length and flow.
65. Deep Side Part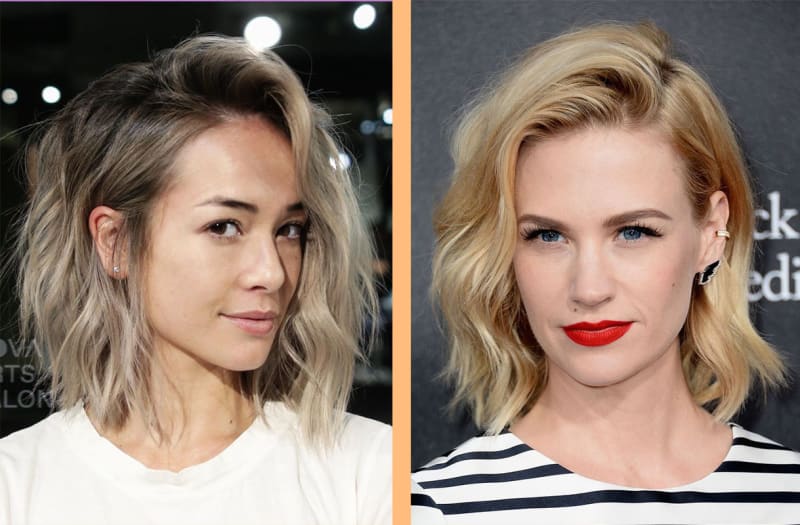 If you're already rocking shoulder-length hair, you can refresh your style by simply rocking a deep side part. This subtle change will add depth and volume to your bob.