Lions are known symbols of courage and strength. If you want to remind yourself to be courageous and strong at all times, then a lion tattoo is perfect for you. Below is a jungle of lion tattoo designs you can choose from to help you bring out the lion in you.
If you have any lion design tattoo suggestions, leave them in the comment section below. And of course, share this article with your friends who are thinking of getting a tattoo!
1. Small But Fierce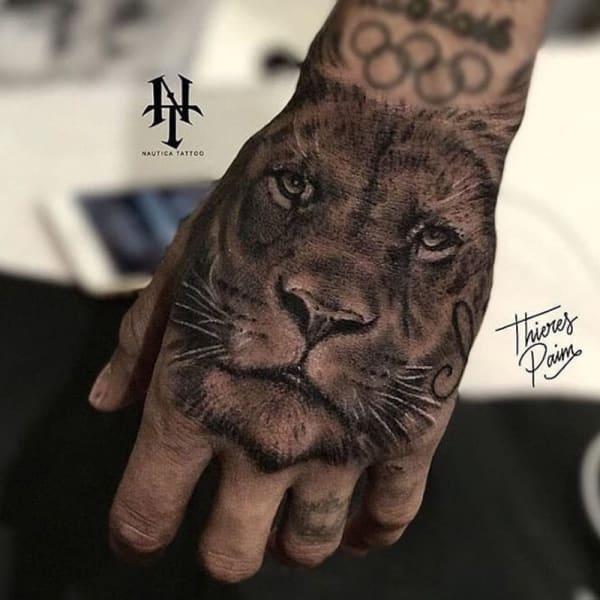 Your hands are a good placement for a lion tattoo, especially if you want to help yourself recall throughout the day of what a lion means to you. Yes, it's small but look at those fierce and life-like eyes.
2. Roaring Lion
You can hear a lion's roar up to five miles away. So, getting yourself tattooed with a roaring lion is like boasting about your strength and willingness to protect your own.
3. A Balance Between Vulnerability and Strength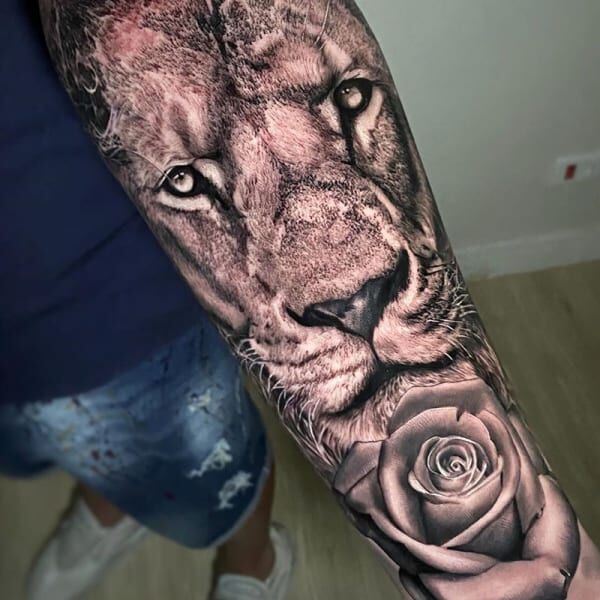 An effective leader seeks a balance between vulnerability and strength. They know that being vulnerable takes courage and strength. If this is you, an extraordinary lion with a rose tattoo could help you exude balance and harmony.
4. Roar Like a Lion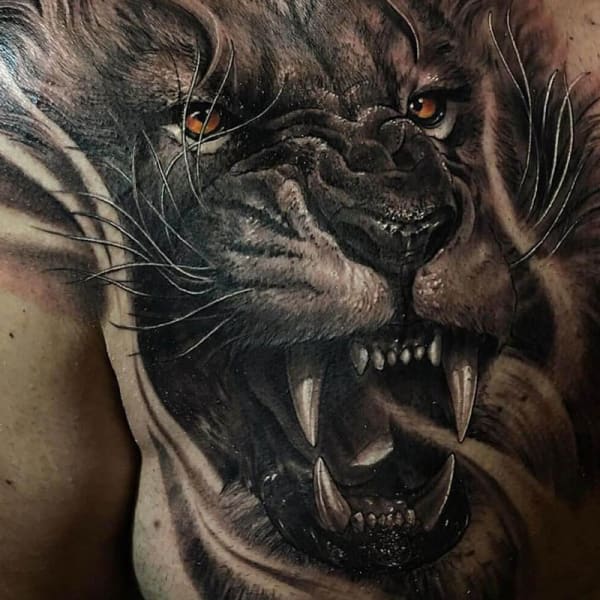 A lion showing off its pangs, caught in mid-roar, is ready to pounce on its prey. Show your dominance with this lion tattoo design on your leg. Make sure you're fully-committed though because this tattoo is vast.
5. A Crowned Lion
Do you want to be royal in your own fashion? There's no better way to summon up this aspiration than a crowned lion tattoo. Notice that the lion has a scar and one functional eye, but this makes him even more daunting.
6. Lord Over Others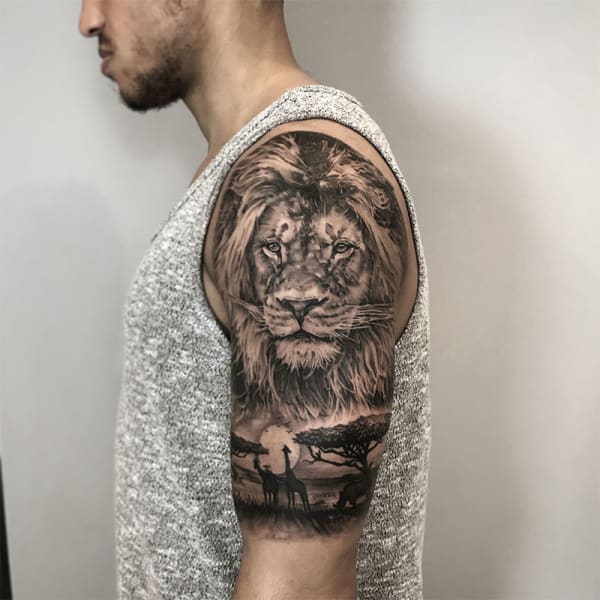 A lion above other animals emphasizes its position on top of the food chain. If you like the extraordinary details of this tattoo and relates to the message, then you might want to consider this design.
7. Celebrate Courage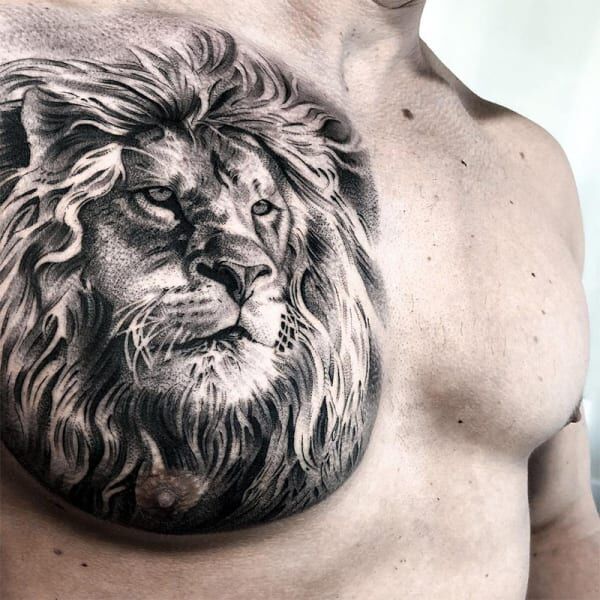 Usually, a large and real-life lion tattoo suits anyone who wants to celebrate his courage of overcoming adversity.
8. Move Like a Lion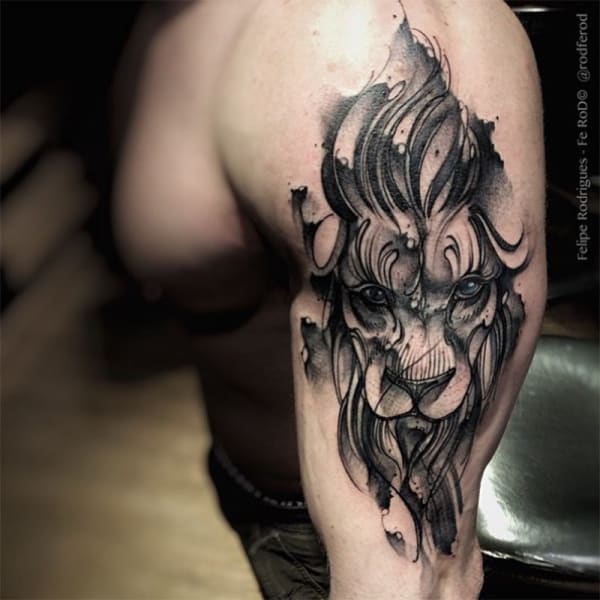 A lion in the wild has almost fluid-like strides as it moves with confidence. This lion attitude gave birth to this fluid-like lion tattoo design. Its size and placement allowed the artist to put lots of details and shading.
9. Breathe Life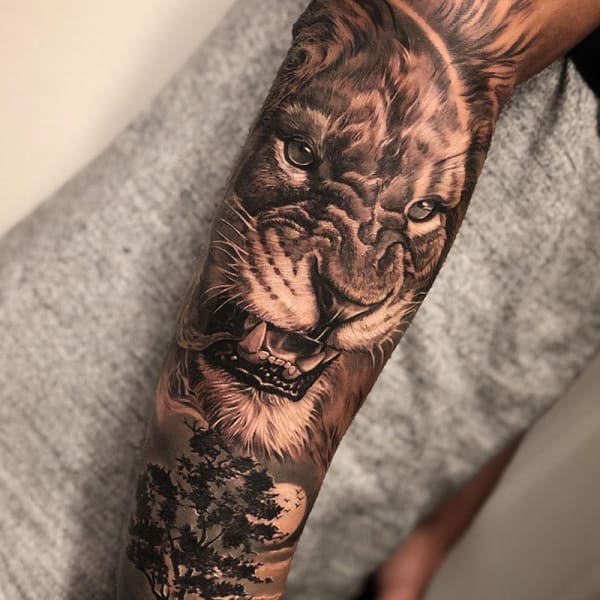 This one is among the fiercest lion tattoo designs you could find. Aside from exhibiting dominance, a roaring lion also represents the Divine breathing life into beings who feel weak. It's a good reminder that you're not a pushover and underneath lies a beast ready to take on the world.
10. Shades and Details Captured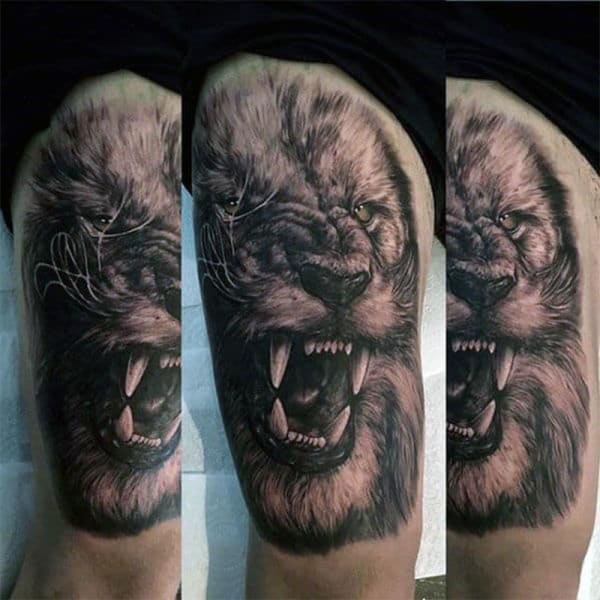 In this particular tattoo design on a hand, the artist captured beautifully the shades and details of the small, crowned lion, making it truly mesmerizing!
11. Command Attention and Respect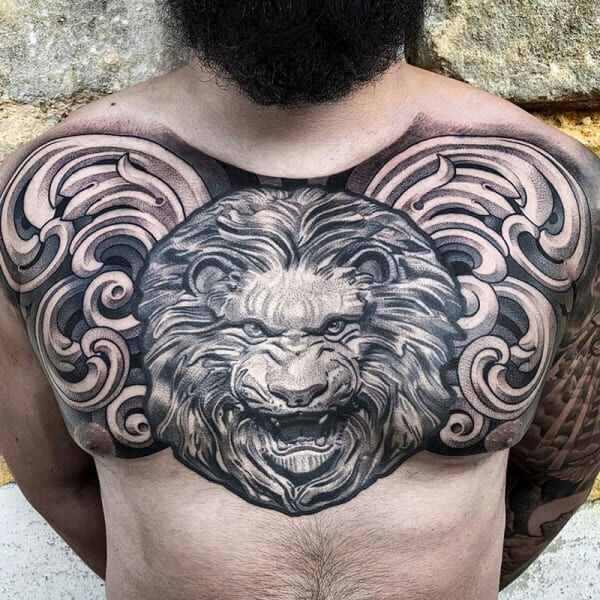 A large, roaring lion tattoo design is a display of force that demands attention and respect. A chest tattoo is the best choice for this kind of design as it also depicts confidence.
12. Ferocious Eyes
A colored tattoo hits differently, especially if you're looking into the life-like fierce eyes of a lion. A crowned lion in repose displays its restraint and control. Unlike a roaring lion, it does not have to show force to captivate their audience.
13. Gorgeous Geometric Tattoo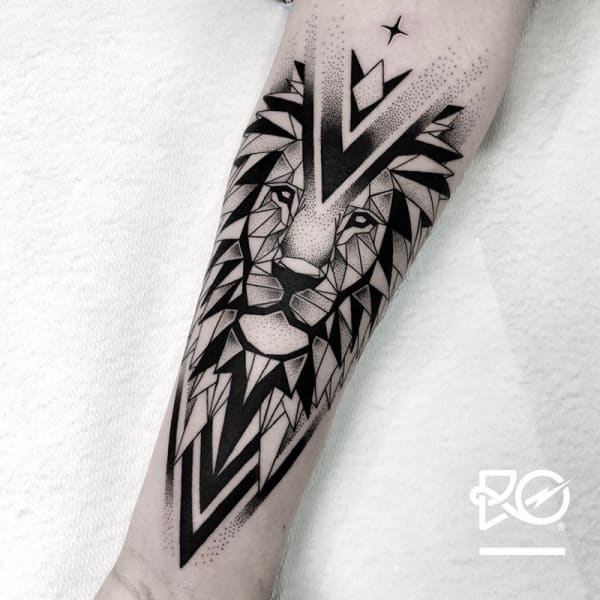 What is unique with this tattoo is that this one's made up of gorgeous geometric shapes and patterns. Some cultures believe that geometric tattoos can heal or restore the wearer's body.
14. Moving Forward
A lion depicted as if it is looking at what lies ahead is the right motivation for you to move forward confidently. It might be scary, yes, but don't let your fear win. Borrow your strength from this lion.
15. Colored Lion Tattoo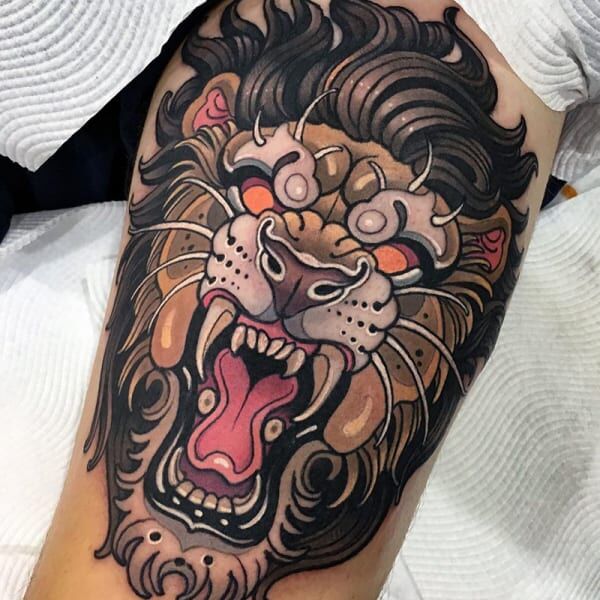 Colored tattoos' vibrancy could bring out the creativity and confidence in your masculinity. You should place this elaborate design on your arm, chest, or back for a large canvas.
16. Lion With Broken Clock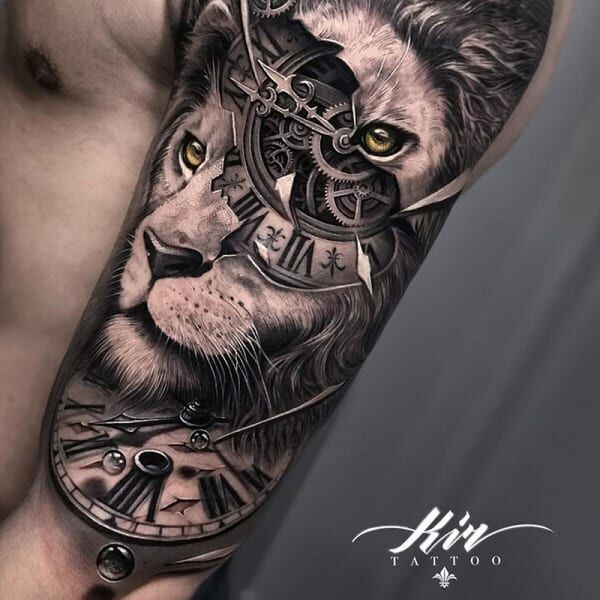 This tattoo will not fail to take your breath away. The lion in front of a broken clock suggests that you should not be a slave of time. Don't rush. Live in the present moment.
17. Be Bold
This stunning and unique lion and clock tattoo encourages you to live your life boldly while you still have time. Why not flaunt this fascinating design and message on your bicep?
18. Half-Geometric and Half-realistic Lion Tattoo
Realistic geometry and lion designs are both cool. But a combination of both is another level of coolness you should try. What if you add a splash of color when you get this?
19. Splash of Colors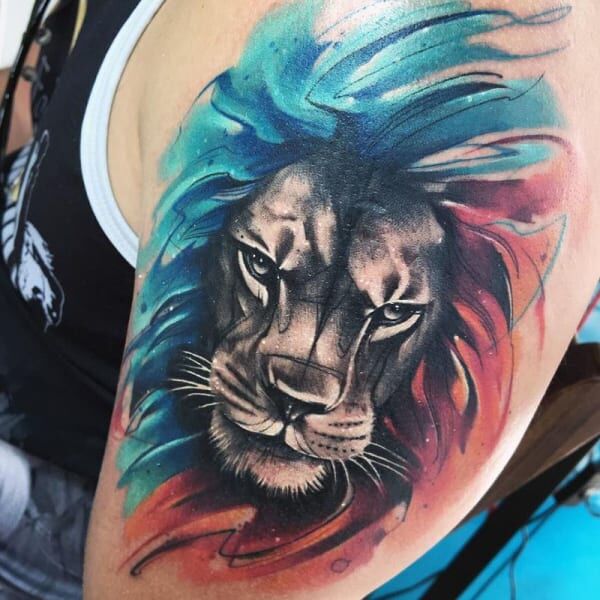 Splashes of color combined with black ink, make this design an eye-catching, livelier, and vibrant tattoo. If you like colors and lions combined, then you can carry this confidently.
20. Minimalist Design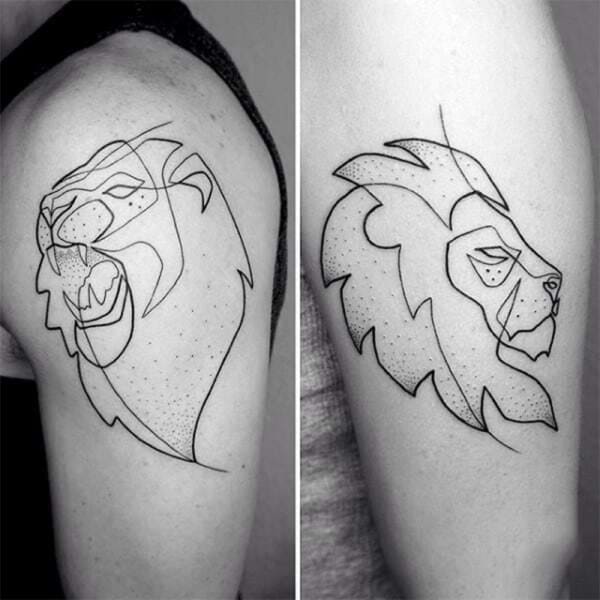 If you don't like elaborate and colorful tattoo designs, then this minimalist design might be perfect for you. Minimalist yet bold and powerful.
21. Geometric Lion Tattoo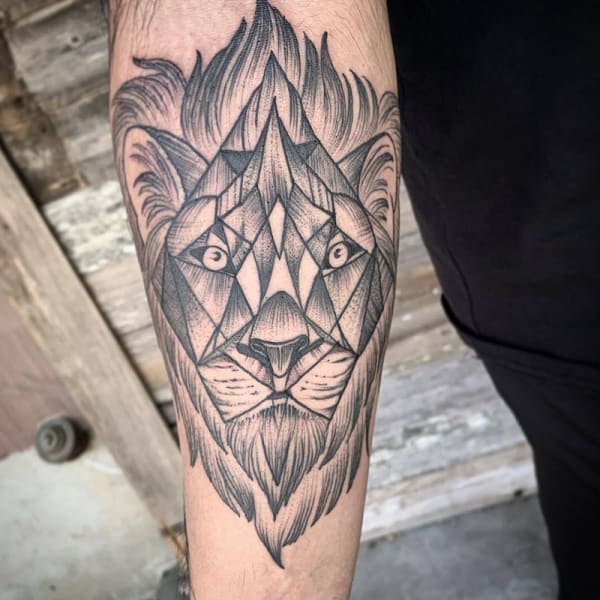 Lines and shapes come together to form an even bigger shape such as a geometric lion. For some, getting a geometric animal tattoo is sacred because whatever geometric animal tattoo you choose to place on your body serves as your spirit guide in this lifetime.