Planning to get a tattoo? The butterfly design is a go-to for women as it is stylish and symbolic. You do not want your tattoo to be so-so, right? These gorgeous butterfly tattoo designs are fresh and on-trend. Take a look!
What's the bottom line?
Butterfly tattoo designs are really timeless. Surely, whichever design you end up with will still look good. Did you find a design that made you fall in love with butterfly tattoos? Share this article with your friend! Who knows? You might end up getting matching tattoos.
1. Minimalist Butterfly Tattoo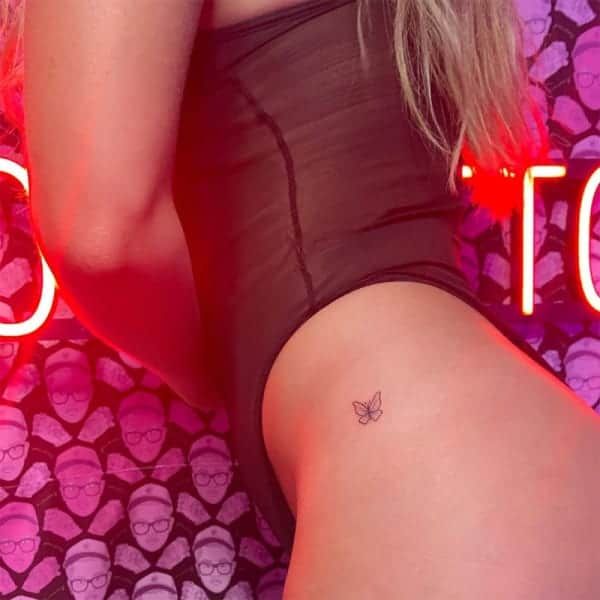 This design brings beauty in simplicity. There are no frills and glitter, which is a bold statement in itself. Perfect for women who do not want anything flashy.
2. Delicate Butterfly Tattoo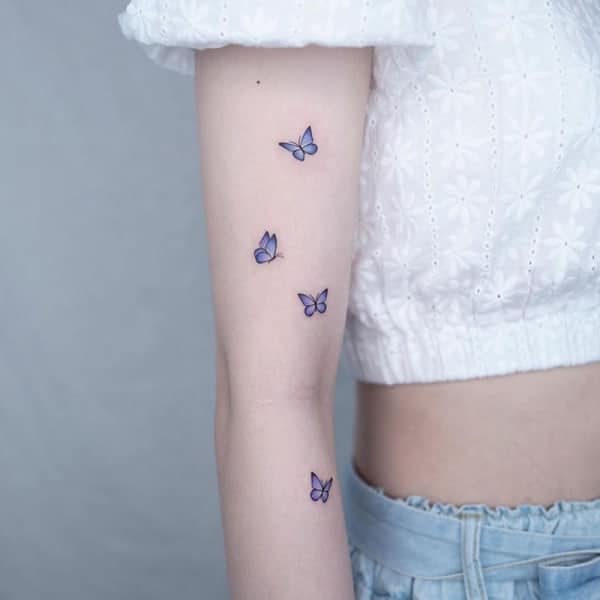 There is something so interesting with color gradients when it comes to butterfly tattoos. Not only does it make everything look soft, but it also makes the design come alive. It is as if the butterfly is flying on your body.
3. Butterfly with Text Tattoo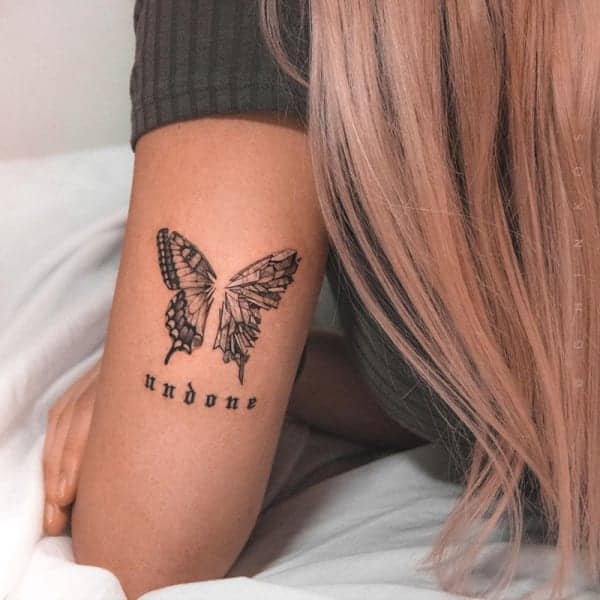 Adding text near your butterfly tattoo personalizes the design and will certainly add a deeper meaning to it. The text should also match the vibe of the butterfly. Adding one word is a popular choice.
4. Colorful Butterfly Tattoo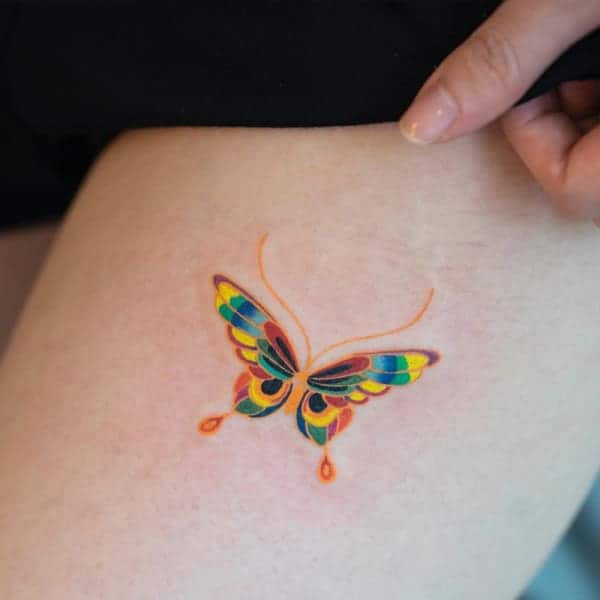 Show your fun and artistic side with a colorful tattoo! Picking shades of color with an accent color is trendy (shades of blue paired with blush) Or you can go all out and put all the colors of the rainbow.
5. Watercolor Butterfly Tattoo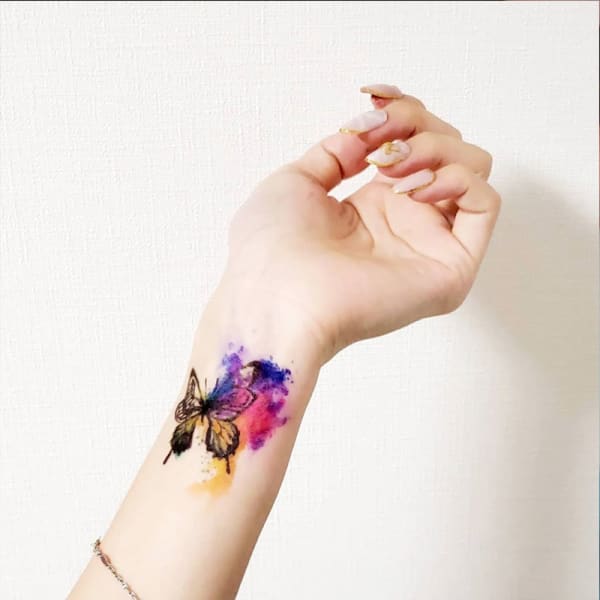 Adding drama to a butterfly design has never been so simple. Whether you choose to get a hard watercolor or splashes of watercolor design, the end result always looks striking.
6. Temporary Butterfly Tattoo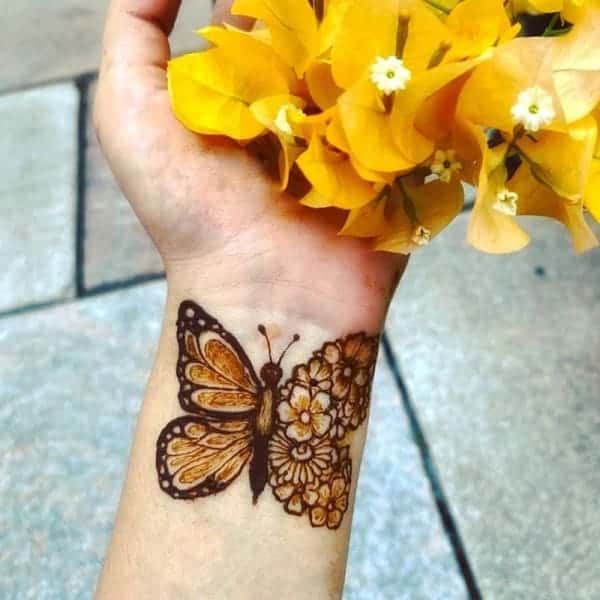 If you are not yet ready to commit to the permanence of a tattoo, you can still enjoy beautiful butterfly designs by using temporary tattoos. Most of them fade in a week.
7. Blue Butterflies Tattoo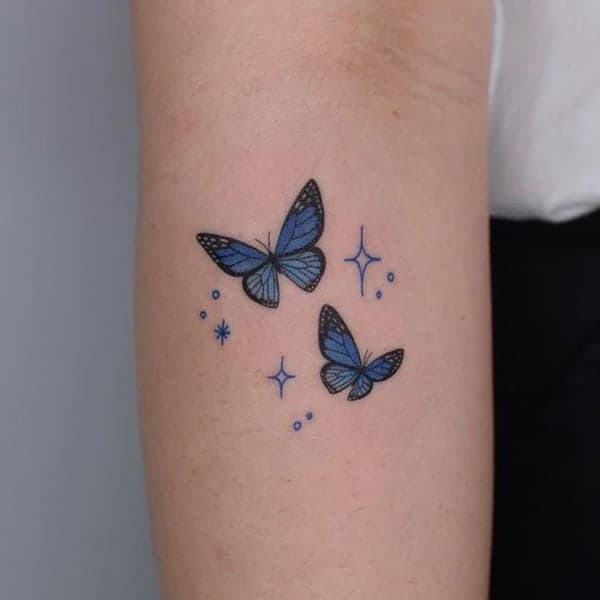 Classic blue is the color of the year, so anything in the blue family will work well. Even though 2020 is done, it is still a good color to pick as it is not a distracting color. Bored of black? Go for blue.
8. Glow in the Dark Butterfly Tattoo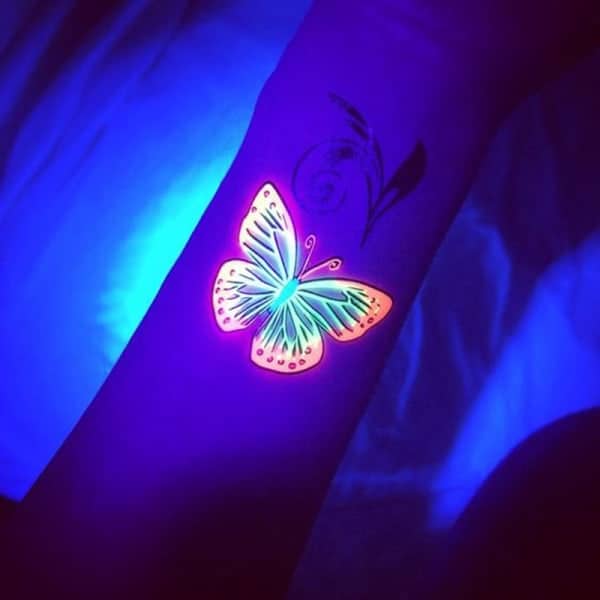 Feeling extra? Why not try a glow in the dark tattoo! This design and innovation are perfect for girls who want to make a statement—especially when the lights are out.
9. Tribal Butterfly Tattoo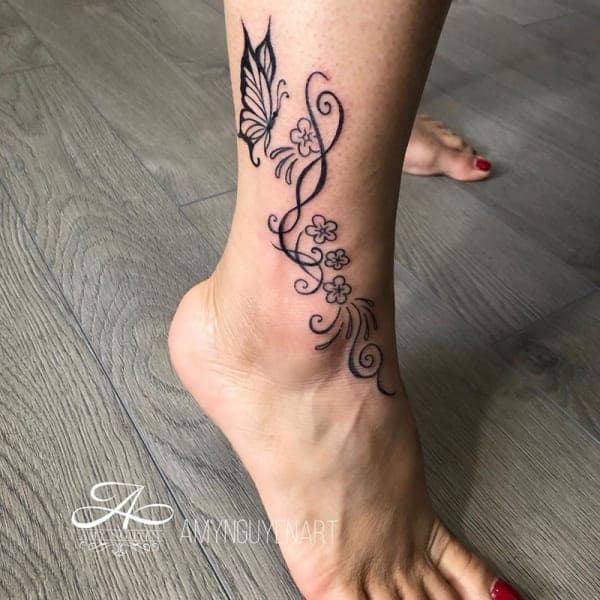 If you are a fan of details, getting a butterfly tattoo with the right amount of curly cues, hard edges, or even flicks will suit your aesthetic. Make sure to not overdo the details to make the design coherent.
10. Butterfly Skull Tattoo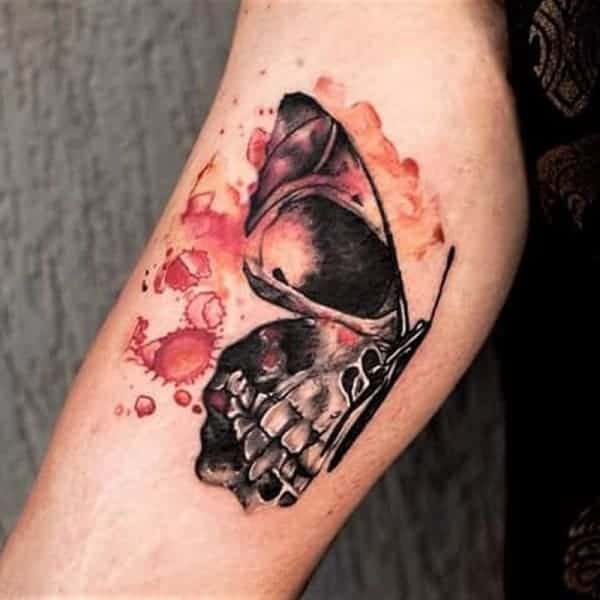 A good contrast to the feminine butterfly design is a skull. This adds a certain character to the butterfly design and it will surely garner questions about the story of your tattoo.
11. Monarch Butterfly Tattoo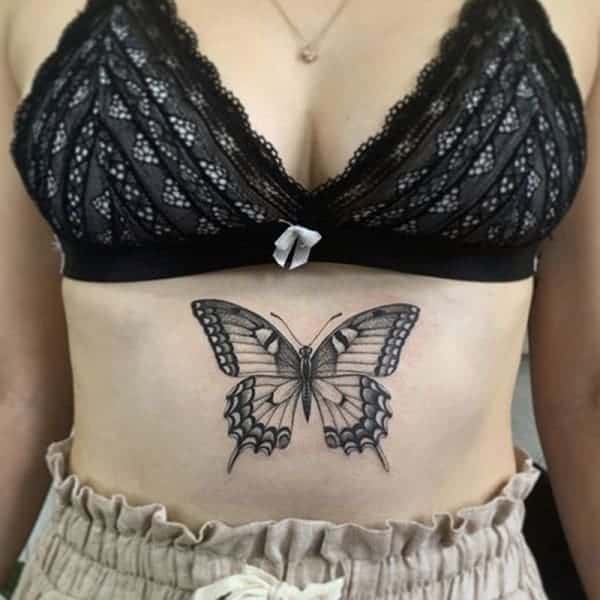 This type of butterfly design will be great when it is done on a larger scale. The monarch butterfly symbolizes self-transformation which is why it does not need embellishments when you go for this design.
12. 3D Illusion Butterfly Tattoo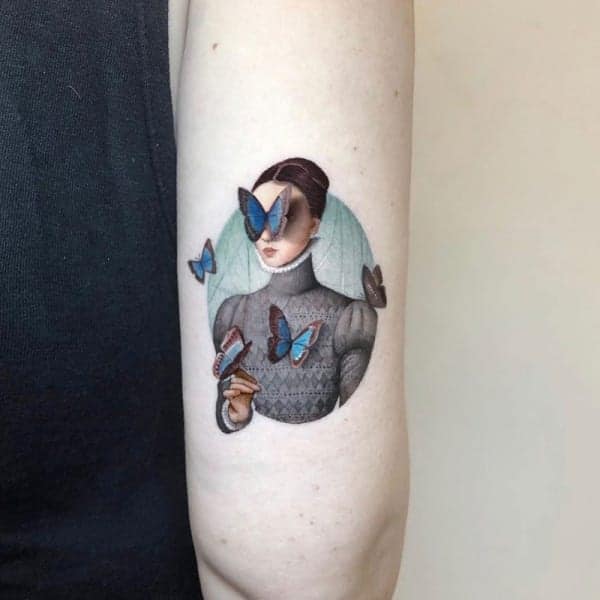 Bring your butterfly tattoo to life with a 3D illusion design. Going this route will let your tattoo tell a story by itself. Truly eye-catching!
13. Flowers and Butterfly Tattoo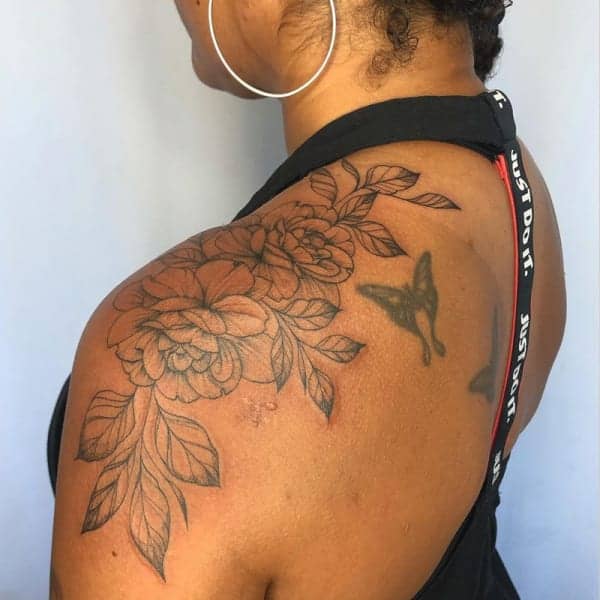 Flowers and butterflies just go well together. Maybe because this design reflects real life? Keep in mind to not let the busy-ness of the two designs overpower each other.
14. Butterfly with One Floral Wing Tattoo
The usual meaning of this design is "bloom where you were planted, then transform." Beautiful, right? A twist to this is when the floral wing is a different color from the butterfly.
15. Geometric Butterfly Tattoo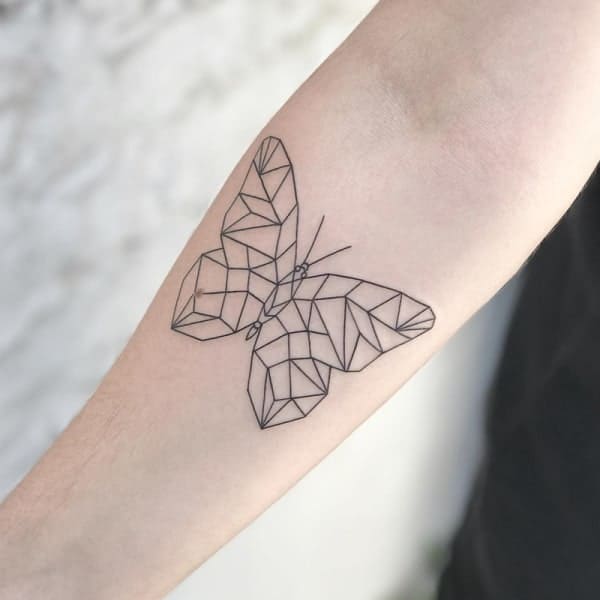 This butterfly design has a baroque aesthetic. You can take this design from a classic to a gothic vibe. This is a good design to choose if you want a bigger tattoo.
16. Red Butterflies Tattoo
Your side torso will be a work of art with this design. It frames the body perfectly and very eye-catching when you wear something that lets the design peek a little. Red is perfect for ladies who want to be bold.
17. Swarm of Butterflies Tattoo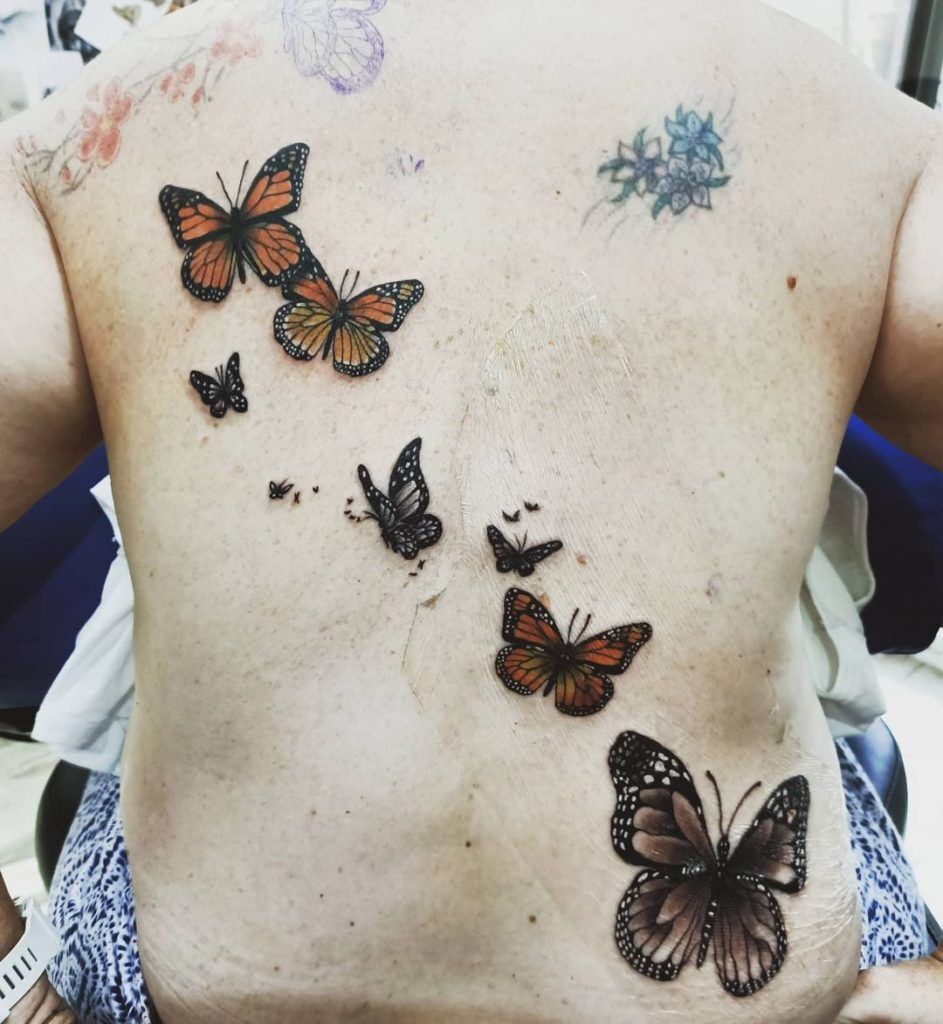 Sometimes you have to commit to the concept to tell a better story of your tattoo design. Also, you do not need to choose just one butterfly design, you can put everything you like in one big design.
18. Butterfly Wings Tattoo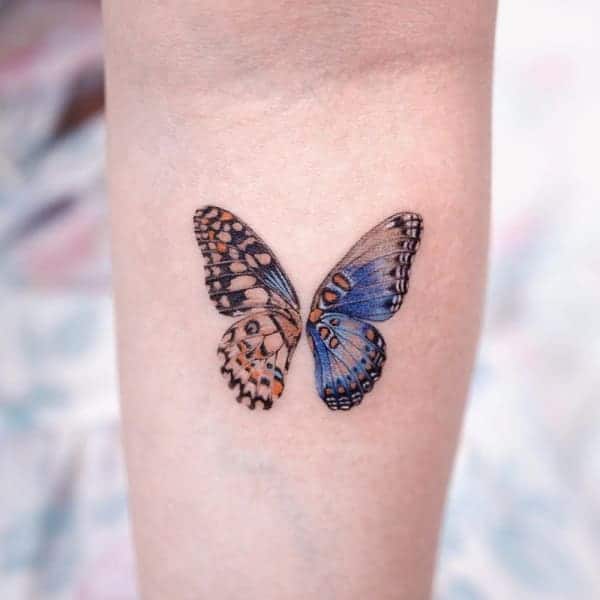 A good thing about a butterfly tattoo is that it is recognizable even though the depiction is inaccurate. In focusing on the wings, you can have more details and colors added to the tattoo.
19. Gothic Moth Tattoo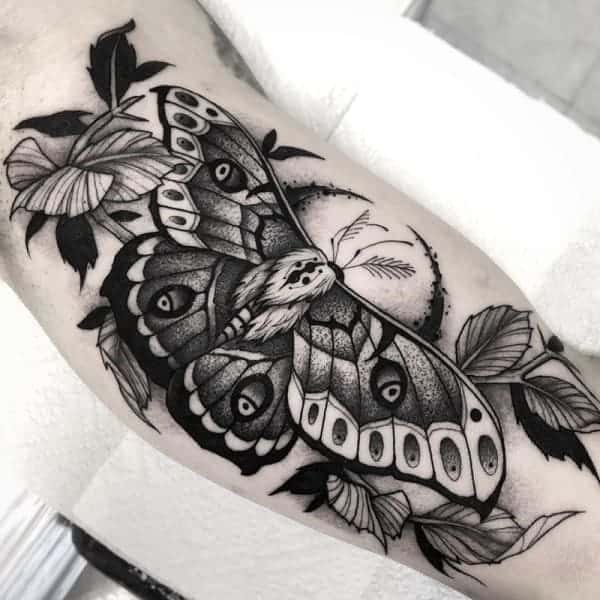 If you want a melodramatic take on the classic butterfly design, you can opt for a moth. The design goes well with a gothic or mysterious background.
20. Tiny Butterflies on Chest Tattoo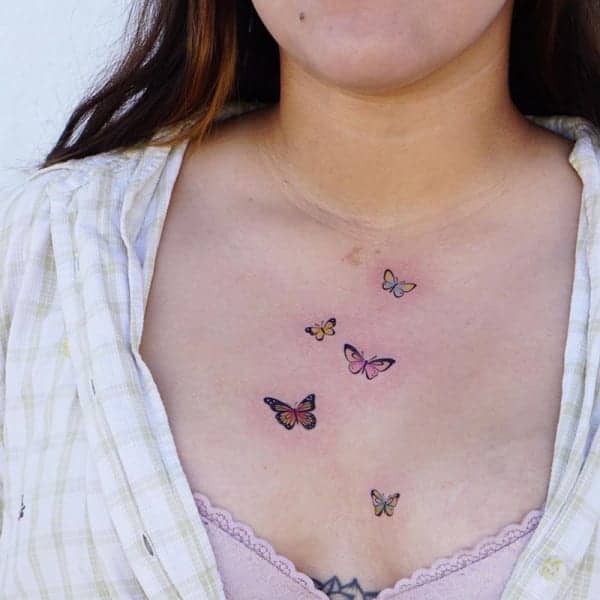 This is a flirty and fun take on the butterfly tattoo. Also, this design will be great for those who want to flaunt their body art while wearing a top or dress with a low cut. It is like having a permanent necklace.
21. Butterfly with Wasp Tattoo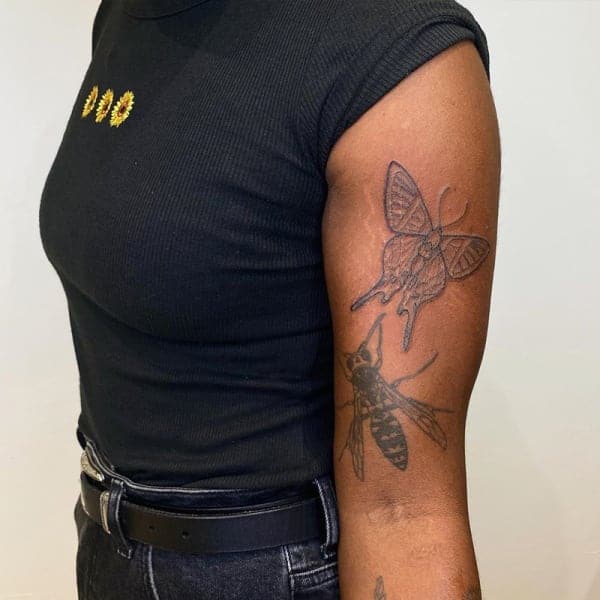 Do you want to add spice to your butterfly tattoo? You can mix things up by adding another insect like a wasp. This will also look good on small and minimalistic tattoos.
22. Lined Butterfly Tattoo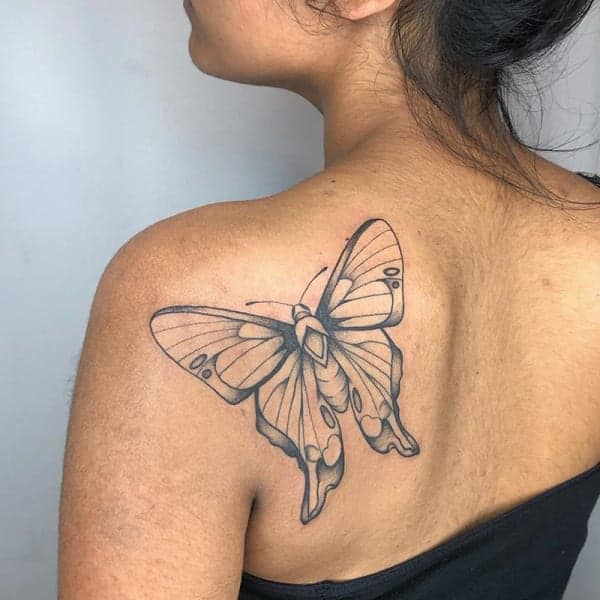 Another striking butterfly tattoo design is one that involves graphic lines. It may look simple but it is difficult to do. So better find a good tattoo artist if you choose this one.
23. Matching Butterfly Tattoos
It will be so cute to get matching butterfly tattoos with your best friend or sister. A variation of this design is to ink one wing on your body, and the other wing is inked on your friend.
24. Butterfly Tattoo on the Wrist
This butterfly tattoo design is a common trend but it does not mean that it lost its appeal. In fact, the placing of this simple design is sophisticated.
25. Butterfly Tattoo on a Finger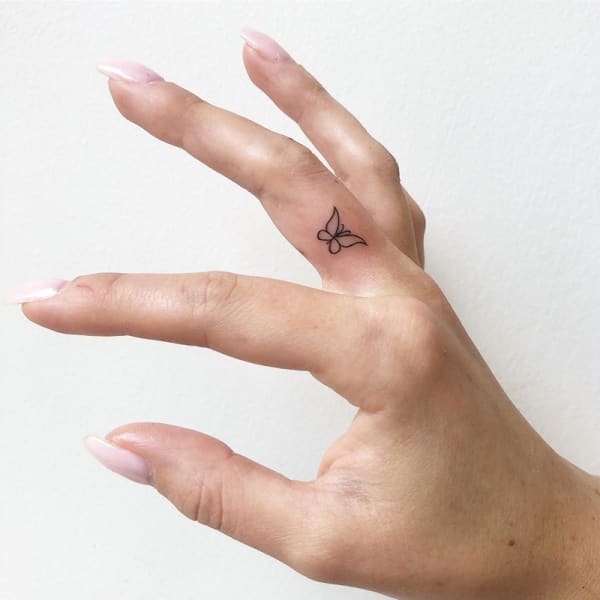 If you want to be subtle with your butterfly tattoo, then placing it on a finger is a perfect idea. Warning! Be prepared with the pain that comes with getting a tattoo in this area.
26. Butterfly Tattoos on the Upper Arm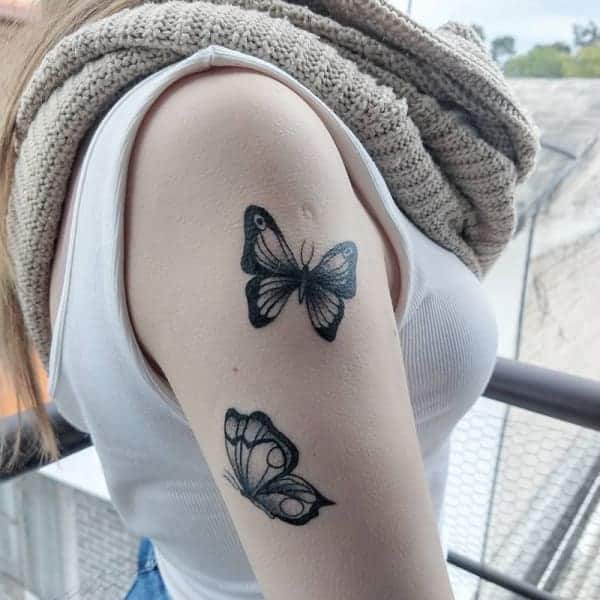 This is one of the ideal spots to have a butterfly tattoo. The natural curve of your arms will make it look so natural. Depending on the design, it may also look embossed.
27. Butterfly Tattoo with Human Face Artistic Illustration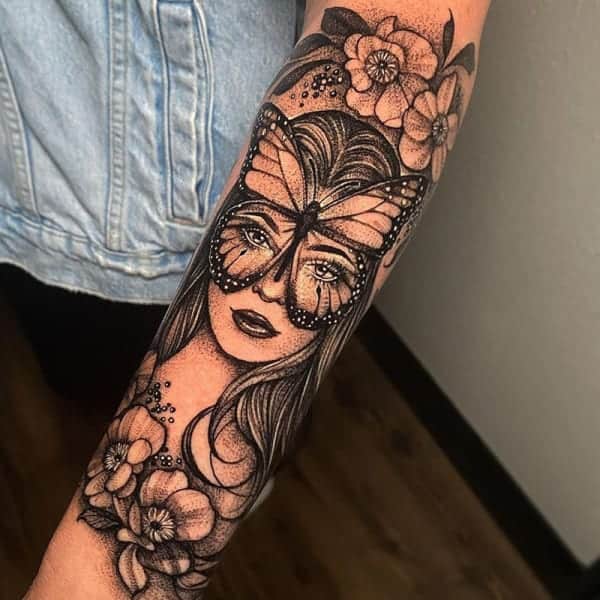 It is interesting to note that the basic shape of a butterfly tattoo can easily be incorporated with any depiction of a human face. May it form glasses or a hair clip, the results are always amazing.
28. Side Boob Butterfly Tattoo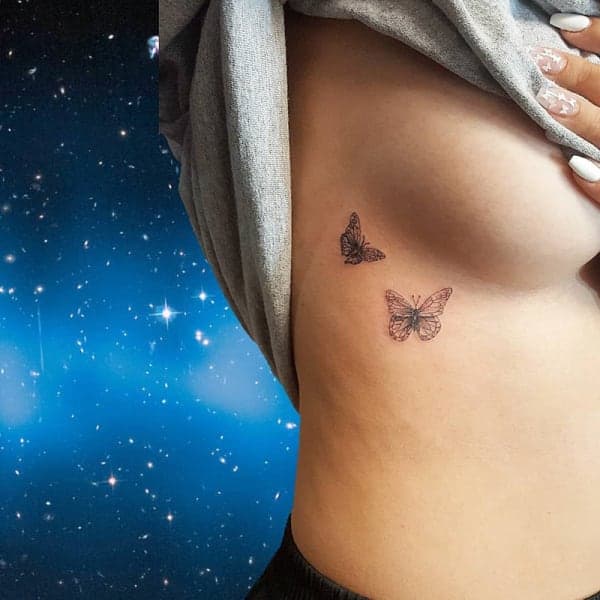 Boost your sexy side with a butterfly tattoo located at your side boob. This design will absolutely look great when you are wearing a bikini. Having two or more butterflies make the look symmetrical compared to a single one.
29. Butterfly Tattoo on the Forearm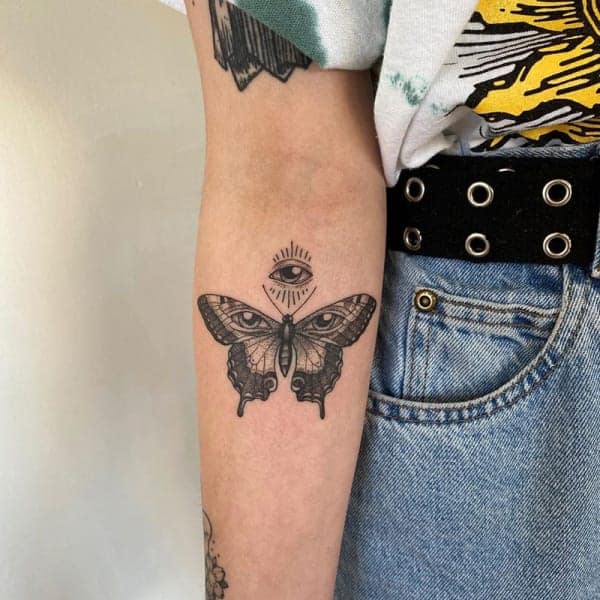 This tattoo placement may have been branded as a "hipster tattoo placement" but one cannot deny that this placement is pleasing to the eyes. Your tattoo always has a big reveal based on the way your arm moves.
30. Butterfly Tattoo on the Foot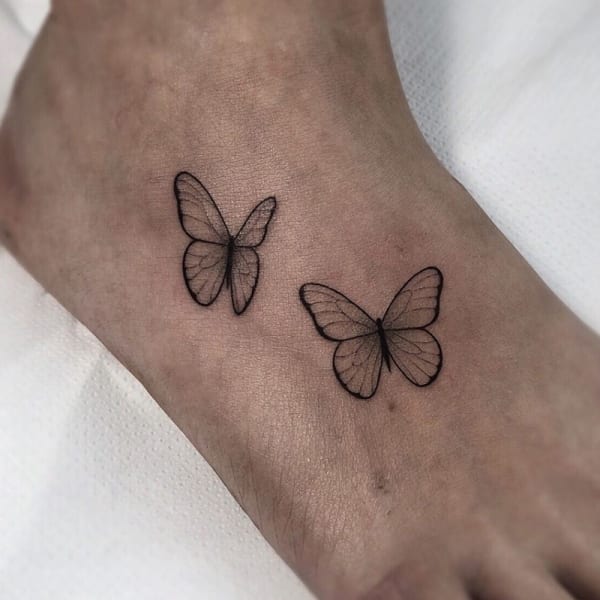 Another common area to have a little tattoo is on the foot. However, just like the fingers, getting one in this area can be painful. Is the pain worth it? Definitely.
31. Butterfly Tattoo on the Shoulder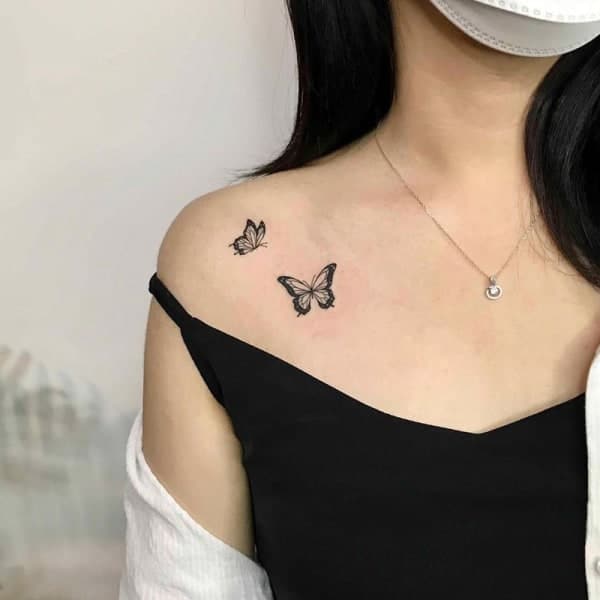 There is something endearing about having a butterfly tattoo on your shoulders. Even though the design is strong, there is still a certain softness to the whole look. You can also place it at the back—Mandy Moore style in the movie, A Walk to Remember.
32. One Line Butterfly Tattoo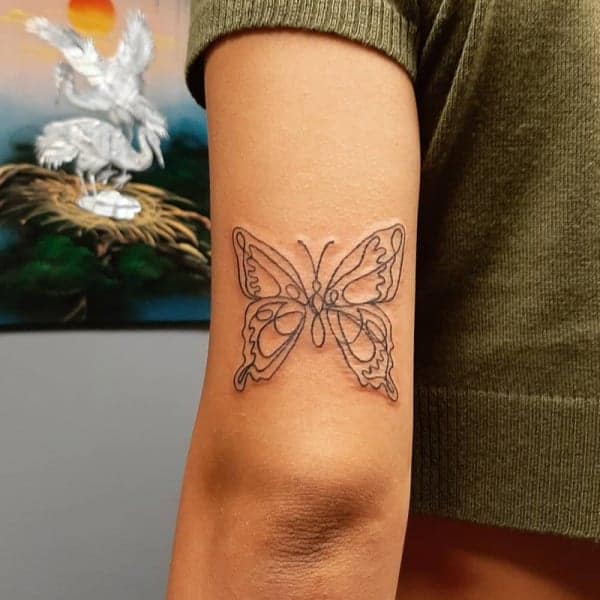 Talk about creativity at its finest! Not only will your tattoo look awesome, but other people will be astonished as to how the butterfly was inked on your skin.
33. Butterfly Tattoo on the Back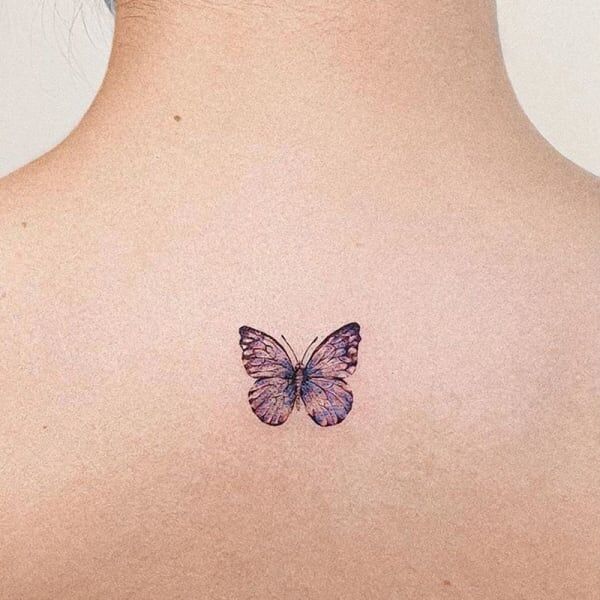 This area will be great if you want to have a grand or simple design. The back is such a great canvas for a tattoo as there are not so many curves or folds.
34. Butterfly Tattoos on the Ankles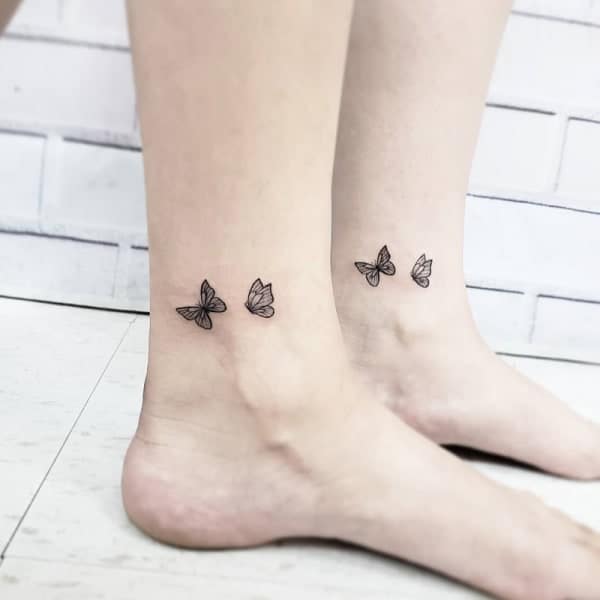 Ankle tattoos mean that you are calm in formal and public settings. Add to that a butterfly that signifies reformation. What you get is a woman with the whole package.
35. Flowers and a Butterfly Tattoo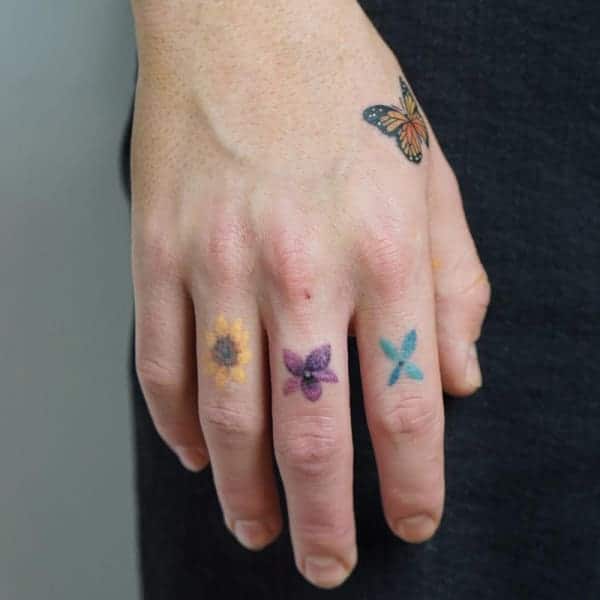 This design gives off a feminine and delicate vibe. Flowers and butterflies always go well together, so why not have them both?