The undercut fade, also known as "the disconnect" is a unique hairstyle that adds a blurry fade to that classic undercut silhouette.
With this look, the hair is shaved down to one length from a line extending back from the temple, while the hair on top is left medium to long.
The undercut fade is similar to a high fade haircut, but most medium-length cuts can be slicked back, worked up into a pompadour, or even create the illusion of a mohawk.
We picked the best undercut haircut styles for every hair type, enjoy our list!
1. Short Hair Undercut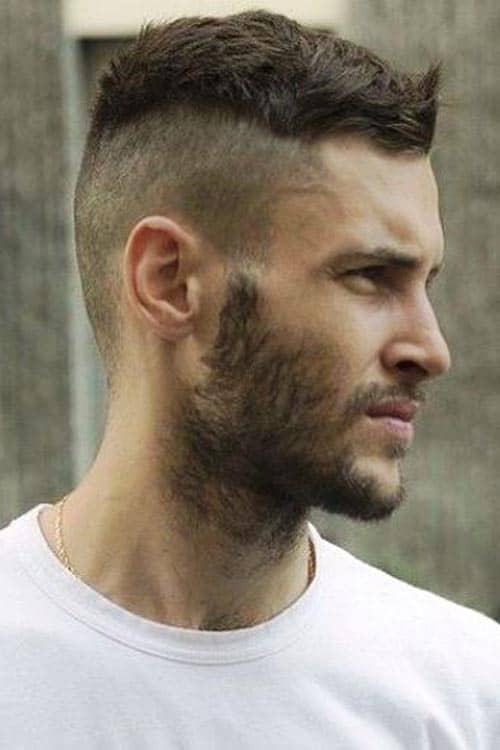 This short hair undercut has been styled into a classic combover, combined with a mini pompadour. It disconnects at the hard part and works best for a professional, clean-cut look.
2. Medium Hair Undercut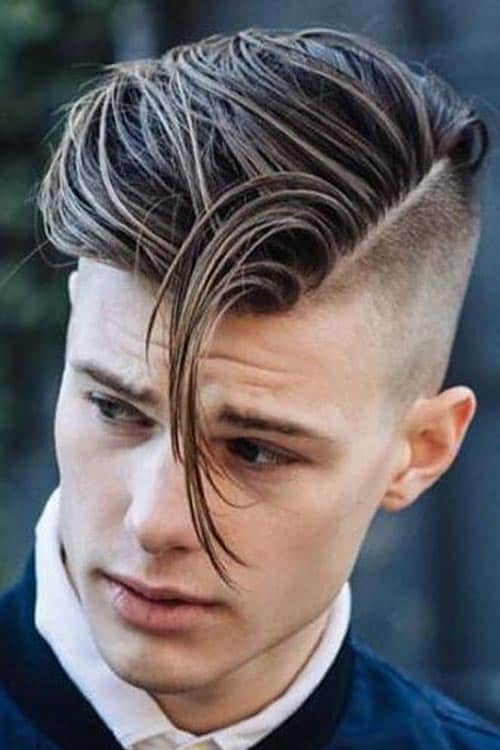 This is a great haircut for guys that have medium length hair. To achieve this look, apply a strong hold matte finish pomade like HydroClay by Mack for Men to damp hair and simply comb into place.
3. Long Hair Undercut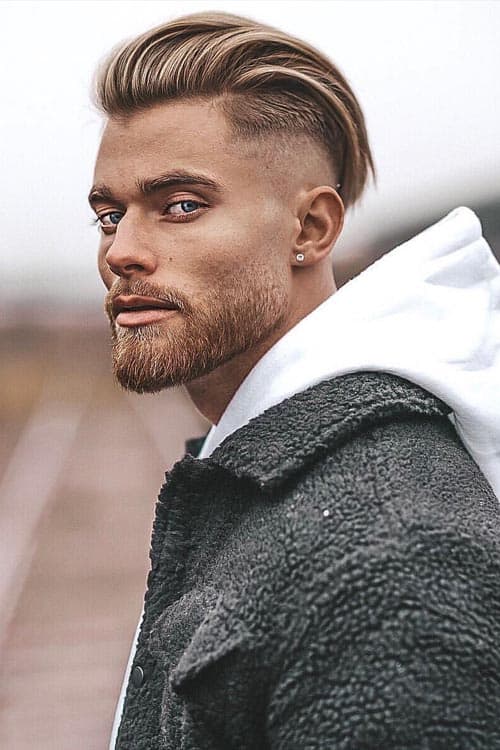 This long undercut hairstyle is best for men that prefer their hair slicked back in long waves. Style using a pomade with a medium shine. Work evenly into damp hair, then blow dry and finish by using your fingers to style.
4. Curly Hair Undercut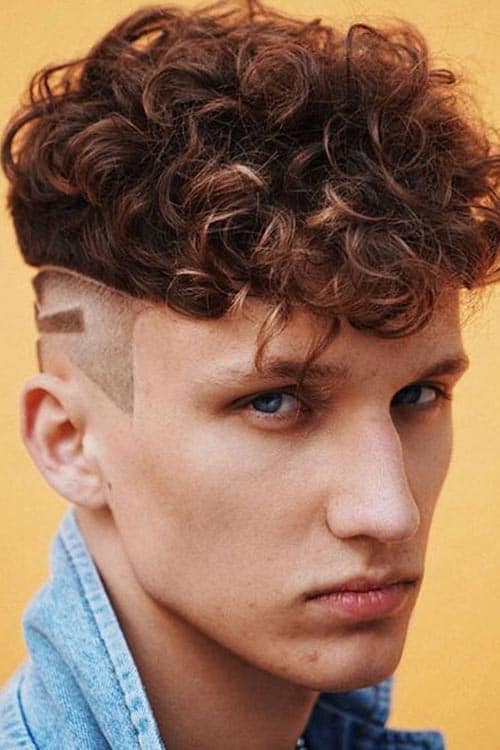 This look rocks a high skin fade that creates a sharp contrast for thick, curly hair. Use a medium hold pomade to give your curls some extra bounce and life while accentuating your hair's natural fullness.
5. High Fade Undercut w/ Thick Waves
This high bald skin fade works best for thick, wavy hair. With this look, the hair on top is styled into a cool version of the classic combover with an added quiff which helps show off the natural waves.
6. Long Fringe Side Swept Undercut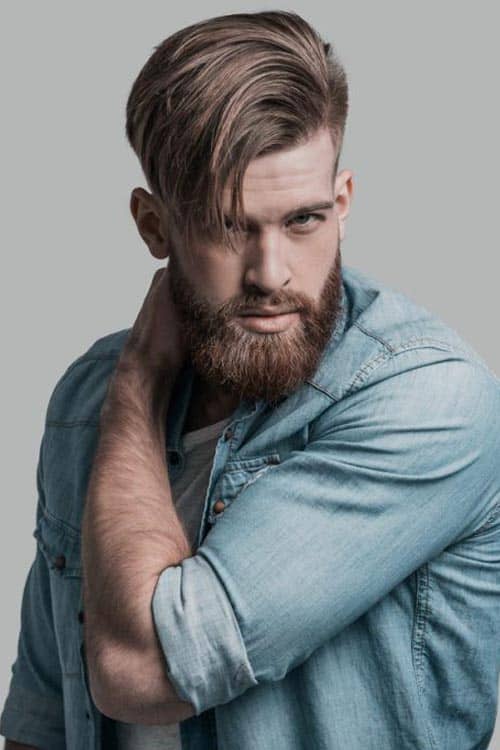 With this undercut, the sides are short but not shaved down to the skin as in a tapered undercut. The fringe is kept longer and hangs down in front.
This is one of the more natural looking side swept undercuts and is styled using less product.
7. Hard Part Pompadour Undercut
This is another disconnected undercut hairstyle with an added hard part. Longer hair on top is blow-dried to give it a nice, natural looking flow.
The pompadour gives it some extra volume and a cool edge.
8. High Skin Fade Undercut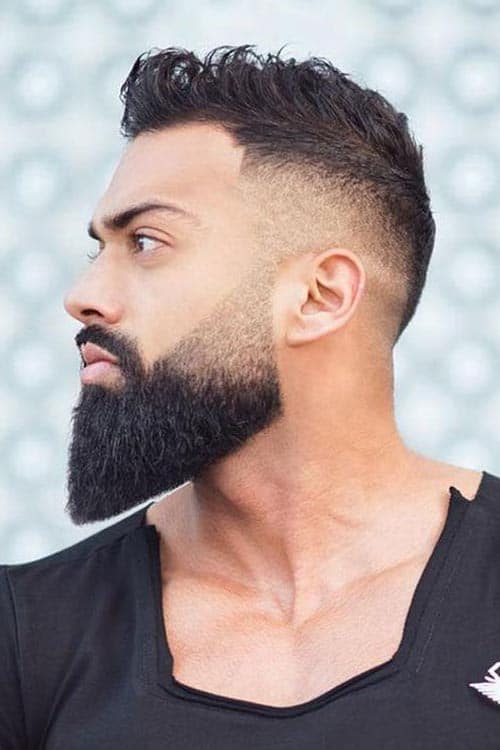 With this undercut, the fade is taken very high, almost up to the forehead hairline. The medium length hair is styled into place using a blow dryer for a natural flow look.
9. Bald Fade Undercut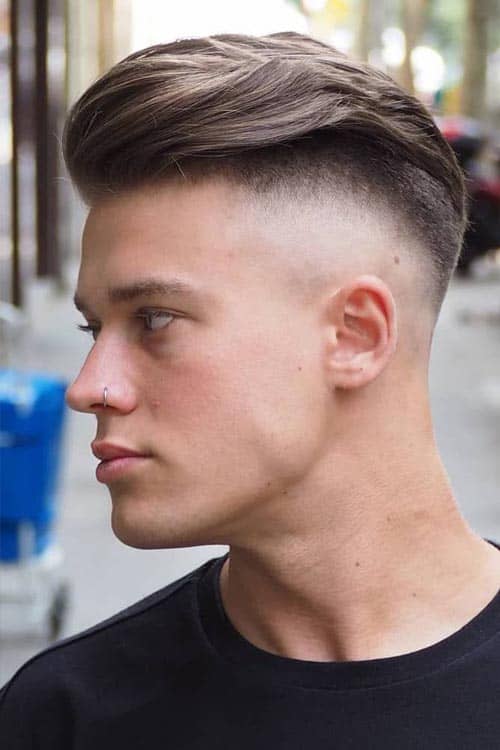 A bald fade undercut is a very high fade that sharply disconnects the long flowing hair on top. To achieve this look, simply towel dry or blow dry while brushing the hair back, off the face.
This look works best for men with long hair.
10. Long Hair Undercut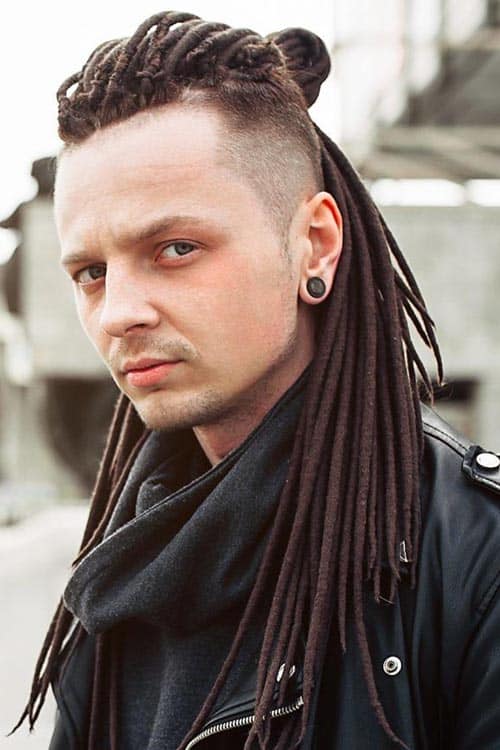 This long undercut hairstyle is best for men that prefer their hair slicked back in long waves. Style using a pomade with a medium shine. Work evenly into damp hair, then blow dry and finish by using your fingers to style.
11. Spiky Undercut w/ Low Fade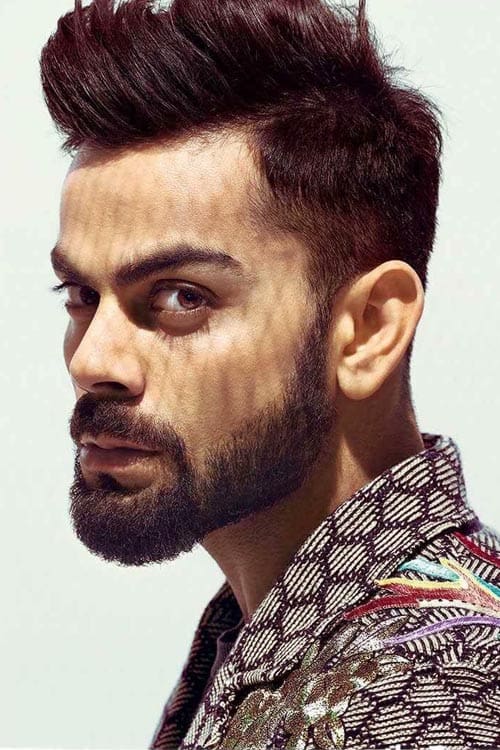 This cool hairstyle is a mashup of several different looks. This cut has longer, textured hair on top that gives it a spiky, somewhat messy look.
It's styled back to front into a crop-y hairstyle with a longer fringe. Use a strong hold pomade on slightly damp hair to keep the choppy textures intact all day long.
12. Mid Fade Undercut
The mid fade starts in the middle of the head. Your barber will start by trimming halfway up your sides and back for a softer look.
If you're having trouble deciding between a high and low fade undercut, the mid fade is a great choice and can provide some versatility.
As an added bonus, medium fades work well with almost all cuts and styles, giving you the best of both worlds.
13. Temp Fade Undercut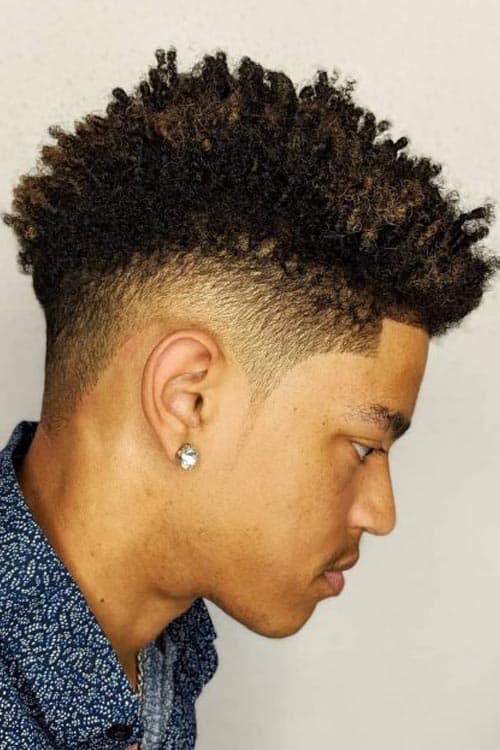 The temp or "temple" fade works best for men with an afro or tight curly hair. It starts as a mid or low fade and then tapers around the temples and creates sharp lines.
Be warned, it takes a skilled barber to achieve this look. Feel free to bring in pictures like the photo above for a good reference.
14. Faux Hawk Fade Undercut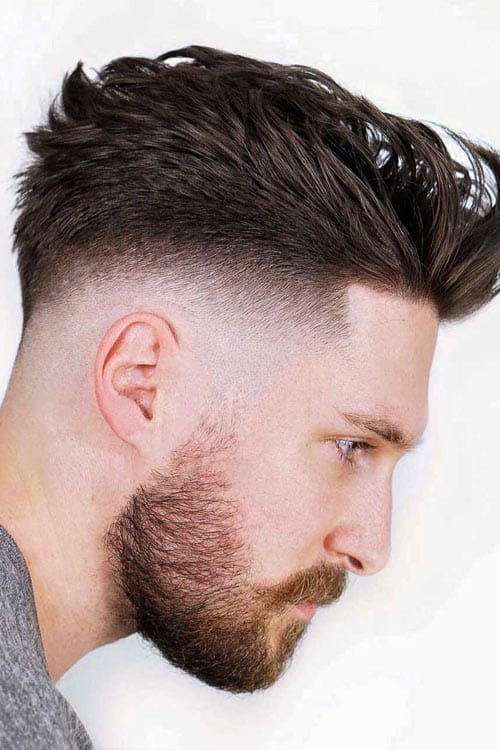 Although you've probably experimented with mohawks before, the faux hawk fade undercut is an even more unique and daring hairstyle.
If you're looking to try out this cut, grow out your hair on the top but keep a short fade on the sides. To style, try using a drier product like a clay.
15. Caesar Fade Undercut
A clean and well-trimmed finish is always the best solution for this Caesar-inspired undercut. You can combine a mid, low or high fade with different styles to achieve a more original look.
16. Military Mid Fade Undercut
This mid fade haircut will definitely suit those who prefer to highlight a retro, hipster, or military-inspired look.
17. Tousled Mid Fade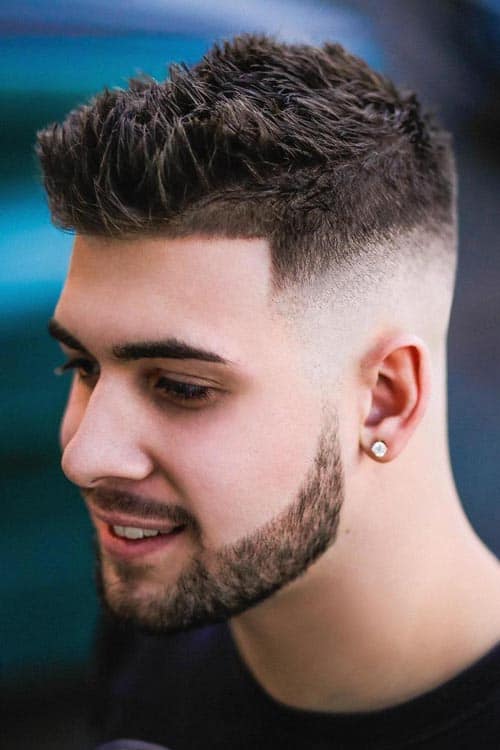 For men seeking a more natural look, this tousled mid fade haircut is the perfect choice. This style works best with Asian hair and can be achieved by using a hiqh-quality promade like ShapeShifter by Mack for Men.
18. Short Afro w/ Mid Fade Undercut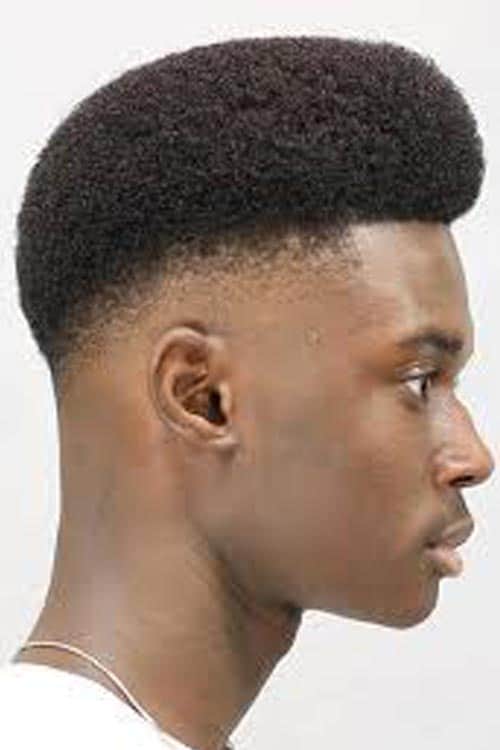 For this style, try adding a mid fade undercut to your traditional afro. It will and some edge to your classic hairstyle while giving it a modern twist.
19. Textured Mid Fade Undercut
This textured mid fade undercut is layered with a long top and blunt cuts and works well for all face shapes. The choppy ends will give you a debonair, yet textured look, giving you some extra lift.
20. Smooth Top w/ Mid Fade Undercut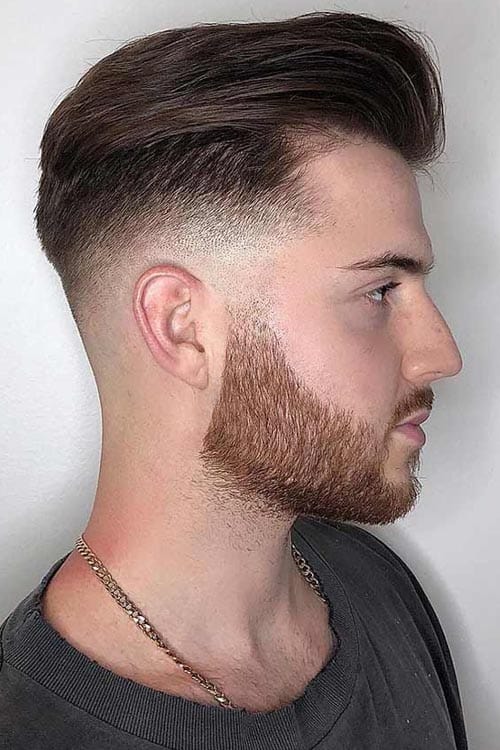 The best part about this kind of hairstyle is that it doesn't require excessive styling to look this awesome. A hair gel or hair wax can easily turn your mid fade cut and top into a smooth, stylish hairstyle.
21. High Fade Undercut w Quiff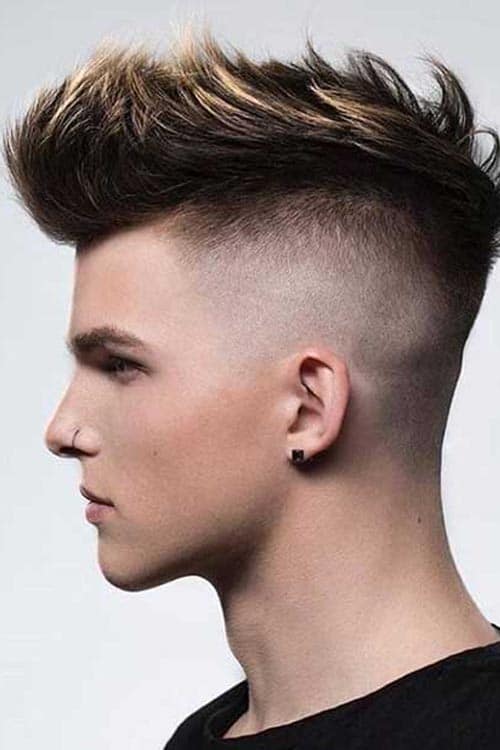 You might recognize some similarities between the quiff and the pompadour. Both hairstyles involve brushing the hair up and back away from the forehead.
Unlike the pompadour, however, a quiff gets its volume from brushing the hair back like a wave. With the addition of a sharp high, undercut fade, this style will stand out from the rest and draw attention.
22. High + Tight Undercut Fade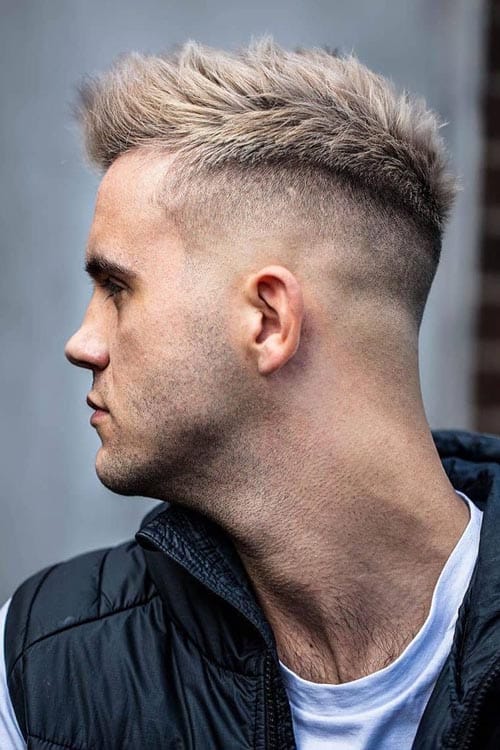 This classic military cut is the ultimate choice when it comes to a minimalist hairstyle for men. This cut is both neat and polished and is best suited for men with dark hair.
The 'tight' refers to the closely cropped longer hair on top, while the high fade ensures smooth lines and no-nonsense ease when it comes to styling.
23. Drop Fade w/ Disconnected Undercut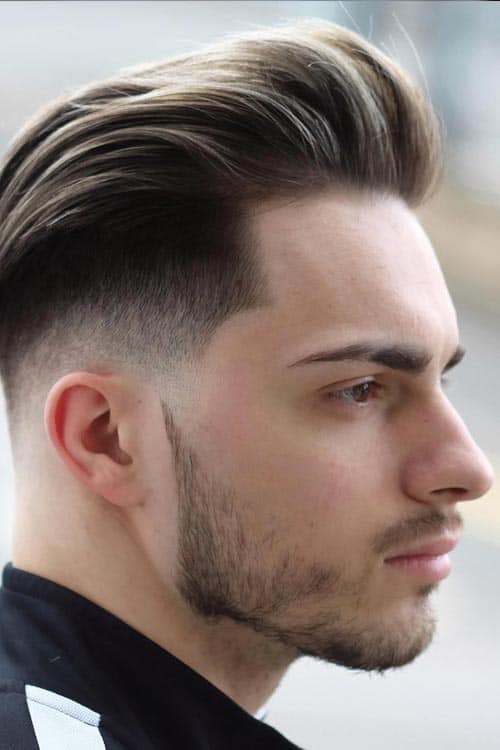 fade and disconnected undercut. While the hair on the crown is kept significantly longer, the sides are only a few millimeters long.
This creates a clean line between the two layers. When styling your hair, blow dry to add extra volume and showcase the haircut in all its natural glory.
24. Drop Fade Undercut w/ French Crop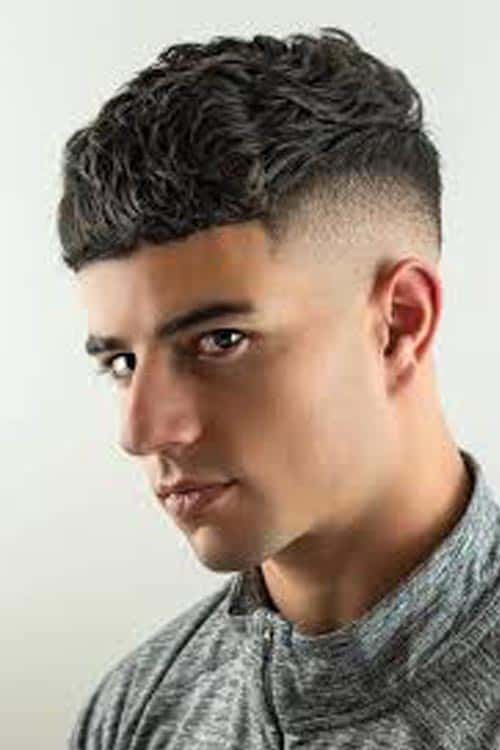 The French Crop drop fade undercut is a refined look that works well with both a low or medium drop fade, while seamlessly graduating into length from the back of your head to the front.
It's also a cut that will significantly shorten your morning routine. While the back hair is usually no longer than an inch, it can actually be twice that long in the front and still work to pull off this look.
You'll notice the blunt fringe of the crop is kept short, ending well above the eyebrows. A comb is all that's needed to style when you brush your hair into place when wet.
25. Drop Fade Undercut w/ Flat Top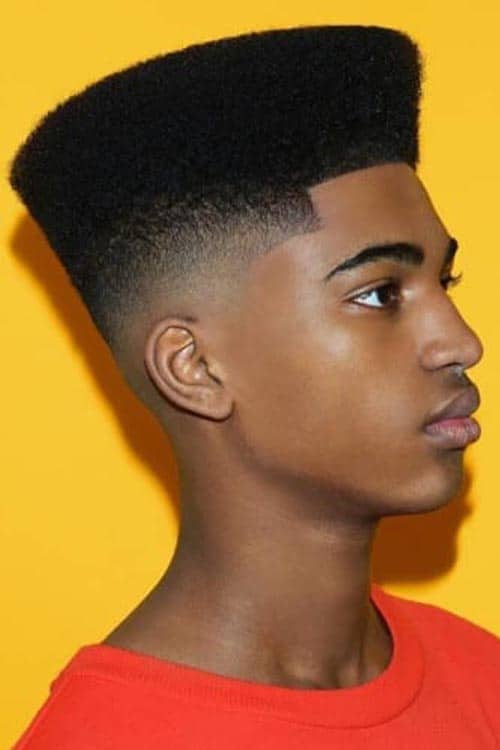 With the addition of the arched undercut to a drop fade, this flat-top haircut gets a contemporary makeover. Depending on your hair's texture, you can either buzz your natural curls into shape or lightly brush them out to create a taller shape-up.
This result will be a fuller, more dense appearance. And, remember, with this look, height is key.
26. Drop Fade Curly Undercut w/ Fringe
With this look, you change things up by putting your fringe in the spotlight. You can opt for a low drop fade around your ear as your hair gradually gets longer on top.
On your crown, your hair will be the shortest in the back and the longest in the front. Your fringe can hang loosely over your brows or you can comb it back to create more height.
This relaxed style is the perfect accessory for a casual, "Netflix and chill" look and a way to rock your natural curls.
27. Layered + Tapered Undercut Fade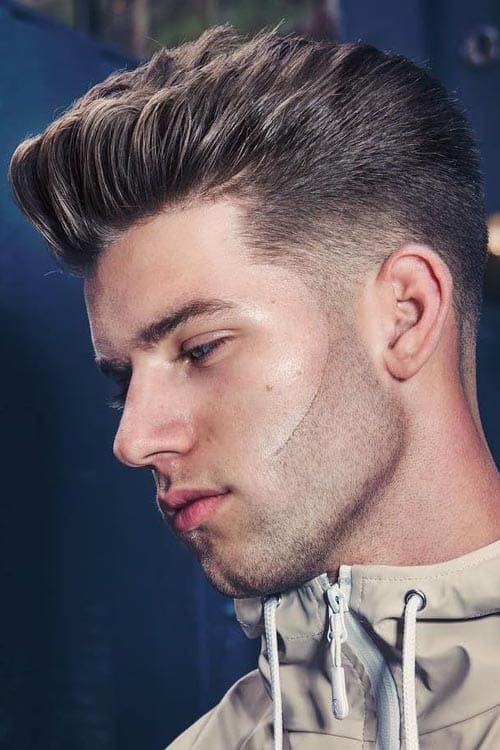 This cut involves taper fading the sides and leaving some long textured locks at the top that are best showcased when paring with front swept layers.
As far as styling, we recommend using high-quality hair wax.
28. Upswept + Textured Undercut w/ Candy Floss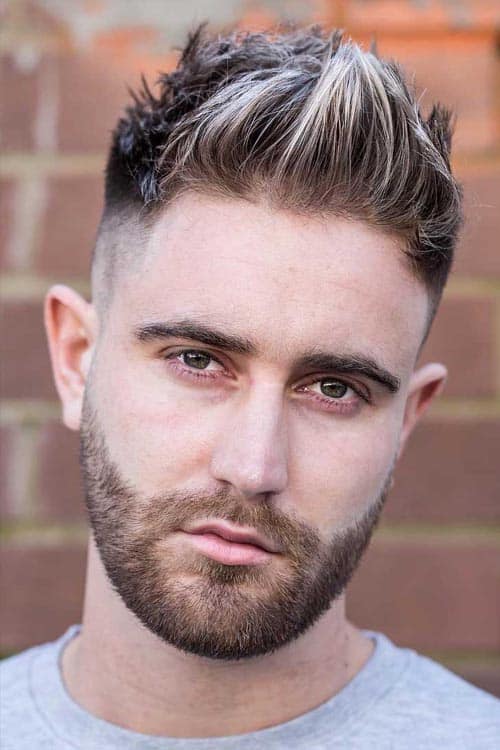 This unique fade is surprisingly easier to create than you might think The term "candy floss" refers to the color, which of course can be modified to match your personal style.
The cut, on the other hand, will require some skill to give the strands at the top a lovely texture and to skin fade the sides.
Finish by sweeping the textured locks up and over for that effortless upswept look.
29. Feathered + Textured Undercut w/ Bangs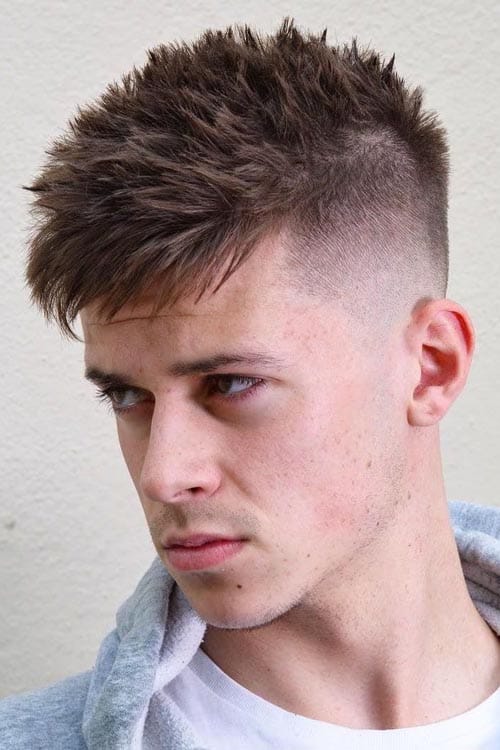 Bangs don't always have to be worn in your face, hanging over your brow and eyes. That's right, they can be styled and slicked back, especially when creating this feathered and textured look.
Feathered locks with excellent texture as pictured here, are most attractive when they are skillfully swept back and paired with a buzzed undercut fade on the sides.
30. Thick + Wavy Undercut Fade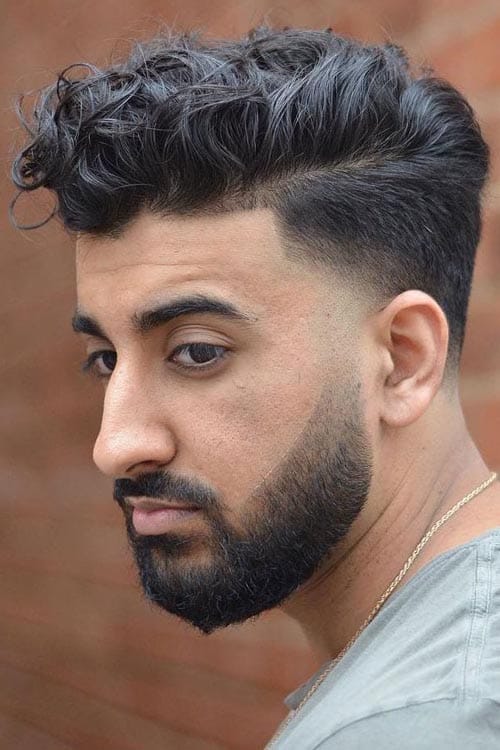 The best thing about this sexy mane is how untouched and all natural it appears. If you have naturally thick or wavy hair, this cut will showcase your beautiful waves.
Be sure to style by brushing the hair back and pairing it with a skin taper fade undercut on the sides.
31. Simple Undercut Fade w/ Spikes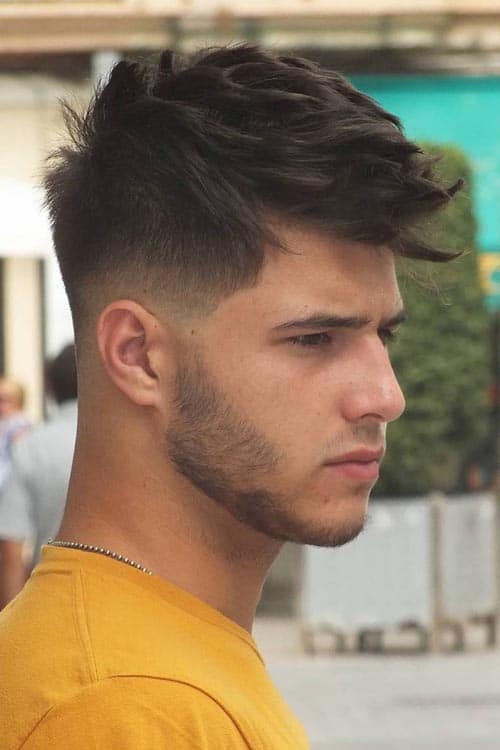 When you mix the hottest undercut hair trends with some simple, yet "effortlessly cool" spikes, what you get is essentially the perfection hairstyle combination.
The basics of this undercut are created on the sides and the back of the hair. The long hair is made into spikes that are uniquely styled sideways, instead of straight up, as with traditional spikes.