It's a common misperception that women are more interested in style than men. Sure, women may have more style options, and they more certainly have more fashion products to choose from, but many men care just as much about how trendy they come off – even more than women in some cases.
One of the key fashion elements men have to work with is their hair. A man's hairstyle can dramatically change his entire appearance, especially when you throw in the aspect of complementary facial scrub.
To score the hottest men's hairstyles, it's always best to go through a professional stylist. A hair professional will give you personalized advice on what styles will work with your unique hair type and facial shape.
Although it may be tempting to put your full trust in any scissor-swinging stylist, it's a smart idea to come in with some style ideas of your own. These can help you explain to your stylist what hairstyles you are considering and provide visual explanations to ensure you are both on the same page.
To give you a head's (pun intended) start we spoke to professional hairstylist and blogger, Cassidy Flannegan of Men Hairstyles World, to learn what hairstyles are the trendiest this season. Read on to discover 25 of the hottest hairstyles any guy can pull off right now.
1. Charming Slick Back Hairstyle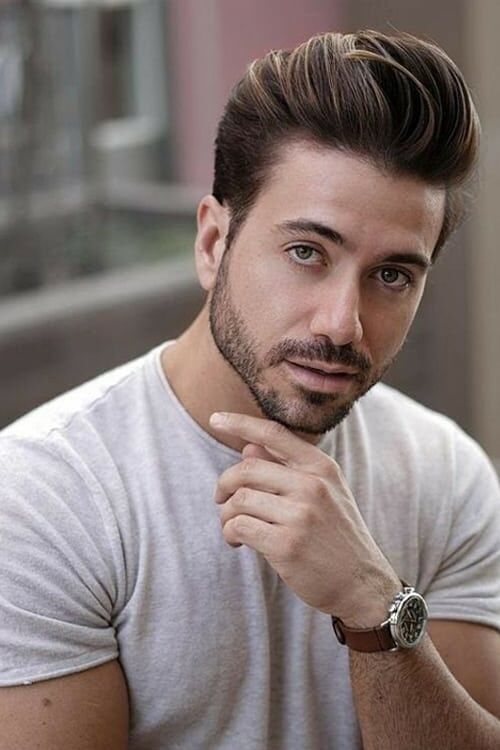 Texture and tousle hair is what 2021 is all about, and this hairstyle defines both. This slick-backed look is not only charming but is also super easier to style.
The hairstyle creates a near perfect laid-back look for various activities whether that be out with friends or pulling off a typical 9 to 5 at the office.
2. Side Fringe Hairstyle
While women are pulling off the front fringe hairstyle with little effort, the side fringe is ideal for the male crowd. Men with medium-length hair pull off this style best but it's also super flexible as you can style it up with shaved lines or a high fade for better visibility.
3. High Fade Faux Hawk Hairstyle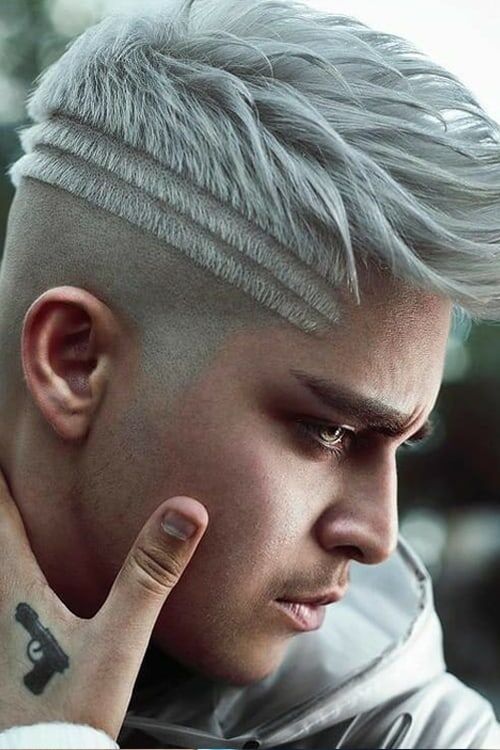 Some of the most trendy haircuts for men are from previous generations and this old age hairstyle has found its way back to the mainstream. The look may take a little bit more time than others to achieve, especially if your hair is on the longer end, but it's more than worth it to get a profile this defined.
4. Flat Top Hairstyle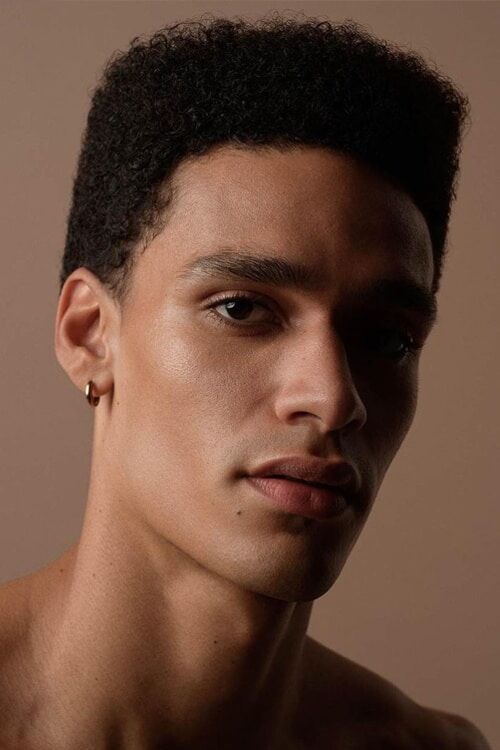 Flat top hairstyles work best with shaped beards that have a high and tight fading. If you get it right, the flat top brings natural curls that are defined by lines, which is one of the reasons it best suits men with kinky hair.
5. Pompadour Hairstyle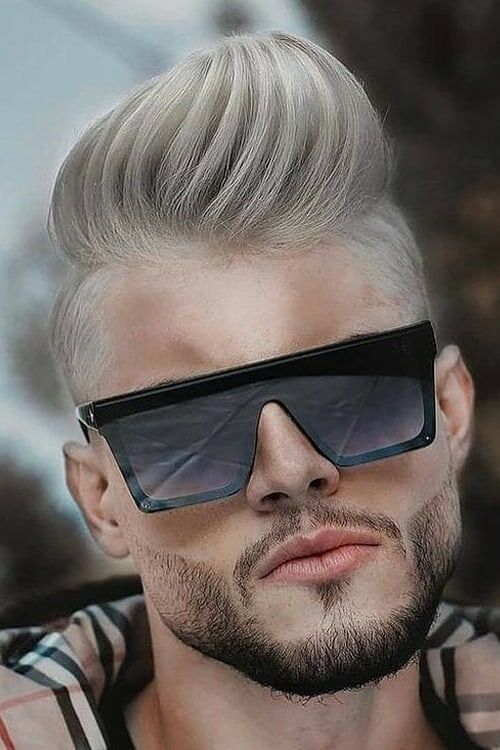 If you have trouble trying to style your undercut, this pomp look may be the solution. It's a dual-sided hairstyle with one side that looks more traditional while the other signifies current trends.
6. Side Part Hairstyle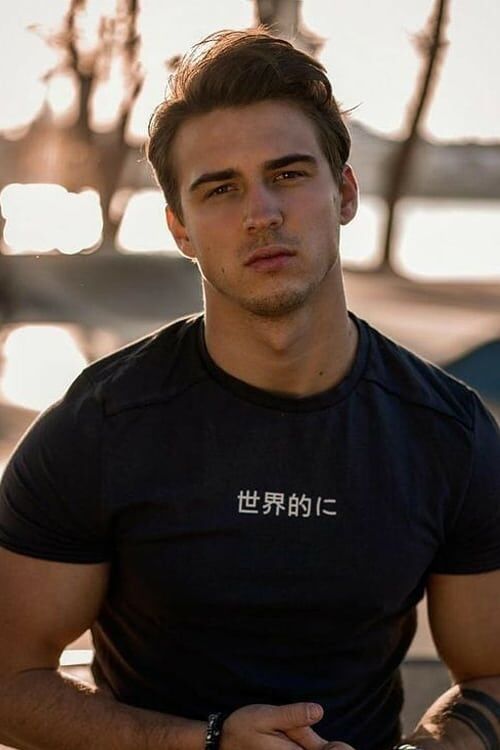 If you're blessed with a massive amount of hair with plenty of texture, length, and volume, a side part hairstyle may be your best bet. This haircut ensures that your hair is neatly held together on one side while you still get a short trendy look overall.
7. Tousled Texture Hairstyle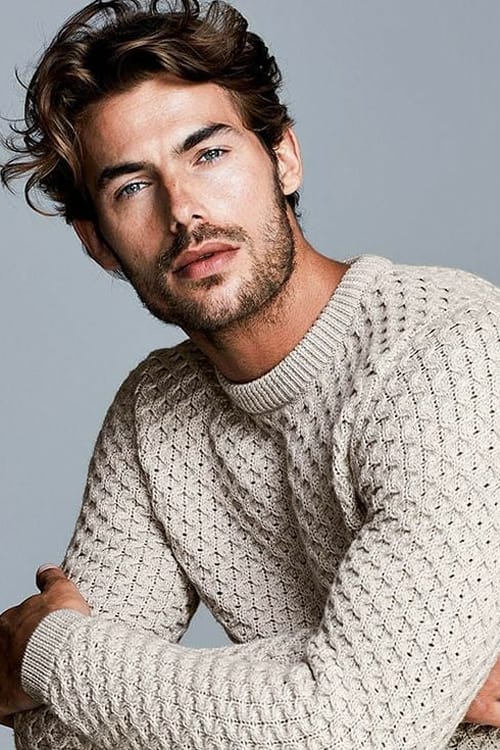 This haircut flaunts the natural volume of your hair while it offers additional layers of faux volume to amp up your look. Try it with a clean-cut face or with nicely cut side temples to further exaggerate the top volume.
The look is best suited for men with a fine hairline who are really looking to show it off.
8. Buzz Haircut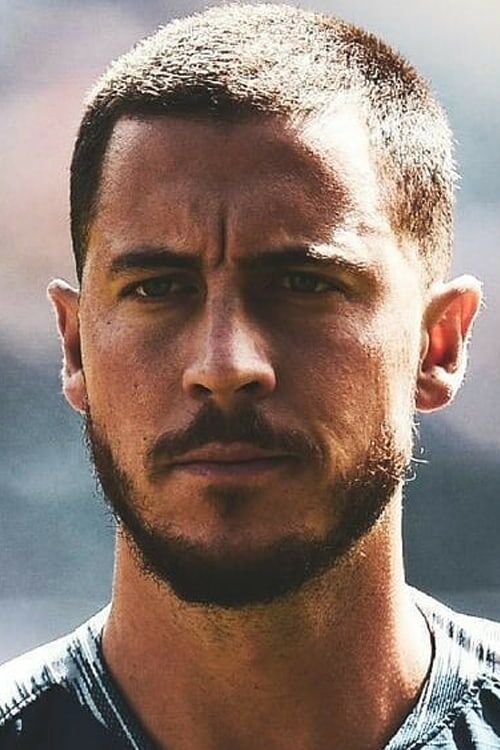 Yes, a buzz cut is still a hair 'style' but here the secret behind it: It helps your hair grow. A great way to rediscover your natural hairlines and texture, the all too classic buzz cut allows you to maintain some fine hair on top as it leaves room for the rest of your hair to grow out naturally.
9. Sweep Back Hairstyle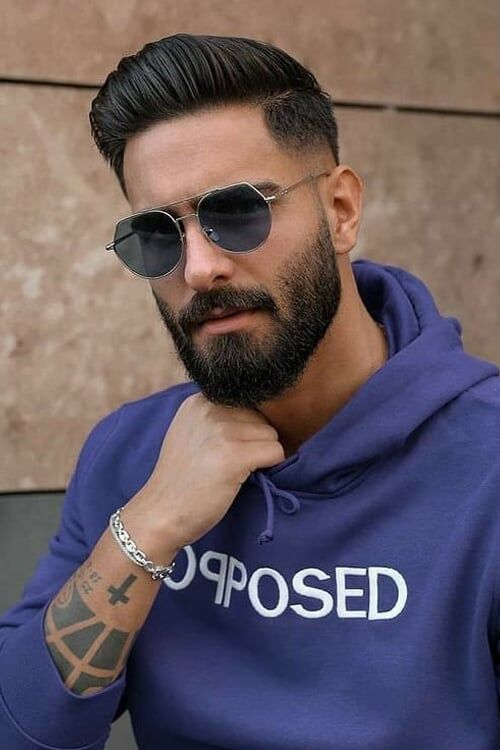 Although this haircut looks a little complicated, it's still possible to make a swept back look your daily style. All you need is a blow dryer and some texturing pomade.
As a bonus, the messy texture doubles as another way to grow your hair and strengthen its volume.
10. Curly Hairstyle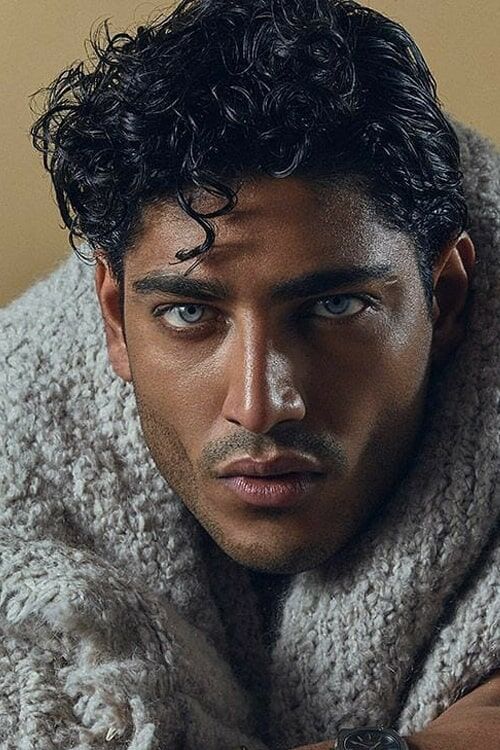 Those with long and short hair can pull this style off, but for those with longer hair, it provides some additional benefits as it helps to develop natural hair curls. With this look, many men opt to include fading low cuts to ensure their hair maintains the same line.
11. Short Crop Hairstyle
Another way of keeping your short hair stylish and on point, this type of haircut won't require much morning styling time. Simply add a few pinches of your favorite styling product, comb the fringe forward, and you're good to go.
12. Cool Spiky Men's Haircut for Thick Hair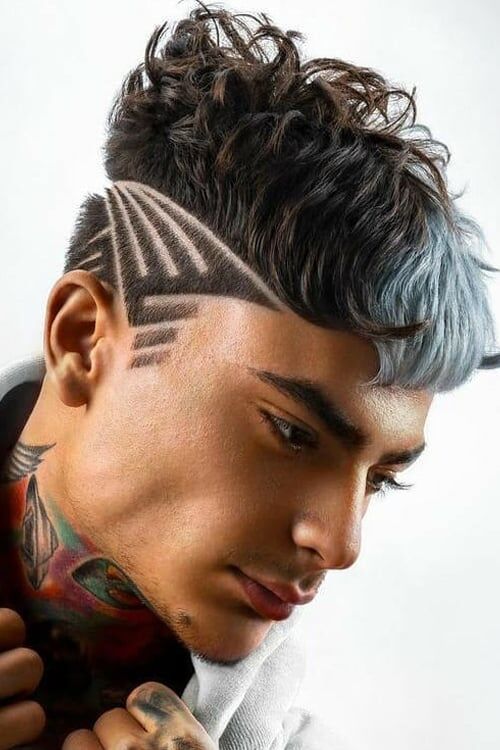 If you have thick hair and want to keep it short, this spiky look is the perfect pick. Usually, you'll see it with shorter cut sides and fairly long hair on top.
This style is trendy, fashionable, and perfect for people who want to show off their thick hair but at the same time still aim to keep it neat and off the shoulders.
13. Medium Textured w/ High Skin Fade Hairstyle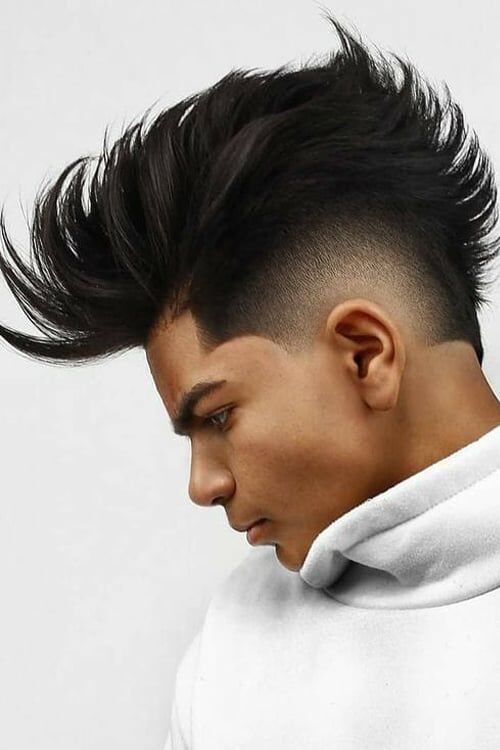 What defines this hairstyle is a fade part that begins almost immediately after the medium textured cut stops. It's easy to manage with a little hair product and your fingers and is stylish enough to be your casual everyday look.
14. Thick Hair, Medium Cut Hairstyle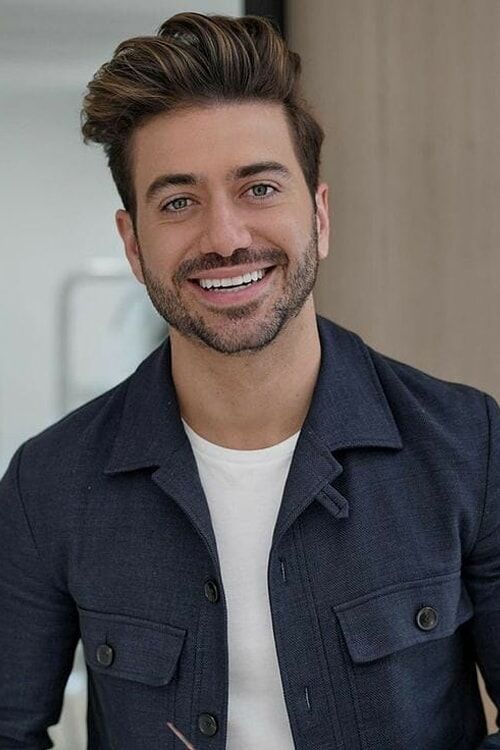 High volume hairstyles are ideal for men with thick hair. To get the right hold, use a blow dryer to guide your hair along with a small amount of product.
A refreshing look, wearing this style straight up or slightly tousled can make it seem like you have a new fresh cut each day.
15. Side Part Messy Hairstyle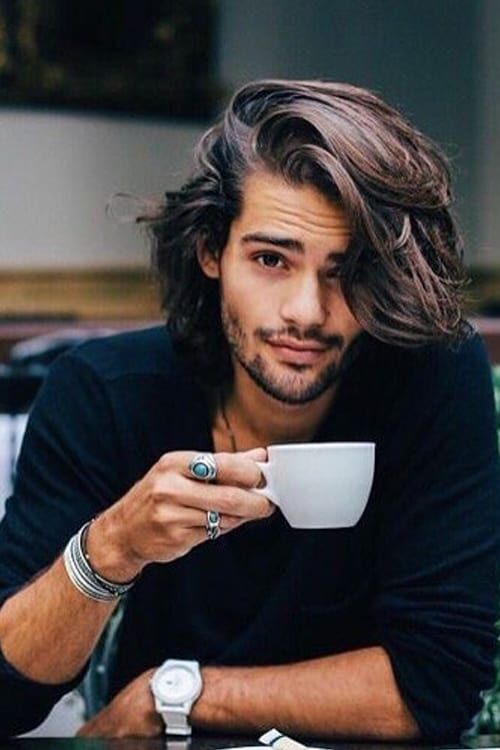 This messy hairstyle allows you to achieve a great look without making it seem like you're trying too hard. It also gives you great volume that lasts from morning to evening.
16. Classic Pompadour Haircut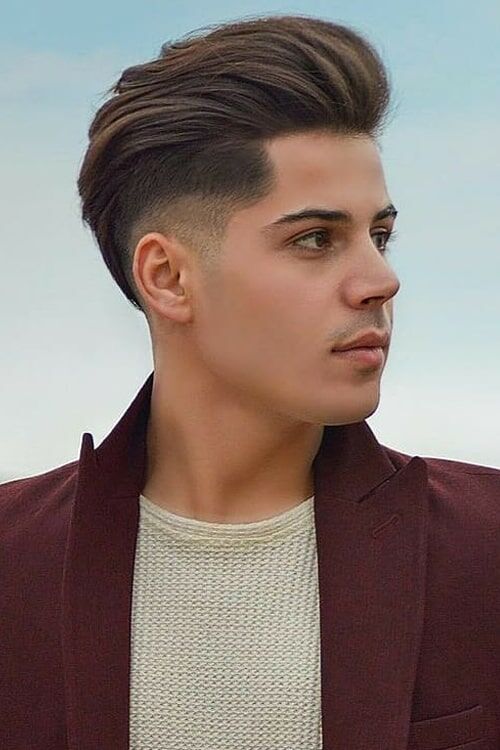 While it's somewhat of an ancient haircut, this is still one that looks and feels great on. The classic pompadour haircut helps gives the impression you are a gentleman rather than just a mere rebel.
If you want to rock facial hair, the shorter hair on the side of this style helps reduce the dramatic effects of the cut so it's actually complimented by some facial shade.
17. High Fade Curly Hairstyle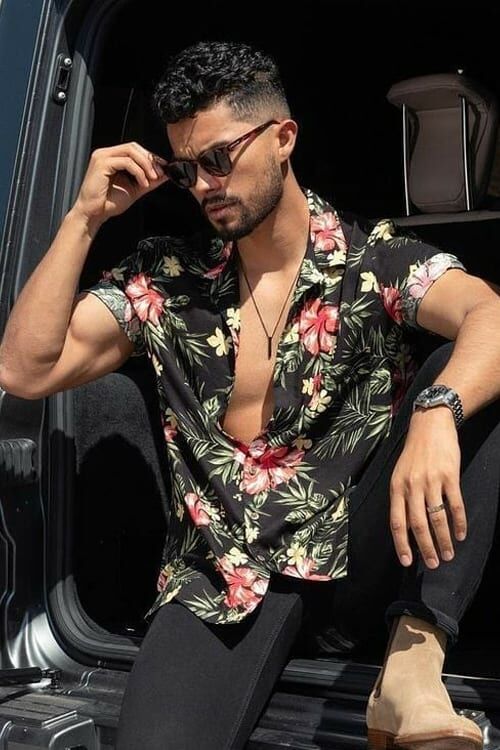 If you have naturally curly hair, this top curl and high fade cut is a natural style you won't have to fight with your hair to maintain. With a well-tamed bead, it subtly defines your jawline all while making you come across as more gentle and approachable.
18. Fade and Wavy Hairstyle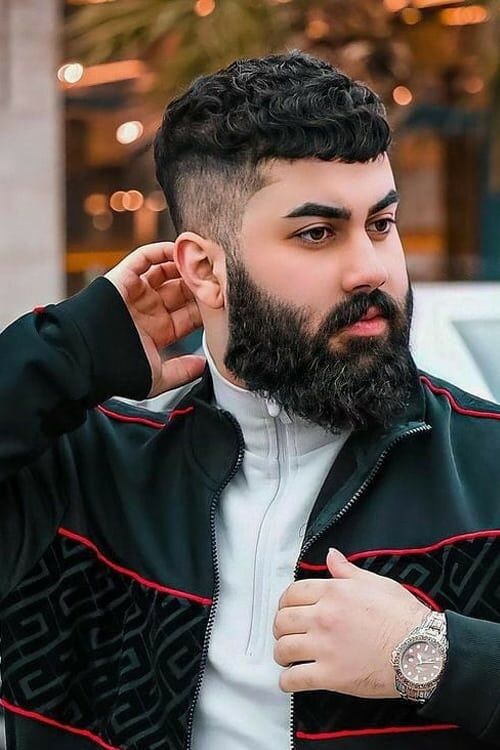 Like the curl haircut, this fade and wavy hairstyle is also a great choice if you want a style that goes with your natural texturing. It's a particularly good option if you're not African-American but you want to get the high fade look with your medium length hair.
Simply add a little hair product and you're good to go each morning. Like many of the other styles, this one is also perfect for men with beards.
19. Temple Fade w/ Natural Flow and Taper Hairstyle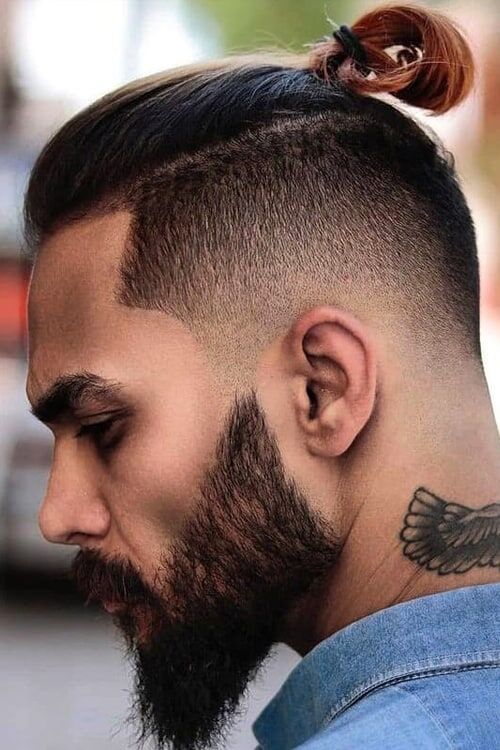 The temple fade and the taper cut help create the striking contrast that makes this look so handsome. With the natural flow that's seemingly a little messy, the cuts make your hair look slick and tempting without appearing awkward.
20. Neck Taper w/ Curls Hairstyle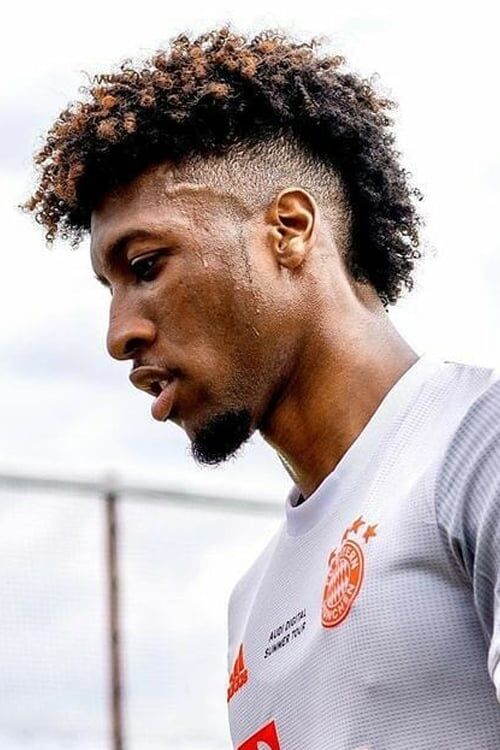 This cut works with so many hair types, it's a natural favorite. It's perfect for African Americans and also a flattering frame for people who have short, naturally curly hair, as well as for guys with longer hair.
Out of anyone, those with naturally curly hair will find this look especially easy to pull off.
21. Bold Fade w/ Angled Fringe Hairstyle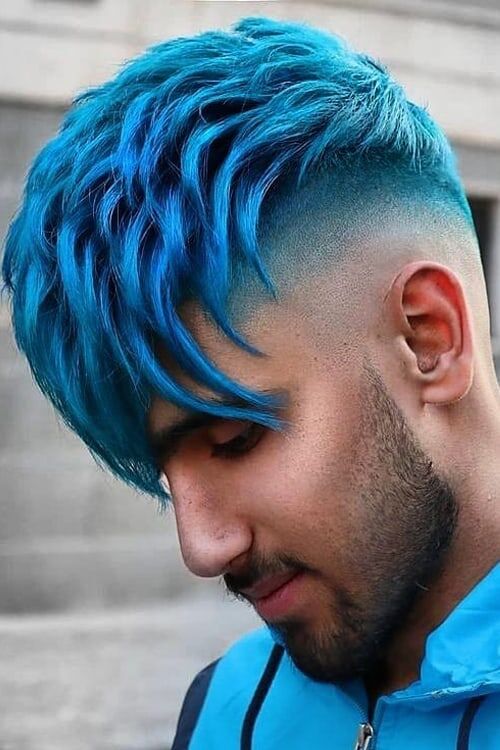 If you have thick, coarse hair, this cut offers a stylish solution. The thicker your hair, the more layered and flowy the look you can achieve.
As a bonus, one of the best aspects of this haircut is that it can be varied to fit the shape of your face.
22. Messy Texture Hairstyle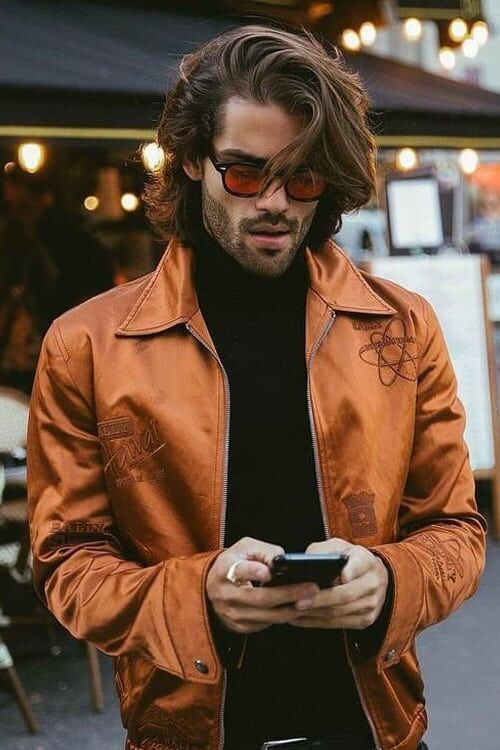 Perfect for those who don't have much time in the morning, this textured look is as easy as it gets. The layered portion you build upon helps this style bring out the definition of your hair all while making it look like it's messy on purpose.
To rock this style, simply roll out of bed and use your fingers to spread some product through your hair.
23. Man Bun Hairstyle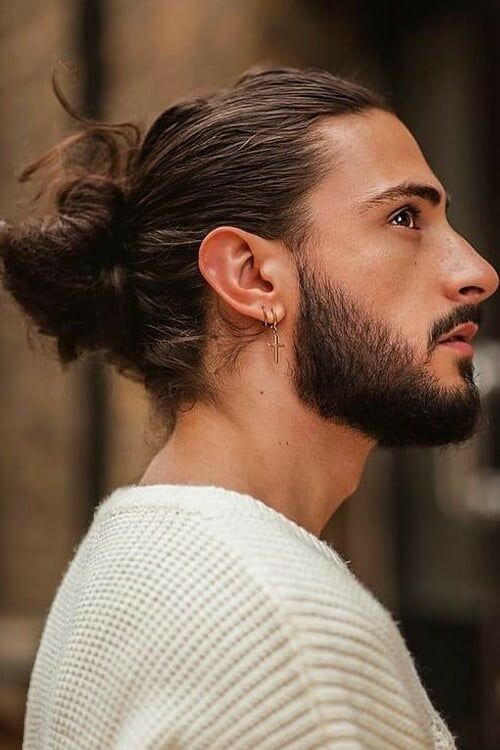 While this is not exactly a haircut, the man bun is back with a bang this year. The raged look makes it trendy but not out lavish.
Pull it off and you will have women drooling over the length of your hair in no time.
24. Comb Over Hairstyle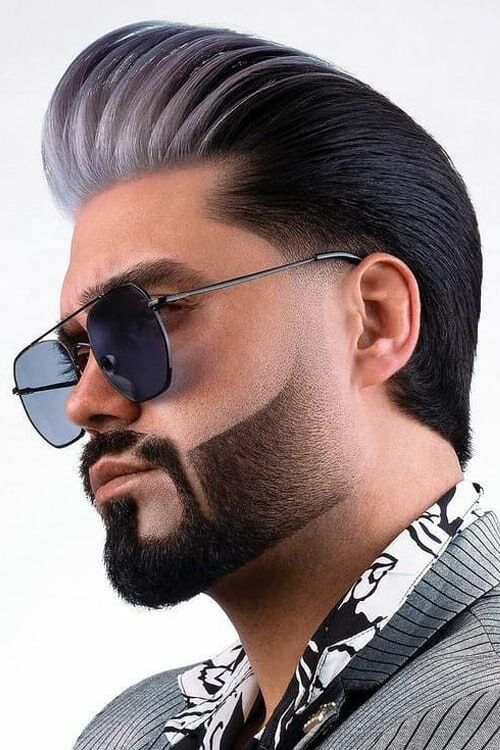 All you need to do to achieve this look is ask your barber to shave the sides of your head and then style by brushing your hair back using a brush and finishing with your favorite pomade.
You'll be left with a smooth and classy comb over. You'll be happy to know this is one of the hairstyles that never goes out of style.
25. Curled Comb Over Fade Hairstyle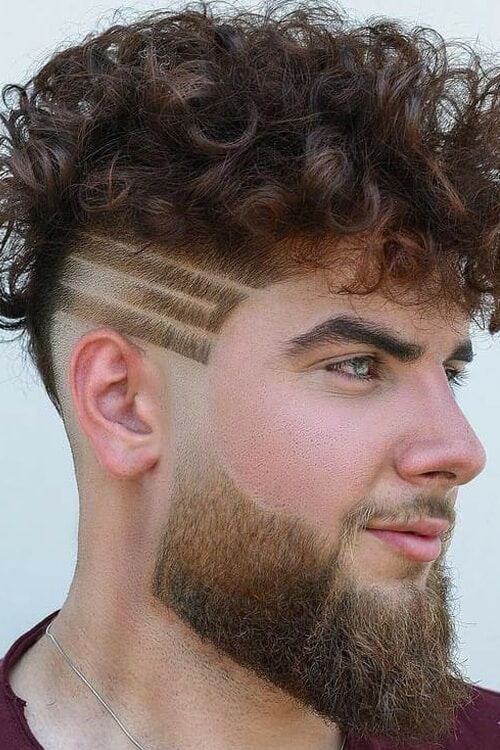 Men tend to love easy-to-style haircuts, and this one is no exception. This hairstyle also looks great on a variety of faces and it increases the volume of forehead hair.