The high top fade haircut, or hi-top fade, is a popular men's hairstyle that first became popular in the 80's and 90's. The high top symbolized the entrance of hip hop into mainstream pop culture.
Because this unique haircut continues to be a go-to style among men today, there have since been several modern variations to the cut, including the high top fade with curls or even high top dreads.
Whether you have curly hair, an afro, or twists, we've come up with a list of some of the coolest styles if you're looking to rock or modify the traditional high top fade hairstyle.
1. High Top Fade + Dreads
High top dreads are a stylish alternative to the thicker block of hair usually accompanying this look. As a bold fashion statement, the high top dread fade styles beautifully and stands out in a crowd.
2. Curly High Top Fade
The curly high top fade offers an awesome option for guys who don't know what to do with their hard-to-manage, thick curly hair. To tame a hairstyle like this, we recommend using a high-quality hair pomade like ShapeShifter by Mack for Men.
3. Nappy High Top Fade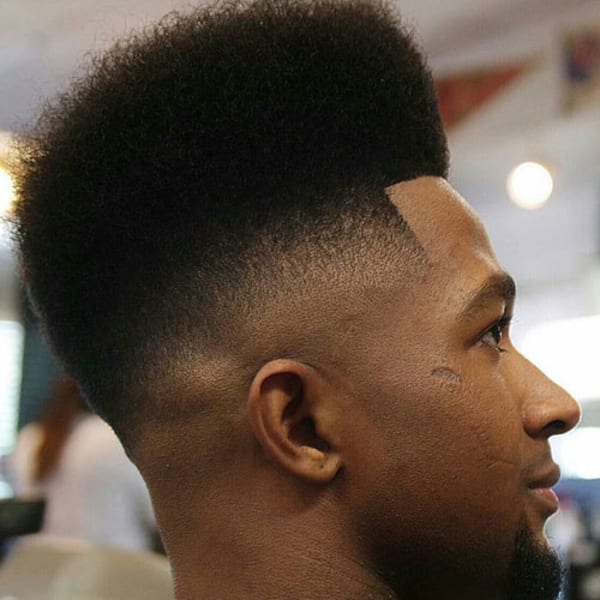 The nappy high top fade is a special kind of Afro. With a high skin fade on the sides and a big nappy Afro, guys wanting volume on top can choose this fresh and fun hairstyle. Just ask your barber for a nappy fade haircut and he'll know exactly how to cut the look.
4. High Top Fade w/ Part
The high top fade with a part is often styled with naturally coarse, kinky or curly hair. This hairstyle is usually cut with a high skin or drop fade and is both edgy and unforgettable. It's most commonly worn by black men.
5. High Top Skin Fade w/ Quiff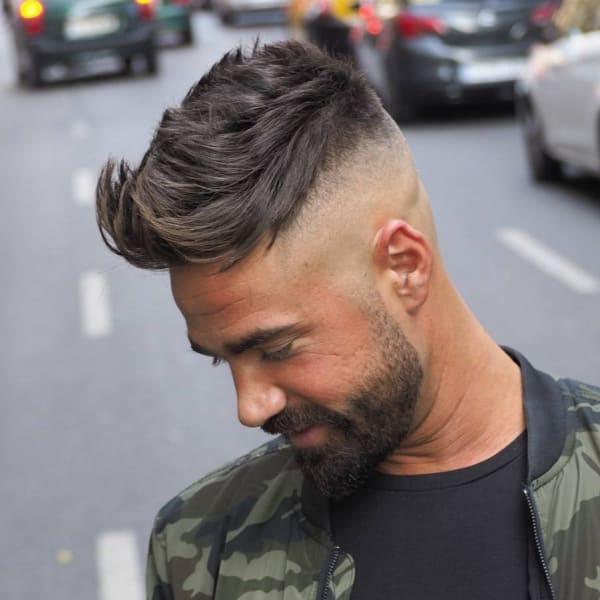 This trendy high top cut features thick hair on top, styled into textured spikes and a quiff at the forehead with a high bald fade.
6. V-Line High Top Fade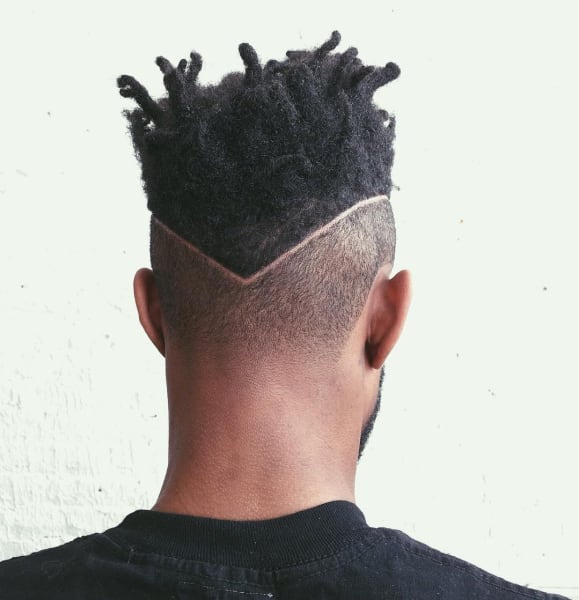 With this haircut, instead of the usual fade, try this V-cut design outlined with a surgical line. The neckline fades down to the skin with a quick taper that looks excellent growing out. And in addition to the high top fade, the V-cut works with many other hairstyles.
7. Comb Over Top Fade w/ Hard Part
The popular comb over hairstyle is probably most dramatic when paired with a high top fade. As you see in the photo, this version goes even further with diagonal bangs adding a textured style on top and the addition of a shaved part.
8. High Top Fade w/ Textured Crop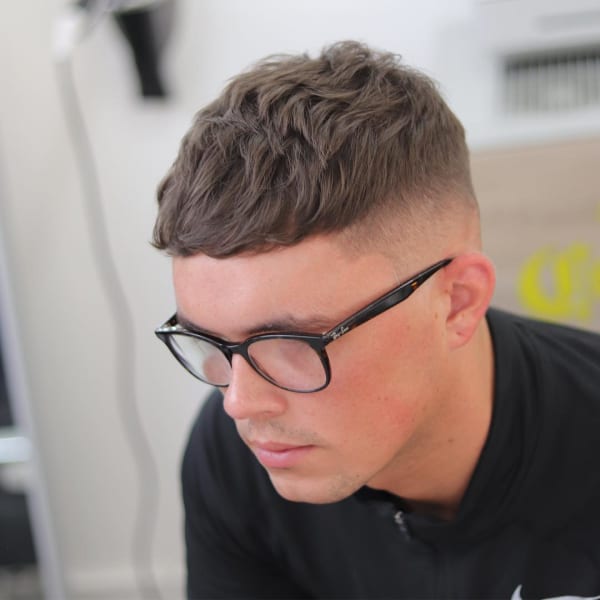 If you're a guy looking for a unique top fade hairstyle that will give you some extra volume, you'll want to try this High Top Fade with a Textured Crop. As you can see, this high top fade concentrates hair on the top of the head, giving you a fuller appearance while adding texture.
9. High Top Fade w/ Pompadour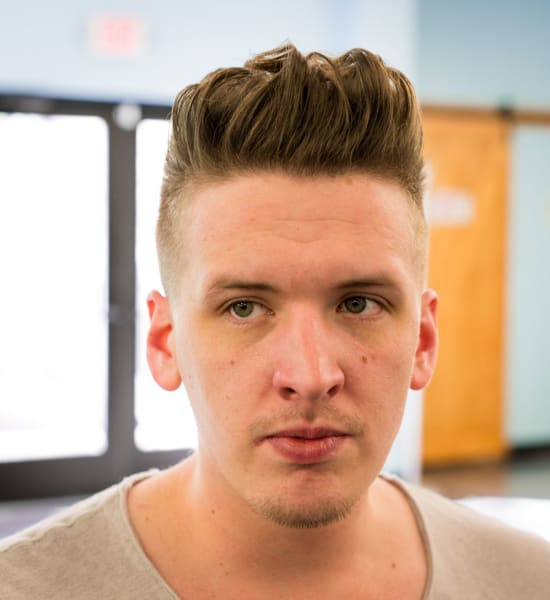 This modern pompadour is frequently worn with a high top fade and makes styling easy by eliminating the need to slick back the sides.
The very on-trend hairstyle gives you defined texture, but make sure to style it using your fingers and a matte styling product.
10. Messy "Swept Back" Top Fade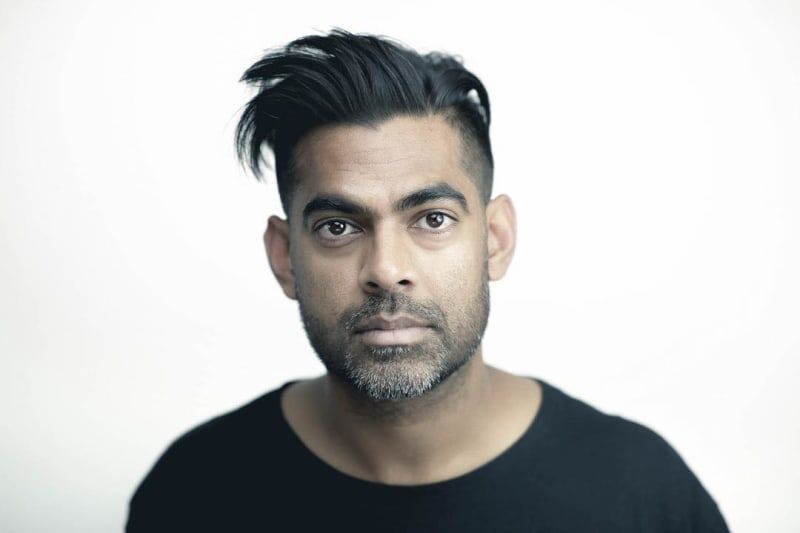 Looking for that "I woke up like this" look? This swept back look combines the volume of a traditional slick back hairstyle and when paired with a top fade, it somehow gives you just the right amount of "messiness" for that just rolled out of bed look.
11. High Top Skin Fade
The great thing about high top fades is they are easily adaptable to your hair type. You'll notice with this hairstyle, the fade will frequently drop down below the crown and of course, it looks great from the back.
12. Taper Top Fade Haircut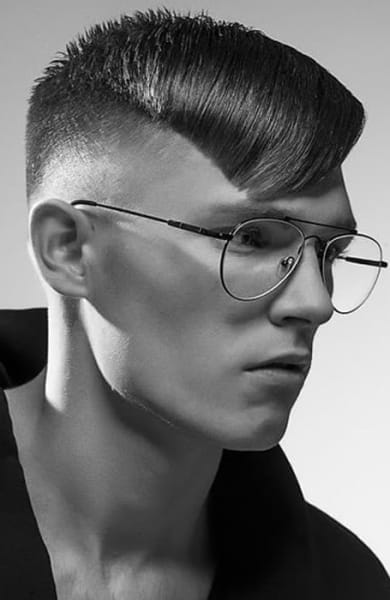 This versatile, professional look generally incorporates a longer length above the high fade line that gradually 'tapers' or becomes shorter as it moves down towards the ears.
This look can then be combined with your favorite style, whether that be a classy comb-over, stylish quiff, or a statement high-top.
13. High Top Fade w/ Line Up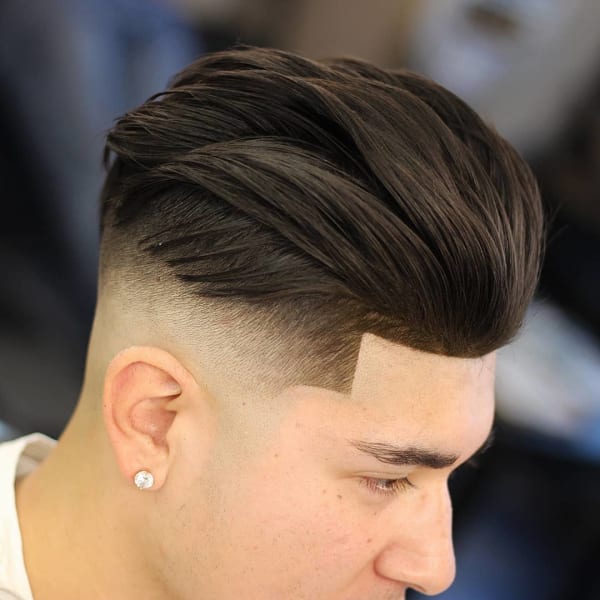 High top fades often give some extra definition and style when paired with a line up. In this example, the blurry fade pictured here contrasts with the precise line. The best part about this combination is it can be worn with any style on top, from short to long.
14. High Top Fade with Faded Hawk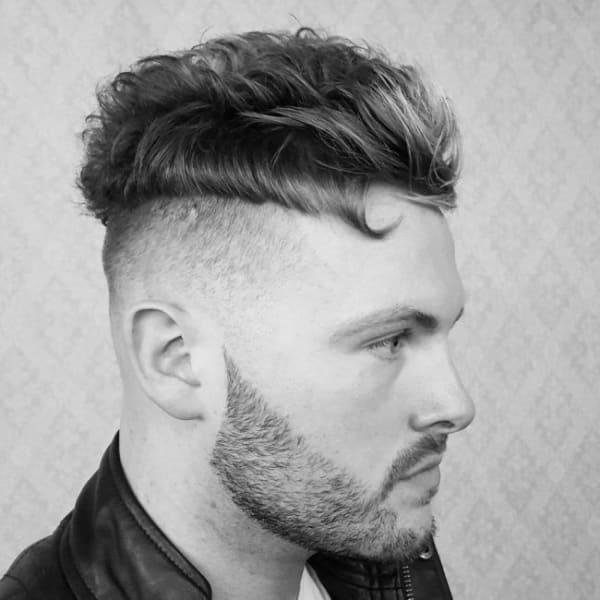 This is a great hairstyle for men with naturally curly hair. To achieve this look, you'll need to chop the sides short and fade them down while leaving some long curly bangs on the crown. Style the top into a hawk using your favorite hair pomade.
15. Flat Top Fade Haircut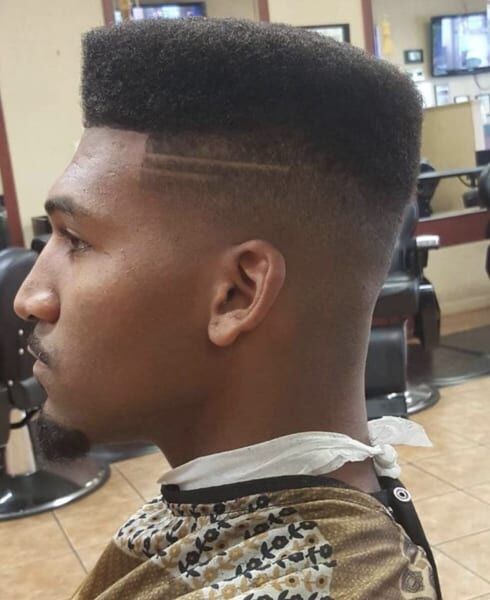 With this hairstyle, you achieve defined volume and height on top and perfectly textured tight curls while still maintaining a natural look.
This hairstyle is also low maintenance.
16. Top Fade w/ Undercut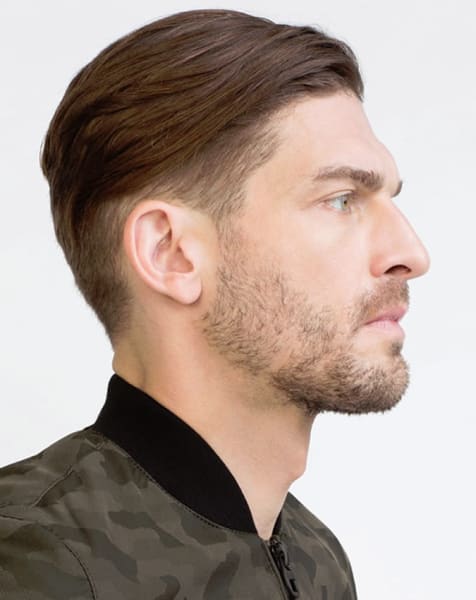 Having been sported by everyone from Beck to Brad Pitt, the undercut fade has secured its place in the hairstyle hall of fame. This version features medium to longer-length hair on top, either swept back or worn loose, topped off with a clean top fade stretching to the back and sides.
17. Hard Part Top Fade w/ Slick Back
You'll notice many of the hairstyles on our list feature a hard part. We feel a hard part line on the side of a haircut makes a huge difference in style. Apart from the hard line, the strands on top give playful tone and texture.
Style the textured strands on the crown into a slick back and finish the look with a bald fade on the sides.
18. Burst Top Fade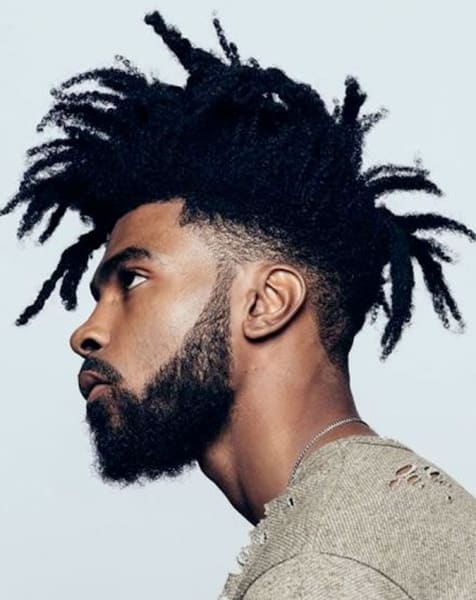 The burst top fade offers a subtler alternative to a faux hawk or even a faux hawk fade. The longer hair that runs down the center of the head is left wider, tapering towards the nape of the neck and fading out down the sides of the head.
19. Bald Top Fade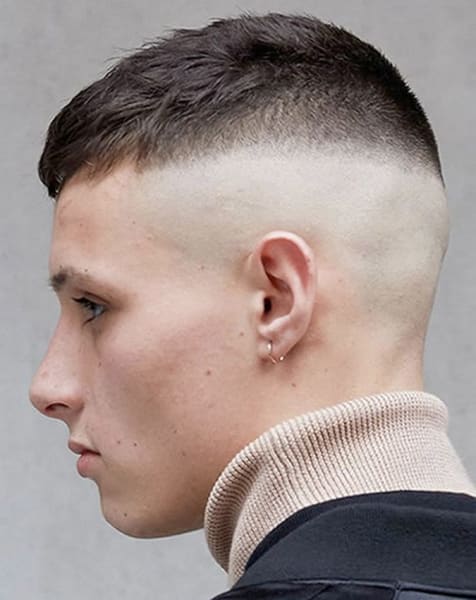 Bald isn't one of the words you'd tend to use when describing your next haircut but this bald top fade is obviously the exception. The bald fade is any type of fade that graduates right down to the skin, creating a high-contrast look.
The bald top fade is cut even closer almost resembling the look of a grown out military cut.
20. Temple Top Fade
One of the more low key fade variations is the temple top fade. The temple fade involves blending the hair down to a very short length on the temples, down behind the ears and to the nape of the neck.
With a top temple fade, the subtle styling makes it a solid accompaniment for anything from a crew cut to a pompadour.
21. High Top Fade w/ Stretched Hairline
Having a thick head of hair is a wonderful attribute to help you create a personalized look. Adding a shaved part to continue your hairline and section off the high top from the fade is a neat feature that will help you stand out from the crowd.
22. Drop Top Fade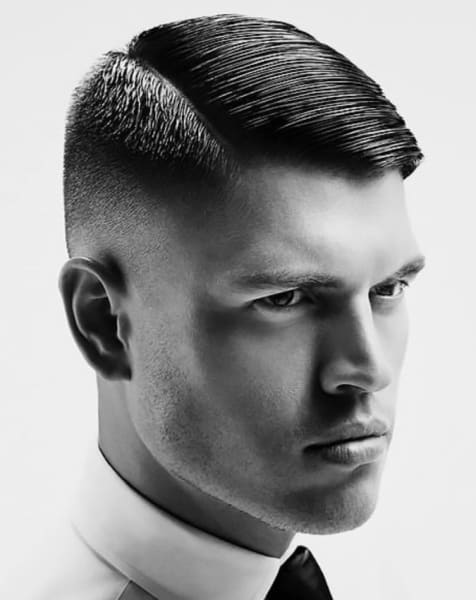 This contemporary take on the classic drop fade gradually lowers around the back of the head leaving more length at the back. It's a look that works well for the office as well as formal events, keeping you looking classy and put together with relatively low effort.
23. Top Fade w/ Clean "Razor" Cut
A "razor" top fade pompadour is definitely a signature hairdo that not everyone is able to pull off. Not to mention, the hair will be about 4″ on the top. Style using your favorite high-quality firm-hold pomade.
24. High Top Taper Fade w/ Afro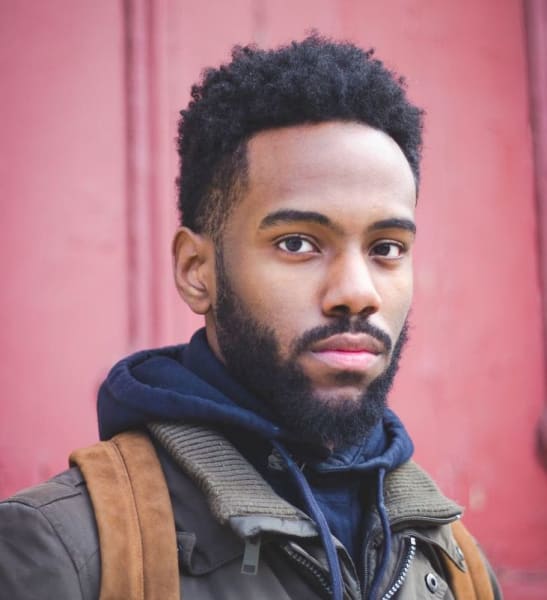 Similar to a traditional taper fade, with a top fade, the length of the hair decreases as it gradually goes down from the top until it disappears.
The curls on the top are then styled in various ways, depending on your personal preference when it comes to appearance like in this case, with a bold afro.
25. Top Fade w/ Ceaser Cut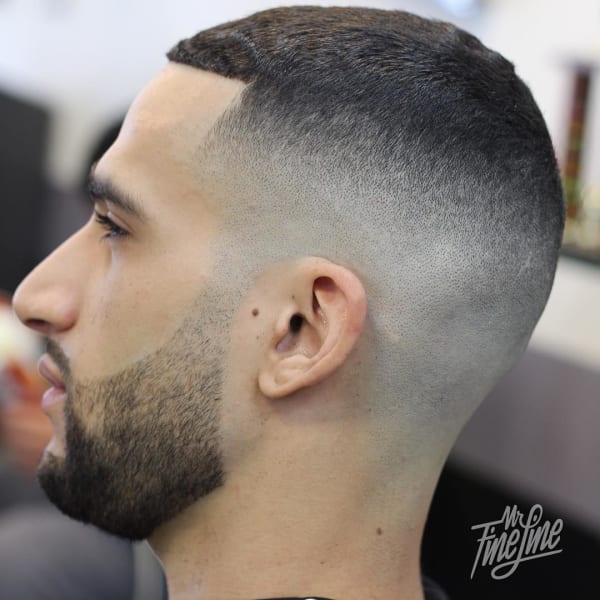 The Caesar fade hairstyle is where the hairs are cut short on the sides, leaving longer hair on the top which can be swept to the front side, making it different than other top fade cuts. Short borders or bangs can also be swept to the sides to add style like in this Caesar top fade.
26. Angled + Sculpted Top Fade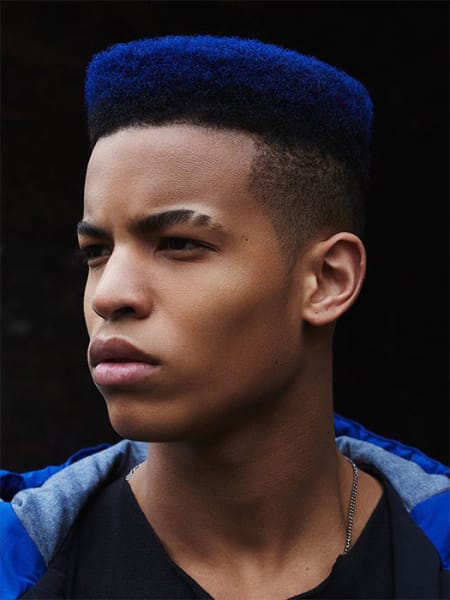 The Angled and Sculpted fade haircut can bring dimension and style to a man's appearance. It's also sometimes referred to as the Geometrical Fade.
Super straight and visibly defined edges are the characteristics of this top fade haircut, and it seems to work best for those with a symmetrical head, which will allow the angles to appear more uniform and prominent.
27. High Contrast Top Fade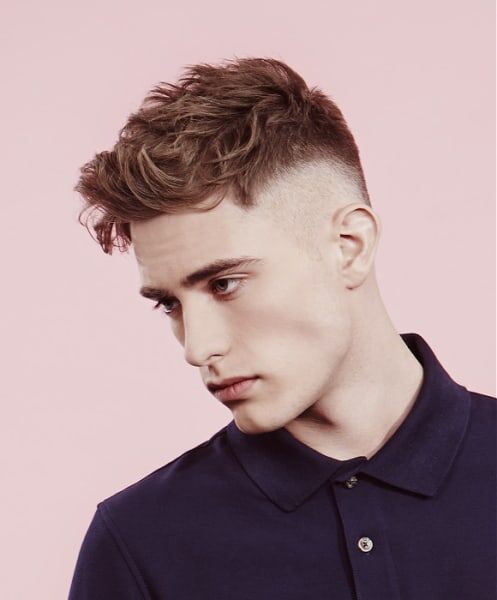 The High Contrast fade is perfect for men with long hair. While the hair at the back and sides are cut short to the minimum length, the hair at the top remains about 2 inches long. You'll notice the side and back hair fades into the color of the skin, giving a smart and sexy look.
28. High Top Fade w/ Beard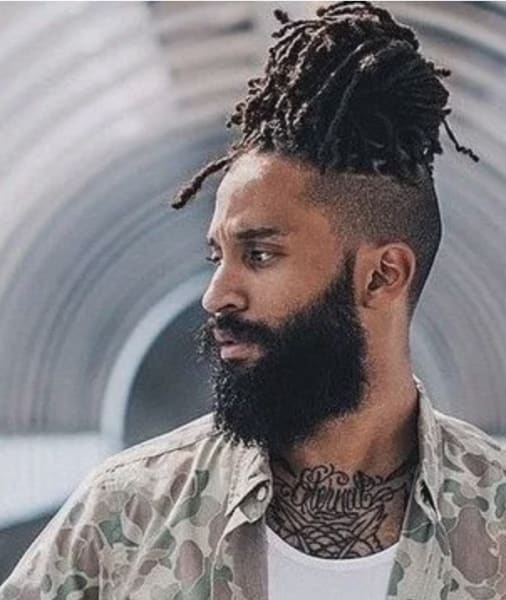 A beard makes everything look amazing and this high top fade is no exception. The high top is one of the best hairstyles to sport with a beard.
Pairing a beard with this hairstyle adds an extra level of sophistication as well as some edge to your style.
29. Natural Top Fade Haircut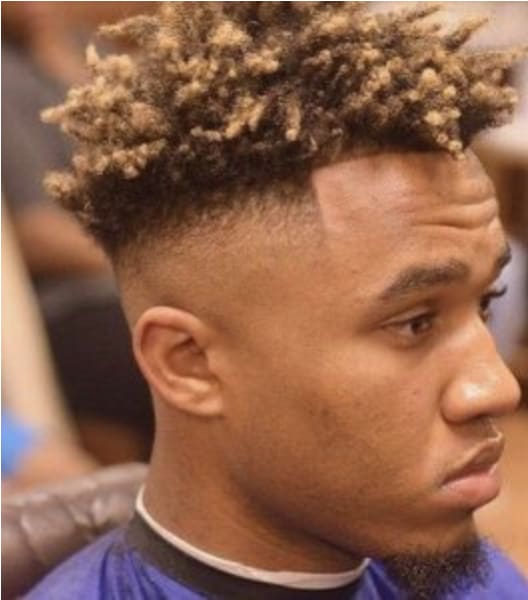 Your natural hair is perfect for top fade hairstyles. Your hair's texture provides the volume and length necessary for an awesome look when paired with faded sides. Regular cuts ensure the back is smooth and flawless.
30. Retro High Top Fade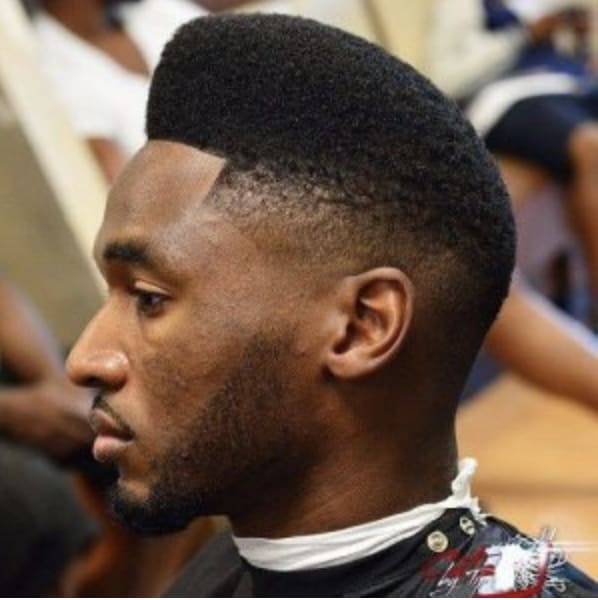 This twist on the classic pompadour look can be crafted through a retro high top fade that is lower towards the back. Shape is the centerpiece of this cut that is perfect for the dapper gentleman looking for a spin on the usual top fade hairstyle.
31. Multi-Level High Top Fade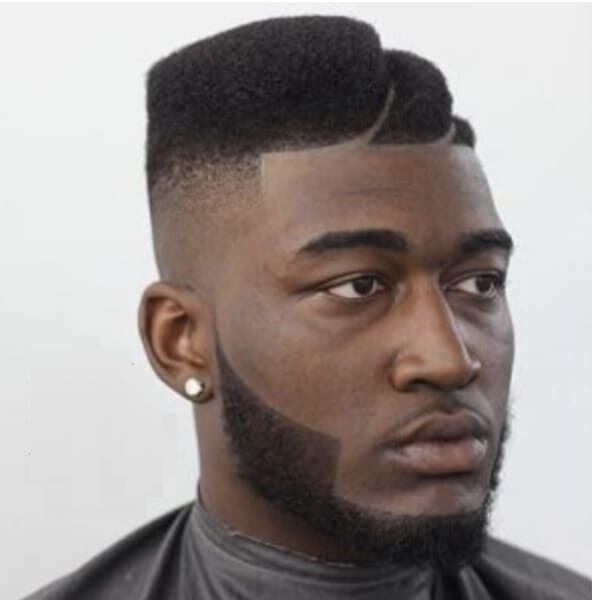 Adding levels to your high top creates depth and dimension. Craft your high top into an anangled hairstyle to create a funky, hip look. Sculpting your high top into a specific shape creates a unique asymmetric style.