Fade haircuts are extremely popular, but when it comes to the fade hairstyle category, most men prefer sleeker high fade haircut styles. A high fade is determined by where the fade line starts and how strong or fast the cut is tapered.
Some men like their high fade haircuts to be cut down to the skin for a high bald fade, while others ask their barber for a high taper fade.
Whatever style you prefer, high fade haircuts are stylish and can be combined with a short, medium, or long hairstyle on top allowing you room for both versatility and customization.
1. High Fade w/ Top Knot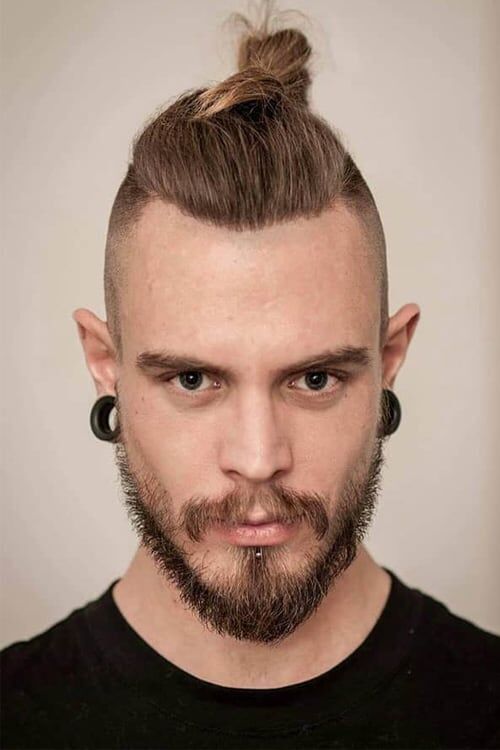 If you're a man with long hair, there are a number of ways you can style it, especially when it comes to the high fade.
The most popular hairstyle for long hair would be the top knot, as pictured here. However, there are plenty more styles such as the "man bun", "braided ponytail" or the fringe, quiff, or "the messy look", to name a few.
Bottom line, long hair can absolutely be paired with a number of high fade hairstyles. Don't be afraid to try out some new looks, especially if you got some long locks!
2. High Fade w/ Long Top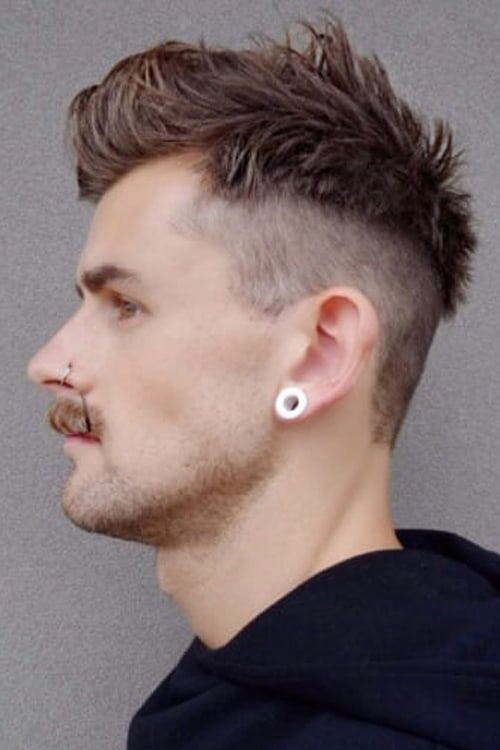 A high fade with long hair usually is kept short on the sides but has long to medium length hair on top. The thicker, longer hair on top is accentuated by the high fade cut on the sides and offers a variety of styling option.
3. High Fade w/ Short Top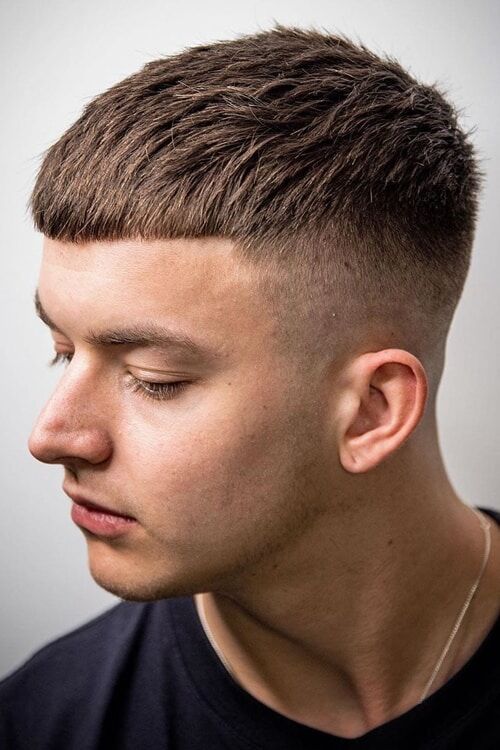 The most popular way to combine short hair on top with a high fade is the "high and tight" haircut. These types of styles are clean cut, easy to achieve, and relatively low-maintenance.
Other common variations include the traditional buzz cut or crew cut on top with faded sides.
4. High Top Fade w/ Part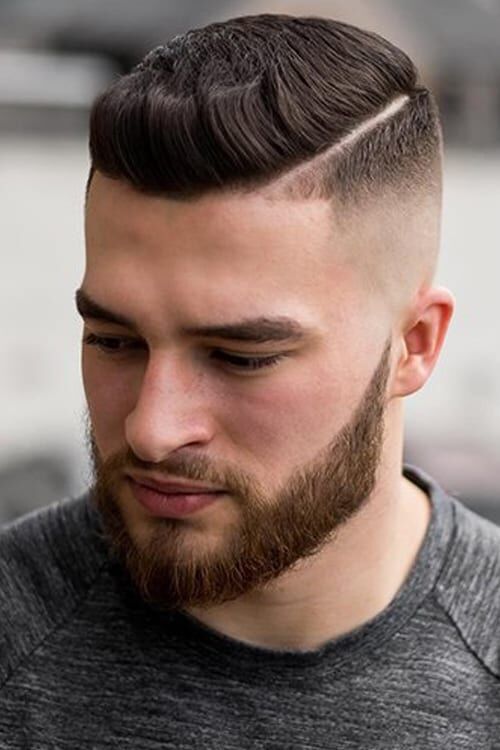 The high top fade with a part is often styled with naturally coarse, kinky or curly hair. This hairstyle is usually cut with a high skin or drop fade and is both edgy and unforgettable. It's most commonly worn by black men.
5. High Fade Comb Over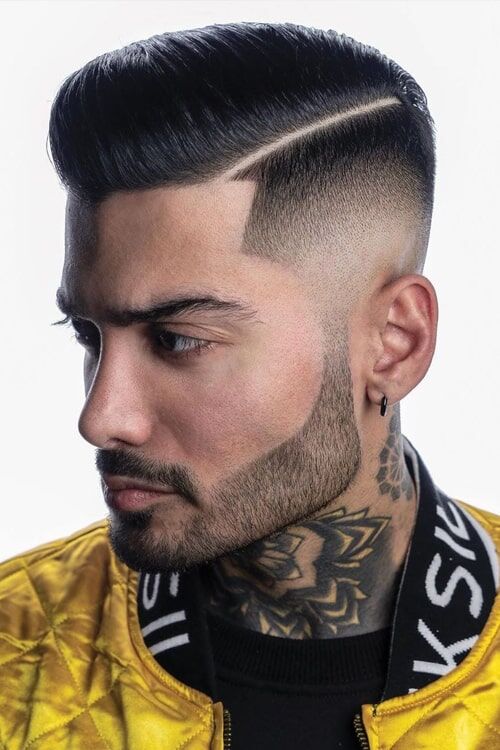 The high fade comb over is another classic cut that's been reinvented for the modern era. The traditional comb over hairstyle continues to be one of the hottest trends due to the maximum flexibility it offers.
When guys opt for a comb over fade, they can also style it with a quiff, pomp, slick back, faux hawk, spiky hair or textured brush back.
For a shiny finish, consider using a high-shine pomade. For men that prefer a matte finish, we recommend using a hair wax or hair clay such as HydroClay by Mack for Men for a more natural look.
6. High Fade w/ Side Part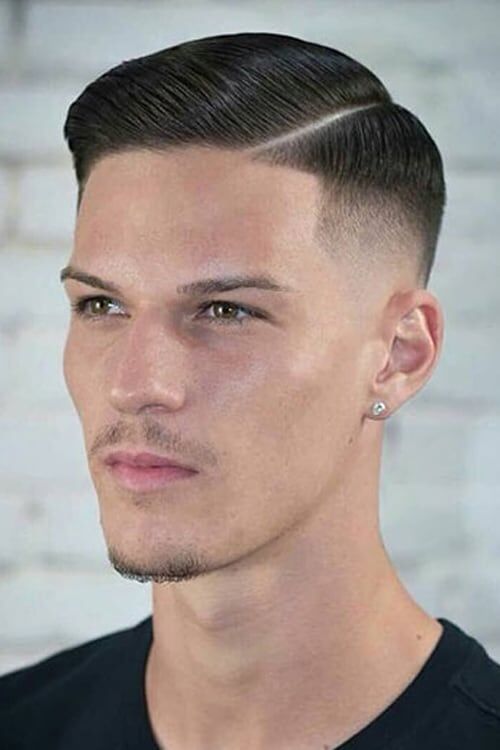 The high fade with a side part is very similar to the comb over, yet involves a more defined part. Which side you decide to part your hair on will depend on how your hair grows, but the final look is always classy.
For a more modern side part, ask your barber for a thick, shaved part to accentuate the split.
7. High Fade w/ Undercut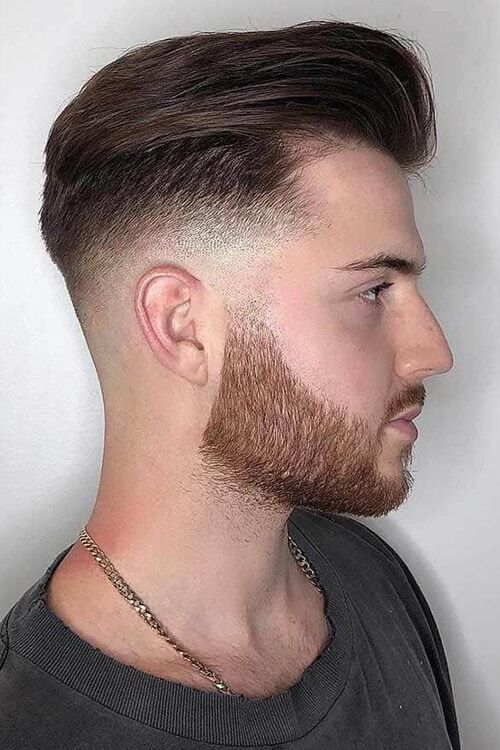 The high fade undercut is one of the coolest cuts of the year, pairing two trendy looks together. Make sure to ask your barber for a skin fade undercut to achieve the trimmed-up look, or ask for a taper fade undercut for a more gradual blend.
8. High Skin Fade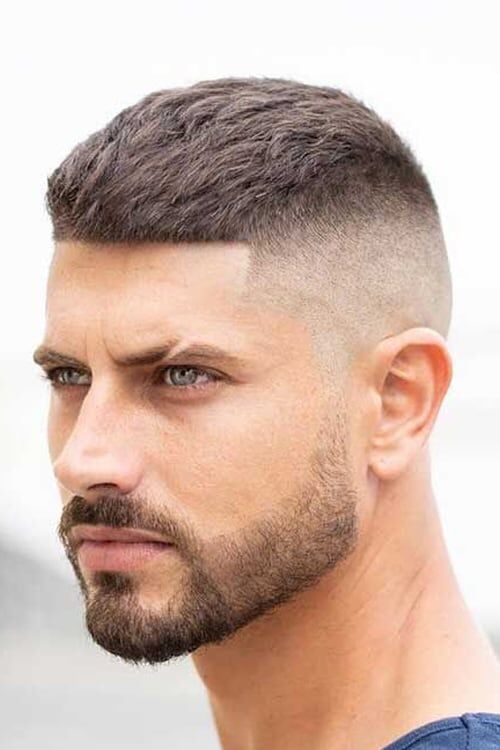 The high skin fade is the shortest way to cut the hair on your sides and back. A high bald fade haircut starts near the top of your head and quickly blends down to the skin for a very tight finish.
As you can see, this haircut offers a ton of contrast while really accentuating the hairstyle on top.
9. High Temp Fade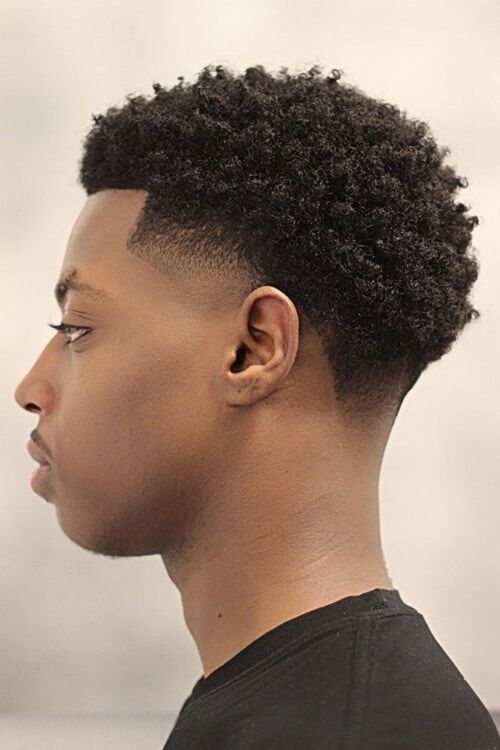 As the name indicates, the high temp fade starts around the temples and comes down the sides. Keep in mind, most temp fades usually come with a distinct, sharp line or shape around the temples, outlining the hairline for effect.
10. High Fade Pompadour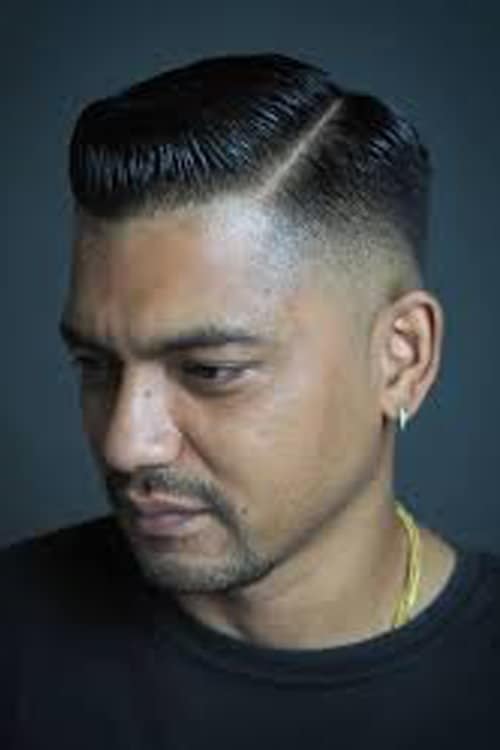 The high fade pompadour is a cool hairstyle that fuses both classic and modern together. The high fade pomp is both an edgy and stylish cut that requires buzzed sides and longer hair on top.
The long hair on top can then be styled to your liking and held together using a strong hold wax or pomade such as ShapeShifter by Mack for Men.
11. High Taper w/ Fade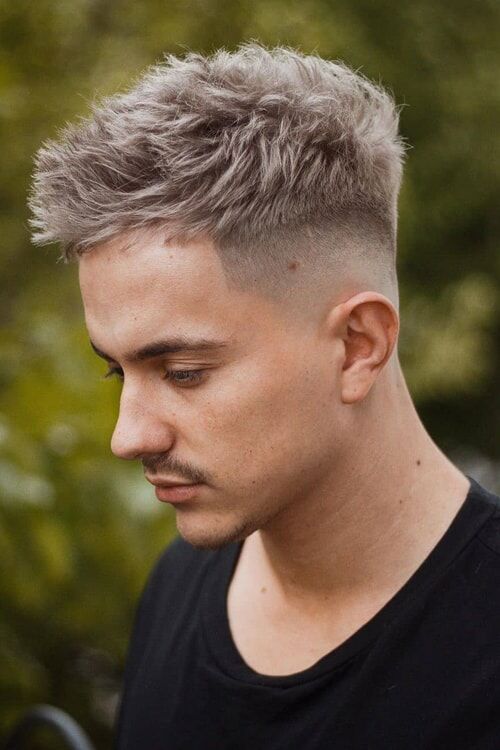 The high taper fade is a professional look that gradually gets shorter as it moves down the side of the head. Unlike a bald fade, however, a high taper fade haircut doesn't cut down to the skin.
Instead, it levels off, becoming a very short haircut. This is the unique aspect that makes high tapered hairstyles appear classy and clean for guys with all hair types.
12. Bald High Fade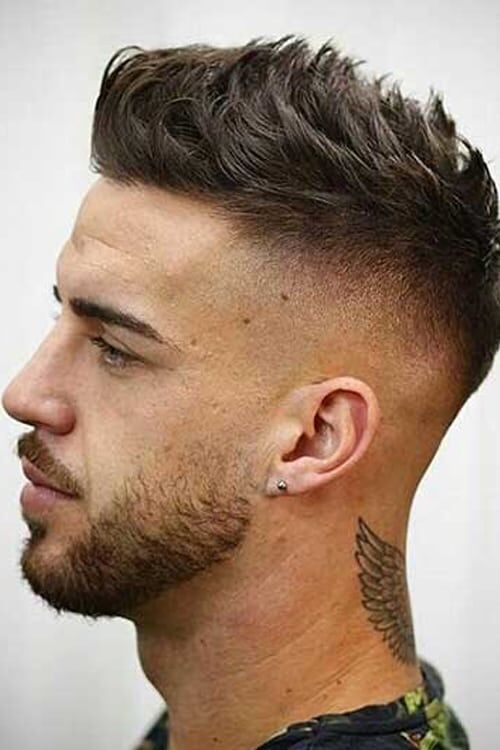 The bald fade is another name for the skin fade. Whether low or high, a bald fade haircut blends into the skin and finishes with no hair.
Often, barbers will use clippers with no guard to completely shave off the hair near the ends. Because of the sharp look, you can achieve with this hairstyle, men will often ask their stylists to fix their hairlines with a line-up or shape up, creating a super fresh fade.
13. High Fade w/ Faux Hawk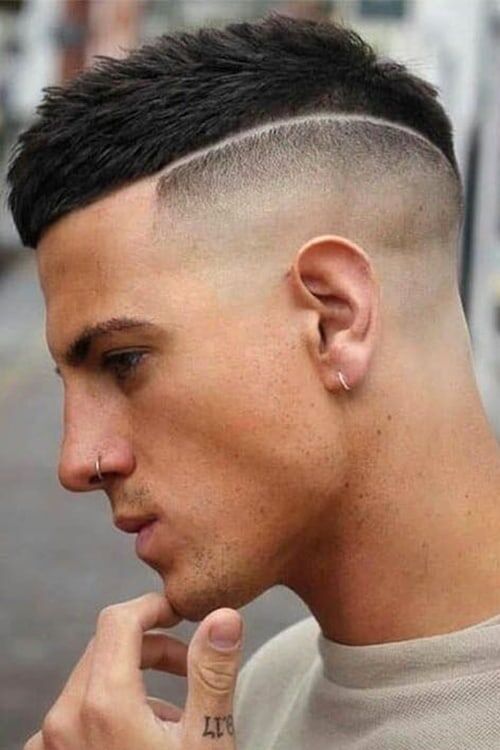 Unlike a mohawk with shaved sides, the faux hawk fade combines tapered sides with thick hair on top that is styled towards the middle of the head.
Faux hawk fade haircuts are edgy and desirable and are best styled with short, medium and long hair.
If you're excited about trying a new haircut, ask your barber about the high fade with a faux hawk or the modern faux hawk taper fade.
14. High Fade w/ Mohawk
The mohawk high fade is probably the most rebellious look on our list. Instead of the traditional shaved sides, the mohawk fade haircut tapers very high and short.
The taper mohawk can even accommodate short, long, thick, wavy, and curly hair, depending on how strong of a product you use.
For a unique and provocative cut, try opting for a mohawk and taper fade and pairing with a beard.
15. High Fade w/ Curly Top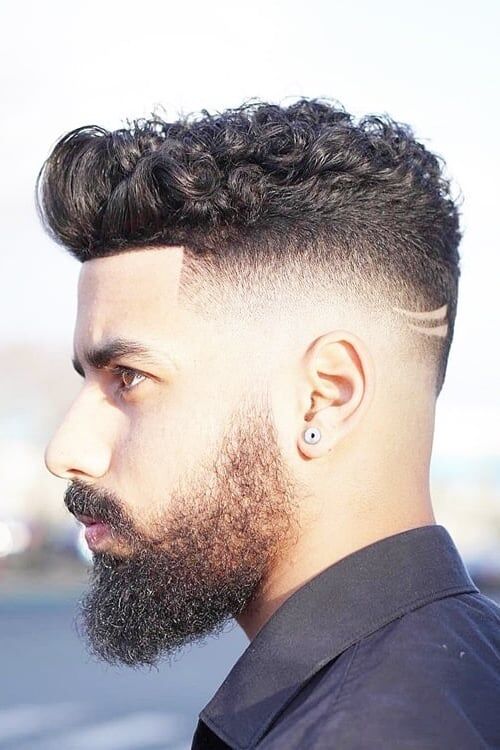 The curly hair fade is a testament to the versatility of the different types of high fades. While curls can be hard to manage, coupling curly hair with a taper fade on the sides can make styling just a little bit easier.
The most popular high fade curly hairstyles include the fringe, textured crop and messy hair.
16. High Fade w/ Quiff Style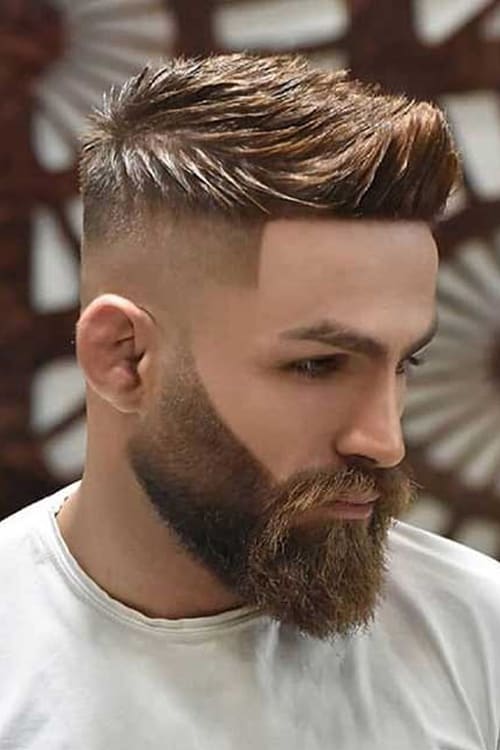 Like in the example above, high fades work well with short to medium length hairstyles. Some popular styles to consider include the high fade w/ a quiff, offering you plenty of texture to play around with while still giving you that bit of edge to your style.
17. Mid High Fade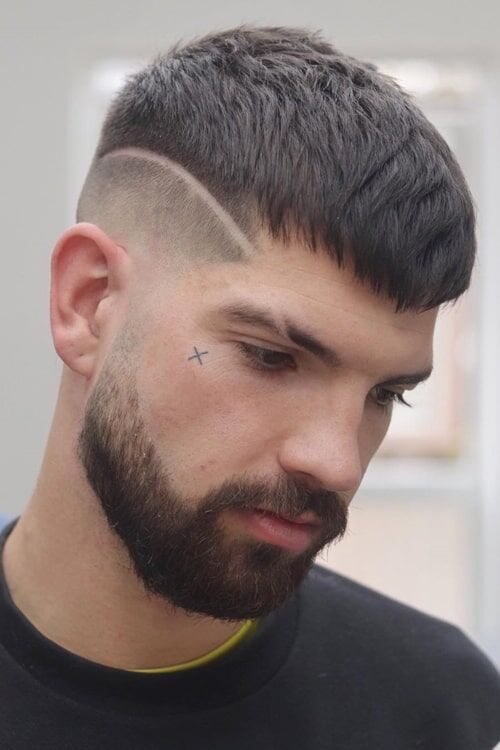 The mid-high fade, also called a medium fade, starts in the middle of the head. Your barber will begin by trimming halfway up your sides and back for a soft look.
If you aren't quite sure about the high or low fade cuts, the mid-high fade is a nice common ground haircut that provides some versatility.
Remember, medium fades work with almost all the same cuts and styles as the other types, giving you the best of both worlds.
18. Longer Hair w/ High Cut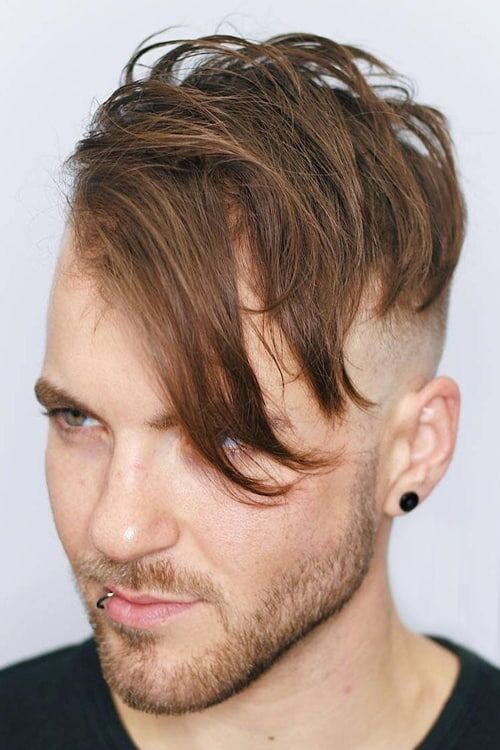 This hairstyle is most commonly worn by hipsters, however, high faded haircuts with long hair on the top are now becoming more mainstream.
It's an incredibly flattering style that helps to elongate the face and emphasize a set of chiseled, masculine features.
19. High Fade w/ Classic Cut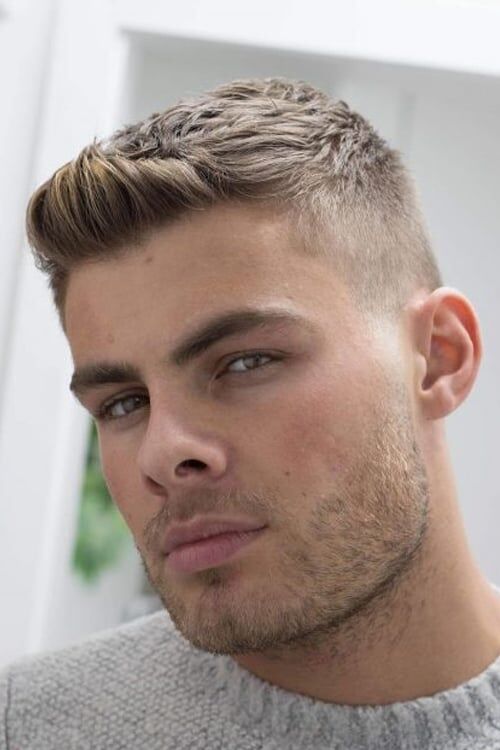 With a subtle but sexy pompadour above the forehead, this zero fade comb over cut is a true classic hairstyle paired with the high fade haircut.
Brush back the hair with a wide-toothed comb, then style by using a modest amount of your favorite holding gel or spray for extra hold.
20. Shadow Fade Haircut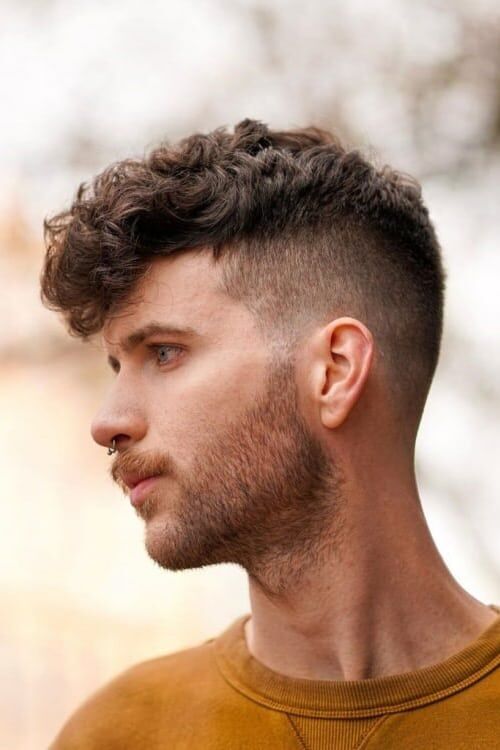 The shadow fade haircut is a softer version of the normal high fade. The main difference is its subtle nature that creates a more natural contrast between hair lengths.
You might sometimes read that this hairstyle is best suited for curly hair. This might be true, but don't be afraid to give it a try if you have naturally straight or wavy hair.
Overall, it's best for men with sensitive skin that want to skip weekly trimmers.
21. High Fade Pompadour w/ Shaved Design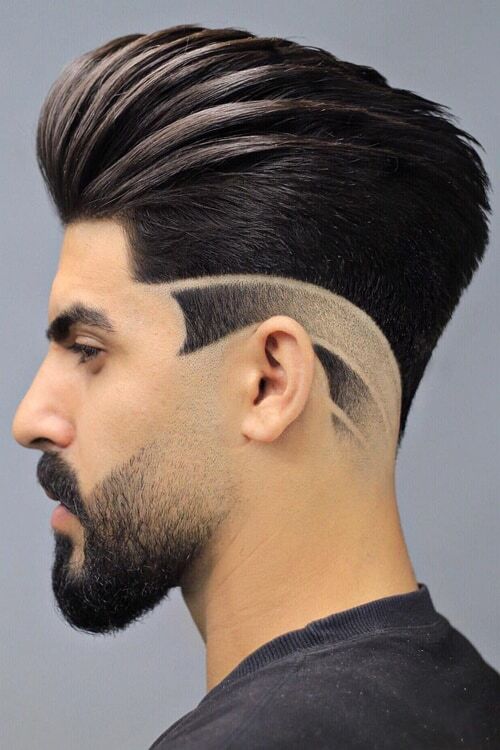 With this hairstyle, you can "shake things up"… literally. If you're looking for a fresh and completely unique high fade, try this look made for longer hair on top with a shaved design on the sides.
22. "Blurry" Skin Fade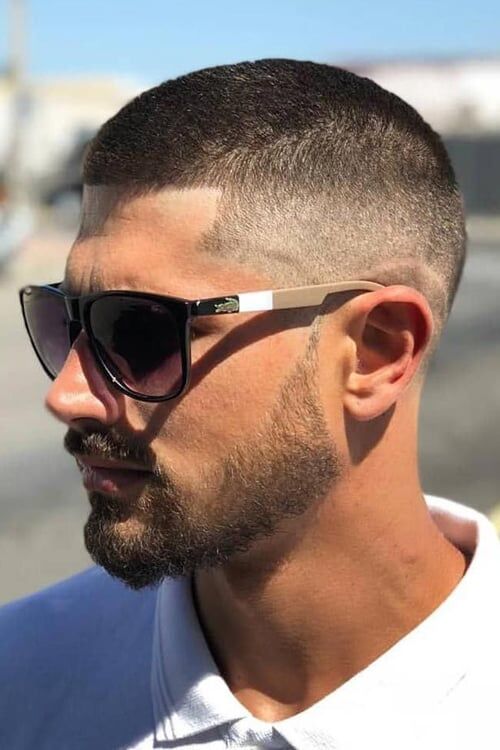 This high skin fade is the epitome of coolness, as the hair seems to move seamlessly from thick to thin with a line up of perfecting the edges.
TIP: To style, slick back your hair into a puffed-up pompadour with a texturizing pomade and spritz with hairspray if your hair doesn't hold a pouf well.
23. High Fade w/ Straight Hair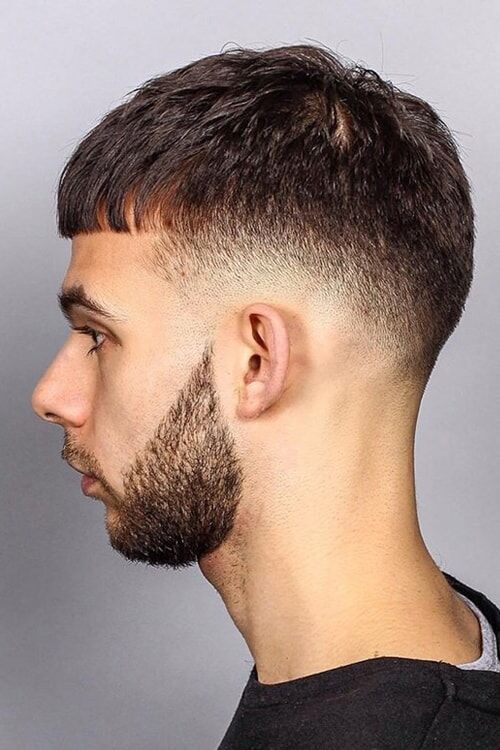 For men with otherwise boring, straight hair this high fade was designed to give you some edge and definition.
From messy textured styles to thick brush backs, to long fringes on top, the straight high fade works with a number of face shapes and lengths.
24. Clean Cut High Fade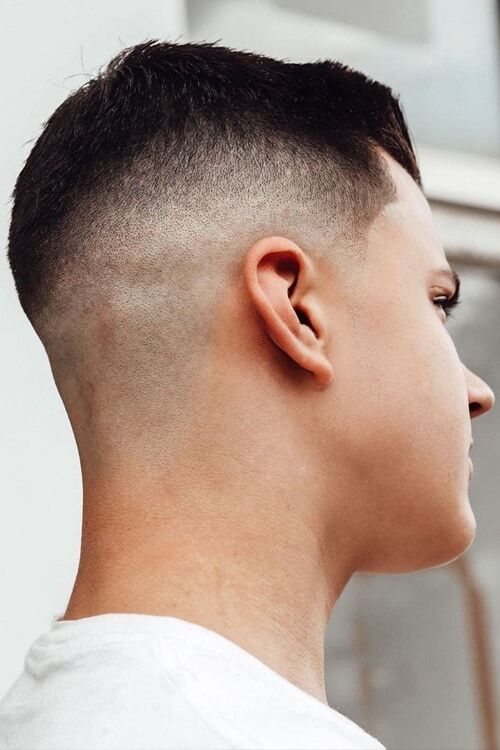 This hairstyle is ideal for a job interview or when you're about to meet the parents for the first time. The clean cut high fade projects confidence, class, and professionalism all at once.
The shaved, faded sides and clean cut look on top create a clean and tight appearance that won't steer you wrong.
25. Soft Blended High Fade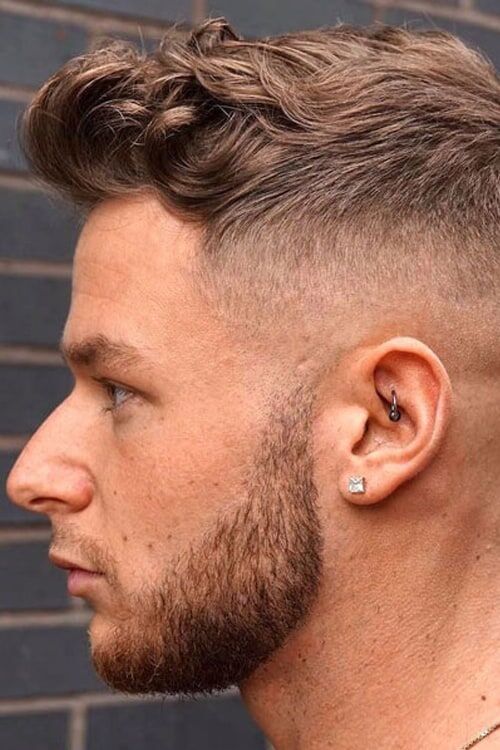 This is one of the most popular high fade hairstyles for men. The blended high fade is all about the seamless transition of hair lengths, rather than a harsh, dramatic shift in texture.
A talented barber can achieve this by using a sharp razor and a very steady hand.
26. High Fade w/ Scissor Cut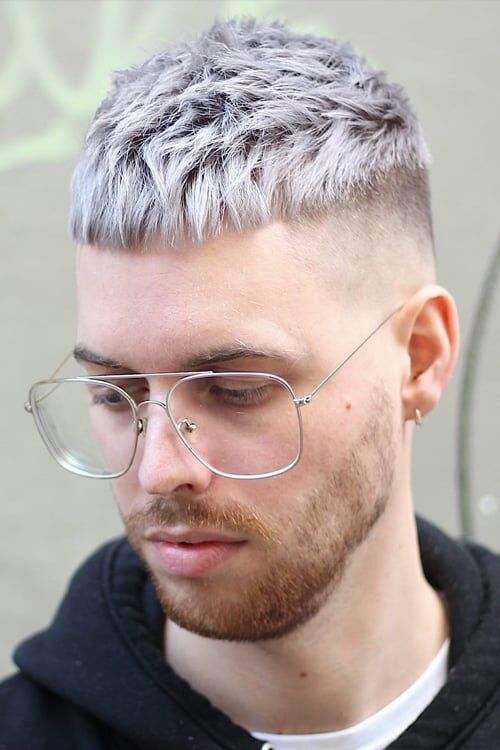 Typically, a "scissor" fade is chosen when a man wants to have their barber create a custom shaped cut. This hairstyle can be combined with any type of cut, but works best with a high fade, as pictured here.
As the name suggests, it's created using scissors, not clippers and giving you longer hair on the sides while still giving you a cut with the tapered, faded effect.
27. High Fade w/ Textured Top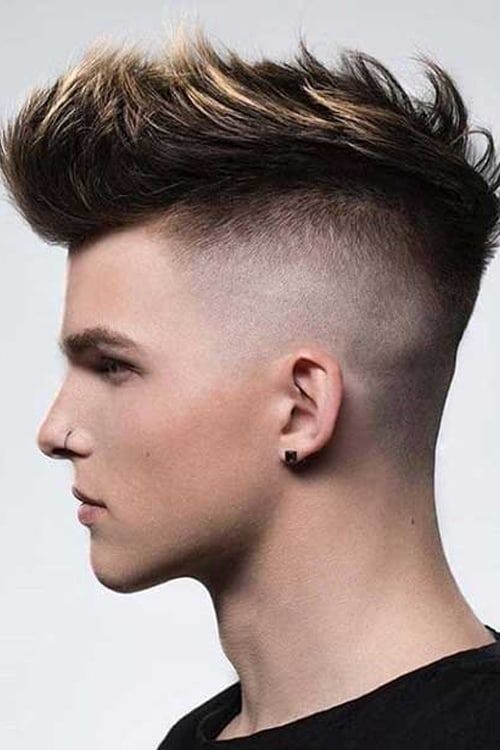 As you can see from this photo, this style accomplishes two things very well: a very professional looking skin fade cut and a long, well-groomed beard.
To finish the look, add some texture by spiking the hair on top using your favorite hair wax or hair clay.
28. High Fade Box Haircut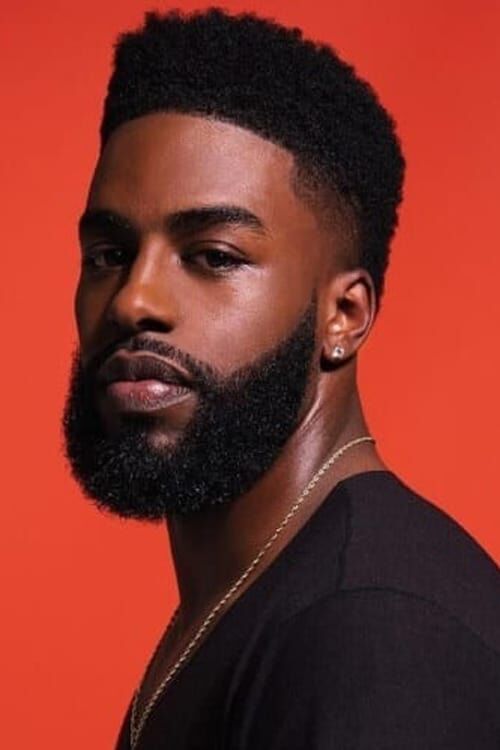 A box fade is best suited for men with very curly and kinky hair. You'll notice at first glance, it looks like a normal fade on both sides.
The top of the head, however, has a specific shape, resembling a box or a flattop that follows the natural curvature of the skull.
29. The Stylish Sharp Fade Haircut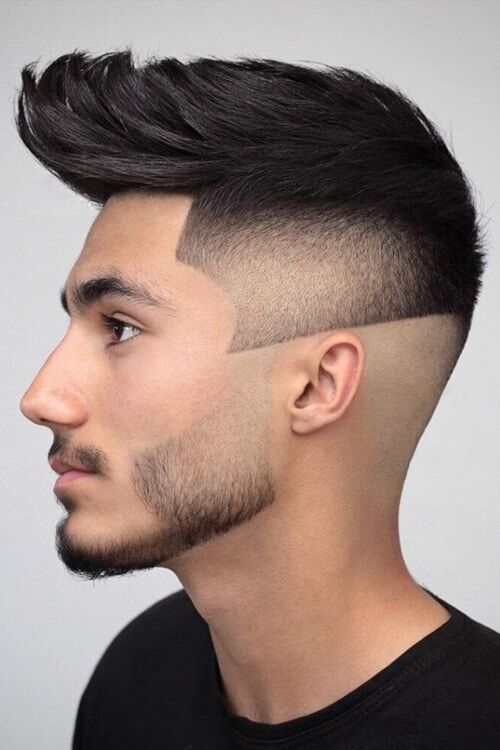 If you prefer really sharp, neat lines, this high fade with a sharp part is the hairstyle for you! With fading sides and a line up along the top section, the top can be styled into a neat pompadour for a super polished look.
To achieve this sleek effect, you made need to use a variety of hair products including a shiny hair serum and a high-quality pomade.
30. High Fade w/ Side Bangs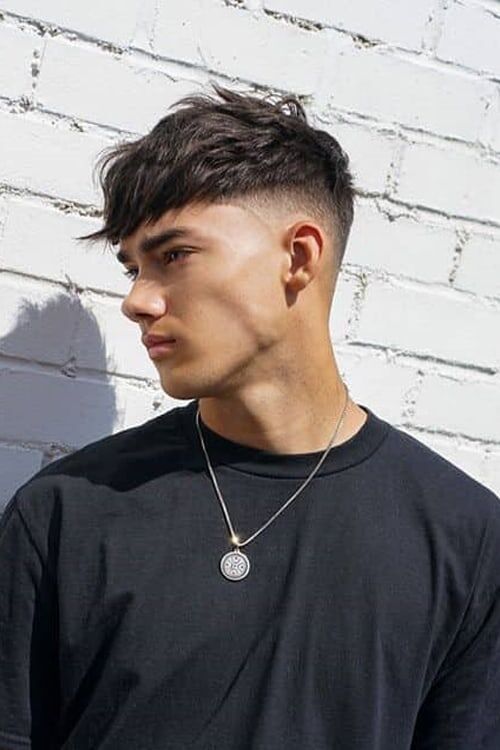 You can give your facial features a little edge by adding some stylish side bangs. This high fade cut is defined by an asymmetric line running across your forehead, with one end being significantly shorter than the other.
Additionally, the top hair, which is kept longer, is brushed to the front to add volume and texture. For this look to work, it's best to keep the sides shorter near the crown.
31. High Fade w/ Flipped Up Buzz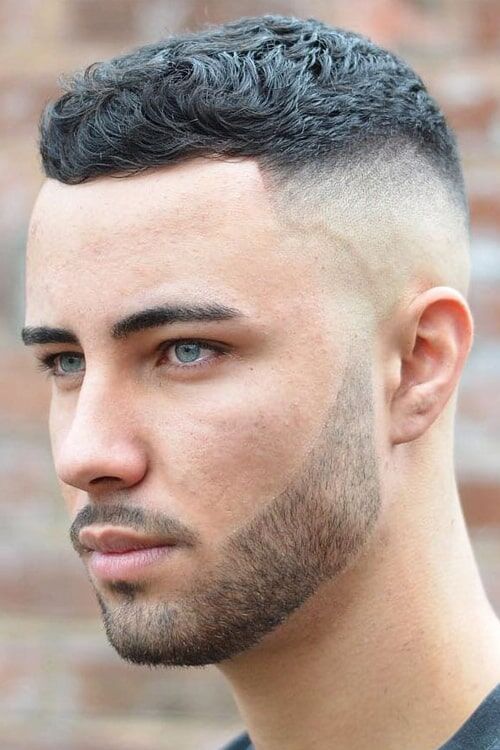 This hairstyle has a unique name, but the cut itself is something you've probably seen on a lot of men. This haircut has a forward-combed, short cut crop, with ends above the forehead that flip up.
As you can see, this addition to an otherwise "normal" high fade, adds some edge to an otherwise clean and simple cut.