When it comes to boys' haircuts, there's no reason you shouldn't get creative with your kid's hair. Color, hair designs, or trendy cuts can help them stand out at school and show off their unique personality.
The best part about boys' haircuts is that they tend to be short and easy. If you're looking for something fresh and stylish, these cool best boys' haircuts feature classic cuts, hot trends, and all-around good looks your kids will love!
1. Short + Spiky Haircut for Boys
This look never goes out of style! Short and spiky styles continue to be one of the most popular haircuts for boys today. They look great without product but a touch of gel or pomade takes it to another level, allowing you to change things up for a special occasion.
2. Textured Crop for Boys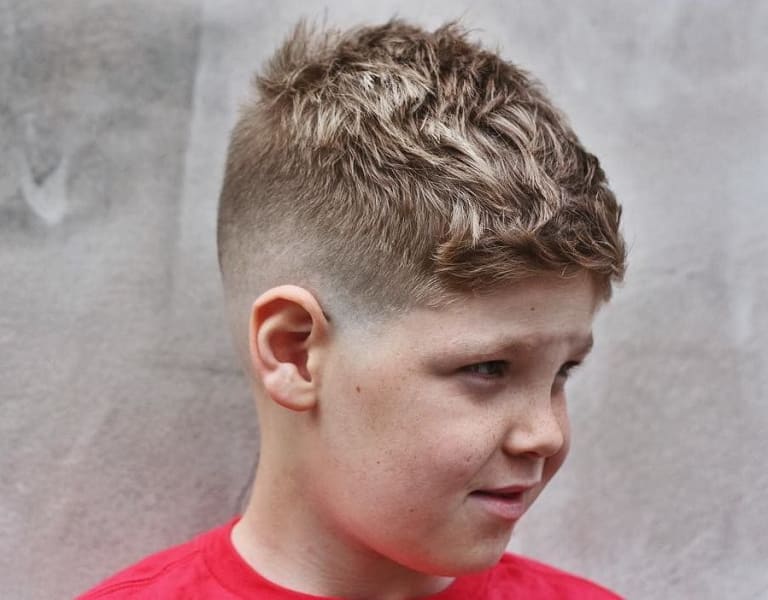 This textured crop is one of the top men's hair trends and has carried over to the younger generation, making it now one of the best haircuts for boy as wells. It also works well with every hair type and can even help tame wavy, curly and overly thick hair.
3. Spikes + Hair Design for Boys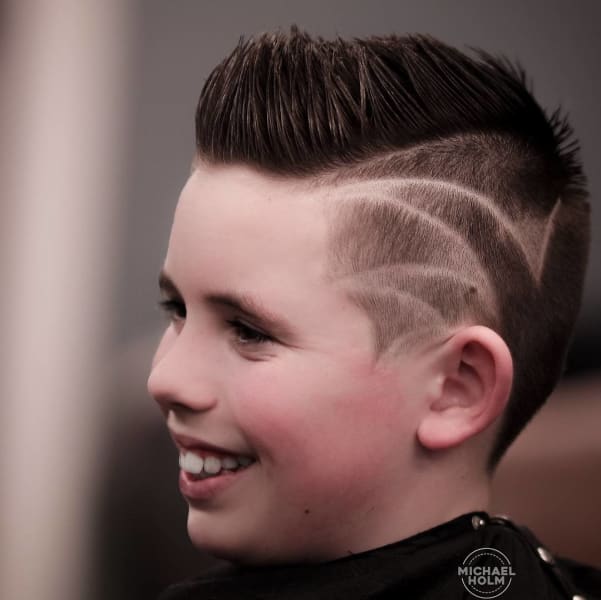 With kids hairstyles, you have the flexibility to get really creative, especially when it comes to hair designs. With this look, you'll notice the shaved sides leave a wide mohawk-style strip up top that looks cool when spiked up but doesn't even need product to look sharp!
4. Side Part Hairstyles for Boys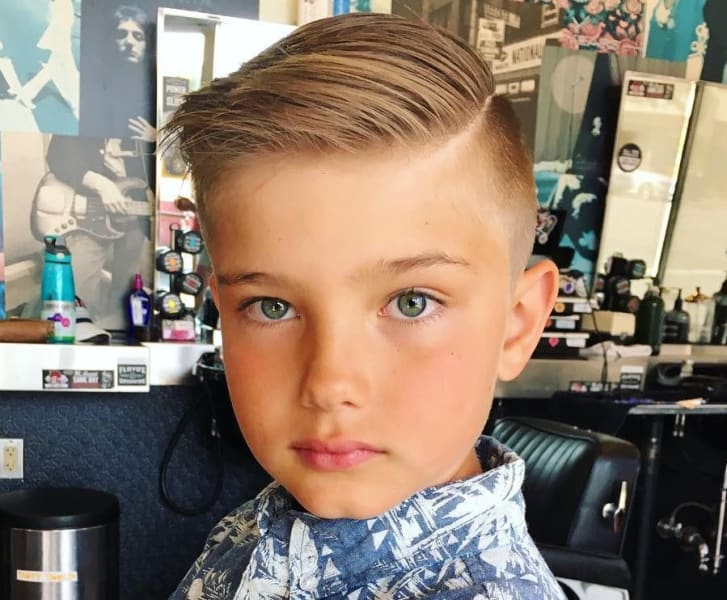 The side part hairstyle is another look that works well for kids as well as adults. With length on top and ultra short sides, it's an easy style to achieve and also makes an especially excellent choice for finer hair types. This is one of the best boys haircuts you can get your little guy. Classic and cool.
5. Line Up for Boys w/ Curly Hair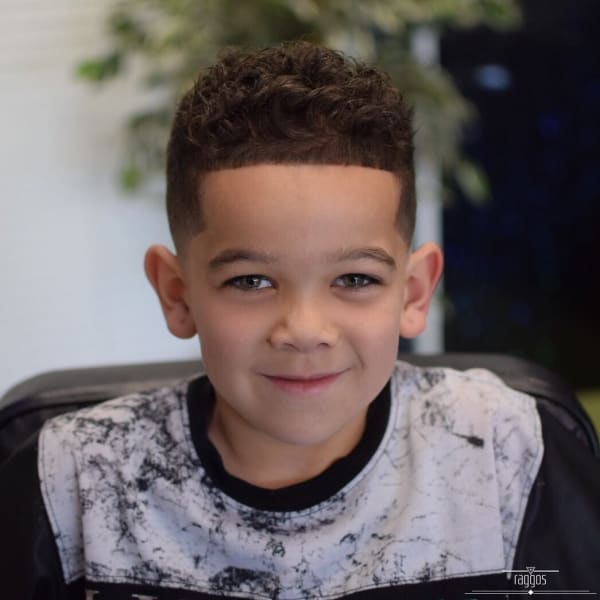 This high fade haircut with a line up shows off curly hair while keeping it cut short. To achieve this look, we recommend using a light shine, strong hold pomade like ShapeShifter by Mack for Men.
6. Buzz Fade + Edge Up
It doesn't get easier or more stylish than a buzz cut with a line up at the forehead and blurry fade all around. It's a hugely popular short hairstyle for men and kids alike and is super short maintenance.
7. Long Hair Fade for Boys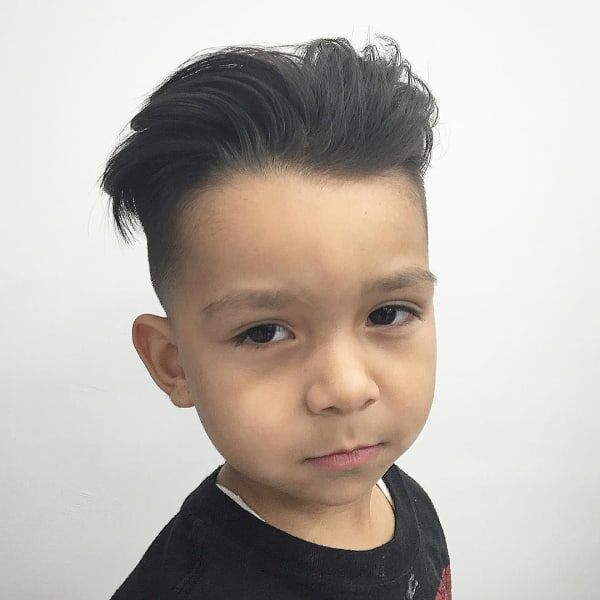 In addition to men's popular long hairstyles, longer hair on boys is a huge trend as well. This messy slick back combines the long hair on top with faded sides. You can help keep the hair out of the eyes with a touch of styling clay or by pulling hair back into a man (or "boy") bun.
8. Boys Pomp + Undercut
This stylish fellow is rocking a shaved undercut with hair coiffed into a slick pomp. This cut can also be styled into a slick back, combover, spikes or worn down.
For this hairstyle, we recommend using a high-quality hair clay like HydroClay by Mack for Men.
9. Disconnected Side Pomp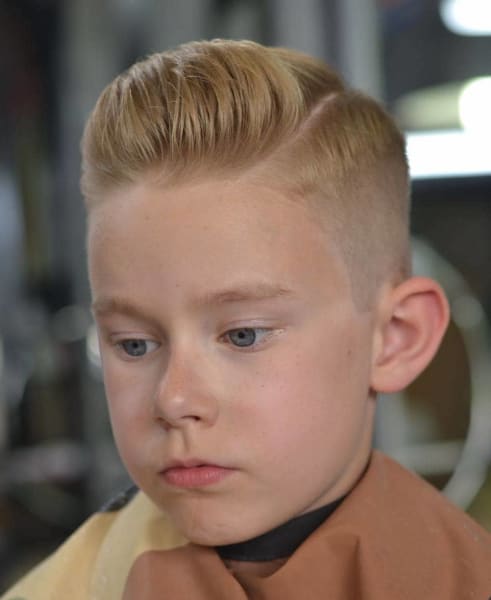 This dapper hairstyle is an excellent choice for boys who are going for a more formal look. We like how well this hairstyle works with bright hair colors.
10. Buzz Cut Taper Fade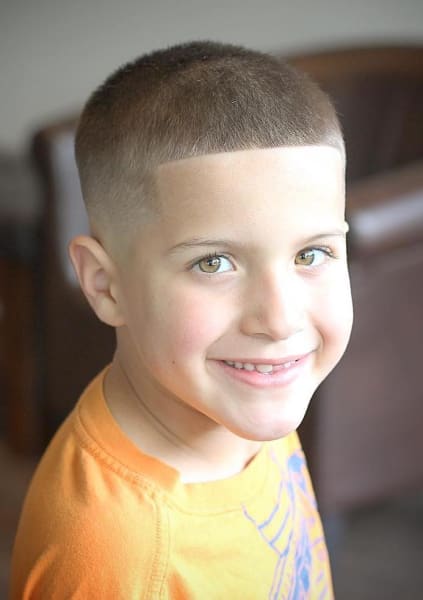 This buzz cut is simple and easy to maintain and especially ideal for active youngsters. The slight taper on the side is a nice touch that changes things up just a little, to give your little rascal some edge to his cut.
11. French Crop w/ Skin Fade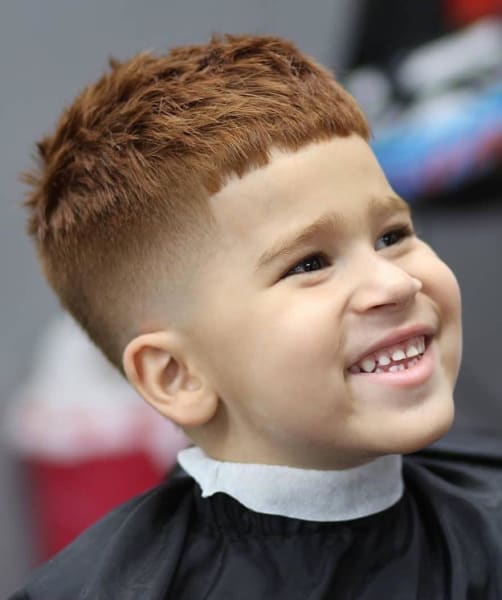 If your little one is after a more unique haircut, this French crop is definitely the cut to consider. It's straightforward and a little different, making it the best of both worlds.
12. Layered Mohawk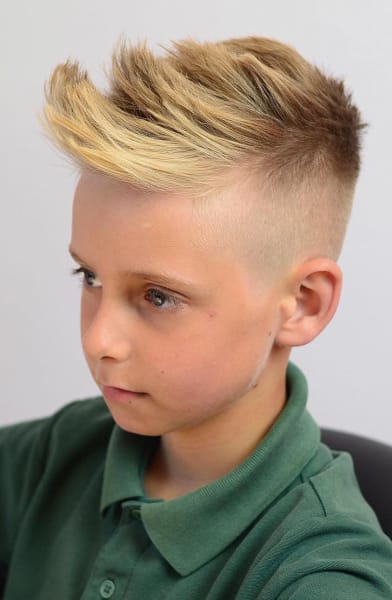 Best for slightly older boys around the middle school age, this hairstyle will stand out in a room. It's a short mohawk that's very dramatic and attention-grabbing and relatively easy to style with a high-quality hair product.
13. Tapered Shaved Sides + Brushed Up Top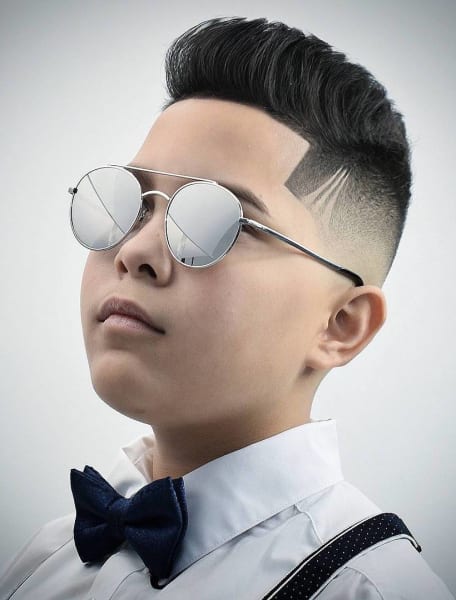 Wise (and cool) beyond his years… For a really suave look, consider this classy brushed up hairstyle for your little heartbreaker. It features a shaved design on the side that adds a bit of edge while still appearing like a little gentleman.
14. Textured Angular Fringe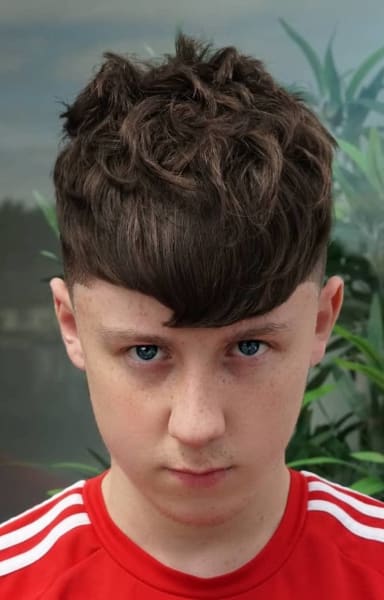 Inspired by popular athletic hairstyles, this heavily textured cut belongs in its own category. The contrast of the fringe and the messy top is interesting and stylish and perfect for a young boy who wants to roll out of bed without having to spend a long time in front of the mirror every morning. Just ruffle in a bit of pomade for that natural "messy" look and you're good to go!
15. Boys Brushed Up Skin Fade
This is a fun hairstyle that's great for boys who want a very casual and playful look. Transform traditional spikes into a brushed up hairstyle that stands straight up for an eye-catching appearance.
16. Long Side-Swept Hairstyle for Teen Boys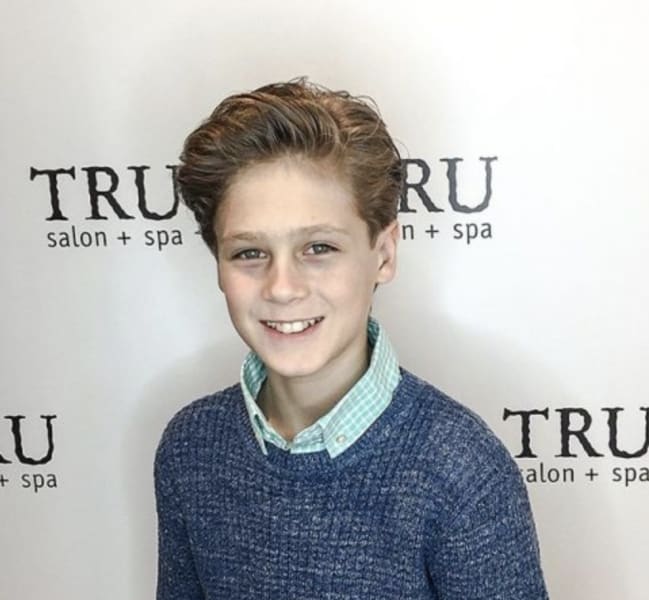 This is a classic style for teen tikes with longer hair who want a cool style that's easy to sweep to the side. To style, add a small amount of hair wax or gel to keep it out of the face, creating a charming and neat look.
17. Twice Disconnected Slick Back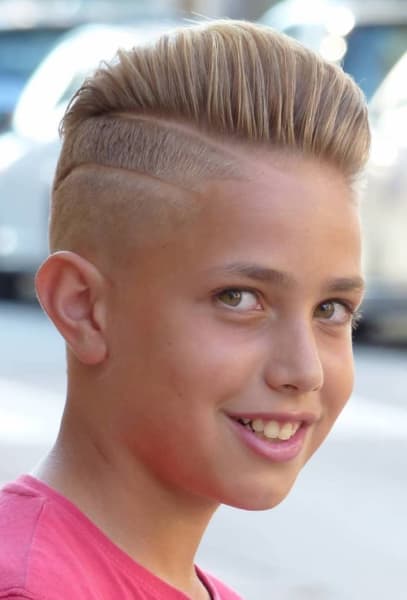 Here's a very slick hairstyle that features brushed up hair and two shaved lines (or surgical lines) on the side. This is a bold, trendy look popular amongst boys in middle school and is certainly ideal for a more preppy style.
18. Layered Side w/ Brush Up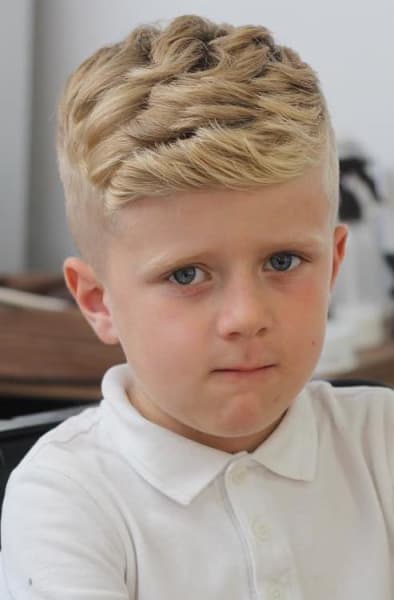 This layered haircut creates a nice wavy motion in the hair, ideal for naturally curly or wavy hair types. This is another cut that can easily accompany a highly active lifestyle, and it suits boys of any age.
19. Textured French Crop w/ Disconnect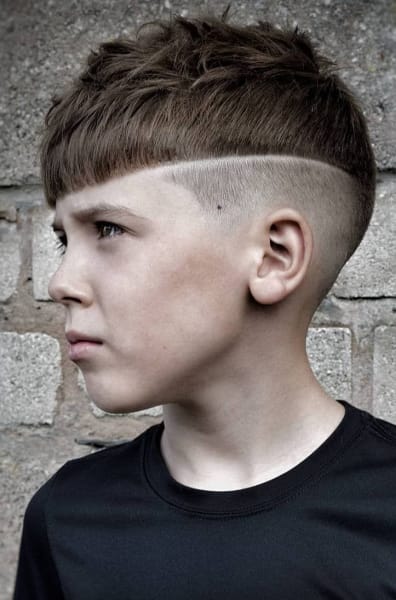 Here is an incredibly trendy hairstyle that will easily set you apart. The sharp disconnected (or surgical) line and messy top are distinctive and stylish. If your little one is trying to look a bit older these days, this "mature" hairstyle is a great choice.
20. Boys Mohawk w/ Disconnect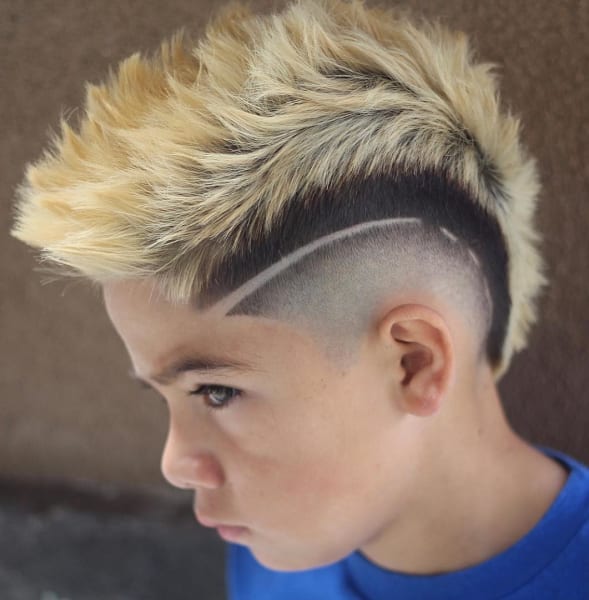 This disconnected mohawk is easily one of the most extreme hairstyles on this list, but it's an undeniably eye-catching look. As you can see, the dyed tips really add some extra definition and help to contrast the disconnected sides even more.
21. Designer Afro Hair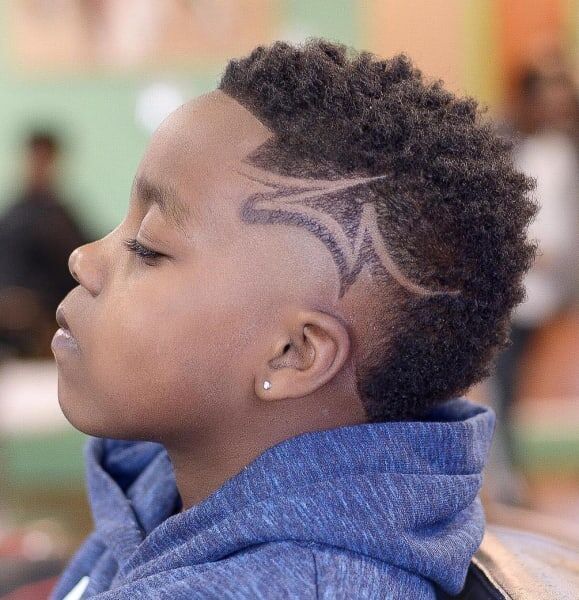 Inspired by athletes and urban style, this shaved design helps to accentuate the small "kids" afro. If desired, the hair on the top can be grown out a bit.
22. Boys Ivy League w/ Hard Part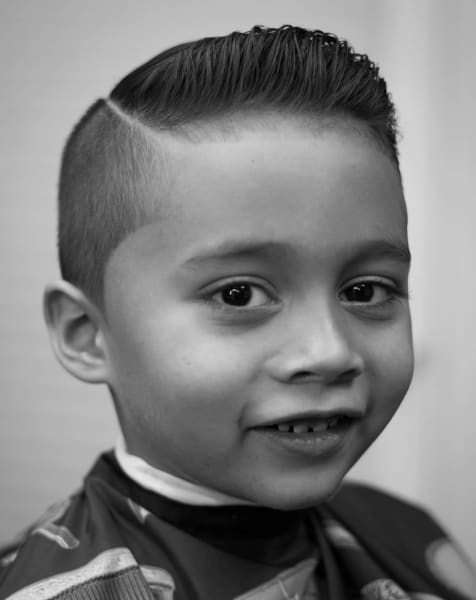 The Ivy League is a classic haircut that has always been popular among young boys' haircuts. This variation adds a hard part for extra style points.
23. Boys Side Quiff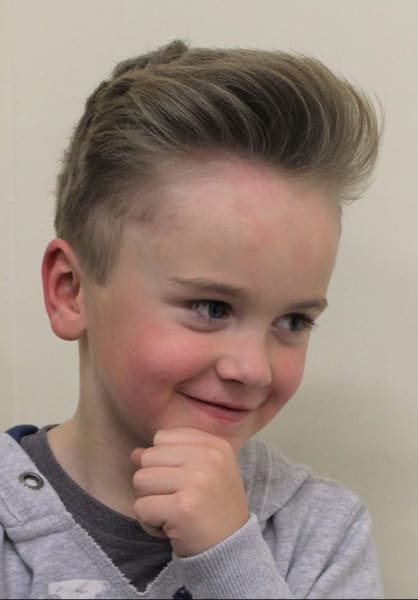 This side quiff is a good option for all hair types, ideal for boys who want to be a little stylish but don't want anything too extreme. If your child wants style but also wants to play it safe, this is the hairstyle to go with!
24. "Back to School" Scissor Cut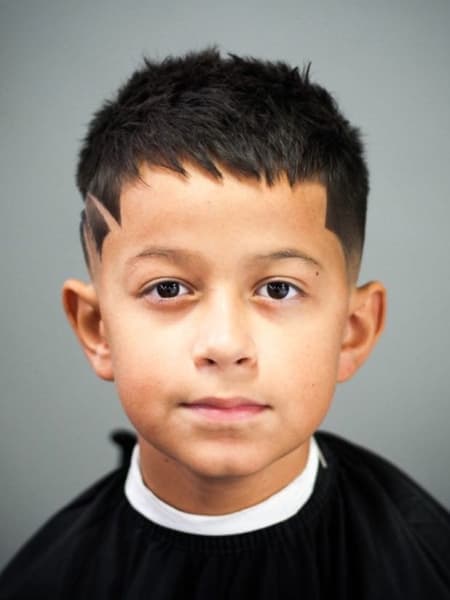 This scissor cut is traditional on top and trendy on the sides. The disconnected line up on the left adds an asymmetrical twist that makes this style stand out.
25. Thin Shaved Hairline w/ Casual Top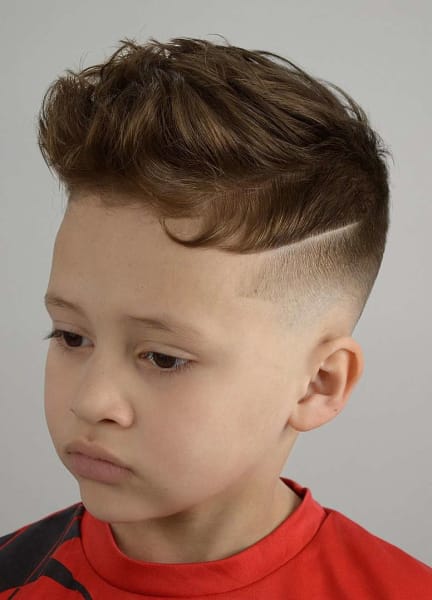 This trendy haircut has a lot going on, although it's relatively easy to achieve. With a slight hard part, a messy top, and a subtly asymmetrical fringe, this is a fashionable yet casual haircut.
26. Dyed Burst Fade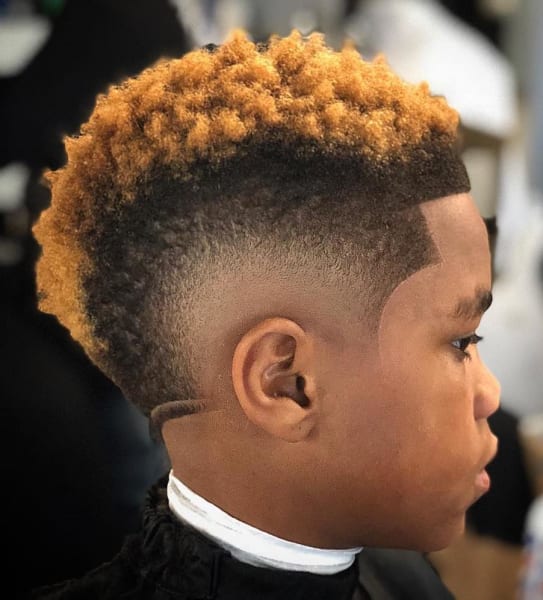 For curlier or coiled hair, you can opt for a burst fade to help manage the hair's natural texture while still preserving its character. As you'll notice, the bleached tips really add some extra edge to this already classic-cool look.
27. Comb Over w/ Hard Part
Retro-inspired haircuts have always been popular for boys of any age. This suave comb-over is a simple, low maintenance cut that's easy to achieve and style with a good high-quality pomade.
28. Dapper Side Part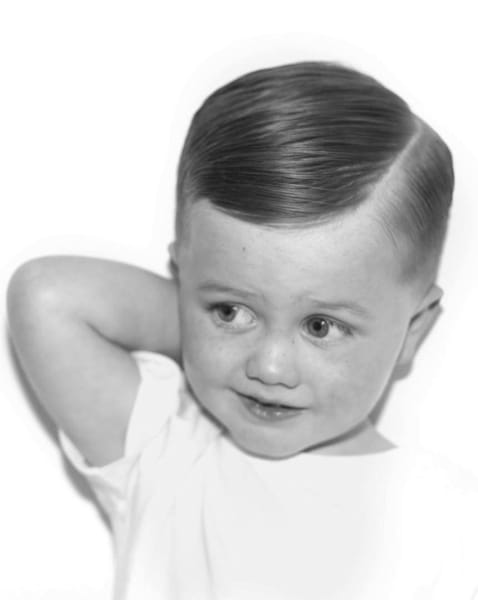 When it comes to more classic youngsters, this is the style to choose. This retro style works great for boys with thinner hair that will lay down flat. It can also be done with wavier hair in a more textured fashion. To style, wet the hair and part at the side while using a gel or mousse with a strong hold.
29. Boys "Long + Layered"
This look is best for boys with extremely curly or thick hair. When cutting this style, use a razor blade to cut the lengths rather than scissors. This will add a lot of texture all around. To style, use a light mousse to arrange wet hair in the desired areas and blow dry for a smoother look.
30. Boys Faux Hawk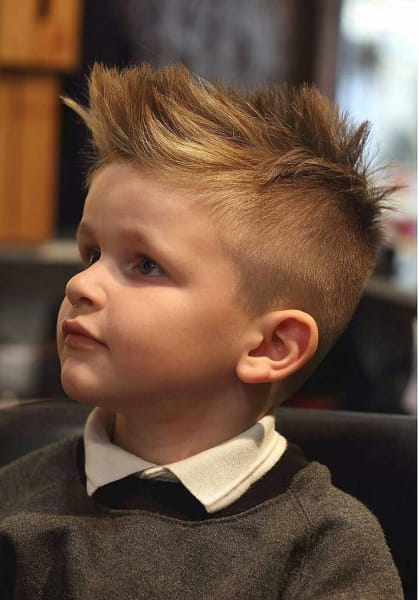 To get this edgy look for your little rockstar, ask your barber to use clippers to cut the shorter lengths higher on the head. Then, have them use scissors to cut the longer portion, using small amounts of the layered cutting technique in order to add some texture. To complete the look, style with gel by molding the hair up into a point or let it hang free for a casual rocker appearance.
31. Modern Pomp w/ Line Up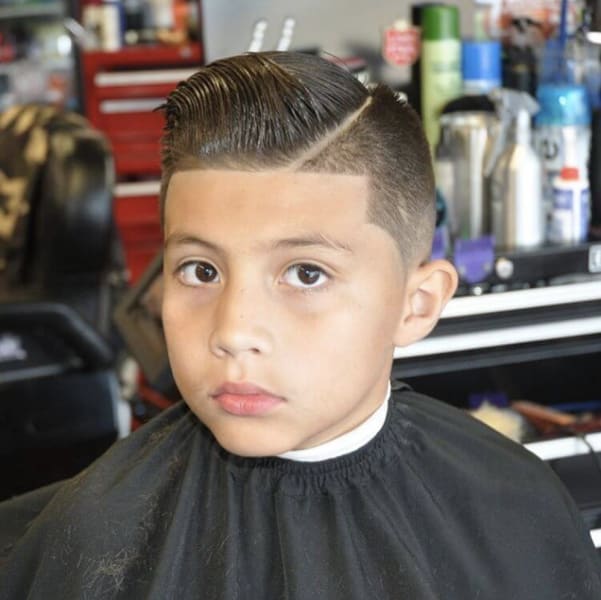 A vintage look with a modern twist. The hard part further enhances the sharp lines. When paired with the signature pomp, you get a "neat and clean" look with some extra edge. The best way to style this look is with a high-quality pomade.
32. Retro High Top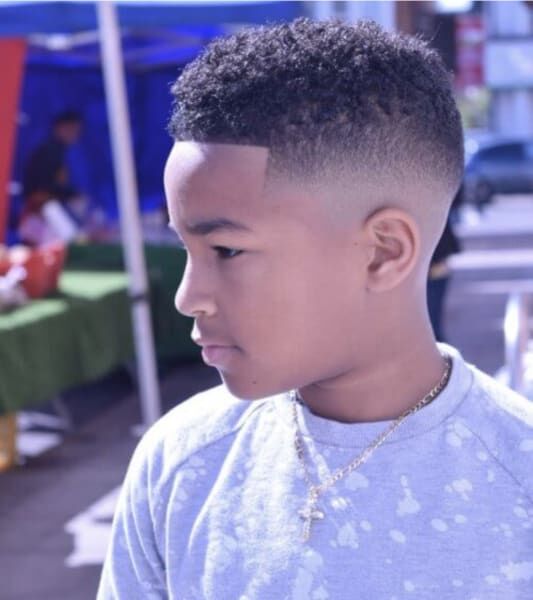 This high top or "retro top" is best executed using an afro comb and sheen spray to give it a natural shine. You might want to ask your barber to blow-dry the hair before cutting it. If you prefer a slightly "rougher" look. For a softer look, try using a curl sponge or some advanced sculpting gel.
33. "Baby Quiff" w/ Side Design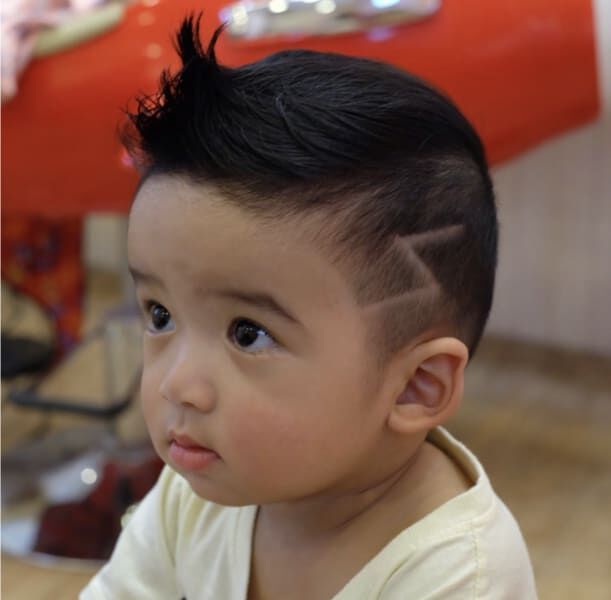 How adorable is this look? The edgy design and flip bangs add a statement to this young toddler's haircut. The classic quiff, specially styled for baby boys can make your son stand out in the crowd. The design is of course, customizable allowing you to be creative with your little tot's style.