When it comes to Asian hairstyles for men, you might realize that many of them are unique and express some inventive and adventurous trends.
Asian men hairstyles sport everything from conservative and conventional to crazy and out-of-the-box.
One thing is for certain, our list has all the best Asian hairstyles for men that are currently trending.
1. The Undercut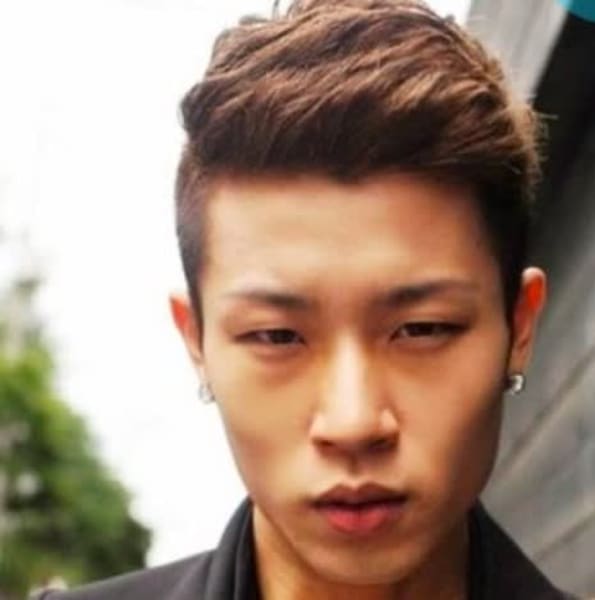 For men looking for a hairstyle that's simple and easy to maintain, you can't go wrong with the undercut.
If you're someone who's super into work or school and likes their hairstyle to reflect their lifestyle, this is the perfect haircut to show off your personality.
2. The Mohawk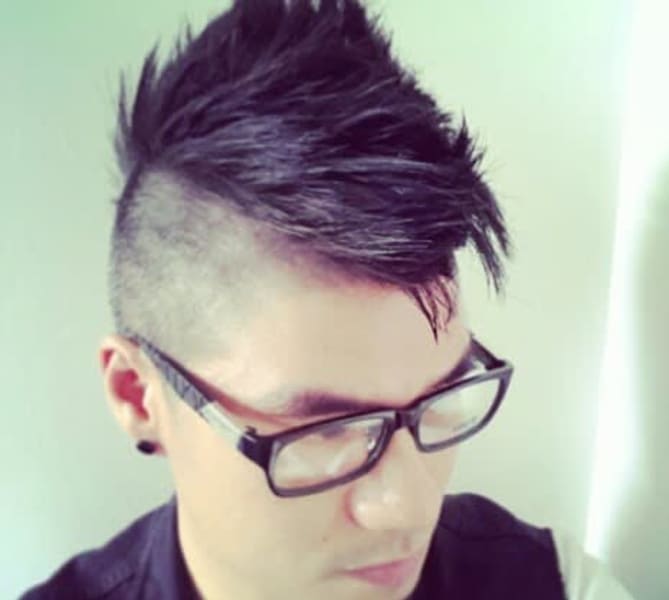 For anyone bold enough, a mohawk is always a great option. This hairstyle has become particularly trendy among Asian men, especially for those who have thick hair, strong enough to stand up on its own in a mohawk.
3. The Chop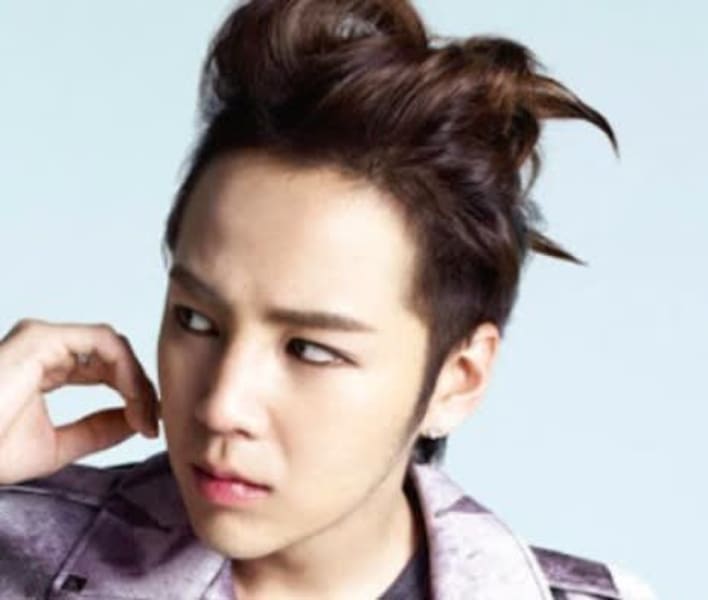 This chopped hairstyle is definitely more on the fashion-forward side. It's a great choice for someone looking to make a statement.
With this style, the thick, chopped layers can be formed into shape using a strong hold hair clay.
4. The "Mushroom Top"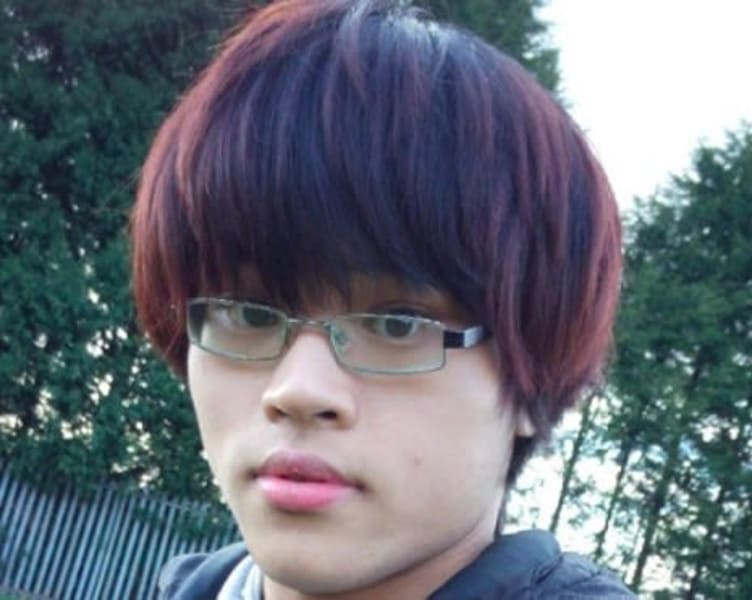 As previously disclosed, please don't be intimidated by some of these more extravagant haircuts.
This look is considered on the cutting edge of fashion. It gives off a rather youthful appearance and looks best with the addition of color.
This is definitely a hairstyle for those creative types.
5. The "Tact and Texture" Hairstyle
If you're one of the many men out there who's still unsure what you're looking for, this hairstyle is a pretty safe bet.
It's not too long and not too short. It adds a great amount of texture and volume to the hair and is a great haircut for those looking to play it safe and not take too many chances.
6. Platinum Blonde Hairstyle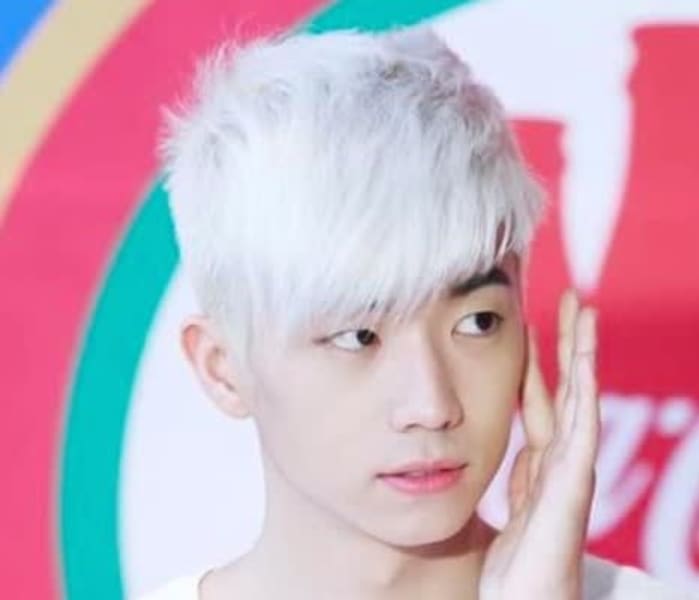 Okay, we have to admit, this is obviously more of a color than a cut, but by taking your natural dark hair and dying it platinum blonde, you will absolutely make a statement.
You're probably already aware how popular this hairstyle has gotten in the last few years.
The sharp contrast between the natural dark eyebrows and the platinum bangs will definitely stand out from the crowd.
7. The Pompadour
Contrary to what you might think, Asian hair is actually perfectly well suited to pull off the classic pompadour.
Asian men tend to have thick hair that is fairly easy to stand up, making this hairstyle a pretty ideal option.
We recommend using a pomade like ShapeShifter by Mack for Men.
8. The "Asian Braids" Hairstyle
This isn't the most traditional haircut for Asian men. Obviously, to pull off this look, you need long, thick hair, which isn't usually a problem for Asian men.
Once the hair is in the braids, it looks casual and becomes easy to manage, making it something worth considering. It's also incredibly unique and can even be seen as classy at a special event.
9. "Let it Flow" Hairstyle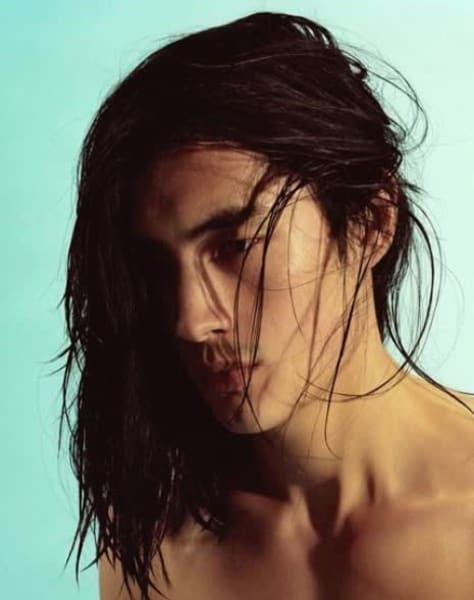 Many Asian men like to let their hair down. There's obviously no secret to this haircut; it's just a matter of letting it grow and keeping it clean.
If you can do that, odds are you'll have a nice look that works for you. It might seem a little too "all natural" for some but make no mistake… this hairstyle is SEXY.
10. Short Curls Hairstyle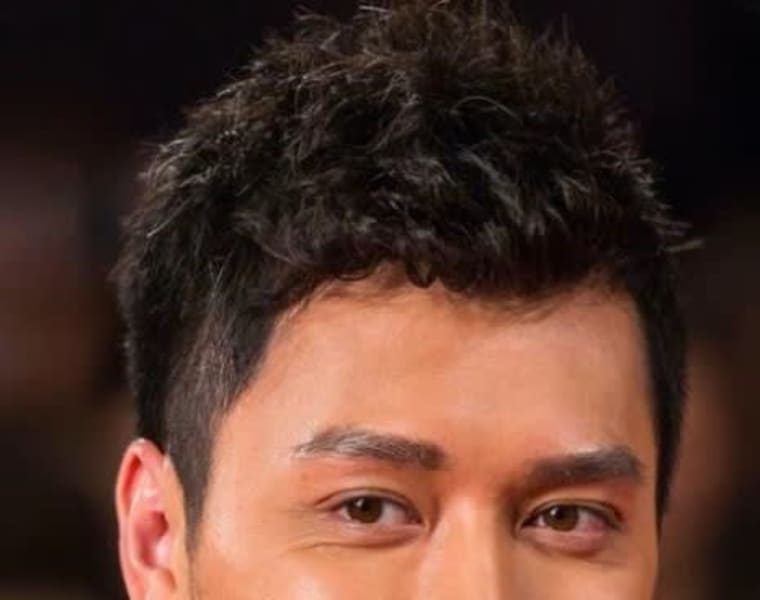 This hairstyle offers a youthful appearance and works best for Asian men whose hair isn't super long or thick.
To stay this hair is curly may not be the best wording, but it's definitely not straight, nor is it spiked. With the sides cut short, this haircut looks like a nest of curls on top of the head.
11. Sideswipe Hairstyle
This is definitely a more casual haircut for the younger crowd, but it's still possible to make it look stylish for even older men.
The best part about this hairstyle is that it's fairly easy to manage.
All you have to do is use a normal amount of your favorite styling product such as a hair pomade like ShapeShifter by Mack for Men and run your hand through it to make sure it stays swiped to one side.
12. Long Layers Hairstyle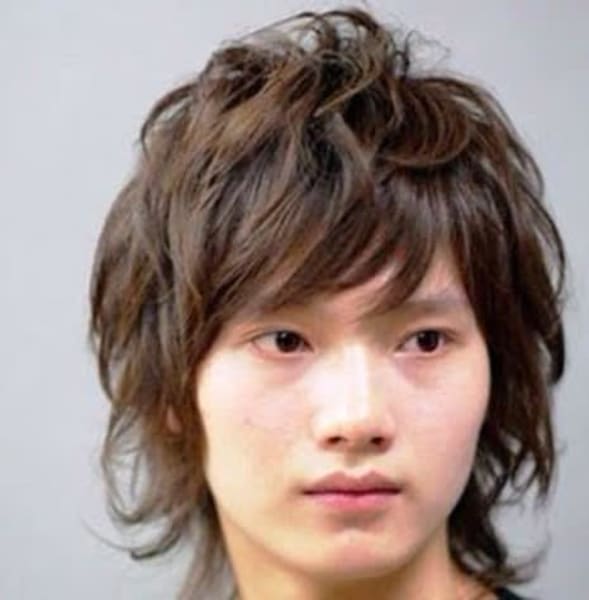 This is another good option for Asian men with long and thick hair.
If you're fortunate enough to have this type of hair, you're probably already aware it can be pretty difficult to manage, but on the plus side, you can also rock a haircut like this.
13. The Man Bun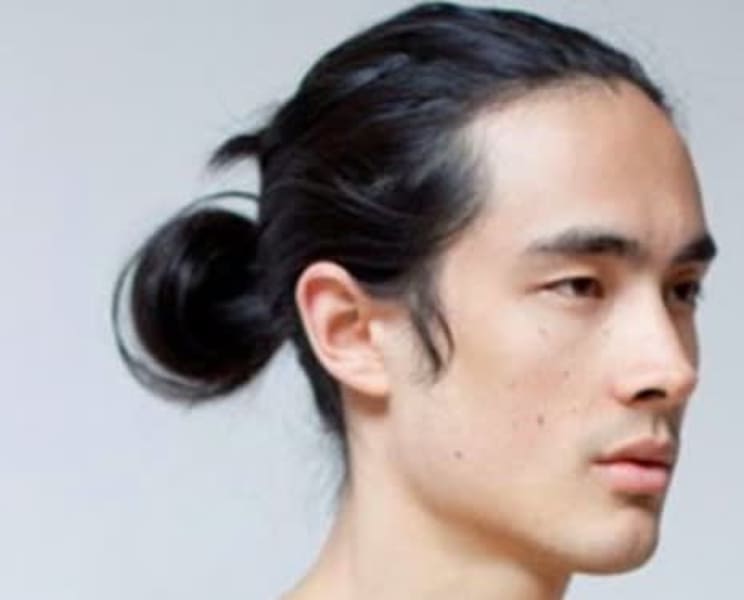 Admittedly, man buns aren't the most common haircut among Asian men, but some people can make it work.
Obviously, you first need to grow it long in the back, but once that tedious process is done, you can try changing things up by throwing those long locks into a bun.
Ready for the carefree "I woke up like this", easy to manage hairstyle? This is it!
14. Crown in Front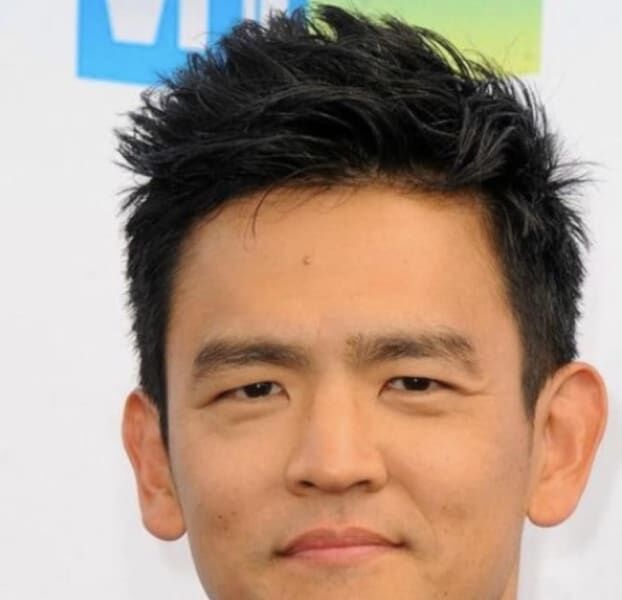 If you've got hair that is long and thick enough, this hairstyle is your best option. By keeping everything short in the back and on the sides but brushing everything up in the front, you create a sexy, hairstyle with plenty of volume.
Essentially, with this look, you show off your nice sized crown on the top of your head, which helps to signify that you are a powerful figure. Even if that's not true, it's still nice to have a haircut that conveys power, right?
In other words… this hairstyle screams confidence. But don't take our word for it… try it out for yourself!
15. The "Pretty Boy" Look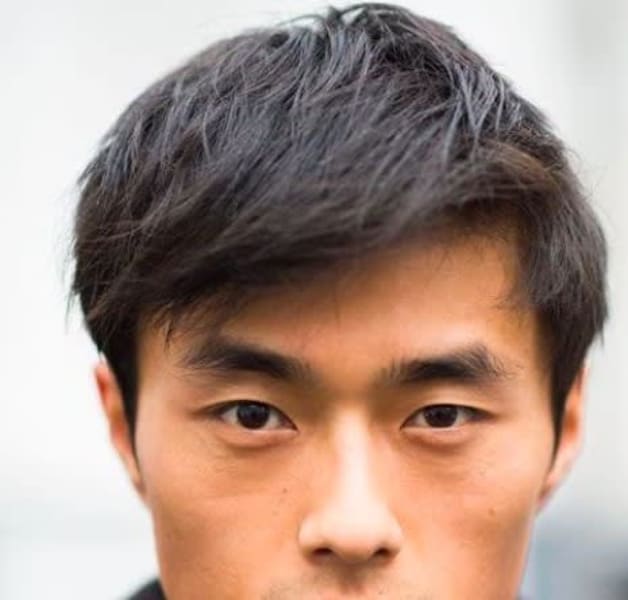 Be warned, this look will take some work. It'll make it seem like you're really trying to cultivate a special look.
That being said, if pulled off properly it looks great and can work for you in either a professional or social setting.
When styling, blowdry your hair forward and finish by using a medium hold pomade. We recommend HydroClay by Mack for Men to add volume and maintain an all-day hold.
16. "Fringe It Up"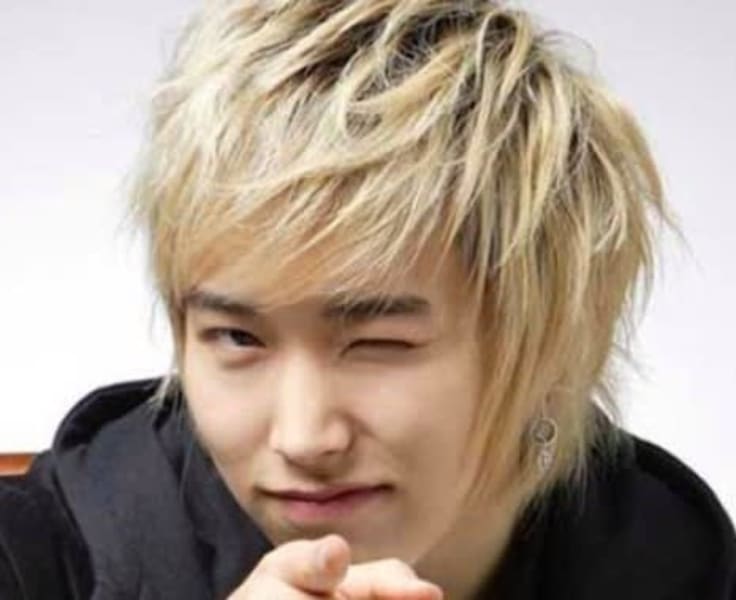 This hairstyle is a great way to add layers and texture to your hair, assuming you want to opt for something that's a little more complicated.
You don't have to dye your hair blonde to make it work, but it will help to add some contrast, so we highly recommend it! Plus, it's more fun!
17. Spiky Layers
We know what you're thinking… just another spiky look, but this one is a bit more complicated. Each and every spike of hair has to be cut at a different length to create tapered layers.
Having thick hair is usually a requirement for a haircut like this, so if this describes YOUR hair type… you may want to try it out! We recommend this look for rock concerts, festivals and other events where crazy hairstyles are encouraged.
18. The "Long + Lazy"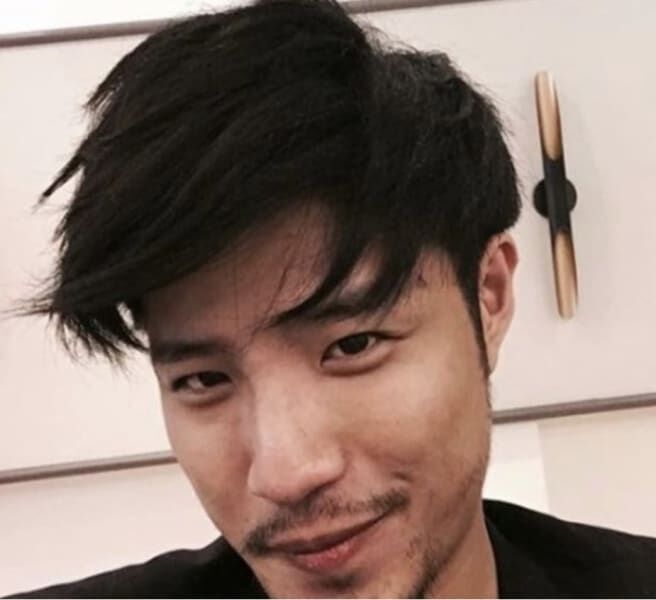 There's no creative name for this haircut, but we like to think it speaks for itself. If you want to let your hair grow long and you're too lazy to do a whole lot with it, this hairstyle is perfect for a guy searching for something low-maintenance or (low effort).
Now, you may want to add a little bit of gel to help keep things in place over the course of the day, but for the most part, you can just use your hand to push your hair to one side or another and let everything else fall into place.
Not bad for literally rolling out of bed, huh?
19. Serious Spikes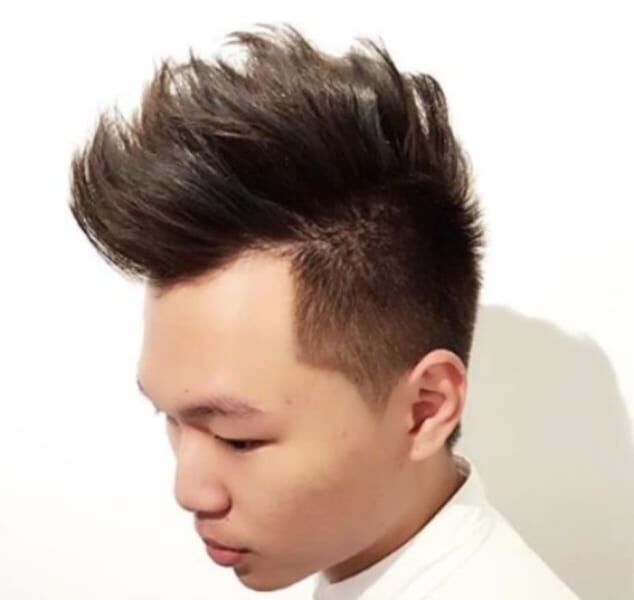 This spiky hairstyle is essentially all about putting all of your hair into one place. Notice that there's less of a fade on the sides than some of the other spiky styles.
This haircut is great if you're a fan of the spiky look but still want something slightly on the more conservative side.
Try brushing your hair upward and spiking it as high as it'll go, then use a medium hold pomade to form the hair into place and stroke it backward to finish the look.
20. Fade with Design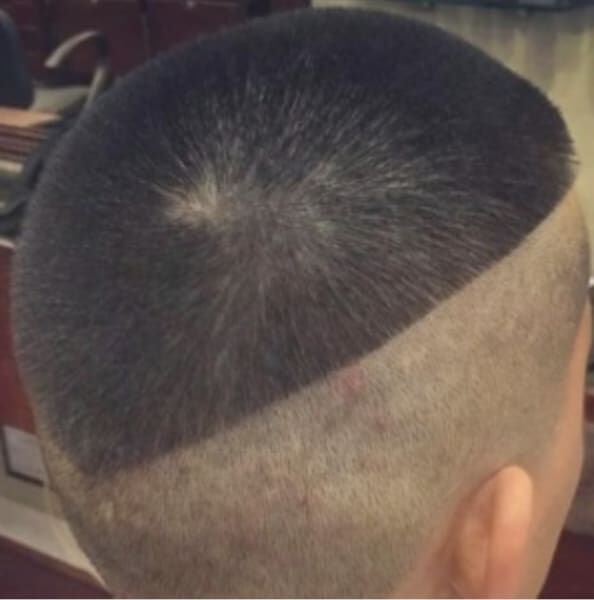 With this hairstyle, the creativity factor is off the charts. Obviously, you'll want to have a designed planned out in advance before you go to your barber.
What's great about this hairstyle, is it's pretty much a guarantee that no one else will have the exact same look as you, allowing you to be as unique as you want with the execution.
21. Grunge Look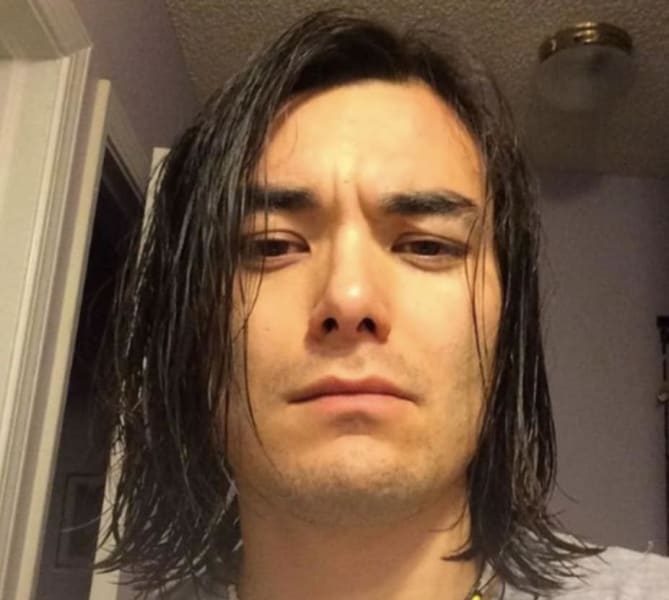 For those who immediately hear the word "grunge" and think of Nirvana, let's nickname this the "Kurt Cobain" hairstyle. Of course, Kurt had those infamous blonde locks flowing down to his shoulders while most Asian men will have much darker hair.
The obvious word of advice for achieving this hairstyle is to grow your hair long and let it hang loose and yes, in your face. If you're a fan of the somewhat greasy or "wet look", you'll want to use gel.
22. Spikes + Streaks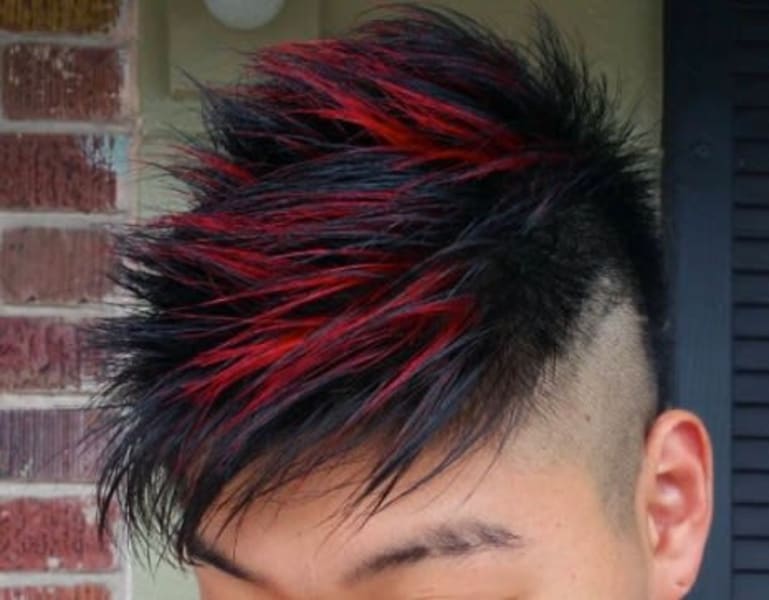 Ready to take spikes to the next level? Why not add a little personality with a dash of color? For Asian men with dark hair, adding some colorful streaks is a great way to upgrade a traditional hairstyle.
Feel free to experiment and find a color combination that works for you and fits your personal style, but remember, brighter colors like red will pair great with naturally dark hair and give it some awesome contrast.
23. Slicked Back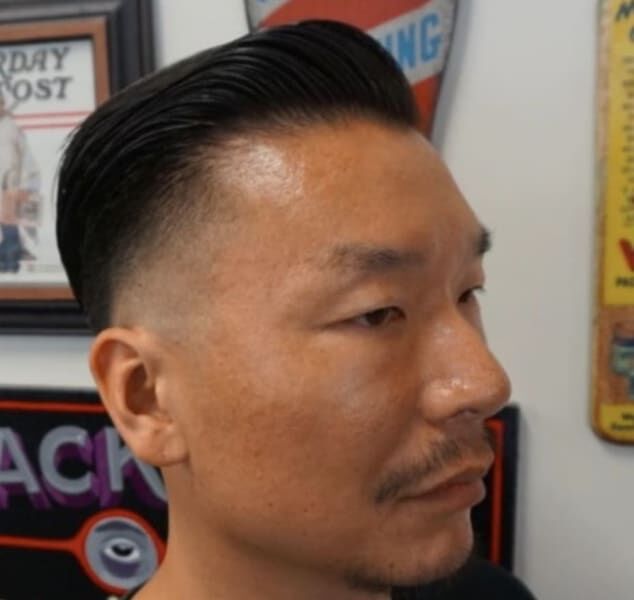 If your hair type is soft and straight, one of the easiest things to do is just slick it back. If you're a busy professional, this may be the perfect hairstyle because it'll be easy to manage and won't get out of place.
If you're on the go a lot, this no-nonsense slicked back hairdo may be just what you're looking for. Another benefit to this hairstyle is that you can dress it up or down, depending on your setting.
24. Faux Hawk Fade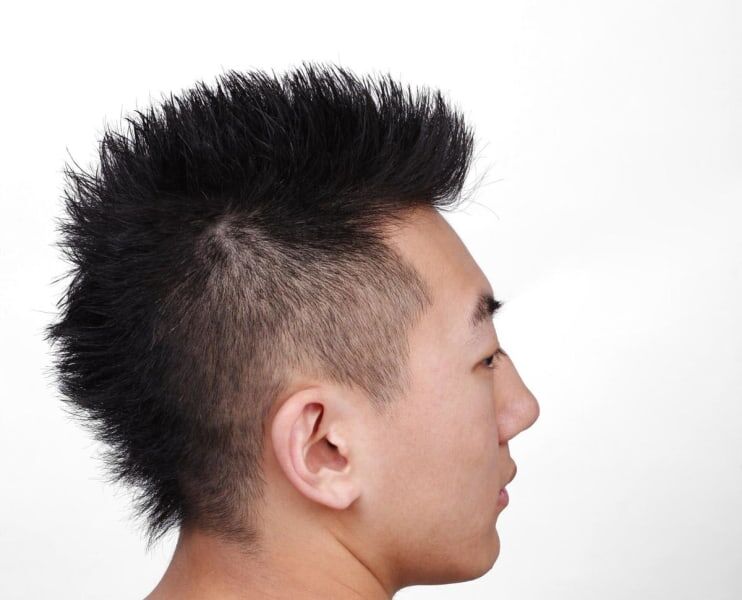 This hairstyle is definitely for the bold. It can be tough to pull off because you don't want to shave too much off the side and not leave enough in the middle. Make sure to bring in a photo like the one below for reference so your barber knows what you want.
Remember, with this hairstyle, there's no messing around. If you change your mind, there's really no going back until your hair grows back, but if you're willing to take a risk because you never know what you can pull off until you give it a try. The results may surprise you.
25. The "Mighty Spike"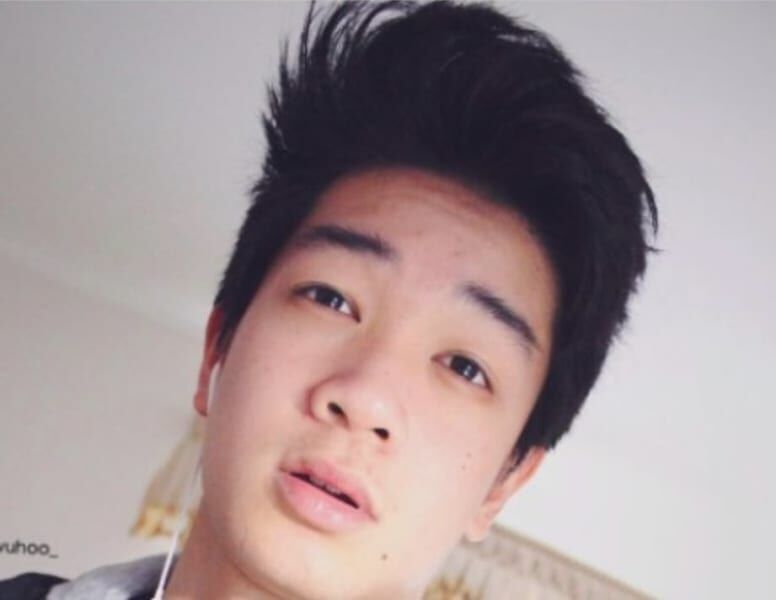 If you think you've had enough of the spiky hairstyles, think again. As long as you're up for making a statement, this hairstyle encourages you to make your hair stand as straight up and high as possible.
Just keep in mind, this haircut is really more for younger people who are trying to express a little personality or get attention. Older Asian men might not be so keen on attempting the Mighty Spike but for those that are, more power to you! You're as young as you feel, or in this case… wear your hair.
26. Side Part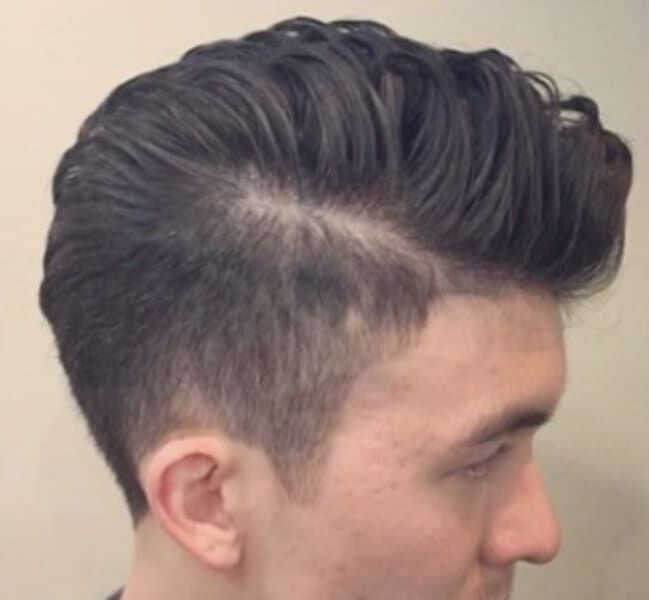 The side part hairstyle is a good haircut for someone who wants to look professional but prefers something that can make the transition to a more exciting look for after work.
This look works best for someone with thick, dark hair, and with the addition of a little hair gel, it's relatively easy to manage.
27. Party on Top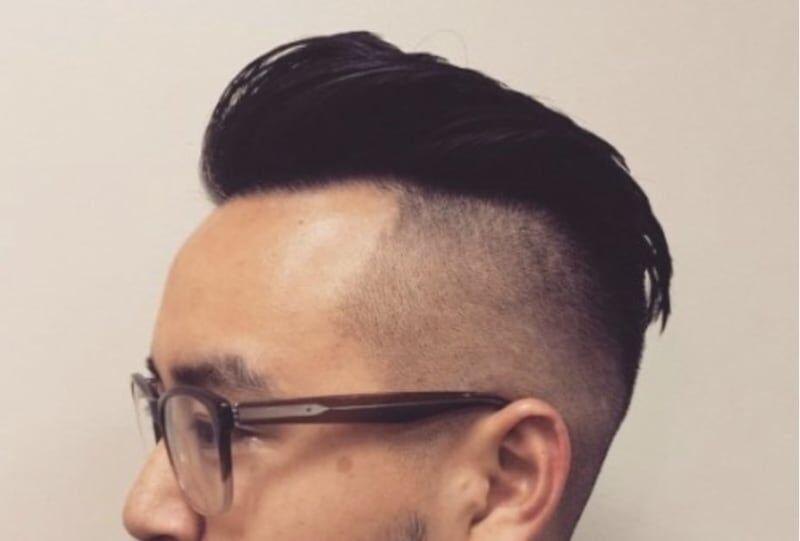 This is almost an anti-mullet haircut and is probably one of the most exciting on our list. Instead of business in the front and party in the back, it's basically just all party!
The shaved sides are optional, but they definitely help to pull the look together. If you're a true party animal, this kind of haircut will convey just that!
28. Top Tail w/ Shaved Sides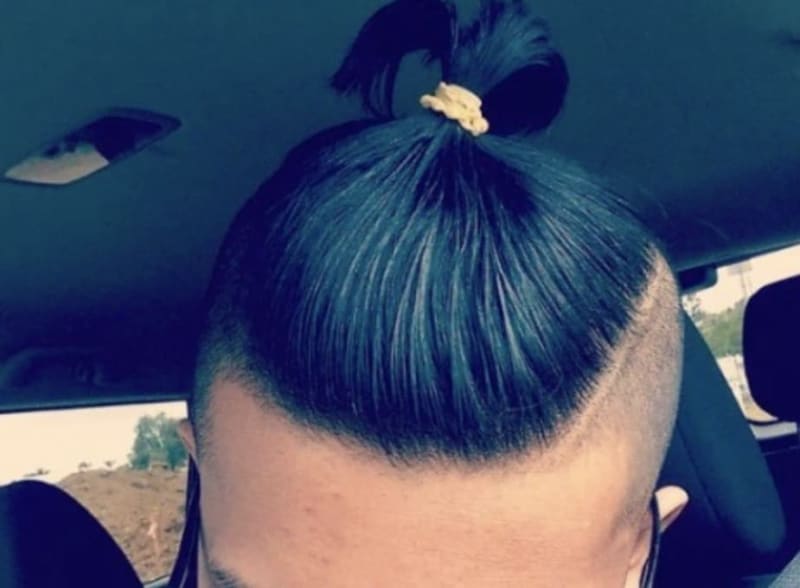 Don't be intimidated. This haircut looks a lot more complicated than it actually is. By shaving off the sides, you actually give yourself a way to keep your hair relatively low maintenance and easy to manage.
From there, all you have to do is tie the rest into a ponytail and you're done. It's simple yet stylish and is categorized into one of those "effortlessly cool" hairstyles you can rock anywhere you go.
29. Casual Spikes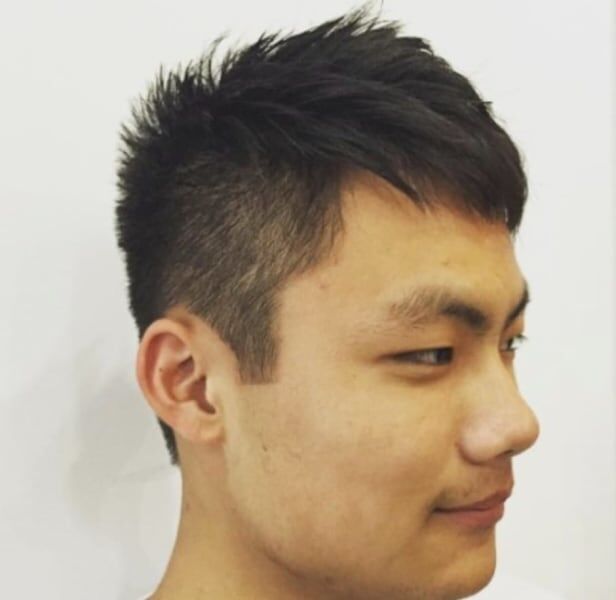 Okay okay… ONE more spike hairstyle, but you'll thank us later… we promise. You're probably already aware that spiky hair seems to be prominent in the Asian community.
This is one of the tamer spiky hairstyles, but it doesn't make it any less trendy. For those who would rather blend in and don't necessarily want to stand out in a crowd, this is your go-to haircut when it comes to rocking those spikes.
It's a haircut that most Asian men are capable of getting without much hassle which is great news for guys always on the go or living a hectic lifestyle with not much time for elaborate haircare routines.
If you like this look, but want to add a touch of edge, try pairing it with a low fade to mix things up.
30. Cropped Quiff
No, this isn't the most exciting haircut you've ever seen on Asian men, but it's a low-maintenance haircut that is right on trend with today's most popular hairstyles.
It's also one that exudes a sense of maturity and is popular in K-pop culture. When you ask your barber for this look, encourage them to add plenty of texture for some extra volume.
31. Comb Over
All you need to do to achieve this look is ask your barber to shave the sides of your head and then style by brushing your hair back using a brush and finishing with your favorite pomade.
You'll be left with a smooth and classy comb over. You'll be happy to know this is one of the hairstyles that never goes out of style.